Canada. 2011.
Crew
Director/Producer – Donna Davies, Photography – Robert Zimmerman, Music – Asif Illyas & Shehab Illyas, Visual Effects Design – Frank Forrestall. Production Company – Ruby Tree Films.
---
Nightmare Factory comes from Donna Davies, a documentary maker based in Norfolk, Canada. Among other work, Davies has made several documentaries that delve into a love of horror fandom with Zombiemania (2008), charting the zombie movie phenomenon, Pretty Bloody: The Women of Horror (2009) and Fanarchy (2015).
For her documentary subject in Nightmare Factory, Donna Davies has chosen K.N.B. EFX Group (also credited as KNB EFX Group), one of the premiere makeup and creature effects studios in contemporary Hollywood. KNB stands for the initials of its three founders Robert Kurtzman, Greg Nicotero and Howard Berger. Though nominally focused on the work of KNB, the documentary principally focuses on Greg Nicotero. Howard Berger is interviewed but Donna Davies does not profile his background, childhood or visit his home as she does with Nicotero. Of Robert Kurtzman, who departed K.N.B. in 2002, we get nothing bar his appearance in a couple of old stills and video clips. His absence is never referred to in any way, which cannot help lead one to think the split was acrimonious.
Donna Davies focuses on Greg Nicotero, interviewing his father and brother and going to visit him and his family in his home. We learn of his love of monster movies after seeing The Creature from the Black Lagoon (1954) at a young age. We see a number of early Super 8 films that he and his brother made in childhood. We learn how Nicotero dropped out of med school to take an apprenticeship with Tom Savini on the makeup effects crew of George Romero's Day of the Dead (1985) after a chance meeting with him in a cafe in Rome.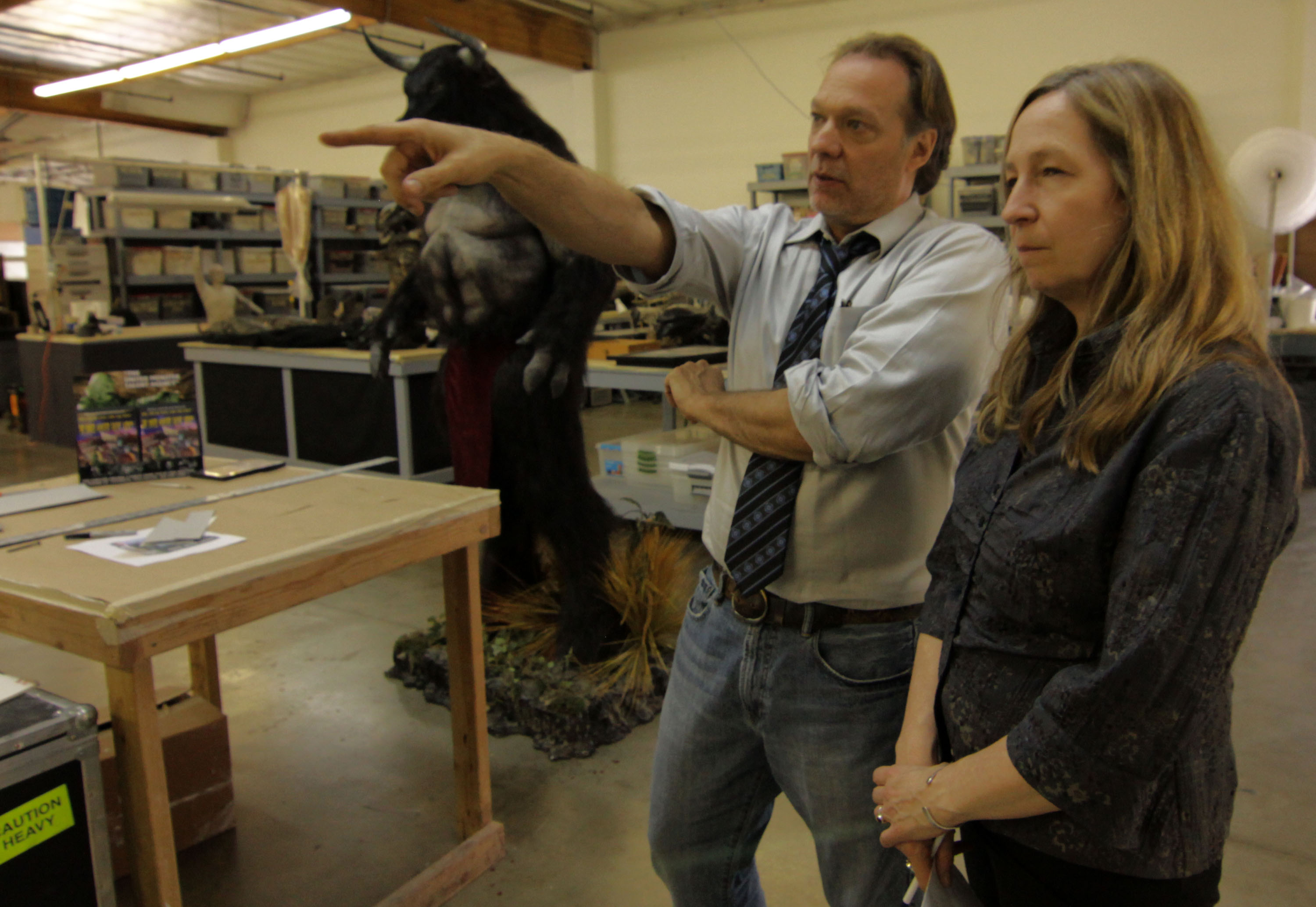 From his first entrance to the industry, the documentary goes on to chart Nicotero, Berger and Kurtzman's branching out as independents and their first major job on The Evil Dead II (1987). We get video and background footage from KNB's work on a number of big films over the years including Day of the Dead, The Evil Dead II, From Dusk Till Dawn (1996), Ghosts of Mars (2001), Inglourious Basterds (2009), Piranha (2010) and tv's The Walking Dead (2010– ) through which Donna Davies traces their emergence to the forefront of the industry.
Beyond its portrait of Greg Nicotero, Nightmare Factory expands out to intermittently tell a history of makeup effects – going from all the way back from Lon Chaney [Sr] to Rick Baker and his ground-breaking work on An American Werewolf in London (1981). The film lays the basis of the modern makeup effects industry and the way it became a star feature of the horror genre with Tom Savini and his work on Dawn of the Dead (1978) and Friday the 13th (1980). We get occasional coverage of some of the other artists at work in the genre, most notably appearances from Gabe Bartalos and Everett Burrell. Interviewed are a number of key creative personnel, including genre legends like John Carpenter, George Romero, John Landis, Robert Rodriguez and Frank Darabont. The film's most amusing scene is when a sarcastic John Carpenter launches off on a tirade calling makeup effects people "the biggest divas in the industry" because of their constant perfectionism, although Nicotero gets to defend himself a few moments later.
Nightmare Factory ends on a downbeat note. Here the film laments the way that digital effects have come to supersede traditional physical makeup effects. Nicotero explains that this is often seen as a cost-cutting measure by filmmakers – although one that may not necessarily be as economic as is immediately thought. Various explanations and criticisms are made of such a practice where the overriding feeling is that it is spelling the death of a once great industry.
---
---