---
USA. 1965.
Crew
Director/Producer – A.C. Stephen, Screenplay – Edward D. Wood, Jr., Based on His Novel, Photography – Robert Caramico, Art Direction – Robert Lathrop. Production Company – Astra Productions.
Cast
Criswell (Emperor of the Night), William Bates (Bob), Pat Barringer (Shirley/Gold Dance Girl), Fawn Silver (Black Ghoul), John Andrews (Wolf Man), Louis Ojena (Mummy), Mickey Jines (Hawaiian Dance), Barbara Nordin (Skeleton Dance), Bunny Glaser (Indian Dance), Nadejda Dobrev (Slave Dance), Coleen O'Brien (Street Walker Dance), Texas Starr (Cat Dance), Rene De Beau (Fluff Dance), Stephanie Jones (Mexican Dance), Dene Starnes (Zombie Dance)
---
Plot
The horror writer Bob is driving with his girlfriend Shirley in search of a graveyard where he hopes to gain inspiration. However, they skid on the road and crash. Coming around, they make their way to the graveyard. There the Emperor of the Night has commanded the souls of various women to appear and entertain him with a series of erotic dances. Based on how entertained he is, he will condemn each of them to a horrid fate or not. Bob and Shirley are discovered by the wolf man and mummy and tied up and forced to watch. The emperor's subordinate The Black Ghoul plans to make them part of the dead as well.
---
For many years, Orgy of the Dead was regarded as one of the lost films of Edward D. Wood, Jr., the director of Plan 9 from Outer Space (1959) and other films, who has been lionised as the world's worst director. (See below for Edward D. Wood Jr's other films). When a print was discovered in the mid-1980s, it was found that Wood was not the director, merely the screenwriter and that the film was based on his novel Orgy of the Dead (1965) (although Wood was involved more directly and did perform a number of other functions on set-during shooting). The actual director is Stephen C. Apostolof, a Bulgarian immigrant who worked under the pseudonym A.C. Stephen and went on to make a number of other sexploitation films throughout the 1960s and 70s, including Suburbia Confidential (1966), College Girl Confidential (1968), Lady Godiva Rides (1979) and the sexploitation spy film Hot Ice (1978).
Despite not having Wood in the driver's seat, Orgy of the Dead remains an essential Edward D. Wood, Jr. film in all other regards, featuring such trademark Wood elements as the presence of Criswell as narrator, the tatty production values and frequent dialogue howlers. In effect, the entire film has been construed around the use of a single set – a graveyard – where various strippers come out and do a topless dance that lasts around five minutes to the accompaniment of lounge music, while Criswell's lord of the dead sits around making comments on the performance and pronounces on their fate. None of the dancers gets undressed any further beyond bare boobs. All of the dances are themed, usually by ethnic cliche – American Indian, Mexican – or feature one girl in a cat suit, another who is a slave, one in a wedding dress and so on. There is really little more to the film than this parade of strippers doing their thing.
And even if it is not directed by Wood, there are still plenty of the bad movie moments to Orgy of the Dead. There is Criswell giving another of his bad performances, quite clearly reading his opening narration from cue cards. There are some prize pieces of Wood purple prose: William Bates to Pat Barringer – "Your puritan upbringing holds you back from my monsters but it certainly doesn't hurt your art of kissing."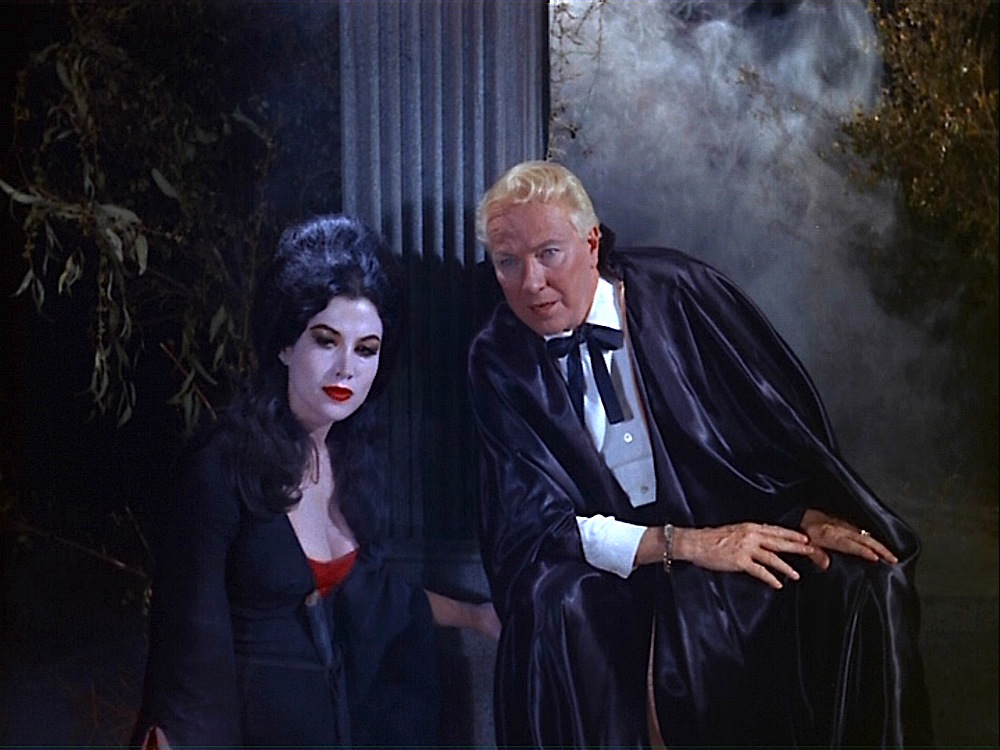 Mostly the stripper routines are dull, although some of them have a bizarre fascination. Pat Barringer, who plays the hero's girlfriend, also doubles as a dancer in a number where she is covered in gold body paint, something that was almost certainly borrowed from the previous year's James Bond film Goldfinger (1964). In another sequence, Texas Starr prances around in a cat suit that leaves her tits hanging out at the same time as she is being whipped, while the onlooking Criswell nods sagaciously "The pussycat is born to be whipped." Later when the slave girl (Nadejda Dobrev) does her routine, Criswell gets excited: "Torture, torture! It pleasures me!"
There is also the bride dance where we are told the stripper (Dene Starnes) killed her husband and so is sentenced to dance by cavorting with his skeleton during which she demonstrates the ability to make her breasts gyrate in ways that seem to defy gravity. For some reason, a wolf man and a mummy turn up to provide lame comic relief. In the end, everything is revealed to be a deathdream being had by William Bates and Pat Barringer as they hover between death and life, before the ambulance people bring them around in the closing moments.
Edward D. Wood Jr's other genre films are:– the transvestitism pseudo-documentary Glen or Glenda? (1952); the mad scientist film Bride of the Monster (1955); the script for the ape-human love saga The Bride and the Beast (1958); Plan 9 from Outer Space (1959); the fake medium film Night of the Ghouls (1960, released 1983); the script for the prehistoric xex comedy One Million AC/DC (1969); and the pornographic film Necromania: A Tale of Weird Love (1971).
---
---