---
Crew
Director/Screenplay – Nick Slatkin, Producers – Justin Jones & Zeus Zamani, Photography – Miko Dannels, Music – Darren Morze, Visual Effects – At-Random Productions (Supervisor – Chris Salmassy), Special Effects/Makeup Effects – Nati Bujalance, Production Design – Nikki Rauthen. Production Company – Marquis Productions/AZ Studios/Thriller Films/Orange Birds Productions
Cast
Ben Morrison (Joe Barnett), Michael Palladino (Noah Barnett), Laura Kirchner (Bev Morgan), Branden Smith (Geoff), Brittney Bertier (Chloe Morgan), Lola Kelly (Roni), J. Damian Anastasio (Dov), Tony Harutyunyan (Young Joe), Julia MacDonald (Young Bev), Walter Mintz (Max), Jay Brothers (Mark)
---
Plot
Young Joe Barnett, Beverly Morgan and Max are playing. Joe has brought along an ouija board he took from his grandfather Dov's office and they try it out. Dov is shocked to find that Joe has the board and races to the house, only to find it has caused Joe's father to become possessed and start killing people. In the present-day, the now grown-up Joe has a teenage son Noah. He meets Bev again for the first time in thirty years, along with her obnoxious boyfriend Geoff and teenage daughter Chloe. Noah finds the ouija board and begins playing with it, ignoring the warnings that one should not do so alone. Bev invites them to come up to the cabin where they are holidaying for the weekend. With Noah crushing on Chloe, Joe decides to go. As they reunite, Noah finds the ouija board has somehow gotten in among their belongings. As the cabin's shaman landlord Roni warns, an evil spirit has been trapped inside the board and now comes out to possess them.
---
The Ouija Exorcism was the third film for director Nick Slatkin who had previously made the horror film Placebo (2010) and the non-genre Sulfur (2015), as well as produced a handful of others. This was one of several films that come out with 'ouija' in the title following the success of Blumhouse's Ouija (2014), along with the likes of Ouija Summoning (2015), The Ouija Possession (2016), The Ouija Awakening (2017) and Ouijageist (2018).
Nick Slatkin creates an average show. He is operating on a B-budget but makes a solidly professional-looking film. One aspect that you should commend him for is in allowing the cast to etch some reasonable characters. In particular, I came out quite impressed with Branden Smith, who plays the least likeable character on screen but gives the best performance.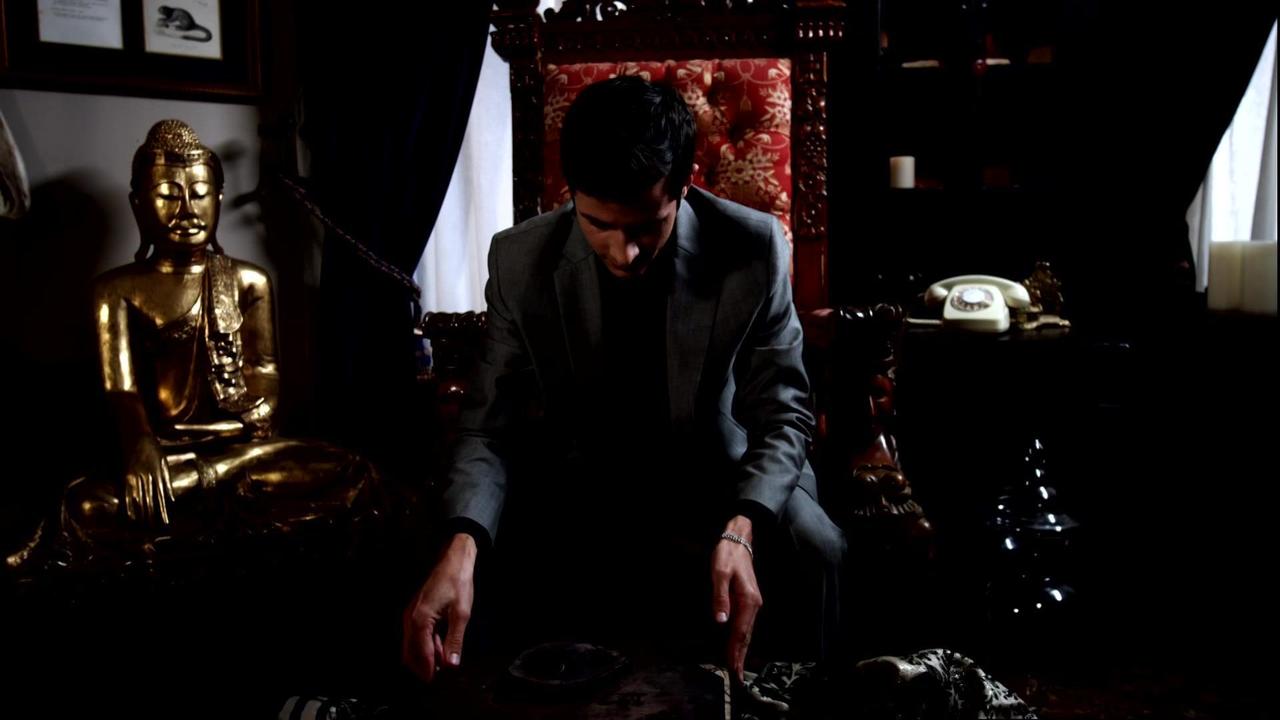 The main problem comes when Slatkin leaves the character-based scenes behind and develops the horror element out during the latter half. The tension and jumps come entirely by the numbers. The reality is that The Ouija Exorcism is just not that scary – possessed people with glowing eyes – and never amounts to anything more than routine jumps.
One oddity is that the film sets itself amidst Judaic mythology – the hero is Jewish and has a grandfather who is a rabbi (although he is dispensed with early into the film when you expect him to stand around as a savant character with insight into what is going on). Quite contradictorily, seemingly not knowing the incongruity between the two religions, the film then also throws in a scene where the rabbi goes to consult a Catholic priest about the spirit board.
---
---