---
New Zealand. 2019.
Crew
Director/Screenplay/Producer/Photography – Bernie Rao, Music – James Dunlop, Visual Effects – Diogo Esteves, Special Effects Supervisor/Makeup – Amie Lyver. Production Company – High Octane Pictures/Mad Kiwi/New Zealand Film-Makers Collective/1220 Film Production Co..
Cast
Piimio Mei (Francesca Morton), Jed Brophy (Inspector Bob Gravy), Nathalie Morris (Maxi), Jim Baltaxe (Jack), Jordan Rivers (Tj), Stacey King (Inspector Roseane Grape), Grant Kereama (Tohunga Makutu), James Cain (Ralph Kilkelly), Angelica Thomas (Ashanti), Harley Neville (Frederico Olsen), Sean Fleming (Warren Lee)
---
Plot
Francesca Morton, a dancer in Wellington, receives delivery of a recliner chair from Frederico Olsen. Frederico was obsessed with the occult and the chair has been sent to her after he has died. Francesca is visited by the police who are investigating the circumstances of Frederico's death. She explains that she was not involved with Frederico, that she has a strange ability to cause men to become infatuated with her. However, the chair is possessed and comes to life and begins killing the people around Francesca.
---
New Zealand director Bernie Rao has made over sixty plus short films since 2001 and Killer Sofa would appear to be his first full-length film. (I say 'would appear to be' because it is hard to tell if some of the other of the other works he is listed as making are works of fiction or instructional films with titles like The Art Behind the Walk and Writing for Animation). Rao had earlier made the comedy The Baldlands (2015) but this does not appear to have been released.
The Deliberately Ridiculous Film has been with us since the 1960s – see Films With Deliberately Ridiculous Titles. More recently it appears to have taken over the zombie and killer shark film. We've had possessed furniture before, most notably with Death Bed: The Bed That Eats (1977) and The Refrigerator (1991), even a killer tv set in The Twonky (1953).
Killer Sofa is a film that gets you in the door watching with the ridiculousness of its premise. Unfortunately, I wish there was a film as wacky as it sounds like it is going to be. In reality, Bernie Rao delivers a by-the-numbers film that follows the formula of just about every other horror film – but with a killer sofa. And even then the title is a misnomer as the film features not a killer sofa (or couch – a cushioned seat made for two or more) but a killer recliner. But then I suppose 'Killer Recliner' is not as catchy as a title.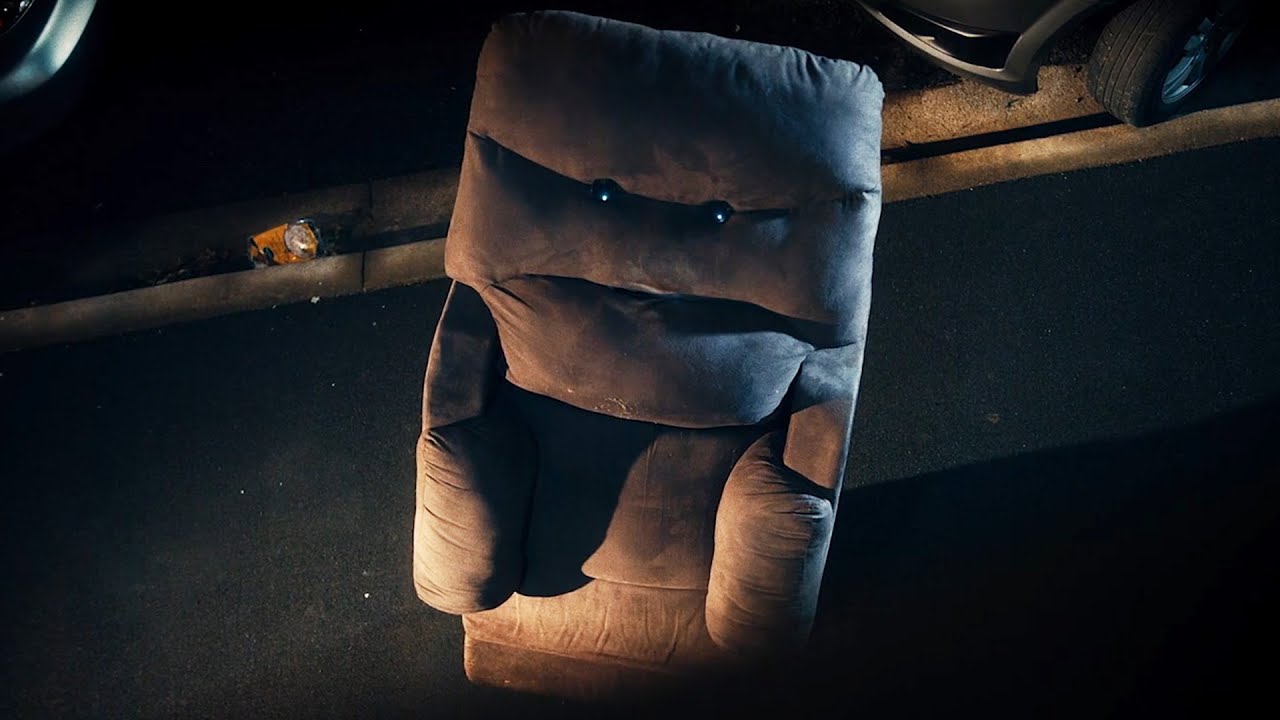 The film is not even the horror comedy it promises to be – it has absurd things happening but the tone throughout is one where the cast and crew seem to be playing everything straight. You expected a film like this to come with a much more wacky and gonzo approach than that. There are mildly ridiculous things with the killer recliner balanced on balconies, peeping through doors and sneaking up on people. These come with some adequate effects but you feel like the film needed a whole lot more of this.
Perhaps the greatest amusement comes in watching people trying to pronounce dybbuk, which wavers between 'dee-book' and 'dib-buck'. Or perhaps of Harley Neville as the occult-obsessed dead wannabe boyfriend leaving behind videos that slag off the one film in which Neville previously starred – the also NZ-made zombie comedy I Survived a Zombie Holocaust (2014).
---
---