---
Crew
Director/Screenplay – Peter Dukes, Producers – Ron Althoff, Jacov Bresler, Harel Goldstein & Corbin Timbrok, Photography – Pierluigi Malavasi, Music – D.E. Christensen, Production Design – Elijah Flores. Production Company – Escape Room Production LLC/Entity 3.
Cast
Skeet Ulrich (Brice), Christine Donlon (Jess), Randy Wayne (Jeff), Matt McVay (Ben), Ashley Gallegos (Angie), Hayley Goldstein (Mollie), Sean Young (Ramona), Taylor Piedmonte (RJ/Stitchface), Iyad Hajjaj (Ammon), Ibrahim Elkest (Muhammad), Hayley McLaughlin (Hannah)
---
Plot
In L.A., Brice is struggling financially as he tries to keep Deranged, his once popular horror-themed escape room, open. Looking for ways to spice up the decor, he goes to the antique store owned by Ramona. He wants a box he sees but she refuses to sell it, saying it is a Skull Box that contains a demon and cannot be unlocked. While she is distracted, Brice takes the box and leaves some money. Jeff and Ben are fanatical horror fans. Along with their respective girlfriends Jess and Angie, they sign up for an hour in Deranged. They are locked in the room where they must decipher the clues littered about to find the keys that will unlock the door. Also in the room is RJ, a Deranged employee playing a maniac outfitted in a sacking mask who is placed on a chain that allows him a few more inches of freedom every few minutes. Among the items in the room is the Skull Box, which they inadvertently open in their search for clues. RJ is then taken over by the unleashed demon and attacks them, killing members of the group. The others crowd into the side of the room that RJ cannot reach and desperately search for the clues to get out as the chain slowly unwinds.
---
Escape Room was a directorial debut for Peter Dukes who had made a number of short films prior to that. Escape Room should not to be confused with Escape Room (2017), another horror film released around the same time albeit without the supernatural theme used here. Indeed, this seemed to presage a whole bunch of the similarly title films on the same theme with No Escape Room (2018) that came out afterwards, the high-profile theatrically released Escape Room (2019), which led to a sequel Escape Room: Tournament of Champions (2021), and Escape: Puzzle of Fear (2020) and No Escape (2020).
All of these films take their concept from the popularity of escape rooms in the last few years. Although there had been videogame equivalents prior to this, the first escape room was created in Japan in 2007 and the phenomenon spread in the early 2010s to the point where escape rooms now operate in most cities around the world. Escape rooms are usually conducted as a team effort where a group is locked in the room and have to decipher a series of clues to unlock the door before the allotted time is up. The game will usually be based around some theme and there is the frequent use of horror or abduction and imprisonment scenarios.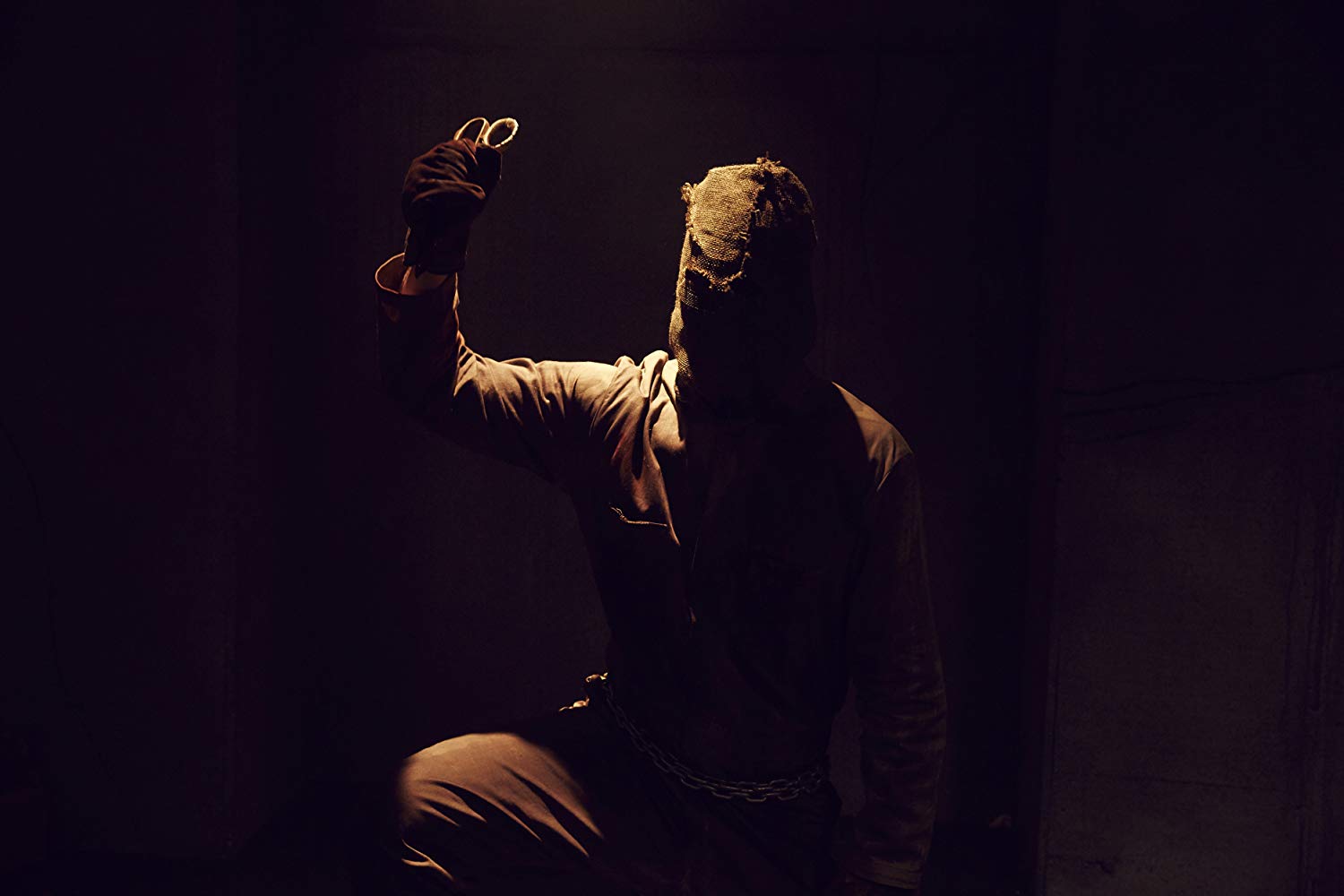 The escape room is very much a Now concept and you can complement Peter Dukes on being the first to make a film about it. It is just that for all that he is the first there he fails to make a very interesting film. The idea of a group of people trapped in a room where they accidentally unleash a demonic force out of a box is ever so slightly a contrived premise. Dukes does add the additional twist of the possessed being someone in a sacking gimp mask chained to the wall with the chain unwinding a few more inches every few minutes, forcing the group to have to move further and further out of the way. This essentially turns Escape Room into an Imprisonment Thriller akin to something like Saw (2004) or perhaps even The Night Chronicles 1: Devil (2010). Not much is done to generate suspense out of this though.
Peter Dukes is operating on a lesser budget – most of the film takes place inside the titular room – although he has sufficient at his disposal to employ a couple of nowadays C-list actors with Skeet Ulrich as the owner of Deranged and Sean Young as the proprietor of the memorabilia/antique store.
Somewhat distracting is Peter Dukes' insistence on throwing in countless references to his favourite horror movies. The background of various scenes is filled with posters for films like I Walked with a Zombie (1943), Tarantula (1955), Invasion of the Saucer Men (1957) and Attack of the Puppet People (1958). Sean Young gets a scene on the phone quoting the rules for Gremlins (1984): "Don't get it wet and whatever you do don't feed it after midnight." Elsewhere we get debates about You're Next (2011) being considered a horror classic, or over the remake of The Thing (1982) and the reminder that in itself it is a remake of The Thing from Another World (1951).
---
---