---
USA. 2016.
Crew
Director – Mike Flanagan, Screenplay – Mike Flanagan & Jeff Howard, Producers – Michael Bay, Jason Blum, Stephen Davis, Andrew Form, Brad Fuller & Brian Goldener, Photography – Michael Fimognari, Music – The Newton Brothers, Visual Effects Supervisor – Jamison Goei, Visual Effects – Rez-Illusion & VFX Legion (Supervisor – James David Hattin), Special Effects Supervisor – John Hartigan, Makeup Effects – Illusion Industries, Inc., Production Design – Patricio M. Farrell. Production Company – Blumhouse Productions/Platinum Dunes/Allspark Pictures.
Cast
Annalise Basso (Lina Zander), Elizabeth Reaser (Alice Zander), Lulu Wilson (Doris Zander), Henry Thomas (Father Tom Hogan), Parker Mack (Mikey Russell), Kate Siegel (Jenny Browning), Sam Anderson (Mr Browning), Halle Carlton (Ellie), Alexis G. Zall (Betty), Doug Jones (Ghoul Marcus)
---
Plot
Los Angeles, 1967. Following the death of her husband, widow Alice Zander is trying to make ends meet by offering her services as a medium. In reality, this is a scam conducted by her and her two daughters Lina and Doris. After Alice buys an ouija board as a prop to use in her act, the younger daughter Doris begins to play with it. She overwhelms Alice by giving messages from her dead husband. Alice begins to employ Doris in her act where she is so successful that the planchette is able to move without human touch. Doris then begins to see evil spirits in the house and becomes possessed by them. The neighbourhood priest tries to convince them to leave, believing that Doris is channelling the spirits of those who were murdered in the house by a former Nazi doctor.
---
Ouija (2014) was another of the films from the near-ubiquitous Blumhouse – a co-production with Michael Bay's Platinum Dunes and based on the trademarked Parker Brothers/Hasbro boardgame. Ouija did not receive very many good reviews, nevertheless Blumhouse and Platinum Dunes went on to make this prequel.
This time around, the director, writers and cast from the first film have all been replaced (apart from an uncredited post-credits cameo from Lin Shaye who we discover is the present-day version of Annalise Basso). On board is Mike Flanagan whose presence automatically makes Ouija: Origin of Evil a far better film than its predecessor before you have even started watching.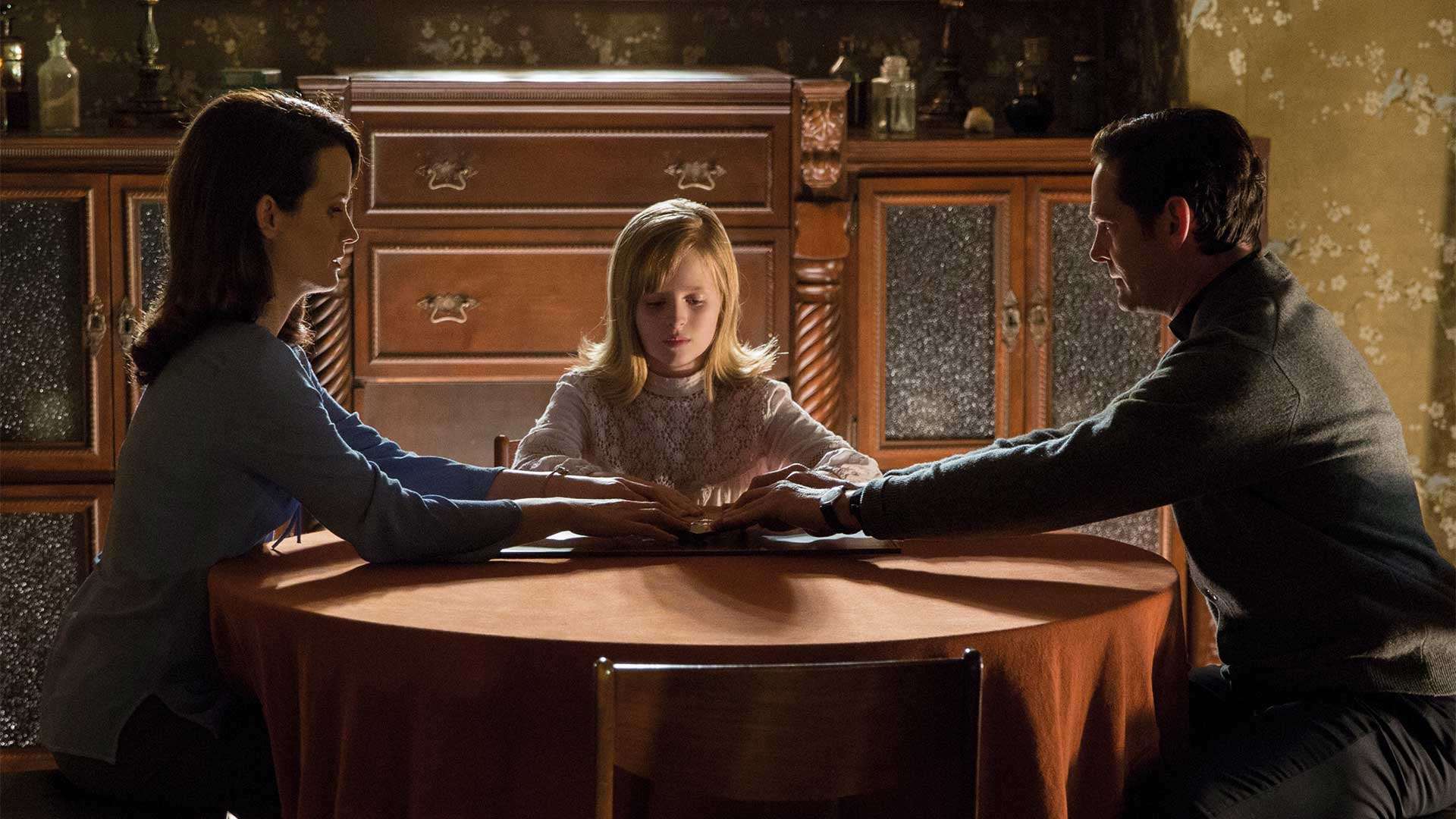 Mike Flanagan is a director who has proved himself of considerable worth in the last few years. Flanagan first appeared on the genre scene with his fourth film, the amazing Absentia (2011) and from there went onto the evil mirror film Oculus (2013) for Blumhouse. Origin of Evil was the third of three films that Flanagan released in 2016 alone, including also Hush (2016), an incredibly taut psycho-thriller about a deaf woman being stalked and taunted by a killer, and Before I Wake (2016) about a child whose dreams become manifest. Ouija: Origin of Evil becomes Flanagan's third word for Blumhouse following Oculus and Hush. He subsequently went on to make the Stephen King adaptation Gerald's Game (2017), the tv mini-series The Haunting of Hill House (2018), Doctor Sleep (2019) and the tv mini-series Midnight Mass (2021), while he also produced, created and directed episodes of the tv mini-series The Haunting of Bly Manor (2020), The Midnight Club (2022) and The Fall of the House of Usher (2023).
I liked Ouija: Origin of Evil better than Ouija (and it certainly received far better reviews than its predecessor). On the other hand, I would also have to say that it is a weaker effort among Mike Flanagan's films. It sits well below Absentia and Hush, beneath Oculus and slightly above Before I Wake.
Flanagan takes his time in the lead-in. The opening seance is effective, especially the revelation that all of the spooky atmosphere has been faked (even if this is a plot element that never proves of much significance beyond that – you expect a horror film that sets something like this up to play out in a "Is it real or is it faked?" dialectic thereafter). The first real jump comes about the 40-minute mark where Lulu Wilson looks through the planchette lens in the mirror to discover a black demon figure behind her who then bends her over at an unnatural angle. In the very next scene, we see her with blank white eyes whispering inaudibly into the ear of the sleeping Annalise Basso.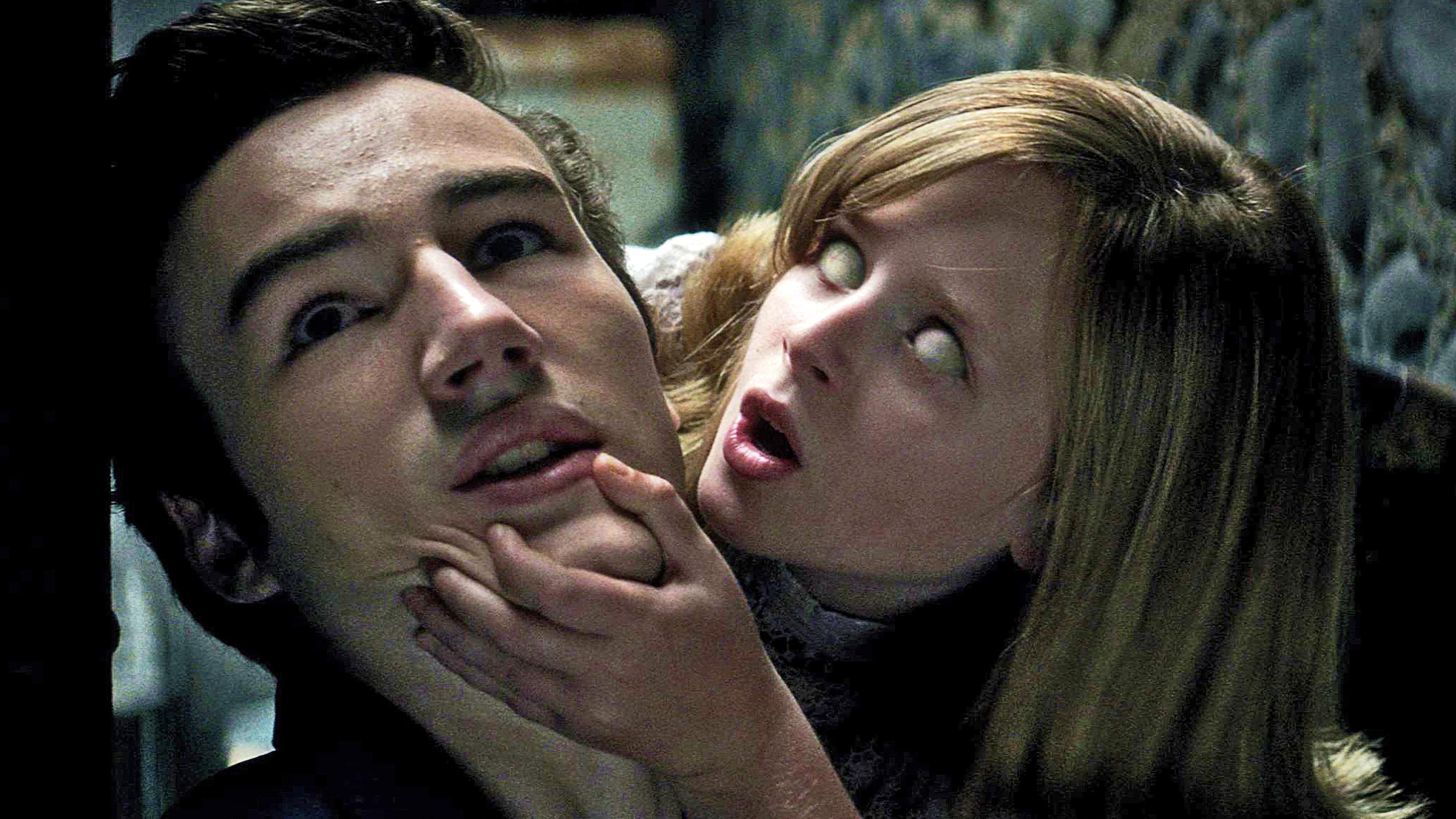 I liked this but while Mike Flanagan has opted for genuine suspense and eerie jumps in his other films, here he seems too reliant on jumpshocks. The constant serving up of scenes with Lulu Wilson and others with blank white eyes and mouth open in a giant oval, people scuttling along upside down on the ceiling, hanged bodies swinging down into the midst of a room feel like the mechanical go-for-the-audience-in-the-ribs jumps that you would get from a far less subtle genre director than Flanagan.
Lulu Wilson gives a promising performance, which holds some eeriness when she starts delivering readings. Especially good is the scene where she tells Parker Mack in detail what it feels like to be strangled. On the other hand, this is far too often co-opted by effects.
Jason Blum and his Blumhouse production company have produced a number of other genre films including:- Hamlet (2000), Paranormal Activity (2007) and sequels, Insidious (2010) and sequels, Tooth Fairy (2010), The Bay (2012), The Lords of Salem (2012), The River (tv series, 2012), Sinister (2012) and sequel, Dark Skies (2013), Oculus (2013), The Purge (2013) and sequels, the tv mini-series Ascension (2014), Creep (2014), Jessabelle (2014), Mercy (2014), Mockingbird (2014), Not Safe for Work (2014), 13 Sins (2014), The Town That Dreaded Sundown (2014), Unfriended/Cybernatural (2014), Area 51 (2015), The Boy Next Door (2015), Curve (2015), The Gallows (2015), The Gift (2015), Jem and the Holograms (2015), The Lazarus Effect (2015), Martyrs (2015), Visions (2015), The Visit (2015), The Darkness (2016), Hush (2016), Incarnate (2016), The Veil (2016), Viral (2016), Amityville: The Awakening (2017), Get Out (2017), Happy Death Day (2017), The Keeping Hours (2017), Split (2017), Stephanie (2017), Bloodline (2018), Cam (2018), Delirium (2018), Halloween (2018), Seven in Heaven (2018), Truth or Dare (2018), Upgrade (2018), Black Christmas (2019), Ma (2019), Prey (2019), Don't Let Go (2019), Sweetheart (2019), Black Box (2020), The Craft: Legacy (2020), Evil Eye (2020), Fantasy Island (2020), Freaky (2020), The Hunt (2020), The Invisible Man (2020), Nocturne (2020), You Should Have Left (2020), Black As Night (2021), The Black Phone (2021), Dashcam (2021), Firestarter (2022), M3gan (2022), Mr Harrigan's Phone (2022), Nanny (2022), Soft & Quiet (2022), Run Sweetheart Run (2022), Sick (2022), They/Them (2022), Torn Hearts (2022), Unhuman (2022), The Visitor (2022), The Exorcist: Believer (2023), Five Nights at Freddy's (2023), There's Something Wrong With the Children (2023) and Totally Killer (2023).
---
---