---
Crew
Director – Keenen Ivory Wayans, Screenplay – Phil Beauman, Jason Friedberg, Phil Johnson, Aaron Seltzer, Marlon Wayans & Sean Wayans, Producers – Eric L. Gold & Lee R. Mayes, Photography – Francis Kenny, Music – David Kitay, Visual Effects Supervisor – Brian Jennings, Digital Effects – Threshold Digital Research Laboratories, Additional Visual Effects – Digiscope (Supervisor – Brad Kuehn), Special Effects Supervisor – Gary Paller, Makeup Effects – Flesh and Fantasy Inc (Supervisor – Ryan Nicholson). Production Company – Dimension Films/Wayans Brothers Entertainment/Gold-Miller/Brad Grey Pictures.
Cast
Anna Faris (Cindy Campbell), Jon Abrahams (Bobby), Shannon Elizabeth (Buffy Gilmore), Shawn Wayans (Ray), Marlon Wayans (Shorty), Dave Sheridan (Doofy), Regina Hall (Brenda), Kurt Fuller (Sheriff), Lochlyn Munro (Greg), Cheri Oteri (Gail Hailstorm), Carmen Electra (Drew Decker), Rick Ducommun (Cindy's Father), Jayne Trcka (Miss Mann)
---
Plot
A high-school is terrorized by a spate of killings where the killer taunts teenagers about their favourite scary movie. One social group thinks that the killer may have something to do with what happened last summer when they ran down and killed a man on a country road and agreed to throw the body in the ocean and never speak about it again.
---
Scary Movie is a parody of the spate of 1990s slasher movie revivals. The two particular targets of its satire are Scream (1996) and I Know What You Did Last Summer (1997), the most successful of the 90s slasher movies. (Scary Movie was in fact the pre-production title used by Scream). Unfortunately, one's mind hits a dead stop when you sit down and think about a film that sets out to do a parody of films like Scream. What Scary Movie fails to realize is that Scream was construed as a parody of slasher films – it comes chock-ful of in-jokes, references and send-ups of the cliches of films like Halloween (1978) and Friday the 13th (1980). Right from the outset, that leaves Scary Movie with an astounding inability to see that the target of its would-be satire was a send-up in the first place. And that puts it in the sad position of being a parody of a parody.
Scary Movie is directed by actor/stand-up comedian Keenen Ivory Wayans. Keenen Ivory Wayans had previously directed films such as the blaxploitation satire I'm Gonna Git You Sucka (1988) and A Low Down Dirty Shame (1994). Wayans has clearly intended Scary Movie to fall into the same sort of Mad Comics movie parody filmmaking defined by the Zucker Brothers and Jim Abrahams of Airplane (1980) and The Naked Gun (1988) fame. Scary Movie may have become one of the comedy hits of the 2000 summer season but it is an amazingly crude and vulgar film. Keenen Ivory Wayans' jokes are only dick jokes, people getting stoned jokes, gay jokes, coarse language jokes – even a gag where one victim gets dispatched by a penis through the ear!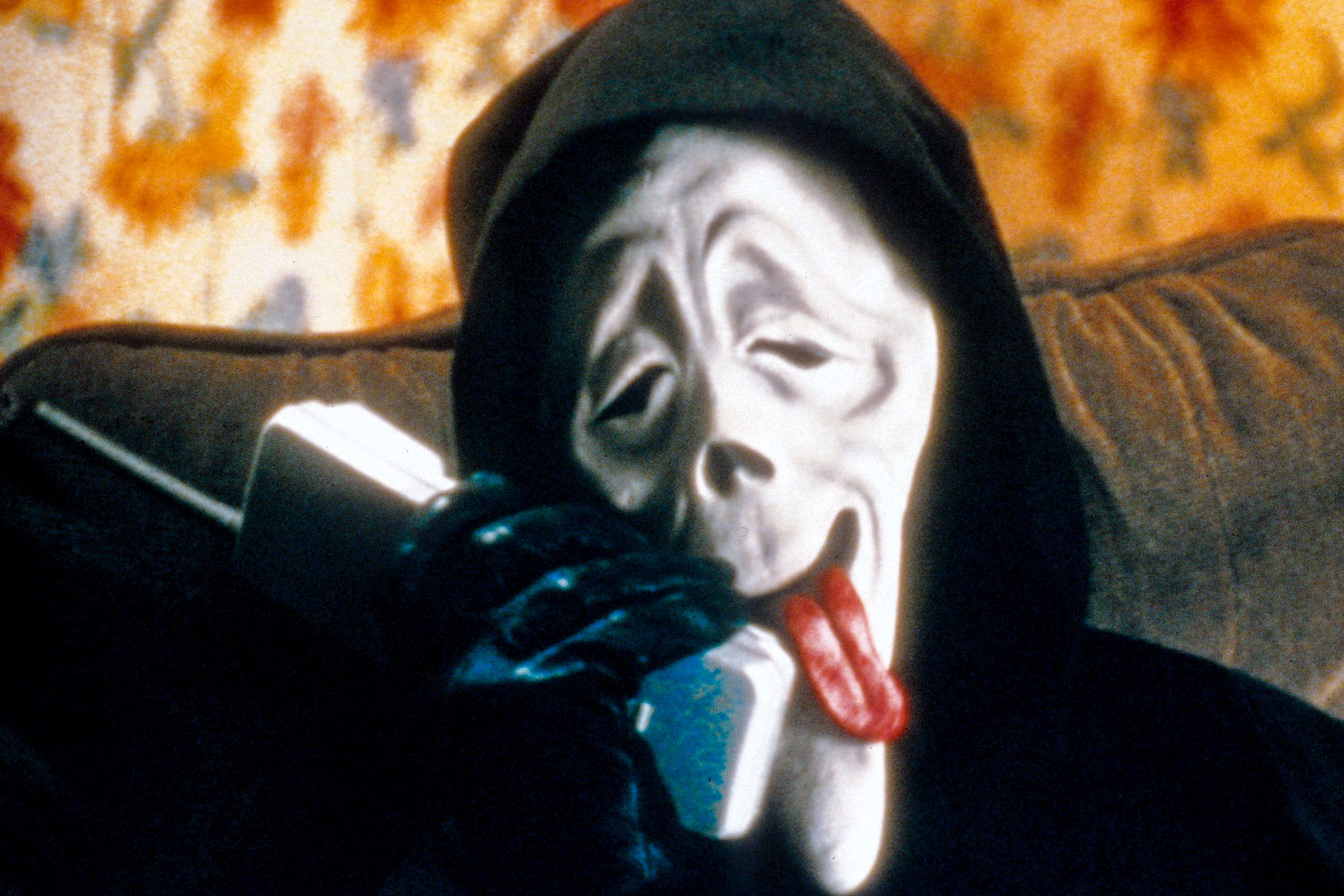 Scary Movie is even cruder when it comes to its film parodies. The plot copies Scream scene for scene at times but in such a deadening way it seems more like a photocopy than a parody. Keenen Ivory Wayans' principal idea is to take a scene from Scream and then find some lame way to add a scatological joke. Thus we have a scene with a girl caught in an automatic garage door – but the joke is meant to be that it is a fat girl. There is a scene taking off the group pact in I Know What You Did Last Summer – "I suggest we agree to forget about this and never talk about it again," whereupon the two girls turn to each other "You mean just like the time we got drunk and ate out each other's pussies?" When we reach the end of the film and, instead of any surprise revelations, all that Keenen Ivory Wayans does is produce exactly the same two suspects that Scream did and then have a scene that goes on forever with either one chickening out of being stabbed by the other, the result is staggeringly inane.
Scary Movie is even less imaginative when it comes to parodying Scream's movie in-referencing. Keenen Ivory Wayans attempts to parody the "What's your favourite scary movie?" gag in the opening sequence and has Carmen Electra reply "Kazaam [1996]." It might have been funny except for the fact that Scream 2 (1997) did the exact same send-up of the gag using Showgirls (1995). Similarly, the film attempts to parody the gag about the teenagers comparing their situation to other films – "Didn't this happen in some other film?" to which someone replies "Yeah, Scream." The joke is moronic because it is unable to think of anything else to do but refer to its source and in so doing show up just how much Scary Movie is slavishly copying Scream. Occasionally the film is funny – there is a parody of Scream 2's murder in the movie theatre where the victim is a rude and noisy moviegoer who gets stabbed to death by the other attendees (yeah!!!), or the opening moments where the killer stabs Carmen Electra only to impale her silicon implant.
Keenen Ivory Wayans throws in a lot of parodies of other films – Basic Instinct (1992), The Usual Suspects (1995), Titanic (1997) and Amistad (1997). What one suspects made Scary Movie a hit was its trailer, which cannily highlighted parodies of the hit films of 1999 – The Matrix (1999), The Blair Witch Project (1999) and The Sixth Sense (1999). Unfortunately, once you have seen the trailer there is not much else to the jokes. Keenen Ivory Wayans seems to think that the quote is meant to be the gag itself – he wants us to applaud him merely for being clever in quoting other films, rather than because they are funny. The Sixth Sense gag for example features Wayans' stoner brother Marlon going "I see dead people" – you keep waiting for a punchline and then you realize that that was the punchline.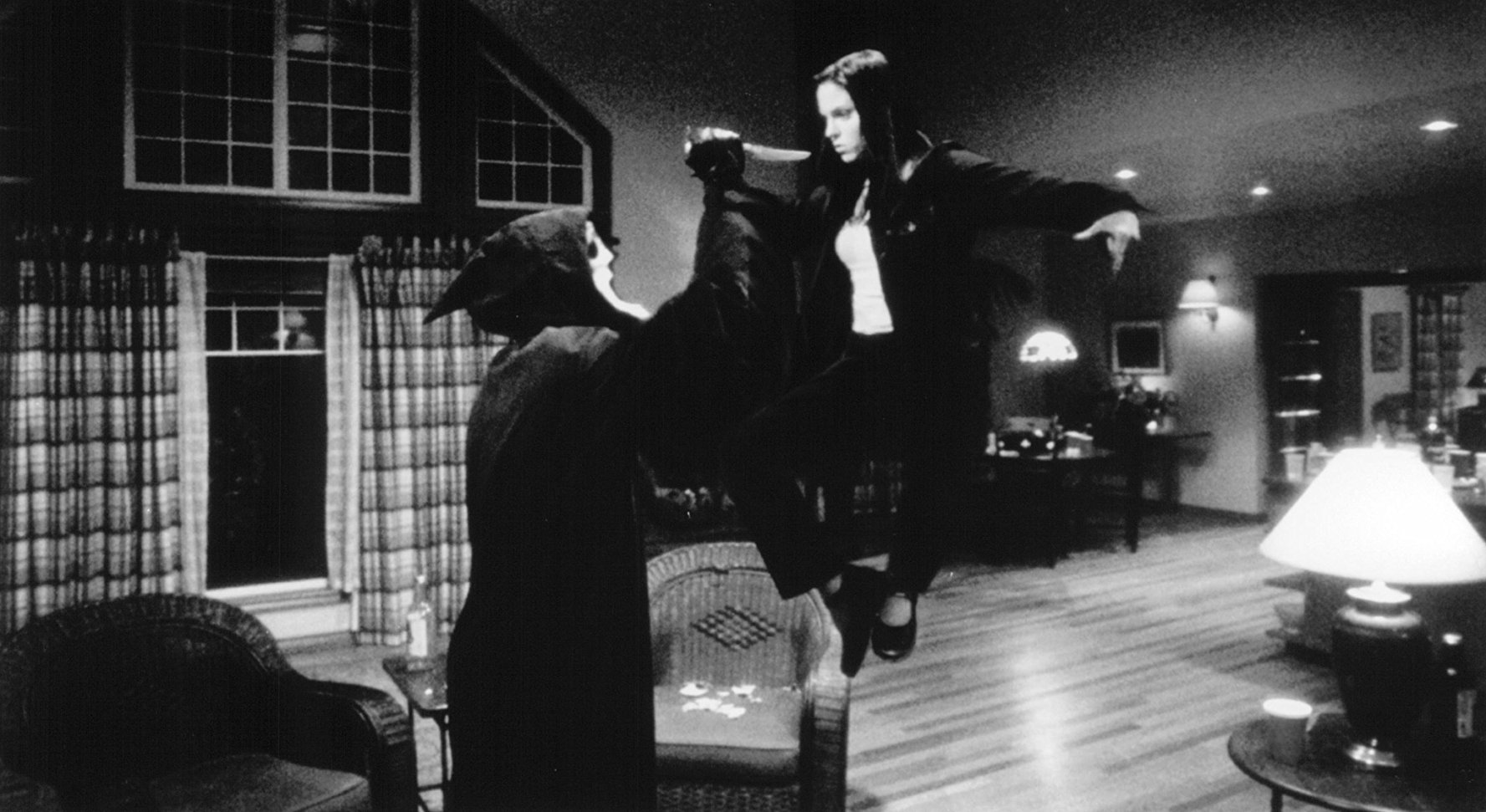 The sequels were Scary Movie 2 (2001), Scary Movie 3 (2003), Scary Movie 4 (2006) and Scary MoVie (2013). The Wayans family bowed out after Scary Movie 2 and the next two entries were directed by David Zucker. Anna Faris and Regina Hall appear in the first four films. The fifth film features a different cast and director.
Co-writers Jason Friedberg and Aaron Seltzer later branched out on their own as a writing/directing team and made various movie parodies in the same style as Scary Movie with Date Movie (2006), Epic Movie (2007), Meet the Spartans (2008), Disaster Movie (2008), Vampires Suck (2010), The Starving Games (2013), Best Night Ever (2013) and Superfast! (2015). Executive producer Bo Zenga directed his own horror parody with Stan Helsing: A Parody (2009), while co-star Marlon Wayans later wrote, produced and starred in his own similarly styled horror parody A Haunted House (2013) and A Haunted House 2 (2014).
(No. 5 on the SF, Horror & Fantasy Box-Office Top 10 of 2000 list).
---
---