USA. 2018.
Crew
Director/Makeup Effects – Patrick Magee, Screenplay – Jay Lee & Patrick Magee, Producers – Angela Lee & Patrick Magee, Photography – Jay Lee, Music – Ceiri Torjussen, Visual Effects Supervisor – Mitch Gates. Production Company – Blue Fox Entertainment.
Cast
Casey Gagliardi (Ashley Carr), Andrew Joseph Montgomery (Maxwell Carr), Eloy Casados (Sheriff), Marshall Hilton (B.D.), Jim Roof (Lefty), Justin Rain (Deputy), Shannon Malone (Whispering Woman), Blake Johnson (Hicks), Brandon Gibson (Gordy), Terry Pea (Eze), Tim Martin (Frank), Trevor Wright (Trout), Scotty Fields (Critter), Matt Herold (Nickel Pete)
---
Plot
Ashley Carr picks up her husband Maxwell after he is released from a year's jail sentence for drunken driving. Both have cleaned up since then and start trying to patch things back together. As they drive, a naked man abruptly runs out onto the road and they hit him. As they panic over what to do, rocks are thrown at them, knocking Max down the cliff into the river. Ashley dives in to rescue him. The two make a fire on the riverbank but wake in the morning to find their clothes missing and realise that they are lost in the woods. They encounter a hunting party of rednecks that had earlier taunted Max and place an uneasy trust in them as they agree to guide them back to the main road. However, it becomes apparent that a Bigfoot creature is lurking in the area, easily able to camouflage itself amid the greenery. It begins eliminating the hunters, while saving the two of them for its own purposes.
---
Patrick Magee – not to be confused with the late Irish actor who appeared as Mr Alexander in A Clockwork Orange (1971) and assorted other films such as Amicus's Asylum (1972), Hammer's Demons of the Mind (1972) and Lucio Fulci's The Black Cat (1981) – is a makeup effects artist. Magee has worked on films such as A.I. (Artificial Intelligence) (2001), Spider-Man (2002), Jurassic Park III (2001) and AVP: Alien vs Predator (2004). In particular, he has performed effects on most of the films of Jay Lee – Zombie Strippers! (2008), Alyce (2011), Area 407: Part Two (2013), Deathchair: The Chair That Eats (2013) and House with 100 Eyes (2013). Magee makes his directorial debut here and Lee acts as co-writer and cinematographer,
Primal Rage joins a host of Bigfoot films we have had since the early 1990s. The Bigfoot film began in the 1970s where the originals presented themselves as spurious documentaries or pseudo-documentaries but the 1990s counterparts have had no issues about being horror films proper – there has even been a whole subspecies of these within the Found Footage genre – although there are just as many that have Bigfoot as an eco-friendly creature or are family-oriented comedies. Primal Rage is one of these modern Bigfoot horror films. (For more detail see Bigfoot Films).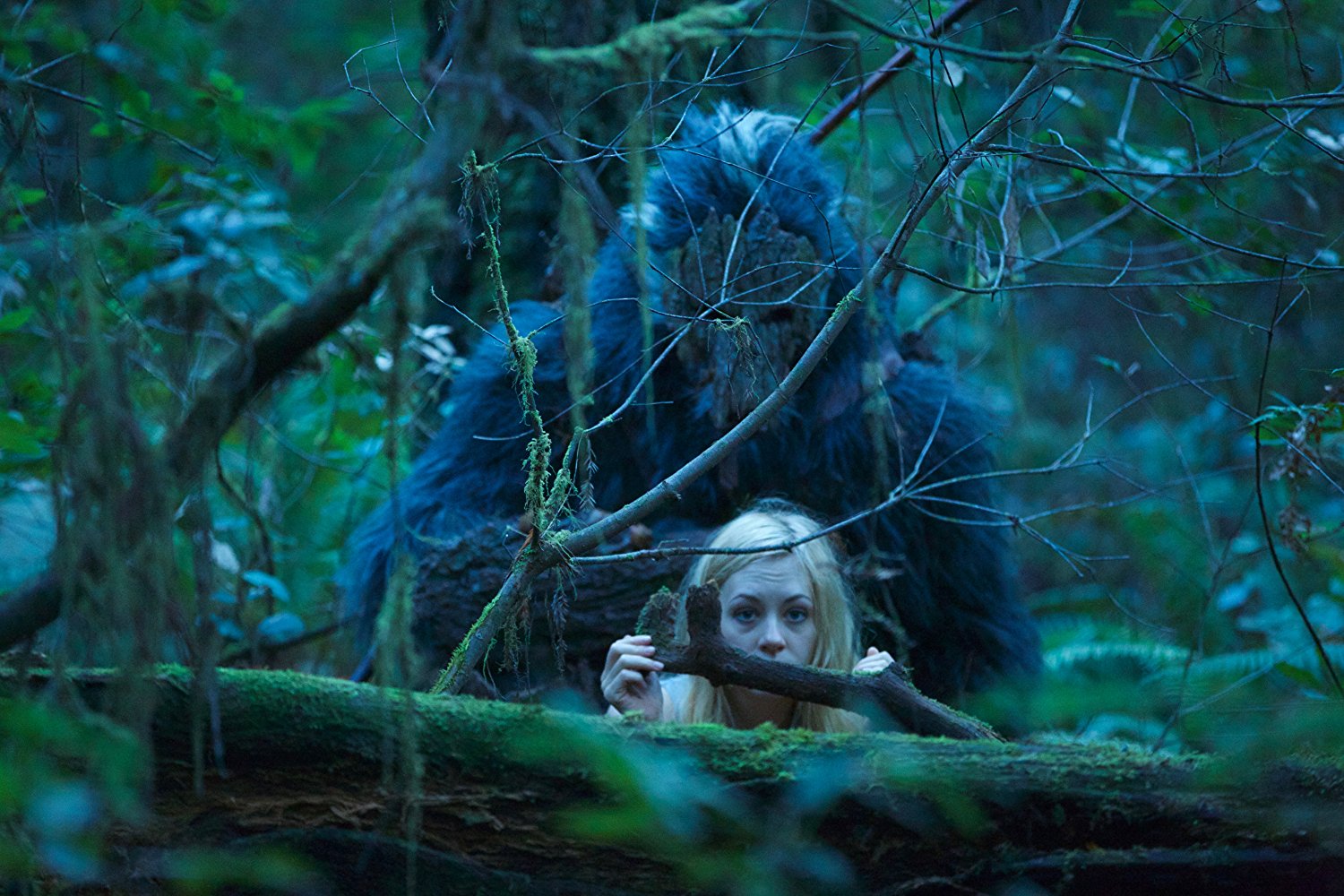 Patrick Magee quickly settles down to make a lean and effective horror film. In very short course, he propels us from the reconciliation of a husband and wife to their being thrust into harsh survival mode – lost in the woods in their underwear where they are forced to rely on a group of jocular but ambiguously threatening redneck hunters in order to be guided back to the main road. Magee builds suspense well during the various confrontations and attacks, culminating in a particularly savage climactic battle in which Andrew Joseph Montgomery is reduced to fighting the Bigfoot with his bare hands.
Where the film gains its feet is when Patrick Magee is allowed to engage in his forte – makeup effects. The Bigfoot creature is a particularly fearsome creation, a massive beast with red glowing eyes and face seemingly made out of tree bark. Magee gets some particularly unnerving shots out of the hulking Bigfoot standing right behind or above people without them even noticing it, or sneaking right up behind Casey Gagliardi to snip a lock of her hair. Even beyond that, Magee delivers some excellent makeup effects when it comes to the usual splatter and gore department – in particular, a scene where Jim Roof has the jaw of his mouth half torn off and is left staggering away with it still hanging there.
Jay Lee contributes some fine photography of the woods and surrounding area. One other noticeable aspect in comparison to most of the other Bigfoot films is that this has Bigfoot using tools and weapons, including hunting with bows and arrows, and the film places a strong emphasis on Bigfoot's place in American Indian myths and legends.
---
---