---
USA. 2008.
Crew
Director/Screenplay/Photography – Jay Lee, Producers – Andrew Golov, Angela Lee & Larry Schapiro, Music – Billy White Acre, Visual Effects Supervisor – Christopher Dawson, Special Effects Supervisor – Jonathan Kombrinck, Makeup Effects – Patrick Magee, Production Design – Sara Kugelmass. Production Company – Stage Six Films/Larande Productions/Scream HQ.
Cast
Robert Englund (Ian Essko), Jenna Jameson (Kat), Roxy Saint (Lilith), Jennifer Holland (Jessy), Camrit Levite (Madam Blavatski), Calvin Green (Cole), Shamron Moore (Jeannie), Joey Medina (Paco), Penny Drake (Sox), Whitney Anderson (Gaia), Jeanette Sousa (Berenge), Johnny D. Hawkes (Davis), Jen Alek Gonzalez (Lieutenant Ryker), Catero Colbert (Camus), Laura Bach (Sassy Sue), Brad Milne (Crushfeld), Zak Kilberg (Byrdflough), Jessica Custodio (Kwan), Travis Wood (Oxnard)
---
Plot
It is the year 2012, during George W. Bush's fourth term as President. A detachment of soldiers known as Z Squad are called to a scientific research laboratory to eliminate zombies that have been created there. One of the soldiers Byrdflough is bitten and stumbles into Rhino, a now-illegal neighbouring stripper bar. As the infection takes over, Byrdflough attacks and rips out the neck of the star stripper Kat. Kat collapses but moments later gets up and goes out to stun the patrons with an amazing act, before taking one of them backstage to devour his flesh. Another bitten stripper then does exactly the same. The Rhino's owner Ian Essko quickly exploits this phenomenon and soon all the strippers are lining up to become zombies, while those who dance normally are unable to attract interest. As Essko looks only to the profits he is raking in, he is unable to see the potential for disaster beneath his feet.
---
Zombie Strippers! arrives amid the sudden revival of interest in the zombie film that came out in the 00s following the remake of Dawn of the Dead (2004). However, it was the success of Shaun of the Dead (2004) that pointed the way towards a much more tongue-in-cheek zombie film. So far, we have seen such wacky conceptual collusions as Zombie Beach Party (2003), Hood of the Living Dead (2005), Dorm of the Dead (2006), Dance of the Dead (2008), Ninjas vs Zombies (2008), Attack of the Vegan Zombies! (2009) (which this film's director Jay Lee also edited), Romeo and Juliet vs the Living Dead (2009), Stag Night of the Dead (2009), Big Tits Zombie (2010), Bong of the Dead (2011), Abraham Lincoln vs. Zombies (2012), Cockneys vs Zombies (2012), Pro Wrestlers vs Zombies (2014), Zombeavers (2014), MILFs vs Zombies (2015), Scouts Guide to the Zombie Apocalypse (2015), Attack of the Lederhosen Zombies (2016), Pride and Prejudice and Zombies (2016) and Fat Ass Zombies (2020), as well as a huge mass of zombie parody short films.
One of the most peculiar fads I have seen at various US science-fiction conventions is how between the merchandising stalls and the has-been tv stars trying to get by selling autographs are Playboy and Penthouse bunnies who will happily give you an autograph or even a photo of them sitting on your lap if you pay the right price. The thing that always got me about this is wondering what exactly it is that Playboy models have to do with science-fiction or comic-book fandom. Fandom deals with fantasy, Playboy models have something to do with a certain type of other fantasy but that surely seems to be stretching a connection. One suspects that this may be more to do with there being a good deal of overlap between the readership of fannish material and men's magazines, a connection that may well require a thesis that somebody else can write to explore properly. Certainly, the Scream Queen fad in the late 80s/90s seemed to be trying to exploit this connection.
These coinciding interests have been cannily knitted together with Zombie Strippers!, which exactly as its title suggests, has been premised around combining the revived interest in zombie movies and an interest in strippers. To this extent, the film toplines Jenna Jameson, the former Penthouse Pet turned porn star who was touted as having a mainstream career at one point. The supporting cast is filled with various other adult models and actresses. It was apparently a sufficiently winning combination to make Zombie Strippers! one of the top-selling dvs on amazon.com when it came out. In fact, a near identical theme came out the same year with Zombies! Zombies! Zombies! (2008), which was forced to change its title from the originally planned Strippers vs Zombies, and concerned a group of strippers at siege from zombies in a stripper bar, as did the subsequent Japanese film Big Tits Zombie (2010). Around the same, there was also the obscure Porn of the Dead (2006), Stripperland (2011), Peelers (2016) and not long after we saw a gay pornographic zombie film with L.A. Zombie (2010) and a couple of years later another variation with Strippers vs. Werewolves (2012).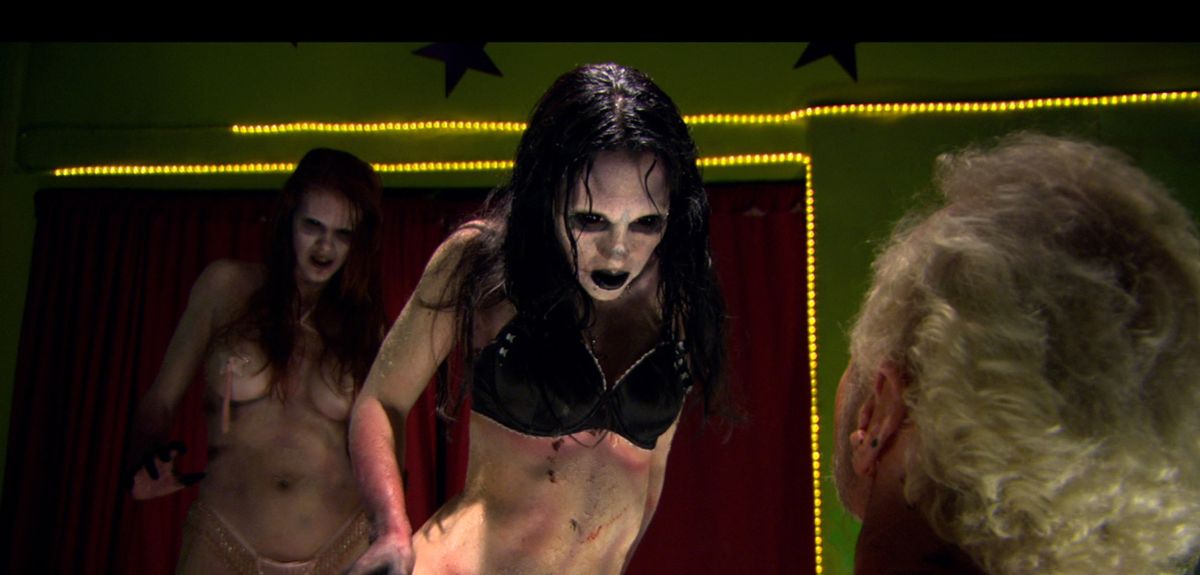 Director Jay Lee hits in with an appealing sarcasm. The opening scenes with the military venturing in to tackle the zombies has its tongue planted in its cheek – it is not dissimilar to the scenes with the marines venturing into the alien nest in Aliens (1986) but comes with deliberately absurd images like Laura Bach going into combat wearing a bra and holding a massive gun, and a variety of acerbic lines – which helps carry the film immeasurably over some spotty optical splatter effects. After a punchy opening, the film segues into a good many stripper scenes. There are probably more of these than the film needed – one supposes that the film has to satisfy a certain contingent that was drawn in by the title. However, the middle of the film does not seem to consist of much more than serial stripper scenes combined with a thin patina of zombie splatter – the strippers are made zombies, come on, do their thing and dazzle the audience, take a john backstage to devour him, another stripper goes through the same thing etc etc.
Just when you think that Zombie Strippers! is no more than a one-note joke, along comes the extended climax where the film's balance of sarcastic humour and premise come into perfect unison. There is an appealingly silly showdown on the catwalk between the decaying Jenna Jameson and her rival Shamron Moore with both goring one another, battering one another with a customer's torn-off arm, and then the side-splitting scene where Jenna Jameson fills her twat with ping pong balls and starts firing them at Moore with machine-gun force, before going onto replace them with billiard balls. There are some hilarious vignettes like where Robert Englund produces his collection of guns and NRA membership card before confessing that he doesn't have a clue how to fire them; or of Jennifer Holland's Star Trek quoting nerd boyfriend Johnny D. Hawkes begging her for a variety of sexual positions before they are killed. The film features the perpetually awful Robert Englund who sneers his way through another typical performance, although he is at least out over-acted by Camrit Levite with an exceedingly broad comic East European accent as the madam of the strip joint. By the point of the climax, these are performances that are perfectly well suited to the tone of the film.
Some of the gore effects are represented by cheap opticals but Jay Lee eventually produces the winning goods. There are some particularly strong effects with Jenna Jameson tearing open a victim's jaw to get at his tongue; not to mention the extremely gory scenes at the climax with Jenna having her guts torn out and continuing on before Shamron Moore strips her flesh down to the skeleton during their catwalk showdown, as well as Camrit Levite being progressively blown away by machine-gun fire, and Calvin Green having his bald head split open like a eggshell and the brains inside devoured.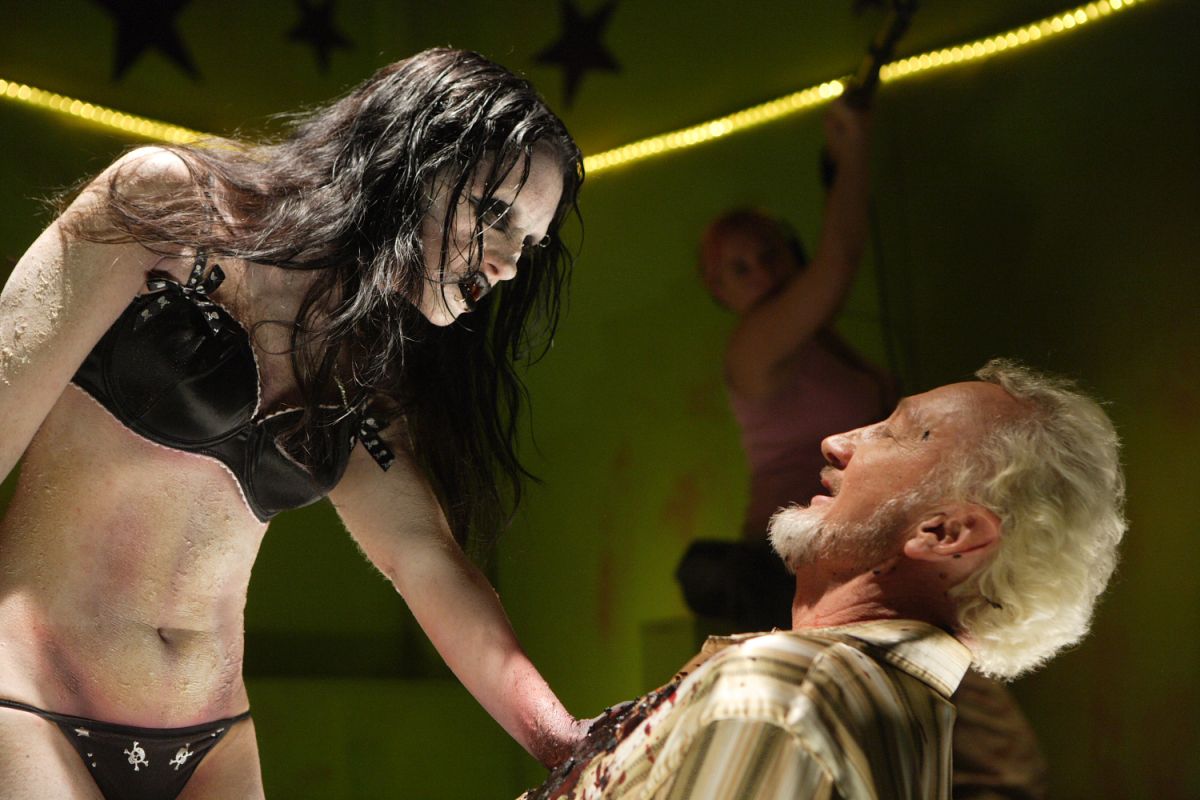 One of the things you least expect for a film with a title like Zombie Strippers! is political satire. The opening intro tells us about the year 2012 with George W. Bush in his fourth consecutive terms as President, Jenna Bush appointed to the Supreme Court, along with snide lines about "mission accomplished." It is not a particularly sophisticated level of political satire and has almost nothing to do with the film that follows. For some reason, Jay Lee also namedrops various philosophical/literary references – showing the strippers reading Nietzsche, and characters named Camus, a Sartre Town and Robert Englund's character being named Ian Essko (after playwright Eugene Ionesco, where he runs a Rhino bar that appears to have been named after Rhinoceros (1959), one of Ionesco's most famous absurdist works). One suspects more than anything that this is director/writer Jay Lee wrapping the film in a level of irony – that by including strippers reading Nietzsche, alongside joining the 00s cinematic fad for Bush bashing, he is signifying in loud and clear terms that the film is intended in an ironic way, that it is an exploitation film where intellectuals can get the joke.
Zombie Strippers! came from director/writer Jay Lee and his production company Scream HQ. Jay Lee had previously made two horror films with Noon Blue Apples/New World Order (2002) and The Slaughter (2006) and would subsequently go onto make Alyce (2011), a modernised urban version of Alice in Wonderland (1865), Area 407: Part Two (2013), Deathchair: The Chair That Eats (2013) and House with 100 Eyes (2013). Lee also co-wrote and photographed the Bigfoot film Primal Rage (2018).
---
---