USA. 2017.
Crew
Director/Screenplay – Sandy Chukhadarian, Producers – Sandy Chukadharian & Angel Jimenez, Jr, Photography – Danit Sigler, Music – Andreas Widegren, Makeup Effects – Wren Witting, Production Design – Francis Burns, Becky Hughes & Jonathan Villalobos. Production Company – Sunset Blvd Films, LLC.
Cast
Melissa Elena Jones (Norma), Angelica Chitwood (Sasha), Deniele Cloutier (JJ), Vince Peagler (Michael), Aubrey Wakeling (Lance Thornhill), Gwendoline Pere Lahaille (Rosie Thornhill), Cliff Smith (Officer Stewart), Monte James (Officer Cruz), Randy Olea (Professor Wildman), Will Ahrens (Transient)
---
Plot
In Pasadena, Norma is fired from her job as a childcare worker after threatening to lock a misbehaving child in the closet. Meanwhile, JJ is failing on her grades as a med student, while Sasha keeps getting drunk, interfering with her job as a stripper. All three were kept prisoners in a house ten years earlier but escaped. After being sent a video taken back during their imprisonment, the three come together in a determination to find the house again. Joined by Sasha's boyfriend Michael, they find the house and break in to get the tapes. However, as they are searching the house, their captor Lance Thornhill and his wife Rosie return.
---
Psychos – not to be confused with Mickey Keating's Psychopaths (2017) that came out later the same year – was a directorial debut for Sandy Chukhadarian, a woman director of East Indian origin, who had previously worked in editing.
Psychos starts out seeming like an escaped prisoner's revenge film – I was reminded a number of times of the far superior Bound to Vengeance (2015). Chukadharian does turn expectations on their head towards the end of the film, which I will get to in the spoiler section below, but for the bulk of the show Psychos plays out as a revenge film. The downside is that Chukhadarian is not operating with much of a budget at her disposal so the house of horrors is represented by no more than a regular suburban home. All of her cast are unknown actors – you commend Chukhadarian on giving each of the girls distinctive characters but the decision for all of them to play up their bitcheries as they set out on the mission becomes distractingly off-putting.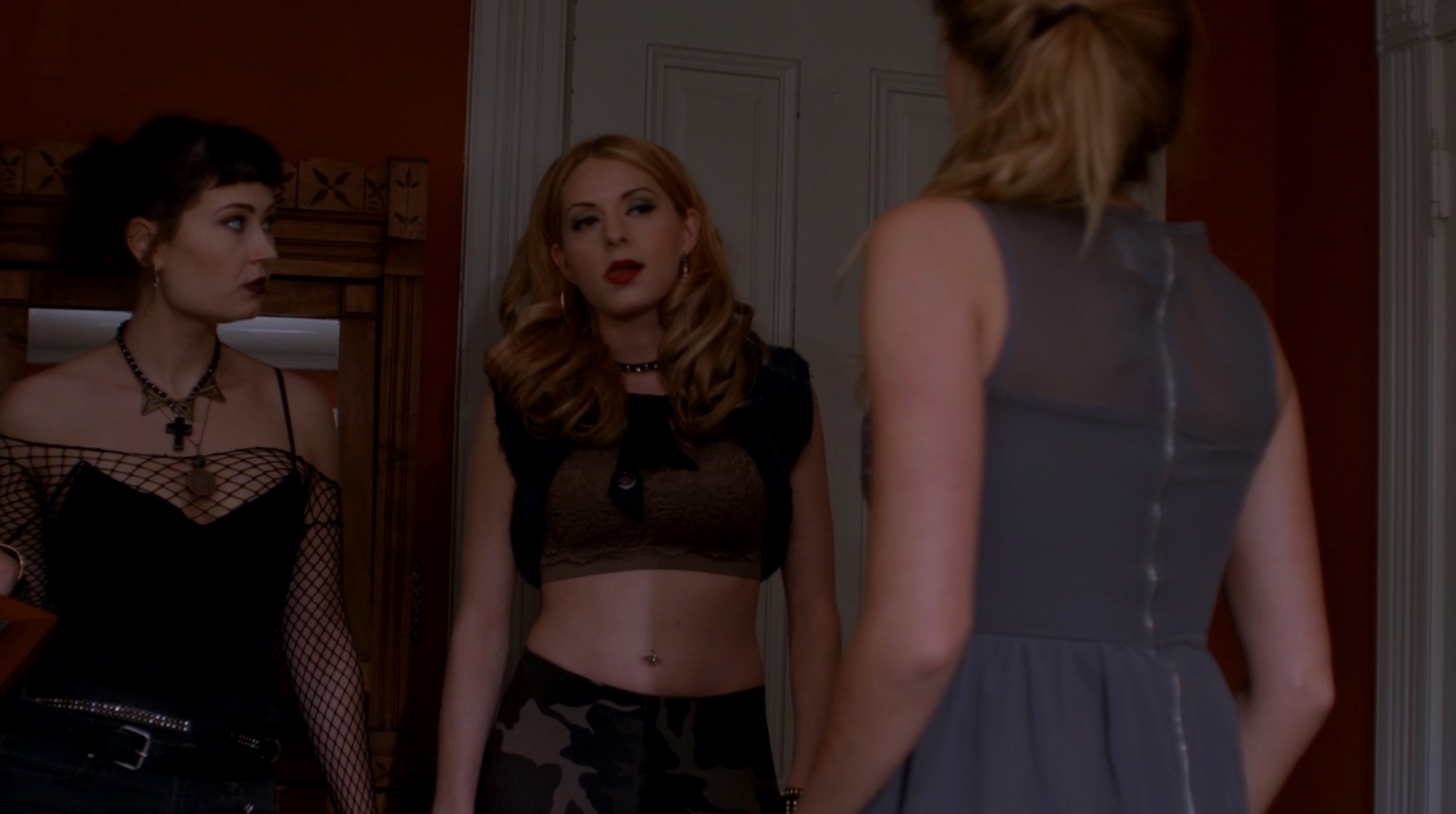 Chukhadarian creates a certain base tension once she gets the action inside the house but nothing standout. The main twist that comes three-quarters of the way through is that we find out [PLOT SPOILERS] that there is only one girl – Melissa Elena Jones's Norma – and that the other two girls are her split personalities. The house is in fact one where she was badly abused by her parents and is returning for the first time. This is another variant on the M. Night Shyamalan-esque surprise twist that has become kind of ho-hum by now – the one here is not too different from the twist that came in the middle of Martyrs (2008).
It is also a twist where you end up nitpicking the lack of logical follow-through. Norma may be the only real person but who was reacting with Vince Peager on the drive there? Exactly who is it that the parents are struggling to drag upstairs? Or does the opening where we are introduced to each of the girls mean that one girl improbably maintains three simultaneous lives as a childcare worker, a med student and a stripper?
---
---