France/USA. 2012.
Crew
Director – Franck Khalfoun, Screenplay – Alexandre Aja & Gregory Levasseur, Based on the 1980 Film Written by William Lustig, Producers – Alexandre Aja, Thomas Langmann & William Lustig, Photography – Maxime Alexandre, Music – Rob, Visual Effects – La Compagnie Generale des Effets Visuels (Director – Alain Carsoux) & Rez-Illusion (Supervisor – Jamison Goei), Special Effects – Spectrum FX (Supervisor – Eric Coon), Makeup Effects – KNB EFX Group, Inc (Supervisors – Howard Berger & Greg Nicotero), Production Design – Stefania Cella. Production Company – La Petite Reine/Studio 37/Canal +/Cine +/Blue Underground.
Cast
Elijah Wood (Frank Zito), Nora Arnezeder (Anna), Megan Duffy (Redlucie 66), Genevieve Alexandra (Jessica), Liane Balaban (Judy), Joshua de la Garza (Martin), Sammi Rotibi (Jason), Jan Broberg (Rita), America Olivo (Frank's Mother), Eli Dupont (Young Frank)
---
Plot
Frank Zito is a shy, socially awkward cab driver who stalks and kills women. He scalps them, taking their hair homes as souvenirs, which he nails to the heads of his collection of mannequins. He meets Anna, a photographer who asks to borrow some of his mannequins for an exhibition. As the two become friends, Frank finds himself attracted to her but this means having to fight his urges.
---
William Lustig's Maniac (1980) was one of the more notorious films to emerge from the 1980s slasher genre. Featuring Joe Spinell as the overweight slob of the taxi driver with a fixation with mannequins, killing women and photographer Caroline Munro, it was hated (even by regular magazines like Fangoria) because of its gore-drenched and sadistic extremes. These led to it being banned in several countries (including New Zealand). To the contrary, I found it a film that exerts an undeniably perverse fascination and has a number of scenes of strong suspense. Its reputation has been increasingly recognised in recent years.
Now Maniac joins a host of other films that have been treading the remake trail over the last few years with the likes of The Texas Chainsaw Massacre (2003), Toolbox Murders (2003), Willard (2003), Dawn of the Dead (2004), The Amityville Horror (2005), Assault on Precinct 13 (2005), The Fog (2005), Black Christmas (2006), The Hills Have Eyes (2006), The Omen (2006), Sisters (2006), When a Stranger Calls (2006), The Wicker Man (2006), Halloween (2007), The Hitcher (2007), April Fool's Day (2008), Day of the Dead (2008), It's Alive (2008), Long Weekend (2008), Prom Night (2008), Friday the 13th (2009), The Last House on the Left (2009), My Bloody Valentine (2009), Night of the Demons (2009), Sorority Row (2009), The Stepfather (2009), And Soon the Darkness (2010), The Crazies (2010), I Spit on Your Grave (2010), Mother's Day (2010), A Nightmare on Elm Street (2010), Piranha (2010), Don't Be Afraid of the Dark (2011), Fright Night (2011), Straw Dogs (2011), The Thing (2011), Carrie (2013), Evil Dead (2013), Patrick (2013), Poltergeist (2015), Suspiria (2018), Child's Play (2019) and Pet Sematary (2019).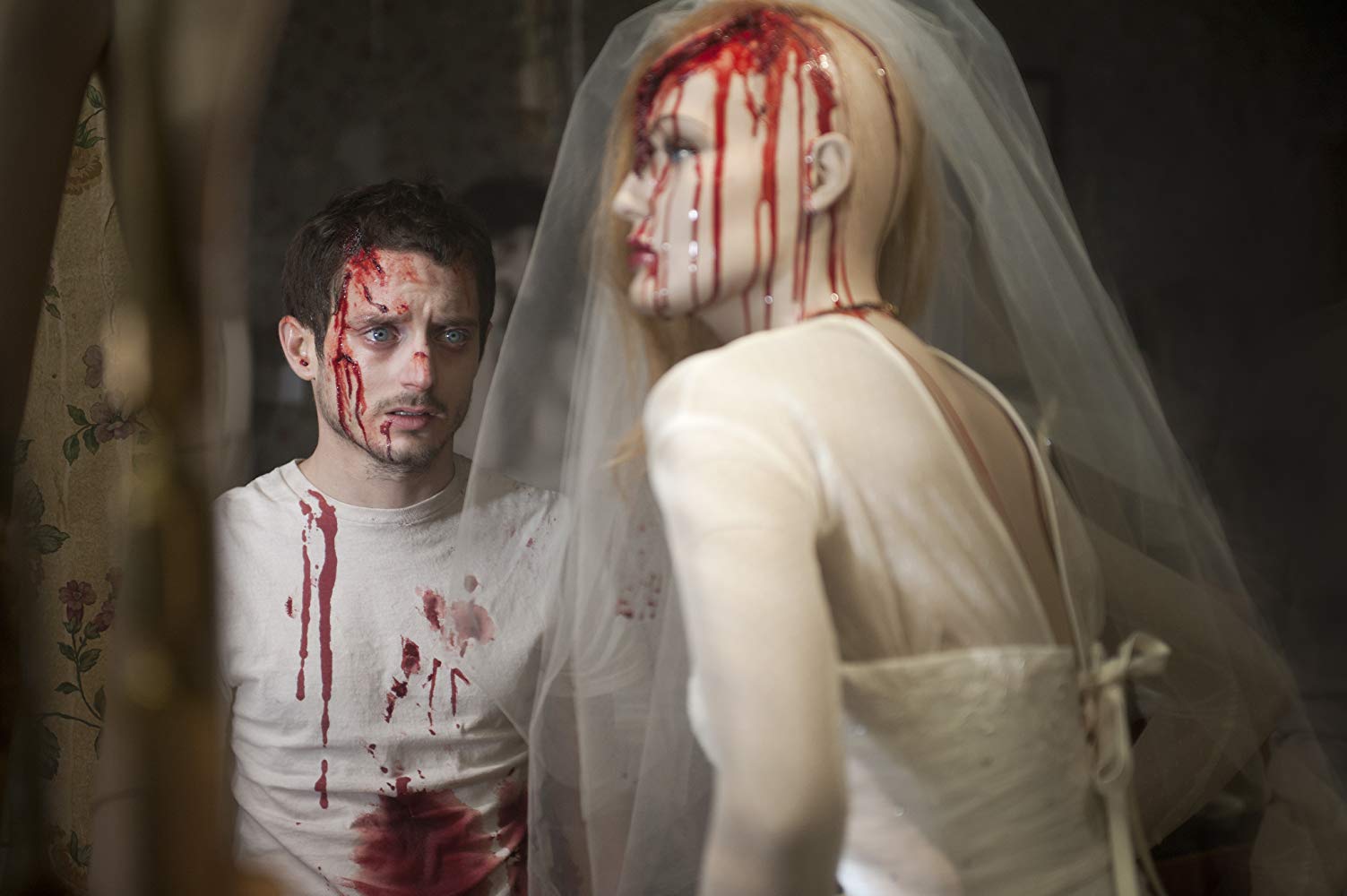 Maniac 2012 comes written and produced by Alexandre Aja, the French director known for films like High Tension (2003), Mirrors (2008) and Horns (2013), as well as several other 70s/80s remakes with The Hills Have Eyes (2006) and Piranha (2010). All of these come drenched with a good deal of on-screen gore and splatter. With Maniac, Aja places the directorial reins in the hands of Franck Khalfoun, for whom he had also previously written-produced the modest psycho-thriller P2 (2007). William Lustig has also signed on as a producer.
The considerable novelty that Maniac 2012 has is that it is shot entirely in first-person camera, meaning that we see the whole film from the point-of-view of the killer. (We do get to see the killer's face a number of times in the person of Elijah Wood – who seems to be going a long and determined way towards shucking cutsie typecasting following The Lord of the Rings). The first-person camera is an effect that we have only rarely seen on screen before with the Raymond Chandler adaptation The Lady in the Lake (1947), the Belgian internet relationships film Thomas in Love (2000) and the action film Hardcore Henry (2015). This is something that holds quite a kick to it – like the opening sequence where we follow Liane Balaban home and then Elijah Wood quietly says "Please don't scream, you look so beautiful" and abruptly jabs a knife up through her throat into her mouth and tears her scalp off.
Were this a film not so deeply embedded in the horror/gore genre, its novel approach could almost make it a psycho film filtered through an arthouse aesthetic. The film certainly pushes the gore and splatter envelope – with nasty scenes where Joshua de la Garza gets a meat cleaver in the mouth or the climactic scenes where the dead women pin Elijah Wood to the bed and tear his face off. It was enough to get this Maniac banned in New Zealand all over again in 2013.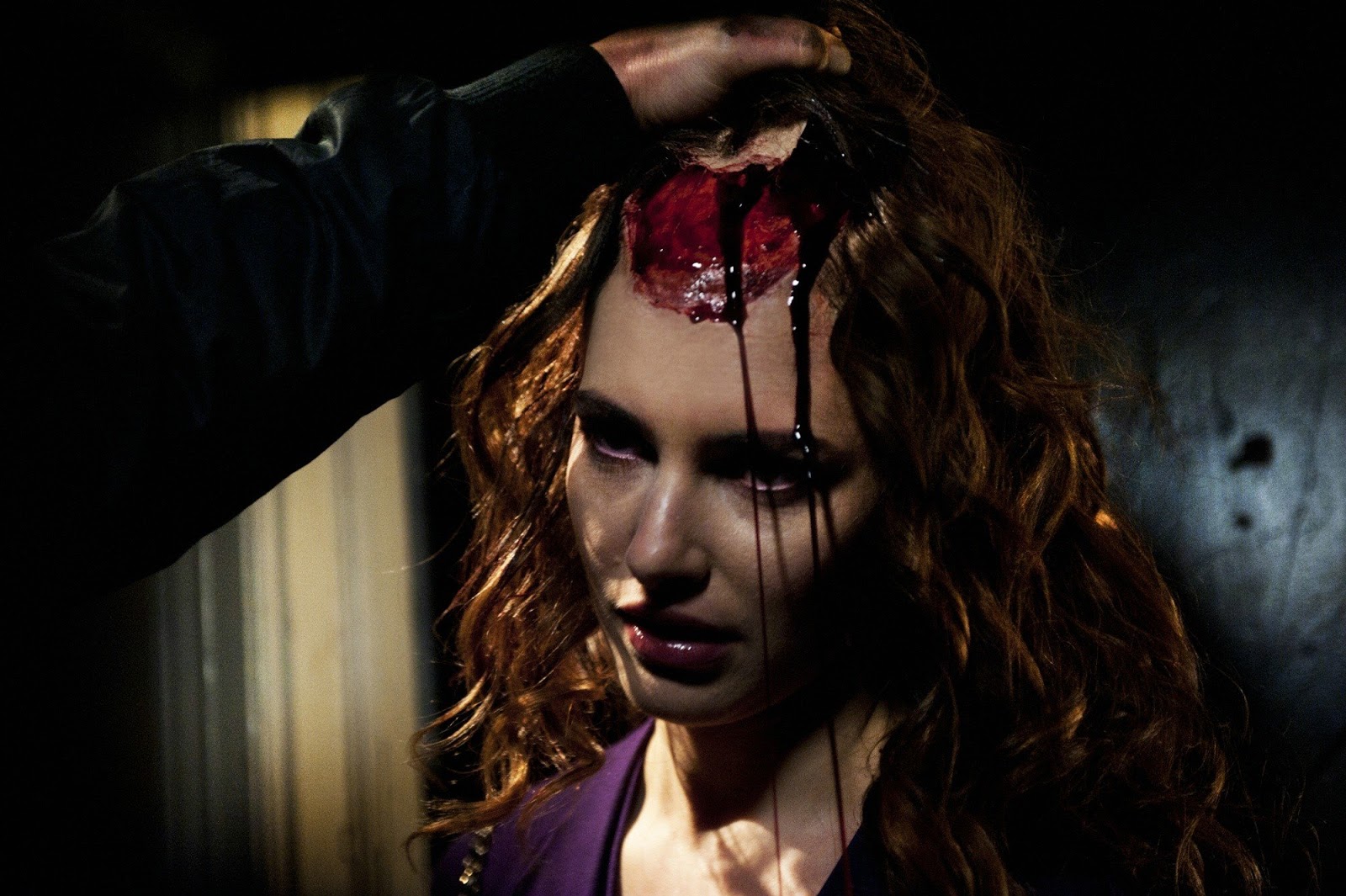 The remake follows the original surprisingly closely, which is even more of a surprise given how loose a script the first film had. Aja and his regular co-writer Gregory Levasseur keep the essentials while giving more coherence and motivation – more hints of Frank's backstory, evening out the relationship between Frank and the photographer Anna (Nora Arnezeder), more scenes with him as a taxi driver. There is the odd updating such as seeing Elijah Wood picking up women off internet dating sites.
The pursuit of the girl down into the subway, one of the highlight sequences of the first film, fails to work as well as it did in the original for the simple reason that Franck Khalfoun is unable to generate the same intense suspense using the first-person camera. Nevertheless, Khalfoun manages to do some remarkable things within the first-person restriction, including the climactic scenes that have Elijah Wood being stabbed and even run over without ever breaking the camera eye viewpoint.
Franck Khalfoun next went on to make i-Lived (2015) and Amityville: The Awakening (2017).
(Nominee for Best Cinematography at this site's Best of 2012 Awards).
---
---