---
Crew
Director – Chee Keong Cheung, Screenplay – Chee Keon Cheung, Steve Horvath & Mark Strange, Producers – Chee Keong Cheung, Ioanna Karavela & Mark Strange, Photography – Lorenzo Levrini, Music – Ian Arber, Visual Effects Supervisor – Felician Lepadatu, Visual Effects – XMC Media Production, Makeup Effects – Agnieszka Kukulka, Production Design – Felix Coles & Ruth Ingamells. Production Company – Apocalypse Pictures/Intense Productions Ltd./Epic Pictures.
Cast
Oris Erhuero (Captain Marcus Stanton), Carlos Gallardo (Sergeant Frederick Reeves), Mark Strange (Lieutenant Frank Perez), Joshua Dickinson (Private Perry Bernstein), Martin Ford (Corporal Jacob Gallagher), Euan MacNaughton (Major General Charles Smith), Robert Goodale (Dr Julian Raynes), Katrina Leigh Waters (Sergeant Kira Paige), Akira Koieyama (Sergeant Simon Lau), Michael Sheehan (Corporal Rodrigo Gonzalez), Marc Baylis (James Rowan), Orla O'Rourke (Miranda), Madeline Kelly (Rachel)
---
Plot
A deadly infection has occurred, turning people into flesh-eating zombies. A troupe of soldiers under Captain Marcus Stanton is despatched to go into the quarantine zone and rescue Dr Julian Raynes, a scientist who may have a cure to the condition. As the unit head into the area, visiting the possible locations Raynes might be, they realise that the zombies have become more intelligent.
---
Redcon-1 is an entry among the 2000s/2010s zombie film fad. The zombie film has begun in the 1960s, flourished in the 1980s and then underwent a major revival during this period after hits like Resident Evil (2002), 28 Days Later (2002), Dawn of the Dead (2004) and Shaun of the Dead (2004), plus tv's The Walking Dead (2010-22), resulting in an extraordinary outpouring of mostly low-budget copies. These days, the zombie genre mostly resides in a series of bizarre comic conceptual or title mash-ups. (For a more detailed overview of the genre see Zombie Films).
Redcon-1 is a belated serious entry that comes from Chee Keong Cheng, a British director of Chinese background. He had previously made two non-genre action films with Underground (2007) and Bodyguard: A New Beginning (2008).
The film promptly becomes a series of tedious action movie poses. It feels for at least the first 20 minutes as though one is watching a survival horror videogame more than they are a film. It is all slow-motion blows, gouts of blood and dismemberments, action posturing and loud physical slams on the soundtrack. This is something that causes the film to go from a promising set-up to the tedious within the first five minutes.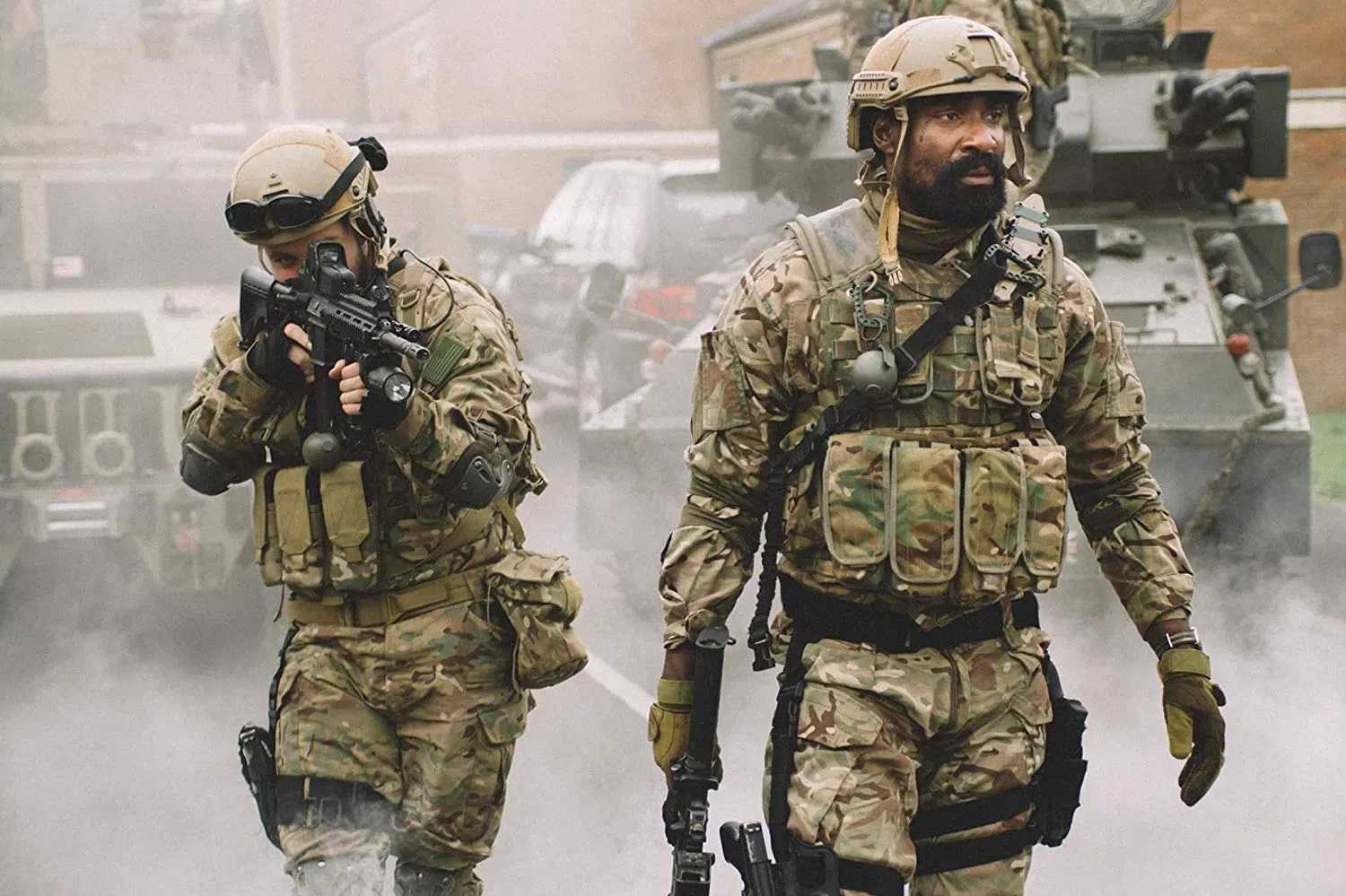 Chee Keon Cheng seems more interested in these action poses than he does his characters, all of whom have a faceless lack of individuality – all except the young kid that goes through the entire film wearing a school uniform (as though that is the most natural thing to wear in the midst of a zombie-overrun quarantine zone).
It is also a film that feels as though it is composed of cliches appropriated from other films. There's the cute kid that needs to be saved; the military who betray their own side for no other real reason than it is what they do in these cliches. The plot about a military sortie into a zombie-filled zone was done before in Battle of the Damned (2013), Quarantine LA (2013) and Pandemic (2016), while the whole venture into the quarantine zone by a military unit and their brutal fight for survival there was conducted before in Neil Marshall's infinitely superior Doomsday (2008) and subsequently in Transit 17 (2019), Peninsula (2020) and Army of the Dead (2021). The Horde (2009) did the whole ultraviolent fight for survival in the midst of zombie hordes better. You feel indifferent to any of the characters, have no investment in their struggle; it feels as though all we are watching random action postures that have no connection to anything.
---
---