---
USA. 1987.
Crew
Director – Fred Walton, Screenplay – Fred Walton & Elmore Leonard, Based on the Novel by William Kienzle, Producer – Robert G. Laurel, Photography – David Golia, Music – Bobby Laurel & Don Sebesky, Special Effects – Rick Josephson. Production Company – First Take Productions.
Cast
Donald Sutherland (Father Robert Koesler), Belinda Bauer (Pat Lennon), Charles Durning (Father Ted Neighbours), Josef Sommer (Lieutenant Koznicki)
---
Plot
Detroit is shaken by the activities of a serial killer who is systematically slaying Catholic priests and nuns, always leaving a rosary wrapped around each victim's hand. The second victim is a colleague of Father Bob Koesler. Koesler helps the police find how the killer was able to gain access to the seminary. Koesler is taking confession when he realises that the man he is talking to is the killer. He listens as the killer talks about how the church let his sixteen year-old daughter die. However, Koesler is bound by his confessional oath and must keep this information a secret. He struggles with his conscience as he searches for the identity of the killer and tries to find a way to stop him.
---
The Rosary Murders is an extraordinarily good thriller. It was little seen when it came out and sadly its profile has not substantially changed since then, although it is eminently deservous of much greater recognition. The great surprise about the film is some of the names behind it. The director is Fred Walton whose line of genre films both before and since has only been routine. Walton came to attention with the slasher film When a Stranger Calls (1979) and went onto make April Fool's Day (1986) and Dead Air (1994) and a host of made-for-tv movies including the likes of I Saw What You Did (1988), Trapped (1989), Homewrecker (1992), When a Stranger Calls Back (1993) and The Stepford Husbands (1996).
The Rosary Murders is the sole film in Fred Walton's oeuvre that stands out as being extremely good. Part of the effectiveness here might well be the other surprise name on the credits – Walton's co-writer Elmore Leonard. Leonard is of course best known as a crime novelist and a number of his works have been adapted into popular films including 52 Pick-Up (1974), Get Shorty (1995), Quentin Tarantino's Jackie Brown (1997), Paul Schrader's miracle-healer film Touch (1997), Steven Soderbergh's Out of Sight (1998), 3:10 to Yuma (2007) and Life of Crime (2013). Leonard adapts a 1978 novel by William Kienzle, himself a former Catholic priest, who became a crime writer went on to write 24 books featuring Father Robert Koesler.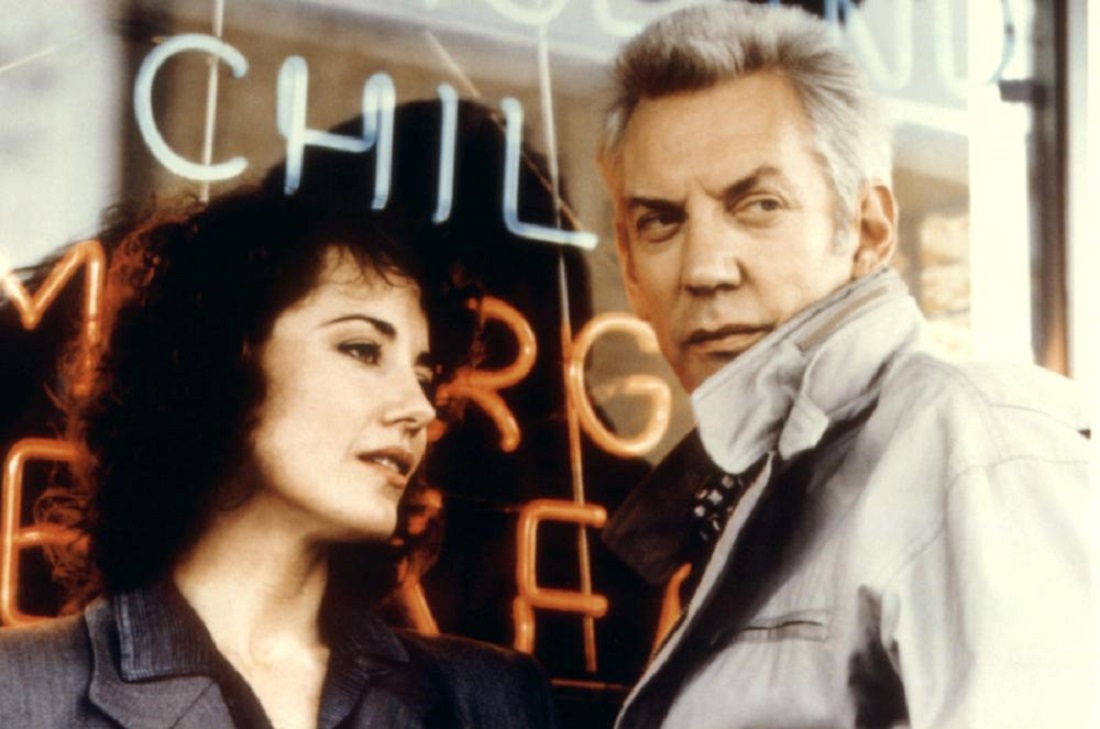 At times, The Rosary Murders resembles a serial killer version of Alfred Hitchcock's I Confess (1953), which featured Montgomery Clift as a priest troubled over whether to break the sanctity of the confessional by revealing his knowledge of a murder. The Hitchcock connection should not be lost – Hitchcock would surely have envied some of the scenes that Fred Walton sets up. The murder of Sister Ann Vanya is conveyed with a remarkable minimalism – all shot facing the wall of her dormitory block where the window of her room lights up, her shadow is seen passing in front of it, followed by a second shadow; fade out and fade in again the next morning showing hers is the only window still lit. It is a set-up that is pure Hitchcock in its subtly implied minimalism.
Walton favours a bloodless approach and the film is often more spookier than a dozen others that do not. Some scenes are startling – the cold chill that comes in the moment that Donald Sutherland returns to his room to find the flower pinned to his dartboard; or the scene where he stands by the grave reciting the names of the victims and is joined by the whispered voice coming out of the darkness; and the jump that rattles the whole theatre as a tense Sutherland opens a door only to find a cupboard, laughs it off and then opens another door to find the killer standing there.
The plot is excellent – there are some amazing twists, albeit a slightly probability defying m.o. behind the killer's choice of victims. However, Elmore Leonard's script makes the film is far more than just a novelty detective story a la The Father Dowling Mysteries (1989-91). The script moves over to comment on the Catholic Church, not denouncing it per se, but criticising its lack of compassionate balance and its appallingly inadequate dismissal of both Javison and Katherine's anguish. Some stretches of dialogue – Belinda Bauer's confession, the end reading of Katharine's letter – are extremely moving.
---
---