---
Crew
Director – Ken Russell, Screenplay/Producer – Barry Sandler, Photography – Dick Bush, Music – Rick Wakeman, Special Effects – Reel Effects Inc, Art Direction – Steve Marsh. Production Company – New World Pictures.
Cast
Kathleen Turner (Joanna Crane/China Blue), John Laughlin (Bobby Grady), Anthony Perkins (Peter Shayne), Annie Potts (Amy Grady)
---
Plot
Bobby Grady takes a job moonlighting as a private investigator for a sportswear firm who suspect one of their designers, Joanna Crane, of pirating their designs. Following Joanna, Bobby instead uncovers the secret life that she leads by night where she places on a blonde wig and becomes the prostitute China Blue. As his own marriage falls apart, Bobby becomes fascinated with and then involved with Joanna/China, trying to penetrate the veils of Joanna's alter ego to find out who she really is.
---
Crimes of Passion is borderline genre material. However, any film that combines Ken Russell and Anthony Perkins back in twitchy, eye-rolling Psycho (1960) territory has enough to be considered for entry. The film caused a good deal of outrage when it was released. The American version had to have a number of scenes cut in order to avoid an X-rating, although international versions are more explicit. Even so, all versions are missing one scene where John Laughlin visits a peepshow, although a 2002 director's cut restore some 12 minutes of deleted footage.
In his films – see the likes of The Devils (1971), Tommy (1975) and Whore (1991) – Russell loves to shock and outrage, throwing in outrageously OTT sex and blasphemy. Despite its outrageousness, Crimes of Passion is in some ways is Ken Russell's most restrained film. There is a penetrating sincerity in its examination of sexual masks and the needs of relationships. The scenes in John Laughlin and Annie Potts's home pull away for some often potent moments of screen-analysis and demonstrate a quiet-mindedness that one did not believe possible of Russell.
The script comes from Barry Sandler, author of the likes of Gable and Lombard (1976), The Mirror Crack'd (1980) and Making Love (1982), and is superlative. It brims over with sly puns – like Kathleen Turner parading in stewardess uniform, "Please remember while we may run out of Pan-Am coffee, we'll never run out of TWA-tea." The sparring between Kathleen Turner and Anthony Perkins is a joyous babble of pseudo-psychological slinging – "You wear your anguish like a breakaway chastity belt."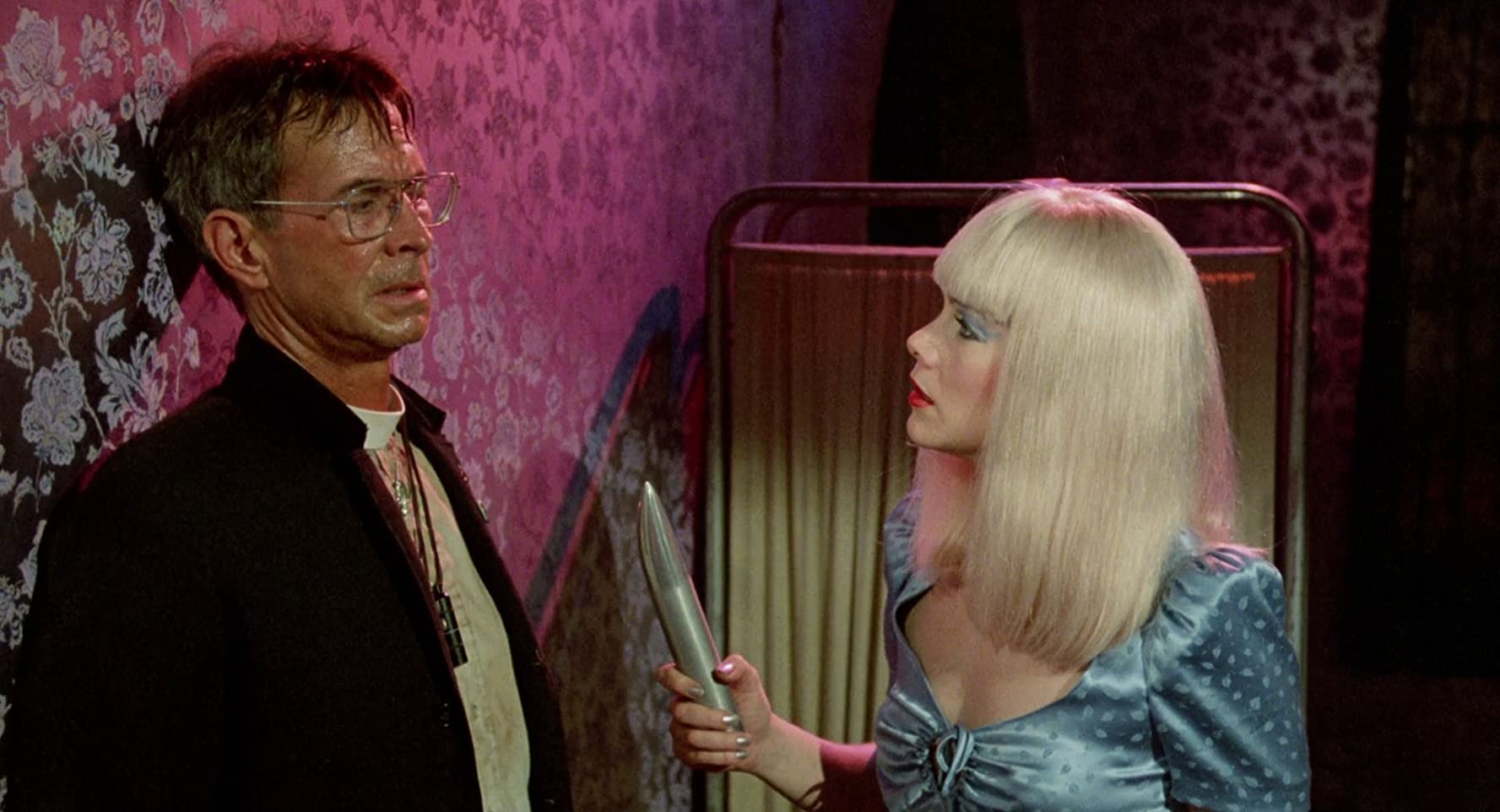 Kathleen Turner's strutting, mock goggle-eyed performance is the film's crowning joy – few other actors in her league would dare such an outrageous role, and even less would succeed. Anthony Perkins in full OTT mode has a great deal of fun. There is an amazing climax that swings like a pendulum between dangerously psychotic madness and craven humiliations with Perkins as a priest resolved on making Kathleen Turner repent, wielding a razor-tipped dildo and playing deranged songs on a piano while she lies tied to a drafting table. For Russell's extraordinary fusion of outrages and powerful post-Me Generation psychoanalysis, Crimes of Passion gets full marks.
Ken Russell's other films of genre interest are:– the spy film Billion Dollar Brain (1967); the historical witch persecution film The Devils (1971); the quite deranged surrealist adaptation of The Who's rock opera Tommy (1975); the mind-bending sf film Altered States (1980); Gothic (1986), centered around the events leading up to the inspiration for Mary Shelley's writing Frankenstein; the campy Bram Stoker adaptation The Lair of the White Worm (1988); Mindbender (1996), a biopic of the psychic fake Uri Geller; The Fall of the Louse of Usher (2002), Russell's demented home movie take on Edgar Allan Poe; and an episode of the horror anthology Trapped Ashes (2006).
---
---