---
Crew
Director/Screenplay – Fred Olen Ray, Story – T.L. Lankford, Fred Olen Ray & John Ray, Producer/Pyrotechnics – The Eel, Photography – Larry P. Van Loon & Brett Webster, Music – Drew Neumann & Eric Rasmussen, Makeup Effects – Chris Biggs, Bart J. Mixon & Jon McCallum. Production Company – American Independent Productions, Inc./American Panther Productions.
Cast
Kirk Alyn (Professor Howard Machen), JoAnn Robinson (D.J.), Richard Hench (Randy/Black Claw), Roger Maycock (Kershaw Ellerbe), Frank McDonald (Ben Murphy), Carol Sue Flockhart (Louise Landon), Barbara Magnusson (Ellen Corman), George Randall (Billy Ironwing), Jay Walker (Kyle Dunn), Forrest J. Ackerman (Professor Trentwood), Carroll Borland (Dr Sharon Reynolds), Frank Scott (Prospector), Cynthia Hartline (Ann)
---
Plot
Professor Machen and several of his archaeology students are about to head into the desert in search of Indian artifacts but he is reminded by his department head that he has an inventory to complete by Tuesday. He elects to stay behind and sends the students off on their own. Stopping off at a gas station, they are warned by an old Indian not to go beyond the black trees. They ignore this and set up camp. However, their presence disturbs the spirit of the Indian warrior Black Claw who possesses Randy and begins scalping and slaughtering the others.
---
Fred Olen Ray is one of the most prolific directors of all time with some 140 plus films to his credit between 1978 and the present. Olen Ray has almost always worked in exploitation – he started making films for the drive-in circuit, moved on into the video revolution and later cable markets. All of his films are either B-budget science-fiction, horror, action films or works of softcore erotica, sometimes all of the above, although in the 2010s he has taken to making Lifetime thrillers and family-friendly Christmas tv movies. Olen Ray was the most well-known proponent of the Scream Queens fad of the 1980s featuring minimally talented girls who would whip their tops off at the drop of a hat. One of the virtues of Olen Ray's films are his employing a cast of former name actors, lots of genre in-jokes and sometimes an appealingly cynical sense of humour. (A full list of Fred Olen Ray's genre films is at the bottom of the page).
Scalps was made early in Fred Olen Ray's career. Thus it has a roughness – it is a film made by somebody barely trained in the basics and churning out something half-formed more as practice while they are still learning the art. Olen Ray hasn't exactly become a good filmmaker since but his subsequent films are at least made with a B-budget competence, have better stories and more of a sense of humour. Scalps, by contrast, has none of that.
The biggest downer is that nothing really happens. A group of twentysomethings head into the desert and stumble into a cursed American Indian graveyard. Even then, a lot of the film consists of nothing more than the students trekking through the desert, making camp and examining shards of pottery. The later Fred Olen Ray would have given the students more quirky characters and wry one-liners, thrown in random sex/topless scenes, or peppered the show up with more killings earlier in the piece.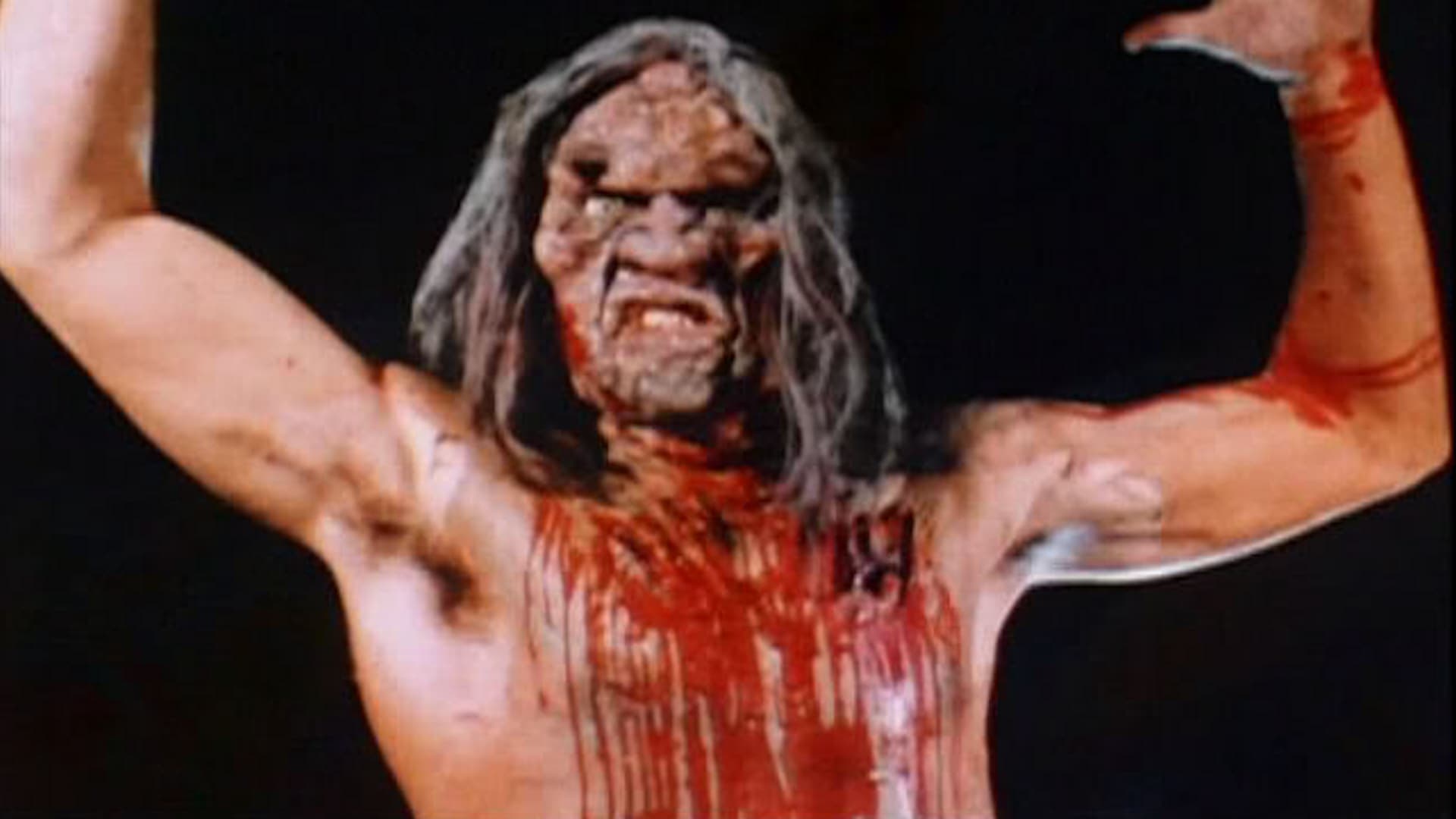 As it is, nothing happens until the 50-minute mark. After that point, we do get a possessed Richard Hench going around killing people and one or two gory scalpings. This may be why the distributor (against Olen Ray's wishes purportedly) edited in random shots of the superimposed Indian medicine man's head in an effort to scare us.
By this point, Olen Ray has started to develop his habit of featuring former genre names. The film's headline name is 73-year old Kirk Alyn, famous as the first screen Superman in the serials Superman (1948) and Atom Man vs Superman (1950). Alyn only appears as the professor in a couple of scenes at the start and one at the end. The rest of the time he is written out with the excuse of having to conduct a department inventory – clearly an economy move to bring him in enough to headline the show and then sideline him without having to pay more for the scenes trekking around the desert, which are played out by unknowns.
Elsewhere, Olen Ray also features small cameos from Forrest J. Ackerman, the editor of Famous Monsters of Filmland (1958-82) magazine that inspired a generation of monster fans, and Carroll Borland, once the young vampire girl in Mark of the Vampire (1935), both as Kirk Alyn's department colleagues.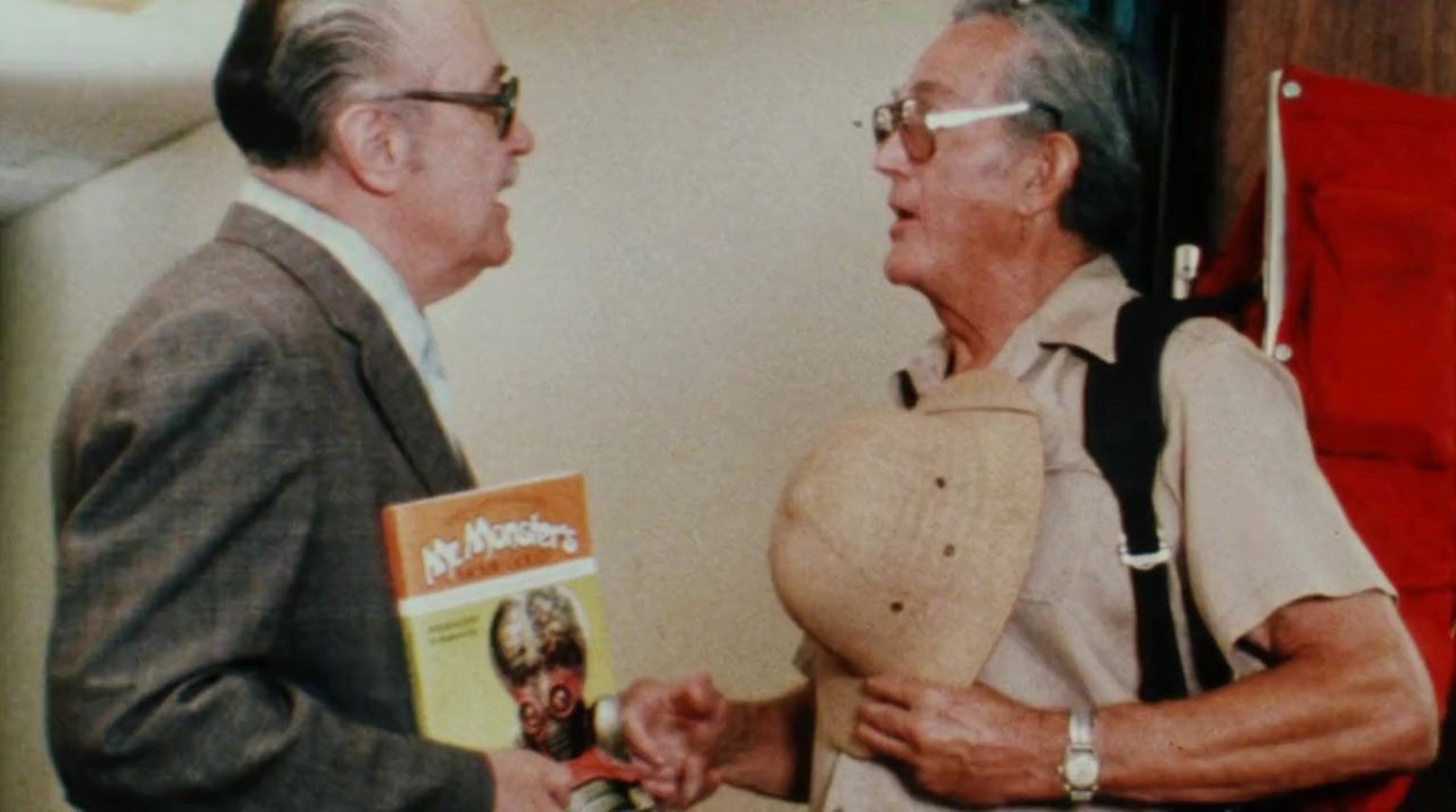 Fred Olen Ray has made a lengthy list of genre films. These include:- The Brain Leeches (1977), The Alien Dead/It Fell from the Sky (1980), Biohazard (1984), The Tomb (1985), The Adventures of Taura: Prison Ship Star Slammer (1986), The Phantom Empire (1986), Cyclone (1987), Beverly Hills Vamp (1988), Deep Space (1988), Hollywood Chainsaw Hookers (1988), Warlords (1988), Alienator (1990), Bad Girls from Mars (1990), Spirits (1990), Haunting Fear (1991), Scream Queen Hot Tub Party (1991), Wizards of the Demon Sword (1991), Evil Toons (1992), Little Devils (1993), Dinosaur Island (1994), Mind Twister (1994), Possessed By the Night (1994), Attack of the 60 Foot Centerfolds (1995), Cyber Zone/Droid Gunner (1995), Invisible Mom (1995), Star Hunter (1995), Night Shade (1996), Passionate Revenge/Friend of the Family II/Hell Hath No Fury (1996), Hybrid (1997), Little Miss Magic/Kidwitch (1997), Billy Frankenstein (1998), Dear Santa/My Dad Santa (1998), Illicit Dreams 2 (1998), Invisible Dad (1998), Active Stealth (1999), Fugitive Mind (1999), Invisible Mom 2 (1999), The Kid with X-Ray Eyes (1999), Prophet (1999), Critical Mass (2000), Sideshow (2000), Kept (2001), Stranded (2001), Venomous (2001), Thirteen Erotic Ghosts (2002), Final Examination (2003), Bikini-a-Go-Go/Curse of the Erotic Tiki (2004), Genie in a String Bikini (2004), Haunting Desire (2004), Teenage Cavegirl (2004), Glass Trap (2005), Tomb of the Werewolf (2005), Bikini Girls from a Lost Planet (2006), Bikini Pirates (2006), Ghost in a Teeny Bikini (2006), Bewitched Housewives (2007), The Girl With Sex-Ray Eyes (2007), Nuclear Hurricane (2007), Super Ninja Bikini Babes (2007), Polar Opposites (2008), Solar Flare (2008), Tarzeena, Queen of Kong Island (2008), Voodoo Dollz (2008), Dire Wolf (2009), Silent Venom (2009), Bikini Frankenstein (2010), Bikini Jones and the Temple of Eros (2010), Housewives from Another World (2010), Turbulent Skies (2010), Twilight Vamps (2010), Lady Chatterly's Ghost (2011), Little Witches (2011), Rewind Time Machine (2011), Super Shark (2011), Dirty Blondes from Beyond (2012), Abner the Invisible Dog (2013), After Midnight (2014), Unwanted Guest (2016), Stage Fright (2017), The Twin (2017) and Piranha Women (2022).
---
---