---
Crew
Director/Producer – Fred Olen Ray, Screenplay – Dr. S. Carver & B.J. Nestles, Screenplay Dramatically Rewritten and Improved Upon by T.L. Lankford & Fred Olen Ray, Photography – Scott Ressler, Music – Michael Perilstein, Makeup Effects – Sally Ray, Makeup Design – D.H. Wildsmith, Production Design – Corey Kaplan. Production Company – American Independent Productions/Savage Cinema.
Cast
Jay Richardson (Jack Chandler), Linnea Quigley (Samantha Kelso), Gunnar Hansen (The Stranger), Michelle McLellan [Michelle Bauer] (Mercedes), Esther Alise (Lisa), Dennis Monney (Detective Mick Harrison), Dawn Wildsmith (Lori), Jimmy Williams (Bo Hansen), Dukey Flyswatter [Michael E. Sonya] (Jake the Bartender), Tricia Burns (Ilsa), Jerry Fox (Hermie Beamer), Susie Wilson (Sally)
---
Plot
In Los Angeles, private detective Jack Chandler has been hired to find missing runaway teen Samantha Kelso. The course of Jack's investigation brings him up against an Ancient Egyptian chainsaw-worshipping cult where the high priest employs girls as hookers to go out, obtain johns and then carve them up. At the same time as Jack discovers that Samantha has become one of the chainsaw hookers, the cult capture him, intending to make him into their big sacrifice.
---
Hollywood Chainsaw Hookers is one of the films from the incredibly prolific Fred Olen Ray. Olen Ray is a hack director who found his calling churning out low-budget films for the 1980s/90s video market and cable. He had done so with the prolific regard of the Energizer Bunny, having made over 200 films since 1977, which averages at around six films per year. Some years Olen Ray has far exceeded his quota – he is listed for making eight films in both 1997 and 2001. Olen Ray's films are cheap, frequently venture into softcore erotica and often wear their cynicism on their sleeve with cheesy cod-B movie titles or tongue-in-cheek dialogue. Olen Ray loves bimbos and was the chief proponent of the Scream Queens fad of the 1980s/early 90s. (See below for a full list of Fred Olen Ray's other genre films).
Hollywood Chainsaw Hookers feels exactly like Fred Olen Ray sat down to watch The Texas Chain Saw Massacre (1974) and then tried to think of a way to reconceive it as one of his bimbo films. The conceptual collusion is surely made evident in the two named headline names – Gunnar Hansen, who played Leatherface in Texas Chain Saw, and Linnea Quigley, who was probably the most famous actress among the Scream Queens fad. (Scream Queen Michelle Bauer is also present behind the pseudonym of Michelle McLellan).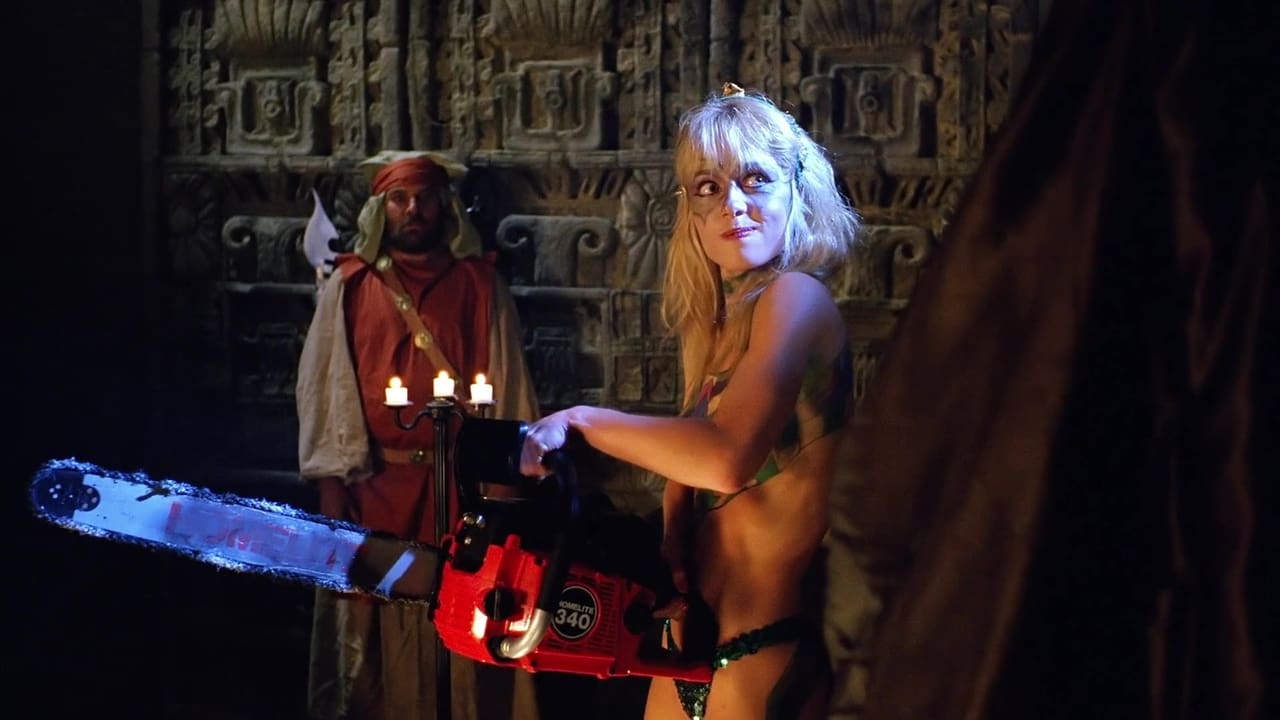 That Hollywood Chainsaw Hookers is intended as tongue-in-cheek is evident from the very outset where a title card announces: "The chainsaws used in this motion picture are real and dangerous. They are handled here by seasoned professionals. The makers of this motion picture advise strongly against anyone attempting to perform these stunts at home. Especially if you are naked and about to engage in strenuous sex." The first scene where Michelle Bauer takes a john (Jimmy Williams) back to her motel then starts covering things in plastic before getting out the chainsaw is hilarious. There is surely no greater exploitation image than that of Michelle Bauer standing fully frontal naked wielding a chainsaw as body parts and blood spurt up all over her.
There are all manner of drolly sarcastic one-liners – Bauer to john: "Who got up on the wrong side of the construction site this morning?" The idea of a chainsaw cult that stretches all the way back to Ancient Egypt is just one of the film's cheerful absurdities. And then there is the sacrificial ceremony where the girls bring out cans of motor oil and take communion, followed by a topless fire breather (for no other reason than just because) and an entranced Linnea Quigley then does the Dance of the Double Chainsaws. This comes amid lines like: "In your hands, you hold the Chainsaw of the Gods – use it wisely." Jay Richardson's deadpan cod-tough guy detective voiceovers, parodying Mickey Spillane prose, are hilarious.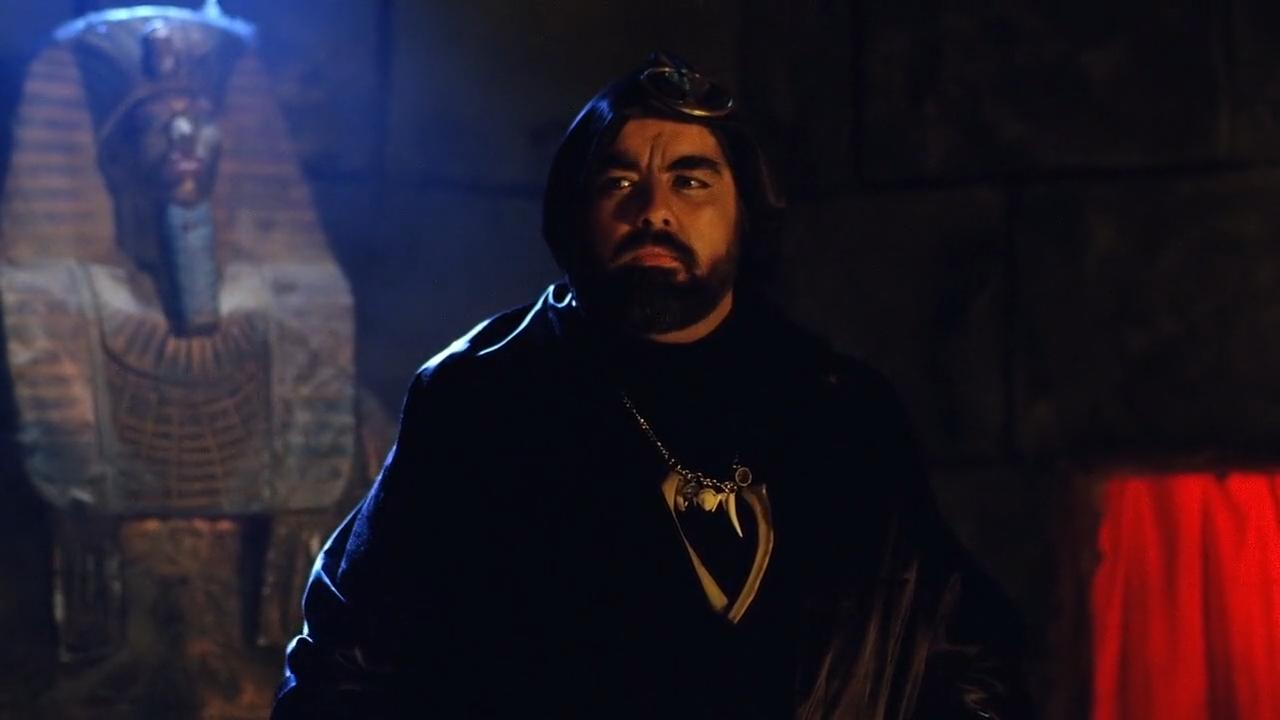 The performers are generally reasonable. Gunnar Hansen, the original Leatherface himself, who appears on screen without his mask for only the second time, has an undeniable presence as the character listed as just The Stranger. Linnea Quigley, who was aged thirty when Hollywood Chainsaw Hookers came out, is looking too old to be playing the teenage runaway but acquits herself passably. There is not much of a plot to the show – just a sequential series of scenes where the girls lure johns and carve them up with chainsaws, before detective Jay Richardson's is shoehorned into becoming their sacrifice. Nevertheless, Hollywood Chainsaw Hookers is one film where Fred Olen Ray gets his balance of sarcastic farce, bimbos and cheap gore effects perfectly in balance.
Fred Olen Ray has stated that Hollywood Chainsaw Hookers was one of his most popular films. The end credits announce: "Coming Soon Student Chainsaw Nurses", which leaves one surprised that Olen Ray, given his penchant for multiply sequelising his own films, has never gotten around to making.
Fred Olen Ray's other genre films include:- The Brain Leeches (1977), The Alien Dead/It Fell from the Sky (1980), Scalps (1983), Biohazard (1984), The Tomb (1985), The Adventures of Taura: Prison Ship Star Slammer (1986), The Phantom Empire (1986), Cyclone (1987), Beverly Hills Vamp (1988), Deep Space (1988), Warlords (1988), Alienator (1990), Bad Girls from Mars (1990), Spirits (1990), Haunting Fear (1991), Scream Queen Hot Tub Party (1991), Wizards of the Demon Sword (1991), Evil Toons (1992), Little Devils (1993), Dinosaur Island (1994), Mind Twister (1994), Possessed By the Night (1994), Attack of the 60 Foot Centerfolds (1995), Cyber Zone/Droid Gunner (1995), Invisible Mom (1995), Star Hunter (1995), Night Shade (1996), Passionate Revenge/Friend of the Family II/Hell Hath No Fury (1996), Hybrid (1997), Little Miss Magic/Kidwitch (1997), Billy Frankenstein (1998), Dear Santa/My Dad Santa (1998), Illicit Dreams 2 (1998), Invisible Dad (1998), Active Stealth (1999), Fugitive Mind (1999), Invisible Mom 2 (1999), The Kid with X-Ray Eyes (1999), Prophet (1999), Critical Mass (2000), Sideshow (2000), Kept (2001), Stranded (2001), Venomous (2001), Thirteen Erotic Ghosts (2002), Final Examination (2003), Bikini-a-Go-Go/Curse of the Erotic Tiki (2004), Genie in a String Bikini (2004), Haunting Desire (2004), Teenage Cavegirl (2004), Glass Trap (2005), Tomb of the Werewolf (2005), Bikini Girls from a Lost Planet (2006), Bikini Pirates (2006), Ghost in a Teeny Bikini (2006), Bewitched Housewives (2007), The Girl With Sex-Ray Eyes (2007), Nuclear Hurricane (2007), Super Ninja Bikini Babes (2007), Polar Opposites (2008), Solar Flare (2008), Tarzeena, Queen of Kong Island (2008), Voodoo Dollz (2008), Dire Wolf (2009), Silent Venom (2009), Bikini Frankenstein (2010), Bikini Jones and the Temple of Eros (2010), Housewives from Another World (2010), Turbulent Skies (2010), Twilight Vamps (2010), Lady Chatterly's Ghost (2011), Little Witches (2011), Rewind Time Machine (2011), Super Shark (2011), Dirty Blondes from Beyond (2012), Abner the Invisible Dog (2013), After Midnight (2014), Unwanted Guest (2016), Stage Fright (2017) and The Twin (2017).
---
Trailer here
---