---
USA. 1994.
Crew
Director/Story – Fred Olen Ray, Screenplay – Mark Thomas McGee, Producer – Alan Amiel, Photography – Gary Graver, Music – Chuck Cirino, Mechanical Effects – Wizards, Inc. (Supervisor – Bob McCarthy), Special Effects – SOTA FX Inc (Supervisors – Roy Knyrim & Jerry Macaluso), Production Design – Janet Stokes. Production Company – Possessed By the Night Inc.
Cast
Shannon Tweed (Carol McKay), Ted Prior (Howard Hansen), Sandahl Bergman (Peggy Hansen), Chad McQueen (Gus), Frank Sivero (Murray Dunlap), Henry Silva (Scott Lindsay), Turhan Bey (Calvin Beckman)
---
Plot
Frustrated by writer's block, horror novelist Howard Hansen wanders into a Chinatown curio shop where the owner's son lets him buy a twisted, one-eyed creature in a jar, even though his father does not want it to be sold. Back home, the creature in the jar mentally forces Howard to have rough sex with his wife. Meanwhile, Howard's agent Murray Dunlap, who has been stealing money from Howard, now faces threat from mobster Scott Lindsay to pay up owed money. Murray installs 'secretary' Carol McKay in Howard's house and secretly instructs her to steal Howard's manuscript for a romantic novel so that he can sell it for the owed money. Under the creature's influence, Howard has sex with Carol and she becomes a mentally unstable psychopath.
---
Fred Olen Ray is one of the most prolific low-budget genre directors. Olen Ray has directed over 100 films, including the likes of The Tomb (1985), The Adventures of Taura: Prison Ship Star Slammer (1986), The Phantom Empire (1986), Deep Space (1987), Cyclone (1987), Hollywood Chainsaw Hookers (1988), Warlords (1988), Dinosaur Island (1993), Cyber Zone (1994) and Bikini Hoe-Down (1997). (See below for a full listing of Fred Olen Ray's other genre films). The chief appeal of Fred Olen Ray's films is their cheerful cynicism – Olen Ray deliberately sets out to make bad movies and covers this by clearly signalling that he is doing so with titles like Bad Girls from Mars (1991) and Attack of the 60 Foot Centerfolds (1995), as well as cheap effects that not even he is taking seriously and above all bimbos. Fred Olen Ray was the chief proponent of the late 80s Scream Queen phenomenon, featuring actresses of no talent other than an ability to lose their tops at a moment's notice. The most unconsciously telling autobiographical comment upon Fred Olen Ray's part is here when Henry Silva's mob boss announces – "I don't give a shit what anybody says – I love bimbos."
Possessed By the Night feels like Fred Olen Ray has taken Gremlins (1984) and crossbred it with one of his softcore bimbo films. The basic set-up of the film closely follows the plot of Gremlins – the discovery of a magical creature in a Chinatown curio shop that is sold by the aging owner's son, even down to a similar ending where the creature is reclaimed by the old man. Unlike Gremlins, the menace is reduced to a single creature and is mostly kept inside a jar (which is probably a good idea as the one scene when it is taken out and put inside the marriage bed reveals it as ludicrously cheap looking).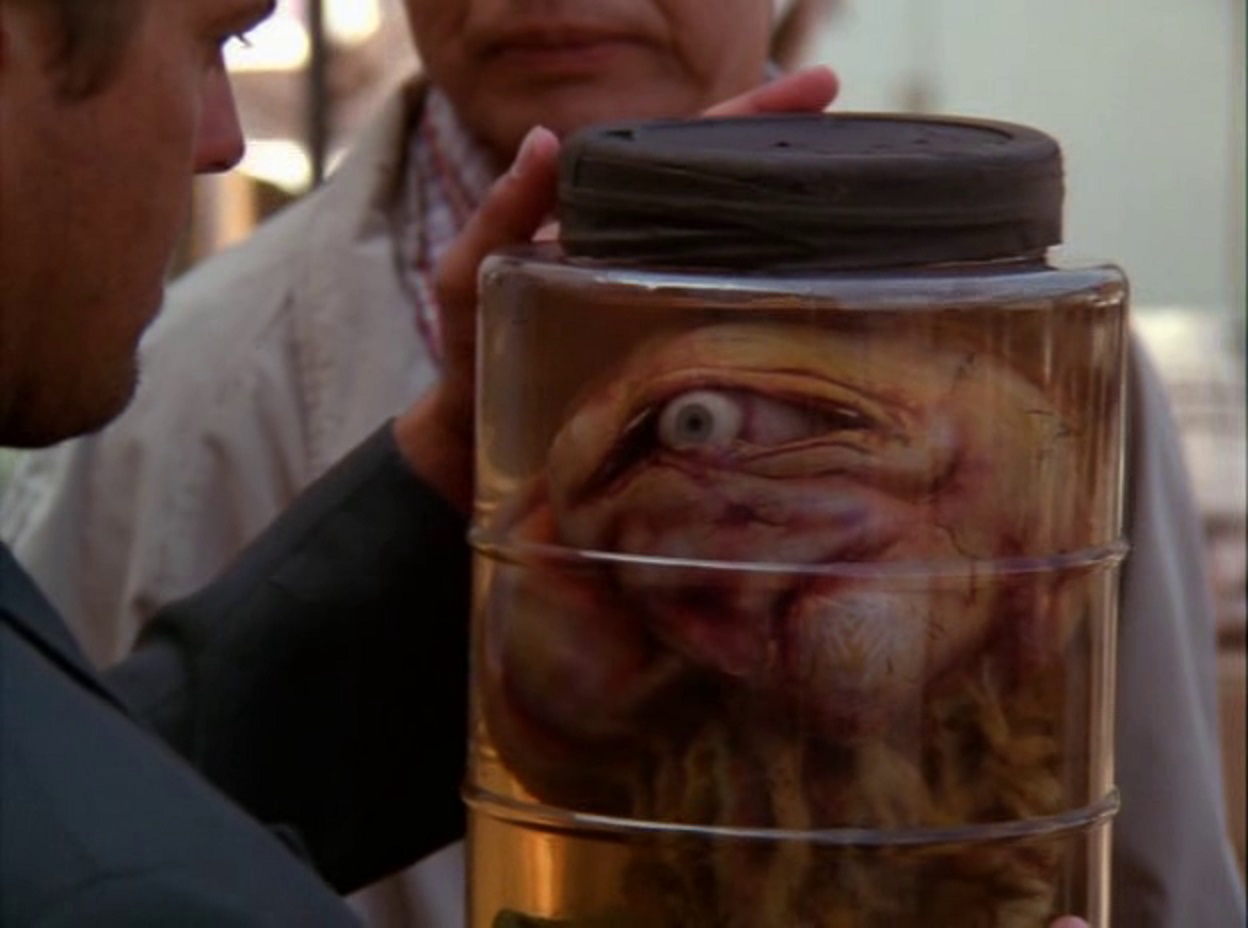 While on the one hand, Possessed By the Night is a blatant copy of Gremlins, on the other it is one of Fred Olen Ray's standard bimbo films and the two make odd bedfellows. Olen Ray casts Shannon Tweed, an actress who has become a cult figure in the video-released horror and softcore market. She still remains a sex symbol and a queen of this particular exploitation niche market even at the age of 40. Not too surprisingly, Olen Ray has Shannon Tweed naked within a few minutes of introducing her. Olen Ray also has on board Sandahl Bergman. In the early 1980s, Sandahl Bergman made distinction first as a Broadway dancer and then as the female lead in Conan the Barbarian (1982) but her acting career never subsequently took off with the promise it was once seen as having. Here, having fallen into the orbit of Fred Olen Ray and ended up as one of his bimbos – where she has a nude love scene in the film's opening moments and throws her top off numerous times throughout – it is clear that Sandahl Bergman's career has slid a long way down.
Possessed By the Night comes bereft of much in the way of underlying rationale of motivation – at one point, Shannon Tweed is a secretary introduced by double-dealing agent Frank Sivero (and it is hinted, may not even be a secretary) with orders to steal the manuscript. Next, she metamorphoses into a deranged psycho and, in the most laughable scene, makes Sandahl Bergman and Ted Prior have sex at gunpoint. What makes the eroticism in the film so ungainly is its bizarre arbitrariness. One of the funniest scenes is where Shannon Tweed in her first day on the job, in perfect porn movie motivation, asks Ted Prior: "Do you mind if I use the workout equipment in your bedroom when I'm finished [work]?" which then becomes a laughable sequence of sweatily eroticised half-clad aerobics that is all the more bizarre for both its total gratuity as a scene and the hyper-emphasized detail that Fred Olen Ray pumps into it.
Fred Olen Ray has made a lengthy list of genre films. These include:- The Brain Leeches (1977), The Alien Dead/It Fell from the Sky (1980), Scalps (1983), Biohazard (1984), The Tomb (1985), The Adventures of Taura: Prison Ship Star Slammer (1986), The Phantom Empire (1986), Cyclone (1987), Beverly Hills Vamp (1988), Deep Space (1988), Hollywood Chainsaw Hookers (1988), Warlords (1988), Alienator (1990), Bad Girls from Mars (1990), Spirits (1990), Haunting Fear (1991), Scream Queen Hot Tub Party (1991), Wizards of the Demon Sword (1991), Evil Toons (1992), Little Devils (1993), Dinosaur Island (1994), Mind Twister (1994), Attack of the 60 Foot Centerfolds (1995), Cyber Zone/Droid Gunner (1995), Invisible Mom (1995), Star Hunter (1995), Night Shade (1996), Passionate Revenge/Friend of the Family II/Hell Hath No Fury (1996), Hybrid (1997), Little Miss Magic/Kidwitch (1997), Billy Frankenstein (1998), Dear Santa/My Dad Santa (1998), Illicit Dreams 2 (1998), Invisible Dad (1998), Active Stealth (1999), Fugitive Mind (1999), Invisible Mom 2 (1999), The Kid with X-Ray Eyes (1999), Prophet (1999), Critical Mass (2000), Sideshow (2000), Kept (2001), Stranded (2001), Venomous (2001), Thirteen Erotic Ghosts (2002), Final Examination (2003), Bikini-a-Go-Go/Curse of the Erotic Tiki (2004), Genie in a String Bikini (2004), Haunting Desire (2004), Teenage Cavegirl (2004), Glass Trap (2005), Tomb of the Werewolf (2005), Bikini Girls from a Lost Planet (2006), Bikini Pirates (2006), Ghost in a Teeny Bikini (2006), Bewitched Housewives (2007), The Girl With Sex-Ray Eyes (2007), Nuclear Hurricane (2007), Super Ninja Bikini Babes (2007), Polar Opposites (2008), Solar Flare (2008), Tarzeena, Queen of Kong Island (2008), Voodoo Dollz (2008), Dire Wolf (2009), Silent Venom (2009), Bikini Frankenstein (2010), Bikini Jones and the Temple of Eros (2010), Housewives from Another World (2010), Turbulent Skies (2010), Twilight Vamps (2010), Lady Chatterly's Ghost (2011), Little Witches (2011), Rewind Time Machine (2011), Super Shark (2011), Dirty Blondes from Beyond (2012), Abner the Invisible Dog (2013), After Midnight (2014), Unwanted Guest (2016), Stage Fright (2017) and The Twin (2017).
---
---