---
USA. 1985.
Crew
Director – Fred Olen Ray, Screenplay – Kenneth J. Hall, Additional Material – T.L. Lankford, Producers – Fred Olen Ray & Ronnie Hadar, Photography – Paul Elliott, Music – Drew Neumann, Special Effects Animation – Bret Mixon, Makeup Effects – Makeup Effects Lab (Tony Ruprecht & Mike Spatola) & Doug White, Art Direction – Maxine Shepard. Production Company – Trans World Entertainment.
Cast
Richard Alan Hench (David Manners), Susan Stokey (Helen), Michelle Bauer (Nefratis), David Pearson (John Banning), Cameron Mitchell (Dr Howard Phillips), Sybil Danning (Jade), Craig Hamman (Yyler), Emanuel Shipour (Youssef), George Hoth (Dr Bill Stewart), Stu Westman (Detective Sullivan), John Carradine (John Andoheb), John Frankel (Dr Manners)
---
Plot
John Banning, a dealer in stolen Ancient Egyptian antiquities, returns to Los Angeles, the only survivor of an expedition to the unknown tomb of the vampire princess Nefratis. He sells the artifacts from her tomb to Egyptologists Dr Manners and Howard Phillips. Nefratis then comes, placing a scarab inside Banning's chest and making him into her loyal servant. After Nefratis kills Manners, Manners' son David and Phillips' niece Helen team up to solve the murder. They try to stop Nefratis from regaining the artifacts and conducting the ceremony she needs to take over the world.
---
The Tomb is one of the early films of Fred Olen Ray. Today, Fred Olen Ray has become one of the most prolific directors of low-budget genre films, usually in the sf, horror, action and erotica categories. He is listed as the director of more than 100 films as of this writing. Fred Olen Ray's films hit just between the cheap and exploitative and a redeemingly cynical savvy. They wave their low-budgets in their audiences face by announcing loudly and clearly that they are bad films. Olen Ray also loves bimbos and was the foremost director to popularise the late 1980s Scream Queens fad. (See below for a list of Fred Olen Ray's other genre films).
Being one of Fred Olen Ray's earlier films, The Tomb lacks the faux cynicism and trash appeal that makes some of his later films enjoyable. All that that leaves unfortunately is a cheap and badly made B-movie. Going by the film's video cover art, you might be mistaken for thinking it was a high adventure film. This has been designed to give the impression that The Tomb is a clone of Raiders of the Lost Ark (1981), in particular the impression that the titular tomb is something being ventured into as in the prologue of Raiders.
There is an opening sequence with a plane flying in and two archaeologists, one played by B-movie queen Sybil Danning, who is prominently highlighted in the cover-art, in khakis, aviator glasses and machine-gun, meeting, ending in a badly directed shootout. Alas, this sequence is the nearest the film gets to any action element – Sybil Danning does not even appear anywhere else in the film – and this feels like a sequence that has been grafted on from another film altogether.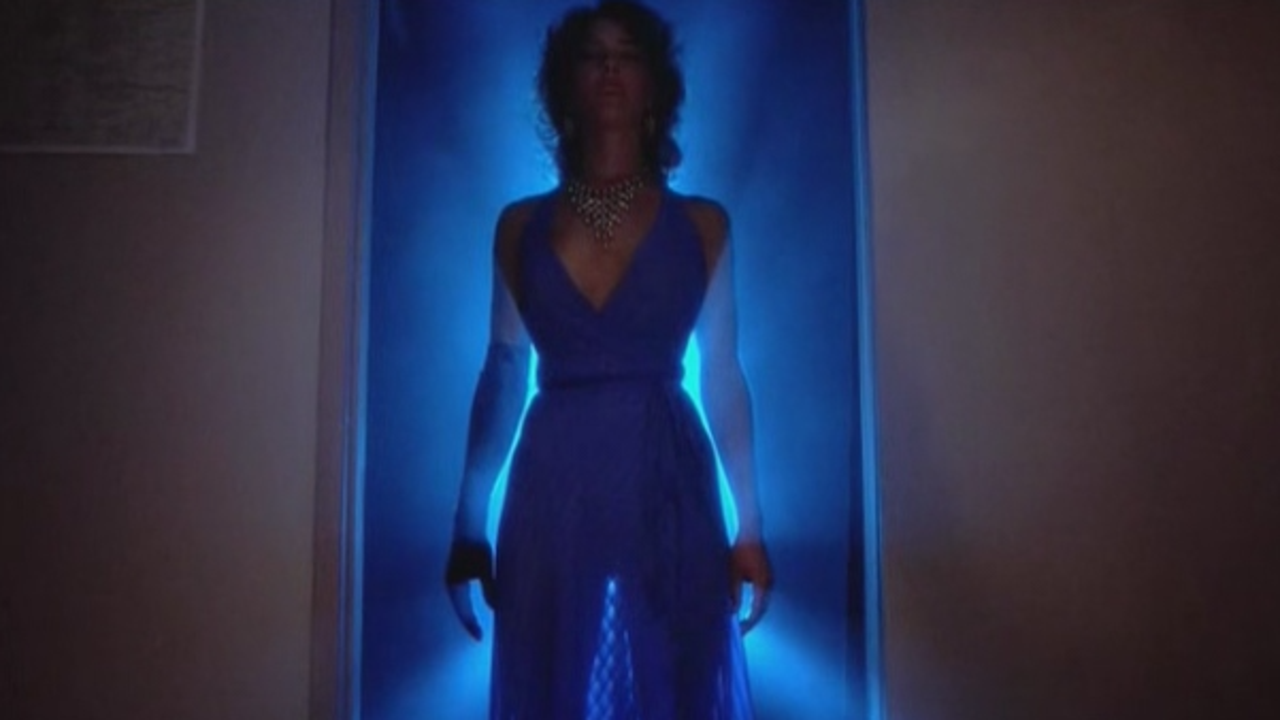 The rest is a routine mummy revived film, like a cheap sex-reversed version of The Mummy (1932). (Many of the characters have been named after the characters that appear in Universal's Mummy sequels). The film is dully directed and uninteresting on almost all levels. Fred Olen Ray does a poor job of trying to convince he has shot on location in Egypt – there is a brief shot of The Pyramids that then laughably cuts to a scene of a scrub-covered hillside, which is supposed to be the entrance to the tomb and does not in the slightest suggest is desert terrain. The credits take place over a band called The Pharaohs, who consist entirely of African-Americans and Caucasians dressed in fezzes, pharaonic headdresses and mummy bandages, doing a rendition of Tutti Frutti.
As with most of his films, Fred Olen Ray assembles a cast of B movie veterans – Sybil Danning, Cameron Mitchell and John Carradine. Most of their appearances are disappointing – Sybil Danning only appears in the aforementioned single scene at the beginning, John Carradine has an even briefer single scene as an expert in the middle of the film, while Cameron Mitchell's scenes are all shot in the same office.
Fred Olen Ray has made a lengthy list of genre films. These include:- The Brain Leeches (1977), The Alien Dead/It Fell from the Sky (1980), Scalps (1983), Biohazard (1984), The Adventures of Taura: Prison Ship Star Slammer (1985), The Phantom Empire (1986), Cyclone (1987), Beverly Hills Vamp (1988), Deep Space (1988), Hollywood Chainsaw Hookers (1988), Warlords (1988), Alienator (1990), Bad Girls from Mars (1990), Spirits (1990), Haunting Fear (1991), Scream Queen Hot Tub Party (1991), Wizards of the Demon Sword (1991), Evil Toons (1992), Little Devils (1993), Dinosaur Island (1994), Mind Twister (1994), Possessed By the Night (1994), Attack of the 60 Foot Centerfolds (1995), Cyber Zone/Droid Gunner (1995), Invisible Mom (1995), Star Hunter (1995), Night Shade (1996), Passionate Revenge/Friend of the Family II/Hell Hath No Fury (1996), Hybrid (1997), Little Miss Magic/Kidwitch (1997), Billy Frankenstein (1998), Dear Santa/My Dad Santa (1998), Illicit Dreams 2 (1998), Invisible Dad (1998), Active Stealth (1999), Fugitive Mind (1999), Invisible Mom 2 (1999), The Kid with X-Ray Eyes (1999), Prophet (1999), Critical Mass (2000), Sideshow (2000), Kept (2001), Stranded (2001), Venomous (2001), Thirteen Erotic Ghosts (2002), Final Examination (2003), Bikini-a-Go-Go/Curse of the Erotic Tiki (2004), Genie in a String Bikini (2004), Haunting Desire (2004), Teenage Cavegirl (2004), Glass Trap (2005), Tomb of the Werewolf (2005), Bikini Girls from a Lost Planet (2006), Bikini Pirates (2006), Ghost in a Teeny Bikini (2006), Bewitched Housewives (2007), The Girl With Sex-Ray Eyes (2007), Nuclear Hurricane (2007), Super Ninja Bikini Babes (2007), Polar Opposites (2008), Solar Flare (2008), Tarzeena, Queen of Kong Island (2008), Voodoo Dollz (2008), Dire Wolf (2009), Silent Venom (2009), Bikini Frankenstein (2010), Bikini Jones and the Temple of Eros (2010), Housewives from Another World (2010), Turbulent Skies (2010), Twilight Vamps (2010), Lady Chatterly's Ghost (2011), Little Witches (2011), Rewind Time Machine (2011), Super Shark (2011), Dirty Blondes from Beyond (2012), Abner the Invisible Dog (2013), After Midnight (2014), Unwanted Guest (2016), Stage Fright (2017), The Twin (2017) and Piranha Women (2022).
---
Full film available here:-
---