aka It Fell From the Sky
---
Crew
Director – Fred Olen Ray, Screenplay – Martin Alan Nichols & Fred Olen Ray, Producers – Fred Olen Ray & Chuck Sumner, Photography – Peter Gamba, Fred Ray & Gary Singer, Music – Franklin Sledge, Animation Effects – Bart Mixon, Special Effects – Fred Ray, Makeup Effects – Allen Duckworth. Production Company – Firebird Pictures, Inc.
Cast
Raymond Roberts (Tom Corman), Buster Crabbe (Sheriff Kowalski), Linda Lewis (Shawn Michaels), Dennis Underwood (Deputy Campbell), Mike Bonavia (Miller Haze), George Kelsey (Emmet Michaels), John Leirier (Paisley), Rich Vogan (Krelboirn), Martin Alan Nichols (Doc Ellerbe), Norman Riggins (Mr Griffith), Nancy Kranz (Mrs Griffith), Ellena Contella (Mae Hawkins)
---
Plot
In the small town of Oveido, Florida, reporter Tom Corman investigates after a woman goes missing in the swamp. Other locals soon go missing too. Sheriff Kowalski is happy to put the disappearances down to an alligator but Tom discovers that the dead are returning to life. Tom traces the cause of this to a meteorite that came down in the swamps. This has started to mutate the flesh of the dead, bringing them back hungry to devour the flesh of the living.
---
Fred Olen Ray is one of the most prolific B-budget directors currently at work and has directed over 140 films as of this writing. He found his calling just as the video revolution of the 1980s arrived and churned out numerous B movies in the science-fiction, horror, action and softcore genres. (See bottom of page for Fred Olen Ray's other genre films). His works often parody the titles of 1950s B movies and include actors from or characters named after actors in these films. He was also one of the most prominent contributors to the Scream Queens fad of the 1980s wherein minimally talented actresses would shed their tops at the drop of a hat.
The Alien Dead/It Fell from the Sky was the second film directed by Olen Ray. This was way back before the days of cable, dvd or even VHS so almost certainly The Alien Dead would have had a theatrical screening somewhere – most likely on a double-bill at a drive-in theatre.
Despite the science-fictional title, The Alien Dead/It Fell from the Sky is a Zombie Film. Almost certainly, Fred Olen Ray was making a copycat of George Romero's Dawn of the Dead (1978). (One suspects that it was slapped with the title 'alien' due to the then-recent popularity of Alien (1979) and extraterrestrial monsters). From Romero, Olen Ray copies all the scenes of the dead pursuing the living and holding them down to tear out their innards. At which you have to say he does a serviceable job – the zombie makeups look reasonably effective and he does not stint when it comes to gore.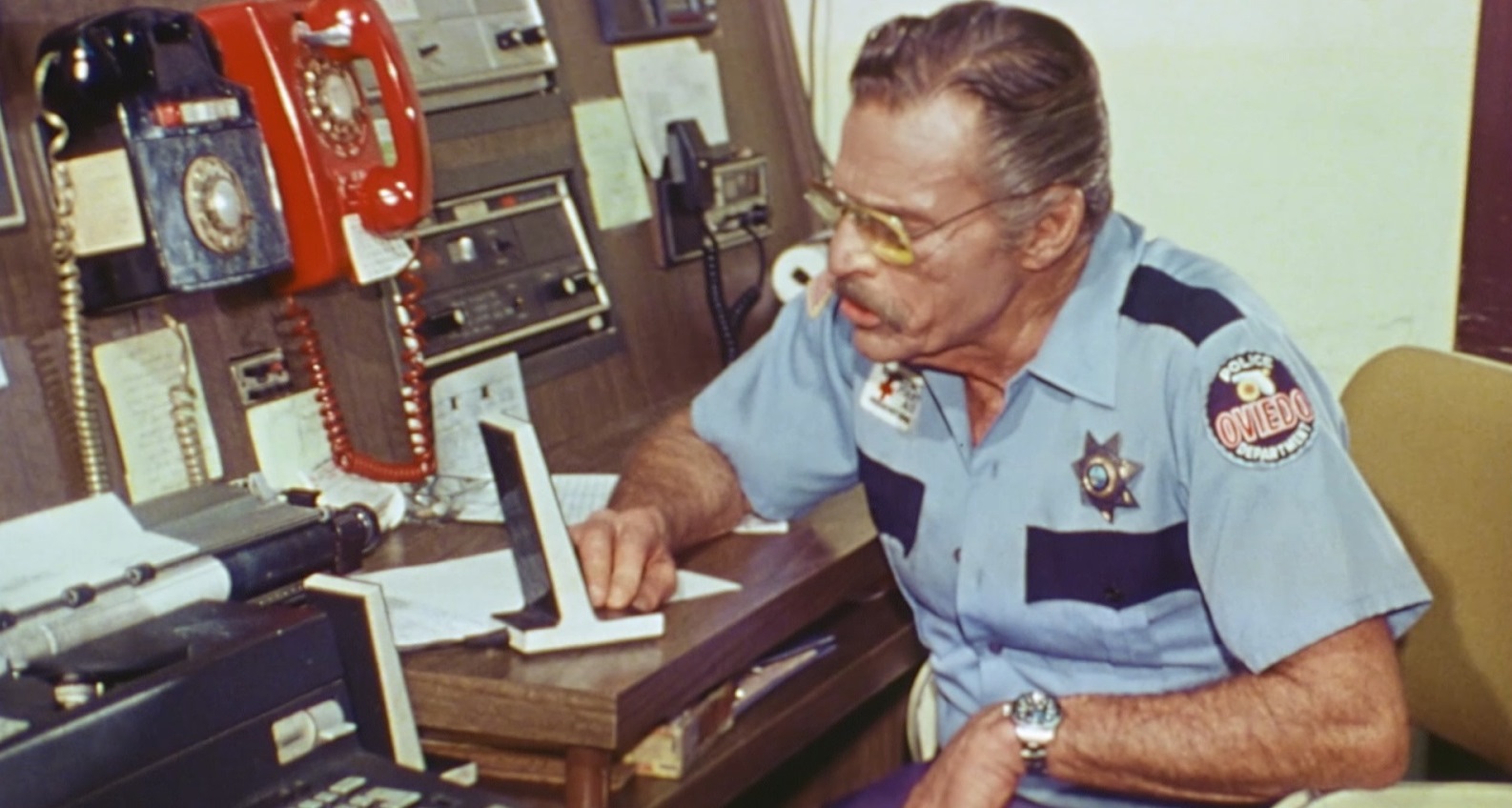 It is just that The Alien Dead/It Fell from the Sky is deficient in almost all areas outside of gore-letting. The plot is haphazard, seemingly made up on the fly. The acting is amateurish. The only recognisable name present is Larry 'Buster' Crabbe, the then 71 year-old former Olympic swimming gold medallist who gained some fame as an actor in the 1930s in the titles roles of Flash Gordon (1936) and sequels, and Buck Rogers (1939). Crabbe only turns up in a few scenes and the rest of the show is played by no-name actors. Some of these are incredibly bad, in particular the cashier in a supermarket that the deputy flirts with who cannot stop herself looking at the camera twice and bursting into laughter. It is a scene that adds nothing to the film and could easily have gone on the cutting room floor.
Fred Olen Ray became a better filmmaker with successive films – not through any innate skill but by the simple act of repetition. Thus it is interesting to watch The Alien Dead/It Fell from the Sky after having seen a reasonable number of the films that he made subsequently. Few of them you would actually classify as good but at least they have a dramatic polish and you can see Olen Ray paying more attention to things like story. He has since become far more of a tongue-in-cheek filmmaker and actively invites an audience not to take many of his films seriously. The other aspect that is underdeveloped here is Olen Ray's penchant for bimbos and gratuitous scenes where women shed their tops. We do get a couple of topless scenes but Olen Ray would develop it into an obsession with later films.
The one distinctive element of a Fred Olen Ray film that we do get is his constant referencing and paying homage to other genre films. In this case, all of the characters are named after actors, crew and characters in Roger Corman films. The reporter hero is named Corman and we have characters named after Charles B. Griffith, the writer of many of Corman's films, as well as a Bernard L. Kowalski, director of the Corman-produced Attack of the Giant Leeches (1959). We have other characters named after regular Corman actors Dick Miller and Jonathan Haze, who were both in The Little Shop of Horrors (1960), and others named after Walter Paisley, the hero played by Dick Miller in A Bucket of Blood (1959) and Seymour Krelborn, Jonathan Haze's hero of Little Shop.
Fred Olen Ray has made a lengthy list of genre films. These include:- The Brain Leeches (1977), Scalps (1983), Biohazard (1984), The Tomb (1985), The Adventures of Taura: Prison Ship Star Slammer (1986), The Phantom Empire (1986), Cyclone (1987), Beverly Hills Vamp (1988), Deep Space (1988), Hollywood Chainsaw Hookers (1988), Warlords (1988), Alienator (1990), Bad Girls from Mars (1990), Spirits (1990), Haunting Fear (1991), Scream Queen Hot Tub Party (1991), Wizards of the Demon Sword (1991), Evil Toons (1992), Little Devils (1993), Dinosaur Island (1994), Mind Twister (1994), Possessed By the Night (1994), Attack of the 60 Foot Centerfolds (1995), Cyber Zone/Droid Gunner (1995), Invisible Mom (1995), Star Hunter (1995), Night Shade (1996), Passionate Revenge/Friend of the Family II/Hell Hath No Fury (1996), Hybrid (1997), Little Miss Magic/Kidwitch (1997), Billy Frankenstein (1998), Dear Santa/My Dad Santa (1998), Illicit Dreams 2 (1998), Invisible Dad (1998), Active Stealth (1999), Fugitive Mind (1999), Invisible Mom 2 (1999), The Kid with X-Ray Eyes (1999), Prophet (1999), Critical Mass (2000), Sideshow (2000), Kept (2001), Stranded (2001), Venomous (2001), Thirteen Erotic Ghosts (2002), Final Examination (2003), Bikini-a-Go-Go/Curse of the Erotic Tiki (2004), Genie in a String Bikini (2004), Haunting Desire (2004), Teenage Cavegirl (2004), Glass Trap (2005), Tomb of the Werewolf (2005), Bikini Girls from a Lost Planet (2006), Bikini Pirates (2006), Ghost in a Teeny Bikini (2006), Bewitched Housewives (2007), The Girl With Sex-Ray Eyes (2007), Nuclear Hurricane (2007), Super Ninja Bikini Babes (2007), Polar Opposites (2008), Solar Flare (2008), Tarzeena, Queen of Kong Island (2008), Voodoo Dollz (2008), Dire Wolf (2009), Silent Venom (2009), Bikini Frankenstein (2010), Bikini Jones and the Temple of Eros (2010), Housewives from Another World (2010), Turbulent Skies (2010), Twilight Vamps (2010), Lady Chatterly's Ghost (2011), Little Witches (2011), Rewind Time Machine (2011), Super Shark (2011), Dirty Blondes from Beyond (2012), Abner the Invisible Dog (2013), After Midnight (2014), Unwanted Guest (2016), Stage Fright (2017), The Twin (2017) and Piranha Women (2022).
---
---