---
Crew
Director/Teleplay – Joe Ahearne, Based on the Novel by James Herbert, Producer – Ann Harrison-Baxter, Photography – Peter Greenhalgh, Music – Dan Jones, Visual Effects – Rushes (Supervisor – Chris Mortimer), Special Effects – Future Effects, Production Design – David Butterworth. Production Company – BBC.
Cast
Suranne Jones (Eve Caleigh), Tom Ellis (Gabe Caleigh), Donald Sumpter (Gordon Pike), David Warner (Percy Judd), Olivia Cooke (Nancy Linnet), Iain De Caestecker (Young Percy), Susan Lynch (Lili Peel), Douglas Henshall (Augustus Cribben), Sarah Smart (Magda Cribben), Maisie Williams (Loren Caleigh), Bill Milner (Maurice Stafford), Kian Parsiani (Stefan Rosenbaum), Craig Parkinson (Reverend Horace), Julia Ford (Irene Judd), Pixie Davies (Cally Caleigh), Elliot Kerley (Cam Caleigh), Annie Kelly (Elderly Magda)
---
Plot
Eve Caleigh takes her five-year-old son Cam to the park but nods off while sitting on a bench. When she wakes, Cam has disappeared. A search by the police fails to turn up any trace of him. Eleven months later, Eve's husband Gabe suggests they put the tragedy behind them and get away from London. They take residence at Crickley Hall in Hollow Bay. Upon arriving, they are warned away by the aging Percy Judd. Once in the house, Eve thinks she sees ghosts and hears the voice of Cam calling to her, saying he is still alive. In 1943, Crickley Hall was a home for orphans of the Blitz, run by Augustus Cribben and his sister Magda. Nancy Linnet signed on as a new teacher and was romanced by the young Percy who worked as the groundsman. Nancy became concerned when she found evidence that Augustus had been administering severe punishments to the children, in particular young Jewish refugee Stefan Rosenbaum. She determined to do something to save the children but this came up against opposition from locals. Though Gabe ridicules the idea, Eve is certain that the ghosts of the children who died in a flood in 1943 still lurk in the house. She brings in medium Lili Peel and parapsychologist Gordon Pike in an effort to contact Cam but this stirs secrets among those still living.
---
James Herbert (1943-2013) was a prolific British horror writer who enjoyed success beginning with his first novel The Rats (1974). Herbert went on to write other popular works such as The Fog (1975), The Survivor (1976), Fluke (1977), The Spear (1978), The Magic Cottage (1986) and Haunted (1988), among others. Herbert was not the world's greatest writer but his earliest books in particular come with a grisly, gore-drenched extremism. Herbert became so prolific he was even awarded an OBE. (See below for other films based on James Herbert's books).
This is a tv adaptation of Herbert's ghost story novel The Secret of Crickley Hall (2009) written and directed by Joe Ahearne. I was impressed with Ahearne after the tv mini-series Ultraviolet (1998), which did extraordinary things to reinvent the vampire genre, and have had an eye on what he has done ever since. Ahearne has worked usually in a director/writer combination on tv movies and mini-series such as Trance (2000), which later became the basis of the Danny Boyle film Trance (2013), and Perfect Parents (2006). He has regularly returned to genre material with the exorcism mini-series Apparitions (2008), the psycho-thriller The Replacement (2017) and the horror film B&B (2017), even working as a director on episodes of Doctor Who (2005– ).
The mini-series aired on the BBC in three weekly one-hour episodes. I went in with high expectations – that maybe Joe Ahearne would do something extraordinary with the traditional English ghost story in the same way he did with the vampire genre in Ultraviolet. I ended up disappointed. The Secret of Crickley Hall is by no mean a bad show but I was expecting something that substantially reinvented the genre, whereas what we have is just an efficiently told ghost story.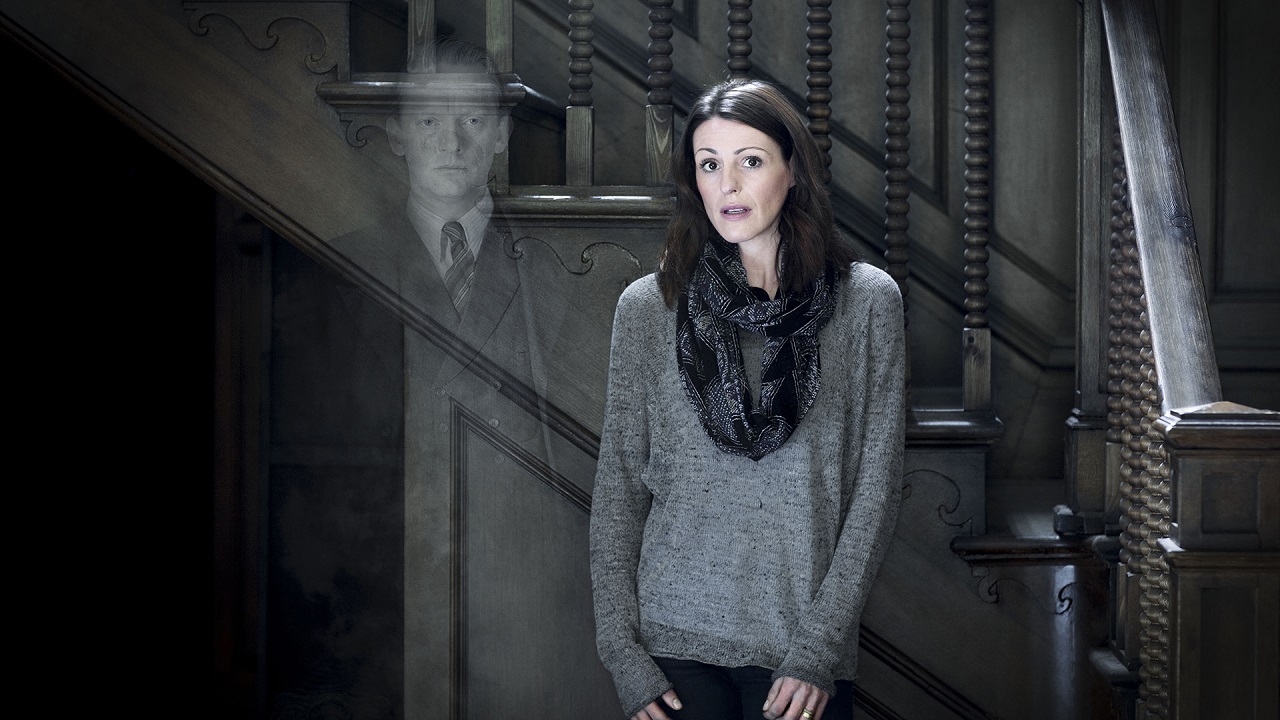 The surprise about The Secret of Crickley Hall, especially given that both James Herbert and Joe Ahearne come steeped in genre tradition, is that it is not particularly interested in being a ghost story. Certainly, there are ghosts, a medium and a ghost debunker – characters that are all part and parcel of the genre. On the other hand, I look back after watching the show and try to think of a single spooky and scary moment. There isn't. There is barely even anything in the way of ghostly apparitions. Even the house seems a fairly regular and unprepossessing country house and lacking in much of the way of shadows, billowing curtains, cobwebs and spooky hallways the genre trades in.
Instead, what The Secret of Crickley Hall seems more interested in being is an unveiling mystery that takes places across different historical eras. We've seen this in other British mini-series around this era such as The Crow Road (1996), Marchlands (2011), Lightfields (2013) and The Five (2016). There is the same sense here of following two plot strands that unfold several decades apart in which we see characters as young people in one period and as much older in the other. This work okay and holds several surprises. It never particularly gripped me as a mystery though and the disappointment I felt was that Joe Ahearne let down on the actual ghost story promised.
What the mini-series does hold in retrospect is quite an amazing cast of Before They Were Famous faces. As Suranne Jones' oldest daughter there is Maisie Williams who had just started to appear as Arya Starke on tv's Game of Thrones (2011-9); as the teacher in the 1943 scenes is Olivia Cooke who since went on to some stardom in the US in films like Ouija (2014), The Quiet Ones (2014) and Ready Player One (2018); while the young Percy is played by Iain de Caestecker who subsequently better known in an ongoing role in tv's Agents of S.H.I.E.L.D. (2013-20).
Other James Herbert screen adaptations are:– The Survivor (1981) about a haunted airline crash survivor; Deadly Eyes (1982), adapted from The Rats; Fluke (1995) about a man reincarnated as a dog; the ghost story Haunted (1995); and The Unholy (2021) about a sinister miracle-healing girl.
---