---
Crew
Director/Teleplay – Joe Ahearne, Producer – Bill Shapter, Photography – Peter Greenhalgh, Music – Sue Hewitt, Visual Effects Supervisor – Ted Rae, Special Effects – Stuart Brisdon, Makeup Design – Elisa Johnston, Production Design – Jon Bunker. Production Company – World Productions/Channel 4.
Cast
Jack Davenport (Detective-Sergeant Michael Colefield), Susannah Harker (Dr Angela Marsh), Idris Elba (Vaughan Rice), Philip Quast (Pearse J. Harman), Colette Brown (Kirsty), Fiona Dolman (Frances), Thomas Lockyer (Jacob Kenalt), Stephen Moyer (Jack Beresford), Corin Redgrave (Paul Hoyle), T.R. Bowen (Gideon Hammond), Jane Slavin (Danni Ashford), Neil Maskell (Neil), Emer Gillespie (Marion Wainwright), Clarence Allen (Aguinaldo), Rupert Procter (Colin)
---
Plot
Habeas Corpus:- Detective-Sergeant Michael Colefield's partner and best friend Jack Beresford disappears on the eve of his wedding. Investigating, Michael discovers that Jack may have been involved in illegal activities. Jack reappears to Michael, hunted by a sinister government agency, and asks his help. Michael discovers that Jack has become a vampire. He is saved from Jack's bite by the secret agency. He discovers the agency is funded by the Catholic Church with the purpose of eradicating the increasingly well-organized vampire menace. Michael accepts an offer to join their ranks, alongside priest Pearse Harman, haematologist Angela Marsh and ex-Army officer Vaughan Rice. In Nomine Patris:- Consumed by road rage, a driver smashes the window of a limousine that cuts him off, only to see the man inside burst into flame. The team investigate the incident where it appears that son of millionaire Gideon Hammond has become a vampire. Sub Judice:- The team investigate an assault on barrister Marion Wainwright where the assailant has been killed by a vampire. They discover that Marion has been impregnated by genetically crossbred human-vampire sperm. As they attempt to destroy the fetus, Marion flees, trying to protect the child. Mea Culpa:- The team investigate an incident at a Catholic boy's school where a pupil stabbed a priest. Angie suspects vampire activity but Michael suspects the more mundane activities of a paedophiliac priest. Terra Incognita:- A man arrives at Heathrow Airport from South America, seeking the help of Angie's late husband (who was turned into a vampire) in curing his rare blood condition. It appears the man's situation is the result of the vampires' attempt to create artificial blood. Meanwhile, Michael traces a consignment of coffins and they capture a vampire alive. Persona Non Grata:- The identity of the captured vampire is discovered but the vampire makes a tempting offer for Pearse, who has been diagnosed with cancer, to come over to their side. Meanwhile, Jack's fiancee Kirsty has sought the help of the journalist Jacob Kenalt. However, Kenalt has been made a vampire and takes Angie prisoner, demanding that Michael brings Angie's husband's ashes if he wants her back.
---
1998 was a year of vampire hunter movies, with audiences in cinemas having to choose between Blade (1998) and Vampires (1998). Out of these, the best treatment of the theme was this British tv mini-series, which was screened cinematically at some film festivals. Ultraviolet is one of the most original and audacious treatments offered of the vampire theme since at least Martin (1976).
Ultraviolet crosshatches vampirism with the British cop show. Indeed, Ultraviolet is more akin to a series like The Sweeney (1975-8) or The Professionals (1977-83) than it is to Blade or Vampires. It comes with a realism of presentation where one constantly has to pinch themself to make sure that it is a vampire series taking place. Accordingly, the word 'vampire' is never mentioned once throughout – instead we have casual allusions to 'Code V' and 'leeches'. There is a considerable conceptual audacity to the throwaway nonchalance of some of the series' ideas – of Vatican-funded anti-vampire SWAT teams armed with garlic tear gas grenades and carbonite bullets and the vampires, who fund haematological research centres, guarding themselves against any stakes through the heart with bulletproof vests.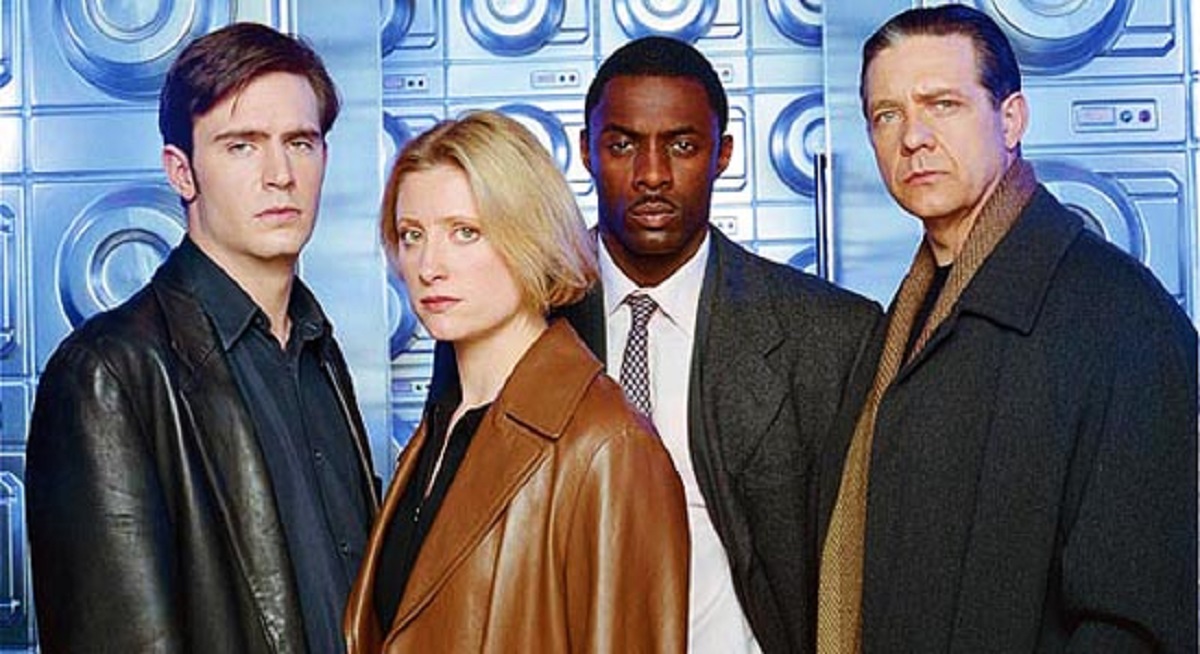 The third episode Sub Judice reaches a point of positive ingenuity as we encounter a woman impregnated with genetically crossbred vampire sperm. Writer Joe Ahearne then dazzlingly compounds this by throwing in a vampiric twist on the abortion/Right to Life debate – here the Catholic Church sanctions the abortion without even a second question!!! – not to mention having the woman, as she flees the enforced attempts to abort her undead child, unwittingly run into the arms of a Christian group posing as an abortion counselling service.
Seemingly determined to stir controversy as much as he reworks the vampire myth, Ahearne, in the subsequent episode has the team unable to decide whether a boy stabbing a priest was the result of a vampire infestation or the boy turning on a paedophiliac priest – the episode comes with a pertinent lecture by Philip Quast's priest about jumping to conclusions and assuming that just because a priest likes to work with boys that his interest must be indecent. The only weak story among the six is episode five where the sickle cell anaemia plot never seems to go anywhere.
There is some exceptional writing in these episodes. In the fifth episode, Corin Redgrave's vampire has a startling speech taunting Philip Quast's priest – "Tell me, father, have you any proof other than our existence that God exists? In the time since you believed, has God given you any other sign? Doesn't that leave you in a quandary – we are evil and yet we are your only proof that God exists?" and later tempting him "Do you not understand? There is no afterlife. We are immortality." In fact, the vampires get to present their own side so persuasively that by the end of the series their motivations seem so sympathetic that one seriously starts to question whether the vampire hunters may not be misguided in their crusade.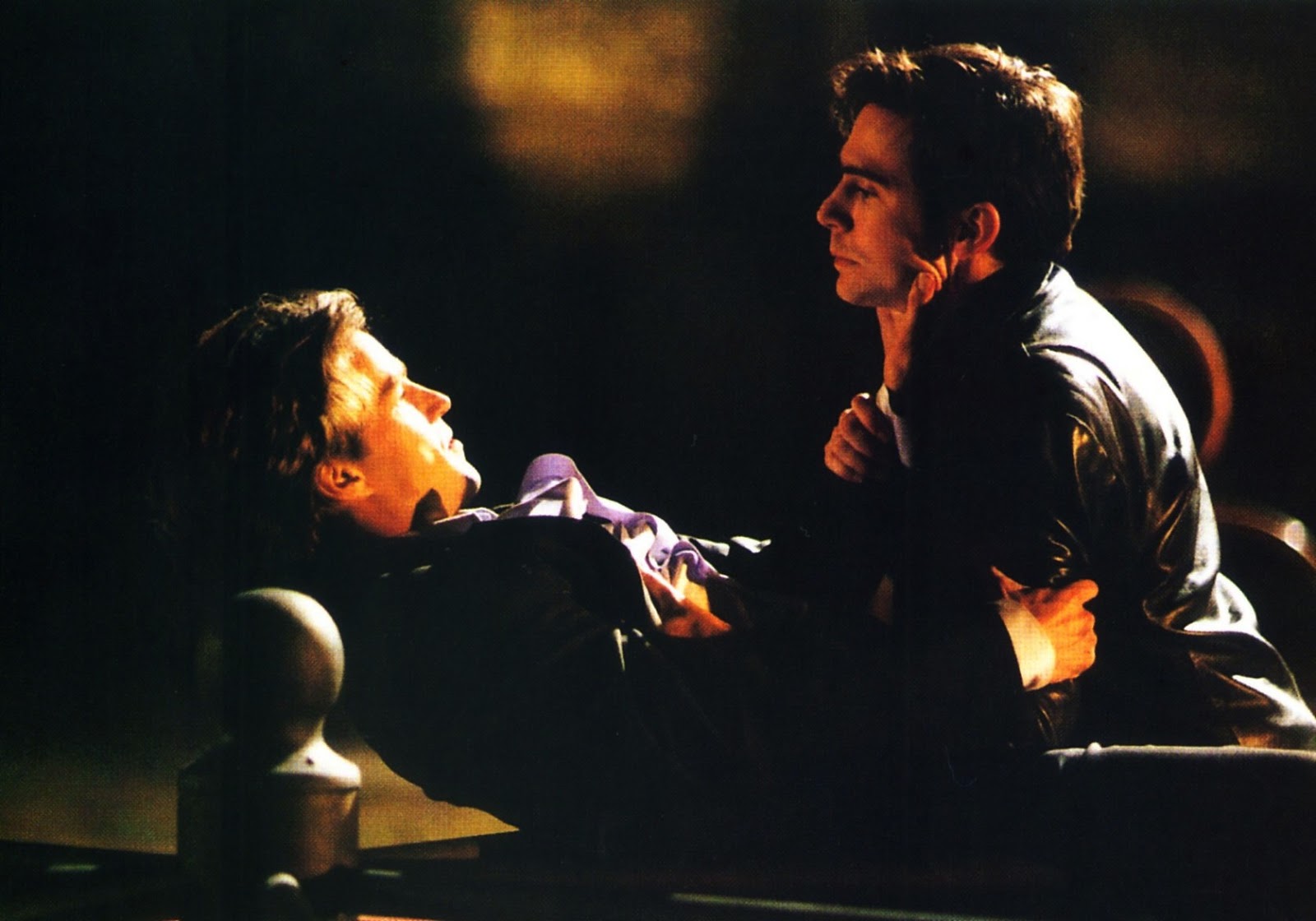 Joe Ahearne's only weakness in the series is when it comes to directing action with his various car chases, SWAT team assaults and vampire attacks seeming hurried and confused. Although there is one remarkably tense scene in the fifth episode with Idris Elba locked in a warehouse with a bunch of time-locked vampire coffins about to open and contemplating shooting himself. However, Ultraviolet is a series that works on a cerebral level, not an action level, so one can easily forgive Ahearne for this. In every other way, Ultraviolet is easily one of the most original attempts to rework vampire mythology.
Subsequent to Ultraviolet, director/writer Joe Ahearne went onto a number of other productions in British television including directing-writing the mind-bending hypnotism thriller Trance (2000) that later became the basis of the screenplay for the Danny Boyle film Trance (2013); as director of episodes of the short-lived Strange (2002) about a priest hunting demons; directing/writing Space Odyssey: Voyage to the Planets (2004), a half documentary, half-science-fiction work that speculates about spaceflight; directing episodes of the modern revival of Doctor Who (2005– ); writing Perfect Parents (2006), a non-genre tv play thriller that similarly digs into matters Catholic; writing/directing Apparitions (2008), a similar tv mini-series about demonic possession; directed/writing the haunted house tv mini-series The Secret of Crickley Hall (2012); writing/directing the psycho-thriller The Replacement (2017); and writing/directing the horror film B&B (2017).
(Winner in this site's Top 10 Films of 1998 list. Nominee for Best Original Screenplay and Best Supporting Actor (Philip Quast) at this site's Best of 1998 Awards).
---
Trailer here
Clip here:-
And here:-
---