---
Crew
Director/Screenplay – Karthick Subbaraj, Producer – Suresh Kondeti, Photography – Gopi Amarnath, Music – Santhosh Narayanan, Visual Effects – Gandy Murthy, Designer – Sree Ads. Production Company – Charita Chitra/Coffees Cinema/Suresh Kondetti Pictures.
Cast
Vijay Sethupathi (Michael Karthik), Ramya Nabeeshan (Anu), Adukalam Naren (Shanmugan), Karunakaram (Raghavan), Jayakumar (Chief Srinath), Simhaa (Bobby), Veera Ramachandran (Exorcist), Pooja (Smitha)
---
Plot
Michael Karthik works as a courier for a pizza company in Vizag. His girlfriend Anu then announces that she is pregnant. Michael protests that they cannot afford to have a child and asks her to postpone having a baby until later. She persuades him to marry anyway and he agrees to conduct their own private ceremony. Michael is then asked to make a delivery to a house. However, once inside the house, the woman Smitha behaves strangely and Michael finds he is surrounded by ghosts and unable to leave. He calls Anu for help but the phone acts up. As the police come, Michael realises that he is in a house where murders occurred last week and that Anu may be one of the dead.
---
Bollywood cinema is something utterly bewildering to westerners. It has a unique style of its own with the near ubiquitous inclusion of gaudy, colourfully costumed song and dance numbers in almost every film. And that is not to mention running times that rarely come in under 2½ hours and where the films are often bloated with treacly romantic elements. The material I write about on this site rarely emerges from Bollywood, although there have been sporadic efforts such as the superhero films Mr India (1987), Endhiran (2010) and Ra. One (2011), the time travel film Action Replayy (2010) and the rather fascinating alien visitor film PK (2014). (For a more detailed listing see Bollywood Fantastic Cinema).
The Bollywood horror film is a rarity but there have been an increasing number of examples since the 1990s with the likes of Raat (1992), Raaz (2002) and sequels, Bhoot (2003), 1920 (2008) and sequels and the really good serial killer film Raman Raghav 2.0 (2016). Pizza was one such Indian horror film, shot for the Tamil-speaking peoples of India (about 69 million people, which is referred to as Kollywood). It was later given a bigger-budget remake in Hindi as Pizza (2014), which was also released in 3D, as well as other versions shot for the Kannadian and Bengali speaking people.
I felt confused by Pizza during its first hour. There seemed too many plot elements all heading in different directions – the long introduction with Vijay Sethupathi and Ramya Nabeeshan discussing their pregnancy and decision to get married, which does not seem related to anything that happens thereafter; the introduction of his boss Adukalam Naren's possibly intellectually handicapped or possessed daughter; and then Vijay's arrival at the house where something supernatural is clearly occurring. They seem like scenes from different movies and you are not sure where the film is going from one section to the next as none of the sequences seem connected. To Pizza's credit, it does pull all of these strands together with some cleverness – and it is a real doozy. More on that in the spoiler section below.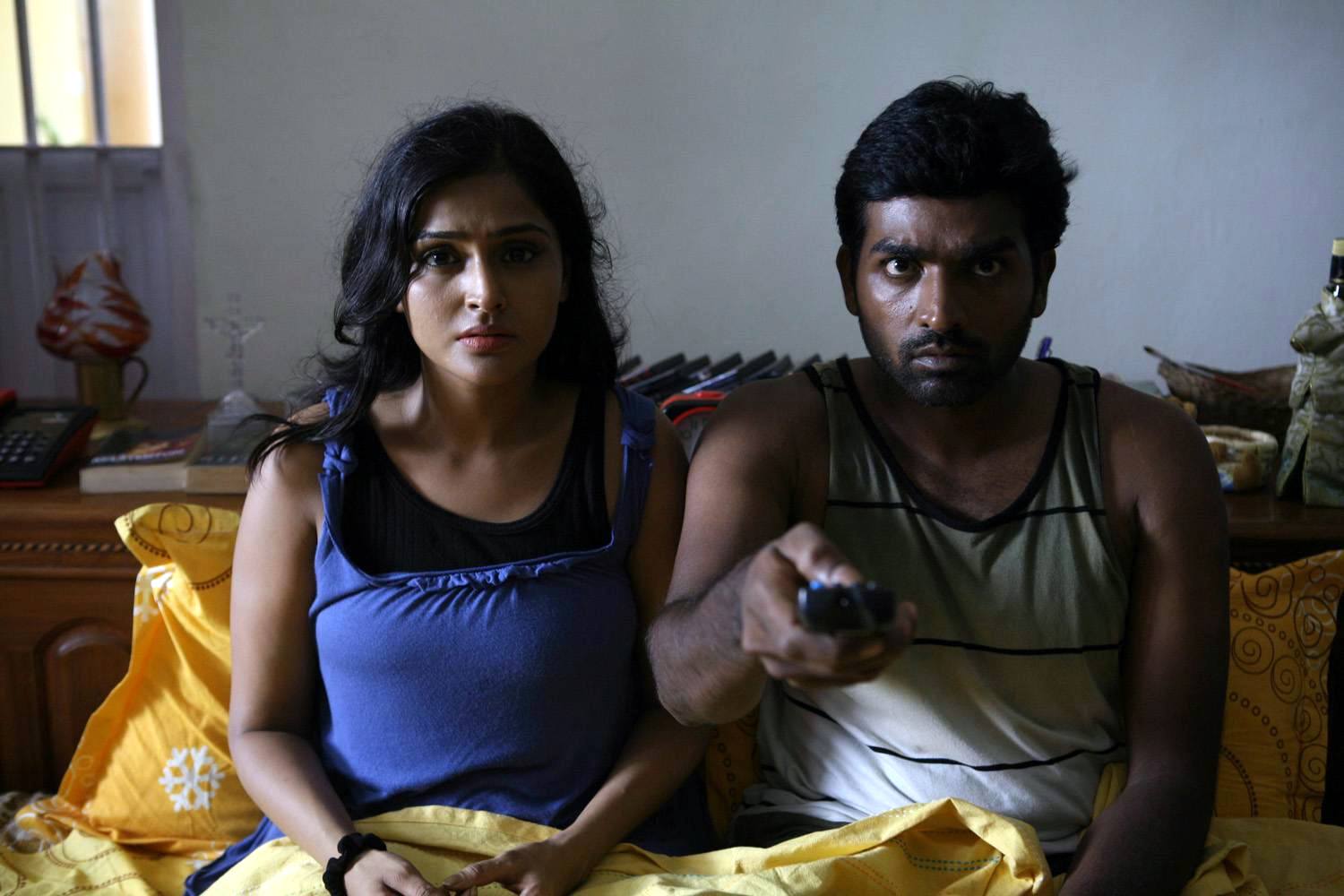 The middle of the film turns into a haunted house show. It is here that Karthick Subbaraj starts to find his feet and turn in a modestly effective film. He eschews standard haunted house theatrics and comes up with some original moves where we see Pooja impaled halfway up the wall; Vijay Sethupathi surrounded by ghost-like figures; phantom phone calls where no matter what number Ramya Nabeeshan calls to try to get help, it keeps redirecting to the house; or where the police come to the door and they cannot seem to hear Vijay banging and calling on the other side. There comes a disorienting jolt when the police finally do break in and Vijay learns that he is in a house of murdered bodies – and that his girlfriend may have been one of the victims, leaving us doing a WTF and wondering exactly who it was he married.
If this were all the film offered, I could dismiss Pizza as an average but unremarkable work. However, what causes it to suddenly become interesting is the big pull-the-carpet-out-from-under twist that Karthick Subbaraj throws on the audience towards the end [PLOT SPOILERS] where he reveals that the entire haunted house is a scam. Indeed, we realise that the film has been majorly tweaking with our point-of-view, drawing us into what we only later learn is an entirely made-up story. This is a M. Night Shyamalan-esque twist of the first order and makes Pizza a whole lot more watchable. Although what does subsequently weaken this is a lame and predictable denouement where Vijay Sethupathi turns up to do a delivery and his made-up tale about the haunted house seems to be happening for real after all.
Also amusing are the cultural signifiers. This is a film that would never be able to be remade in Hollywood, for instance. The film has a big debate in its first few scenes between Vijay Sethupathi and Ramya Nabeeshan over his not being able to afford to marry her while on a pizza delivery driver's salary and how he wants her to have a termination to put off marrying. If this were taking place in the US, the idea of a couple having a baby without marrying would be a non-issue – there wouldn't even be a discussion and the couple would just move in and get on with living their lives. Not to mention that modern American cinema has almost entirely excised any mention of the word 'abortion' from screens.
Pizza 2: The Villa (2015) was a sequel.
---
Trailer here (no English subs)
---