UK. 2009.
Crew
Teleplay – Tony Grisoni, Based on the Novels by David Peace, Producers – Wendy Brazington, Andrew Eaton & Anita Overland, Special Effects Supervisor – Ian Rowley. Production Company – Channel 4/Screen Yorkshire/Lipsync Productions/Revolution Films.
In the Year of Our Lord 1974
Crew
Director – Julian Jarrold, Photography – Rob Hardy, Music – Adrian Johnston, Visual Effects – Lipsync Post & Union FX (Supervisor – Adam Gascoigne), Makeup Design – Jacqueline Fowler, Production Design – Cristina Casali.
Cast
Andrew Garfield (Eddie Dunford), Rebecca Hall (Paula Garland), Sean Bean (John Dawson), John Henshaw (Bill Hadley), Eddie Marsan (Jack Whitehead), Anthony Flanagan (Barry Gannon), Warren Clarke (Bill Molloy), Robert Sheehan (BJ), Mary Jo Randle (Eddie's Mum), Cathryn Bradshaw (Marjorie Dawson), Michelle Dockery (Kathryn Tyler), Sean Harris (Sergeant Bob Craven), Tony Mooney (PC Tommy Douglas), Peter Mullan (Martin Laws), David Morrissey (Maurice Jobson), Daniel Mays (Michael Myshkin), James Fox (Philip Evans), David Calder (Sir John Marsden)
In the Year of Our Lord 1980
Crew
Director – James Marsh, Photography – Igor Martinovic, Music – Dickon Hinchcliffe, Visual Effects – Lipsync Post, Makeup Design – Lesley Lamont-Fisher, Production Design – Tomas Burton.
Cast
Paddy Considine (Peter Hunter), Maxine Peake (Helen Marshall), Sean Harris (Detective-Constable Bob Craven), Tony Pitts (John Nolan), Warren Clarke (Bill Molloy), David Morrissey (Maurice Jobson), Jim Carter (Harold Angus), Tony Mooney (Tommy Douglas), Shaun Dooley (Detective-Superintendent Dick Alderman), Peter Mullan (Martin Laws), Robert Sheehan (BJ), Lesley Sharp (Joan Hunter), Julia Ford (Elizabeth Hall), Joseph Mawle (The Yorkshire Ripper/Peter Sutcliffe), Kelly Freemantle (Clare Strachan), Michelle Holmes (Sharon Douglas)
In the Year of Our Lord 1983
Crew
Director – Anand Tucker, Photography – David Higgs, Music – Barrington Pheloung, Visual Effects – Lipsync Post, Makeup Design – Tahira Herold, Production Design – Alison Dominitz.
Cast
David Morrissey (Maurice Jobson), Mark Addy (John Piggott), Daniel Mays (Michael Myshkin), Warren Clarke (Bill Molloy), Jim Carter (Harold Angus), Shaun Dooley (Dick Alderman), Robert Sheehan (BJ), Saskia Reeves (Mandy Wymer), Peter Mullan (Martin Laws), Gerald Kearns (Leonard Cole), Michelle Dockery (Kathryn Tyler), Sean Bean (John Dawson), Catherine Tyldesley (Tessa), Milton McRae (Clive McGuiness), Beatrice Kelley (Mrs Myshkin), Tony Pitts (John Nolan)
---
Plot
In the Year of Our Lord 1974:- Eddie Dunford, an up and coming crime reporter on the Yorkshire Post, covers the murder of ten-year-old Claire Kemplay. He is certain there are similarities to two previous unsolved murders in the area. He becomes involved with Paula Garland, the mother of one of the other murdered girls. His investigation starts to uncover a web of corruption through the Leeds police department and involving powerful figures in West Yorkshire. However, this results in him being beaten up and threatened.
In the Year of Our Lord 1980:- During the height of the hunt for the Yorkshire Ripper, Peter Hunter is brought in by the Home Office to oversee an independent enquiry into the Leeds police department's handling of the investigation. He assembles a three-person team, including Helen Marshall with whom he recently had an affair. His re-examination of the files makes him question the murder of Clare Strachan, which does not appear to fit the profile of the rest of the Ripper victims. His investigation exposes connections to the police department but also brings people on his trail, eliminating witnesses and burning his house down.
In the Year of Our Lord 1983:- In 1983, the discovery of another missing girl makes police detective Maurice Jobson wonder if they arrested the right person with the intellectually handicapped Michael Myshkin who confessed to the murders. After this comes out, John Piggott, a lawyer who lives on the Fitzwilliam estate, is pressed by Michael's parents to take on his case and launch an appeal. In doing so, John starts to realise that the confession was forced out of Michael and that the real killer is still on the loose.
---
The British crime drama/mini-series has a long history and has produced some excellent works including the likes of Inspector Morse (1987-2000), Prime Suspect (1991-2006), A Touch of Frost (1992-2010), Cracker (1993-6), Midsomer Murders (1997– ), Waking the Dead (2000-10), Wire in the Blood (2002-8), Luther (2010-6), Broadchurch (2013-7) and The Fall (2013-6) to name but a handful. Red Riding is based on a quartet of novels, Nineteen Seventy-Four (1999), Nineteen Seventy-Seven (2000), Nineteen Eighty (2001) and Nineteen Eighty-Three (2002), by David Peace, a British novelist who specialises in books that are set against well-researched historical backdrops.
For tv, the four books have been condensed to three feature-length tv movies (with Nineteen Seventy-Seven having been dropped for some reason). In some areas, the films each received individual releases but on television they were broadcast as chapters of a single three-part mini-series. Each of the films can act as a separate story with the third containing the culmination of a plotline that brings together elements that run through the others. All three feature a number of common characters.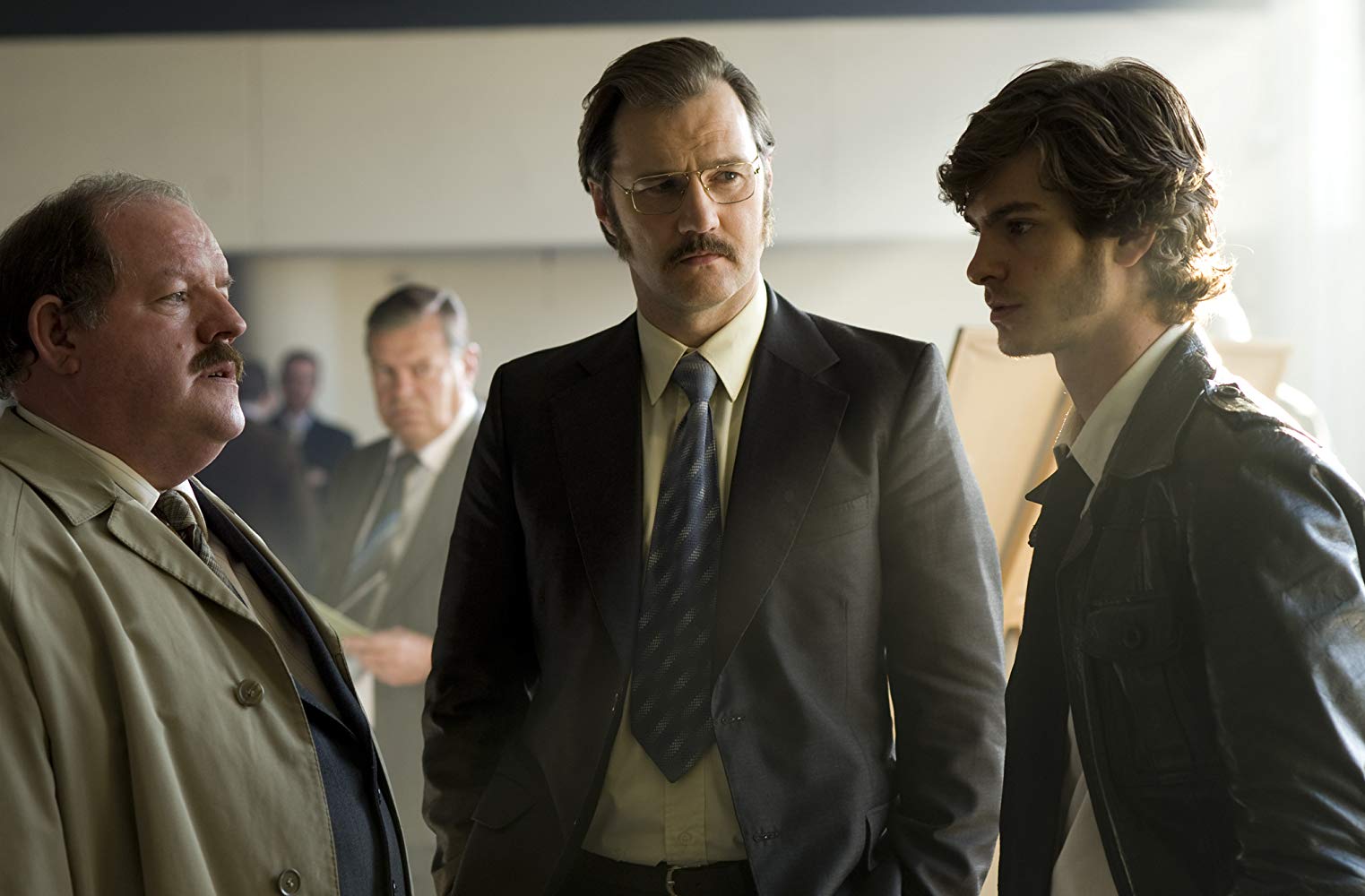 Each of the films comes from a different director – In the Year of Our Lord 1974 from Julian Jarrold who has done much work in British television, one genre entry with the tv movie Anonymous Rex (2004) and the disastrous feature-film remake of Brideshead Revisited (2008); In the Year of Our Lord 1980 comes from James Marsh who made the high-profile documentary Man on Wire (2008) and the subsequent award-winning film The Theory of Everything (2014); and In the Year of Our Lord 1980 from Anand Tucker behind films such as Saint Ex (1996), Hilary and Jackie (1998), Shopgirl (2005) and Leap Year (2010). The script was written by Terry Gilliam regular Tony Grisoni of Fear and Loathing in Las Vegas (1998), Tideland (2005) and other works.
Red Riding is a frustrating watching experience. It is an entity that seems undecided between whether it wants to be three separate films or one story in three chapters. It is both but it also ends up satisfying neither. Each film comes out as generally well made but without much in the way of a strong through story until the final chapter brings it all together. Even then, the second film tends to swing off in a different direction regarding how one murder was disguised as one of the Yorkshire Ripper's victims, a story that does not impact greatly on the way the crime is finally solved in the final film.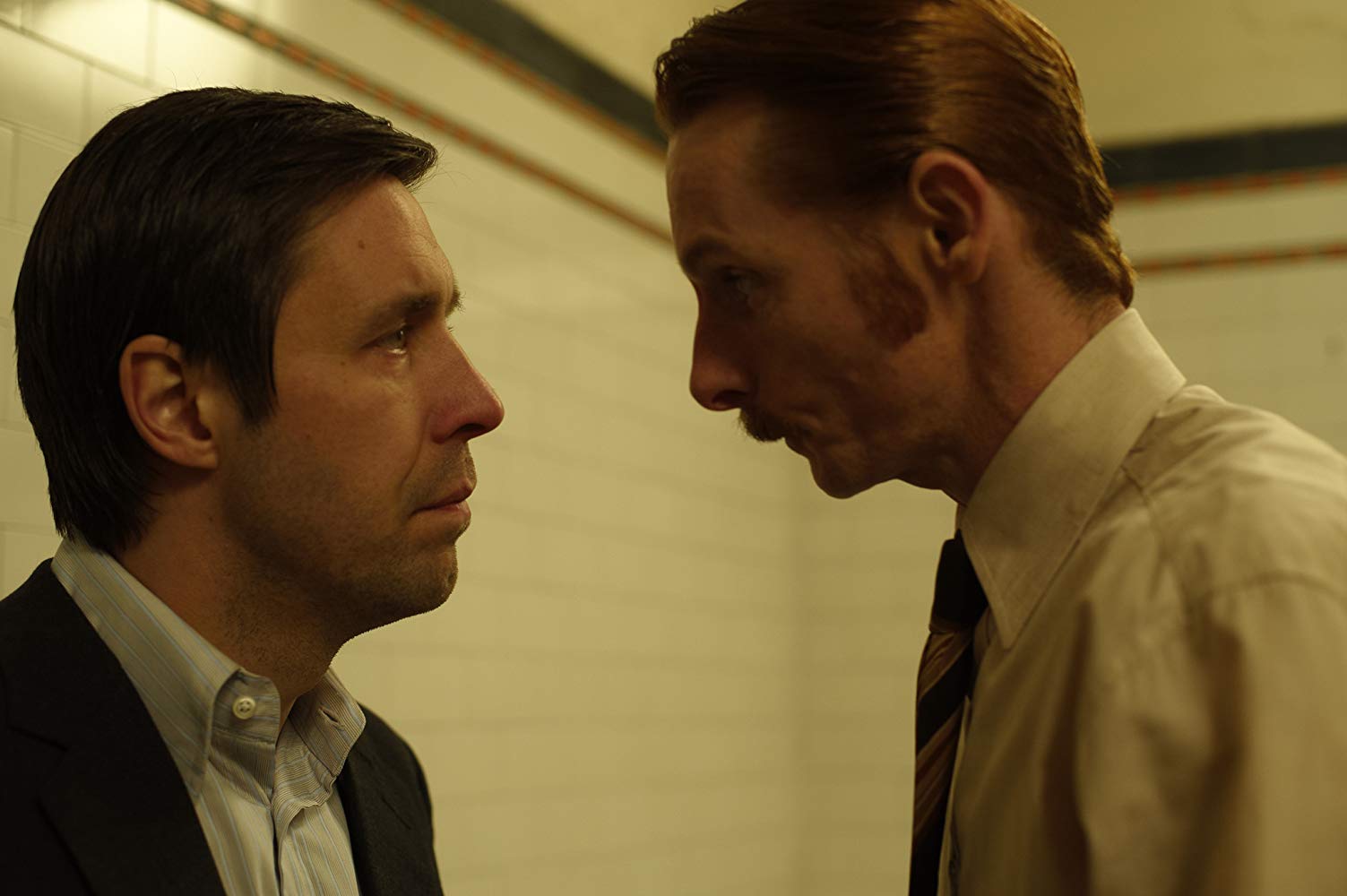 The mini-series has to be commended for doing an exceptional job in getting the feel for the period – the vehicles, clothing, haircuts – and so on. What is less sure, aside from the abovementioned problems, is the series' overall tightness as a thriller. The pace is very laidback and it is not often that the individual stories offer twists and tension the way that a thriller should. Frequently, the plot ambles and drinks in a good deal of the surrounding detail of the individuals' lives, partly also because it is setting up the background and new characters for each individual story and layering in details that will only gain importance in subsequent chapters. The final story, in its unveiling of two different investigations into what happened, ends up feeling like a damp squib when it should have been a revelation that made you gasp.
What you also have to commend Red Riding for is the extraordinary cast it manages to pull together. This includes high-profile members of the British acting profession such as David Morrissey, Sean Bean, Rebecca Hall, Jim Carter, Mark Addy, Paddy Considine, Eddie Marsan, Warren Clarke, James Fox, Saskia Reeves and Daniel Mays, as well as a number of rising names who have gained a profile since such as Michelle Dockery, Maxine Peake, Sean Harris, Joseph Mawle and Shaun Dooley. Not to mention Andrew Garfield only a year before he was propelled to attention in The Social Network (2010) and subsequently became Spider-Man.
---
In the Year of Our Lord 1974 trailer here:-
In the Year of Our Lord 1980 trailer here:-
In the Year of Our Lord 1983 trailer here:-
---