---
Crew
Director – Jerry Dugan, Screenplay – David Anderson & Gabe Burnstein, Producers – Jerry Dugan, Dolph Lundgren, Jeffrey D. Spilman & Daniel Zirilli, Photography – Jonathan Hall, Underwater Photography – Teddy Smith, Music – Martell Nicholas Rivera, Visual Effects Supervisor – Matthew Weng, Special Effects – Creature Corps, Production Design – Paulette Georges. Production Company – Bottom Line Entertainment/FLF Films Production/Parkside Pictures/Tadross Media Group
Cast
Sara [Malakul] Lane (Meredith Hernandez), Dolph Lundgren (Clint Gray), Lily Brooks O'Briant (Carly Gray), Michael A. Milligan (Peter Mayes), Lance Nichols (Sheriff Lewis Galloway), Miles Doleac (Garreth Ross), Kay Galvin (Sandy), James Chalke (Don Barnes), Frederik Douglas Plunkett Jr. (Monster), Ibrahim Renno Jr. (Larson), Ted Ferguson (Christopher), Carol Ann Scruggs (Betty)
---
Plot
Meredith Hernandez, an officer in the police department at Alpine Lake, Nevada, pursues and apprehends Clint Gray, a blackmarket dealer in exotic animals. During the pursuit, he leaves behind his young daughter Carly. Five years later and Meredith has taken custody of Carly. Clint is released from jail and returns to town but Meredith does everything in her power to prevent him from seeing Carly again. At the same time, there are a series of deaths around the lake. At first thought to be a bear, they then realise that it is a bull shark that is capable of surviving in fresh water. As they try to deal with the menace, Clint, who accidentally released the shark in the first place, is forced to recapture it by the gang boss for whom he had originally procured it.
---
In the era dominated by Sharknado (2013) and sequels and a host of other wilfully ridiculous killer shark films such as Jersey Shore Shark Attack (2012), 2-Headed Shark Attack (2012), Avalanche Sharks (2013), 90210 Shark Attack (2014), Raiders of the Lost Shark (2015), Roboshark (2015), Zombie Shark (2015) and Sharkansas Women's Prison Massacre (2016), among others, it is a brave filmmaker who ventures to still make a serious, non-tongue-in-cheek killer shark film. Shark Lake does – and suffered for it where it was instantly dismissed to the arena of the bad movie. Mindedly, not all serious killer shark films these days are automatically ridiculous – not long after, the theatrically-released The Shallows (2016) did surprisingly well.
Dolph Lundgren, who has always been slightly better than the meathead action actor that he has usually been written off as, is top-lined but has what is largely a supporting role to Sara Lane, who had appeared in one previous gonzo killer shark film Sharktopus (2010), where she was billed as Sara Malakul Lane, and makes a reasonable lead here. Certainly, Dolph is not too bad in a rare bad guy role, even if his arc of the gradually redeemed felon is one that you can see coming from the outset. Amid the rest of the cast, Miles Doleac plays with what is possibly the most ridiculous ripe fake British accent that one has ever seen on screen.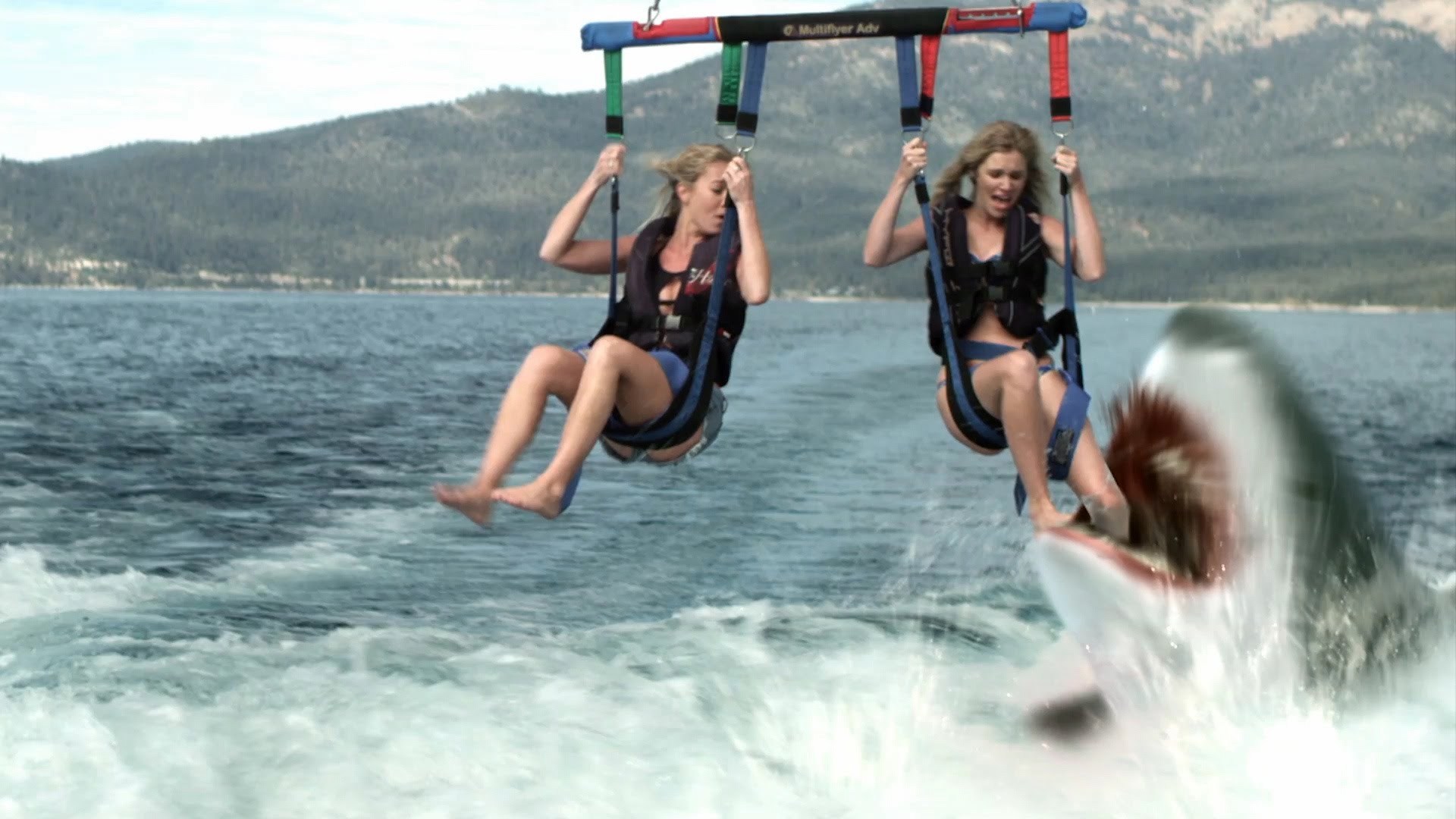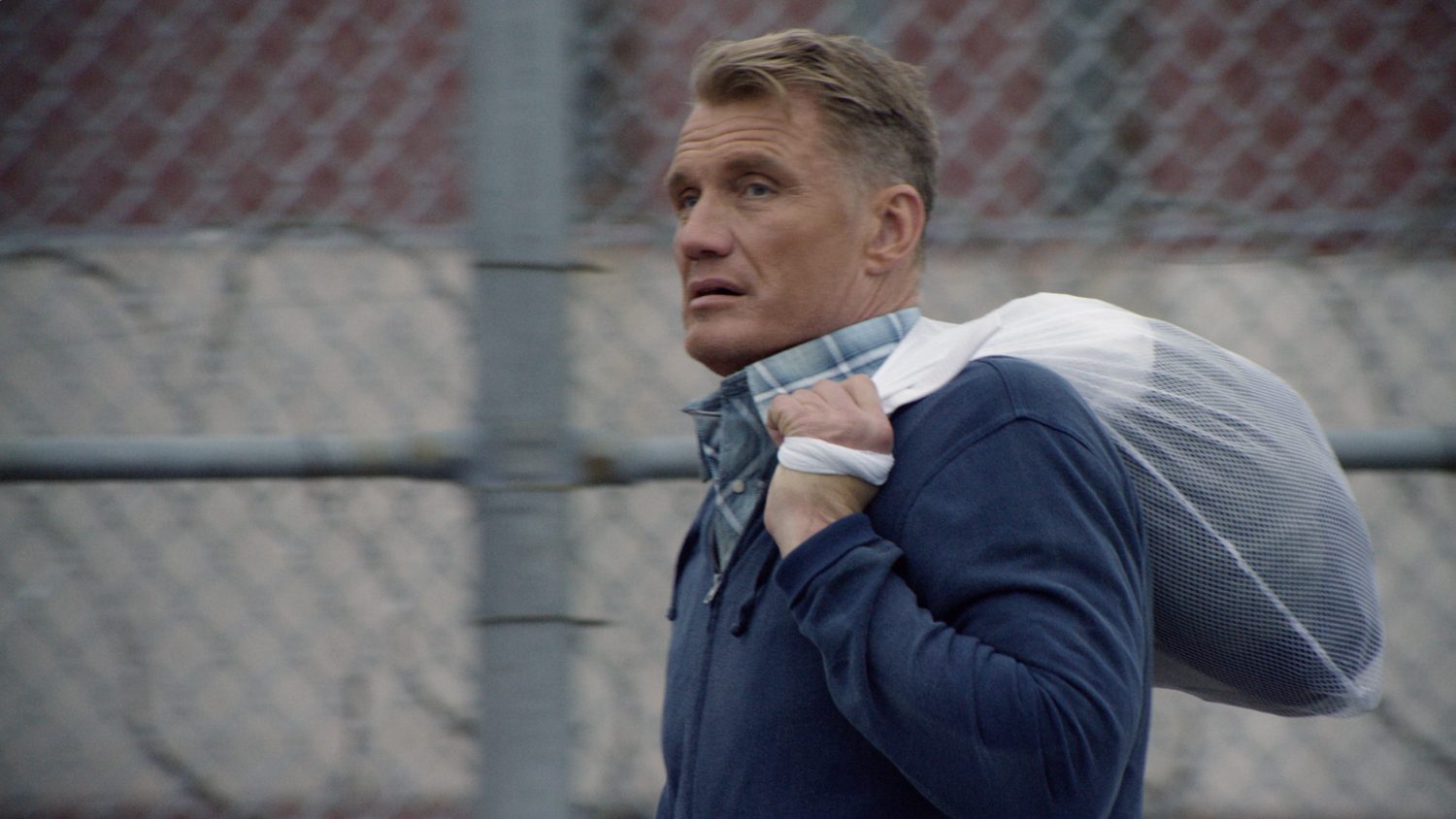 The film is killed, as is frequently the case in the modern B movie killer shark film, by shoddy CGI killer sharks. Not to mention some cheap digital gore. On the plus side, the film has some surprisingly good, crystal clear underwater photography. Unlike Sharknado and its ilk, Shark Lake fails to do much with its shark. Much of the film, for instance, is taken up not so much with shark attack scenes as it is by scenes about the custody battle over Lily Brooks O'Briant where Sara Lane deems Dolph Lundgren a bad father and tries to prevent him from getting his daughter back.
The one scene where the film starts to perk up is the one where Sara Lane and Michael A. Milligan's small boat is rammed by a jet ski and they are stuck on board a slowly sinking boat as a shark circles. (The sequence is somewhat undone by the risible image of what looks like Milligan trying to punch at the approaching shark).
---
Trailer here
---