---
Crew
Director – Brian Yuzna, Screenplay – Rick Fry & Woody Keith, Producer – Keith Walley, Photography – Rick Fichter, Music – Phil Davies & Mark Ryder, Makeup Effects – Screaming Mad George, Production Design – Matthew L. Jacobs. Production Company – Wild Street Pictures/Society Productions.
Cast
Billy Warlock (Billy Whitney), Devin Devasquez (Clarisa Carlyn), Ben Slack (Dr Cleveland), Evan Richards (Milo), Patrice Jennings (Jenny Whitney), Charles Lucia (Jim Whitney), Connie Danese (Nan Whitney), David Wiley (Judge Carter), Ben Meyerson (Ted Ferguson), Tim Bartell (David Blanchard), Brian Bremer (Martin Petrie), Pamela Matheson (Mrs Carlyn)
---
Plot
17 year-old Billy Whitney feels alienated from his upper-class Beverly Hills family. He hears a tape recording that seems to indicate that his entire family are having secret orgies. People appear dead one moment but are alive the next, while Billy's girlfriend's body appears to twist into abnormal positions. His parents insist that Billy is imagining everything and try to commit him to an institution. Billy slowly discovers the truth – that his parents and the people around him belong to a different breed of people, a secret in-bred society who are capable of melding and shifting their bodies.
---
Society was the directorial debut of Brian Yuzna. Brian Yuzna had first appeared on the genre scene as Stuart Gordon's producer on Re-Animator (1985), From Beyond (1986) and Dolls (1987). Following Society, Yuzna then went on to inherit Gordon's shoes as director on Bride of Re-Animator/Re-Animator 2 (1990). Yuzna attracted a good deal of favourable attention with Society and seemed set to take over the shoes that mentor Gordon once promised to wear with Re-Animator. He has remained a consistently interesting low-budget director in the decade since, making films that have a frequently perverse kick, and has produced a good many other genre films too. (See below for Brian Yuzna's other films).
Society has a weird paranoid tone to it. The central metaphor jabs wildly at certain sacred cows – the Beverly Hills nouveau riche – while Brian Yuzna's rabid dives into bad taste – incest, death by anal fisting – assure it of a calculated outreness. Society is not quite the classic that many critics rushed to call it at the time – the metaphor never attains enough sophistication for that.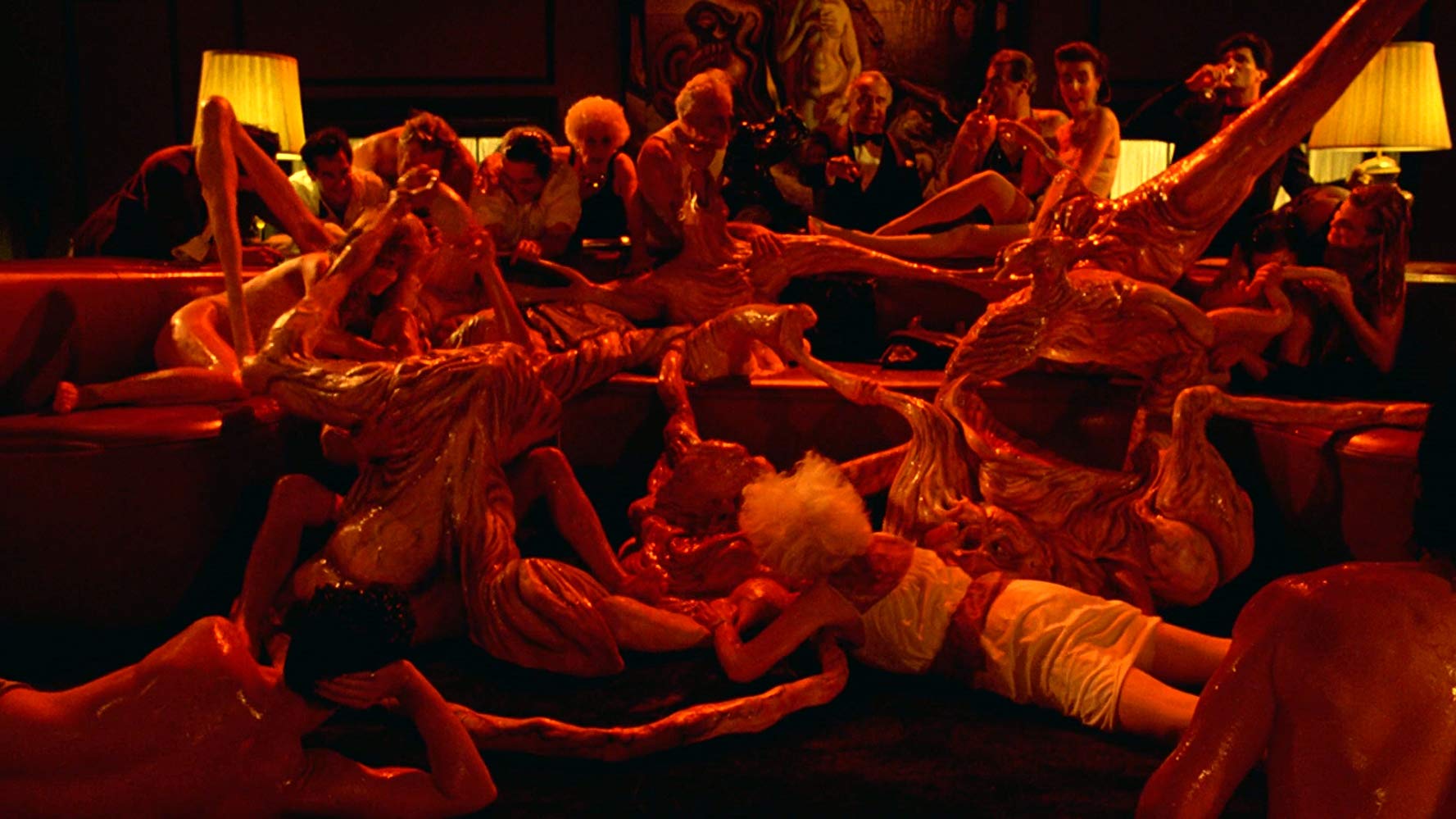 Ultimately, Society is a one-gag film that doesn't stretch the distance for an entire plot – as many of the extraneous subplots about Billy Warlock being incarcerated in a psychiatric institution and Brian Bremer seeming to be dead show. Nevertheless, when its climactic punchline arrives, Screaming Mad George's makeup effects – faces and fists melding into people's bodies, a person becoming a giant hand, a mother-daughter walking on a pair of hands – are startling.
Subsequently, Brian Yuzna went onto direct the likes of Bride of Re-Animator (1990), Silent Night, Deadly Night 4: The Initiation (1990), Necronomicon (1993), Return of the Living Dead III (1993), The Dentist (1996), The Dentist 2 (1998), Progeny (1998), Faust: Love of the Damned (2000), Beyond Re-Animator (2003), Rottweiler (2004), Beneath Still Waters (2005) and Amphibious 3-D (2010). Yuzna has also produced a number of genre films including Honey, I Shrunk the Kids (1989), The Guyver (1991), Infested (1993), Crying Freeman (1995), Arachnid (2001), Dagon (2001), Darkness (2002), Romasanta: The Werewolf Hunt (2004), The Nun (2005) and Takut: Faces of Fear (2008).
---
---