---
Crew
Director – Dario Argento, Screenplay – Dario Argento & Daria Nicolodi, Producer – Claudio Argento, Photography – Luciano Tavoli, Music – Dario Argento & Goblin, Special Effects – Germano Natali, Production Design – Giuseppe Basson. Production Company – Seda Spettacoli.
Cast
Jessica Harper (Susy Banyon), Stefania Cassini (Sara), Alida Valli (Miss Tanner), Joan Bennett (Madame Blank), Udo Kier (Frank Marshall), Flavio Bucci (Daniel)
---
Plot
American Susy Banyon arrives in Munich to enroll at the Friberg Dance Academy. As Susy arrives, the Academy is struck by a spate of bizarre murders as someone starts killing students and teachers alike. Researching into the Academy's past, Susy discovers that it was founded by the notorious witch Elena Markos who may still be alive in the building.
---
Italy's Dario Argento is a director who has developed a considerable cult. Dario Argento first emerged in the 1970s with a series of giallo films, an Italian subgenre consisting of psycho-thrillers that centred around novelty murders, twisted sexual pathology and ridiculously contrived psychological explanations. Argento's first film was the highly successful The Bird with the Crystal Plumage (1970) and he then made The Cat O'Nine Tails (1971), Four Flies on Grey Velvet (1971) and Deep Red (1976), although did not gain attention outside of Europe until the international hit of Suspiria. (Dario Argento's other genre films are listed at the bottom of the page).
Dario Argento likes to make films about people being killed – "I would rather see a beautiful girl killed than an ugly girl or a man," is Argento's brazen-faced justification of his work. Nothing wrong about that one supposes, least of all Argento's frank honesty about the matter. What does get one though is the wildness of Argento's pretensions. Sometimes Argento is capable of staging his killings with an extraordinary artistry, whereas other time they seem wildly over-the-top.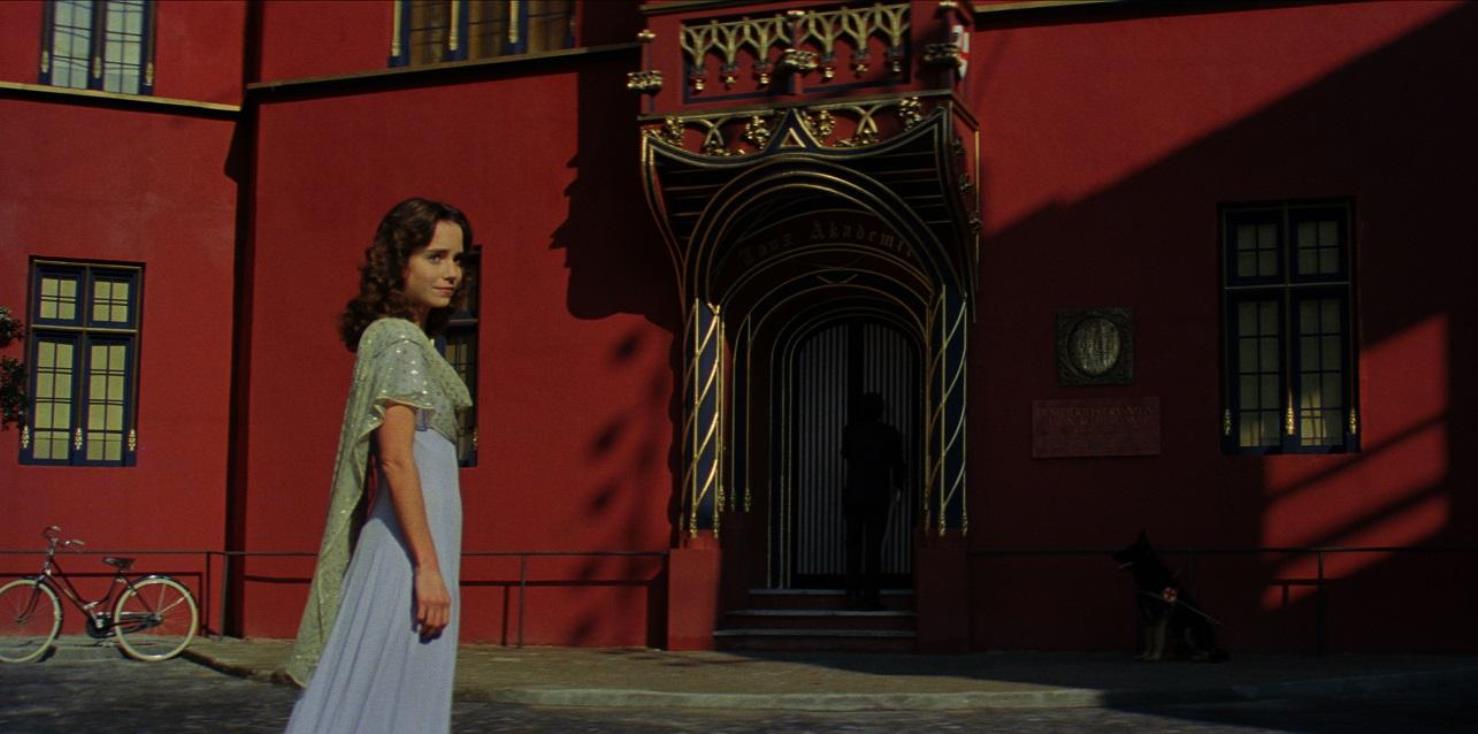 Suspiria is a film that is almost operatic in its excesses. Within the first few minutes of the film, it is not merely enough for Argento to kill a girl – instead she has her head smashed through a window, then have her stabbed to death, a noose slung around her neck before she is finally thrown through a stained glass window to be left hanging on the end of the rope.
Visually, Suspiria seems to hover on the edge of a fairytale. The sets and lighting scheme swamp the eye in a gorgeous colour palette of scarlet reds, velvet blues and iridescent greens so thick they seem to ooze right off the screen. Some of the plays of light throughout are amazing. Out of this, Dario Argento creates a genuinely haunted atmosphere, as though the film seems caught on the abyss of the otherworldly. There is the moment when Jessica Harper leaves the airport and a mysterious wind emerges from nowhere seemingly harrying her, and the subsequent drive through the forest where eyes appear outside the window. There is an exquisitely haunted scene in the square where the blind piano player is killed, which is staged with the classical buildings surrounding the square all beautifully underlit while the giant shadow of a never-seen bird flaps about overhead.
Throughout there are all the Argento-esque scenes of trademark arty ultra-violence – the aforementioned scenes with the first victim being stabbed, hung and dropped through a stained glass window; the piano player whose throat is ripped out by his seeing-eye dog; and the great scene where one girl flees the killer and crawls through a window only to become enmeshed in tangles of barbed wire that fill the room.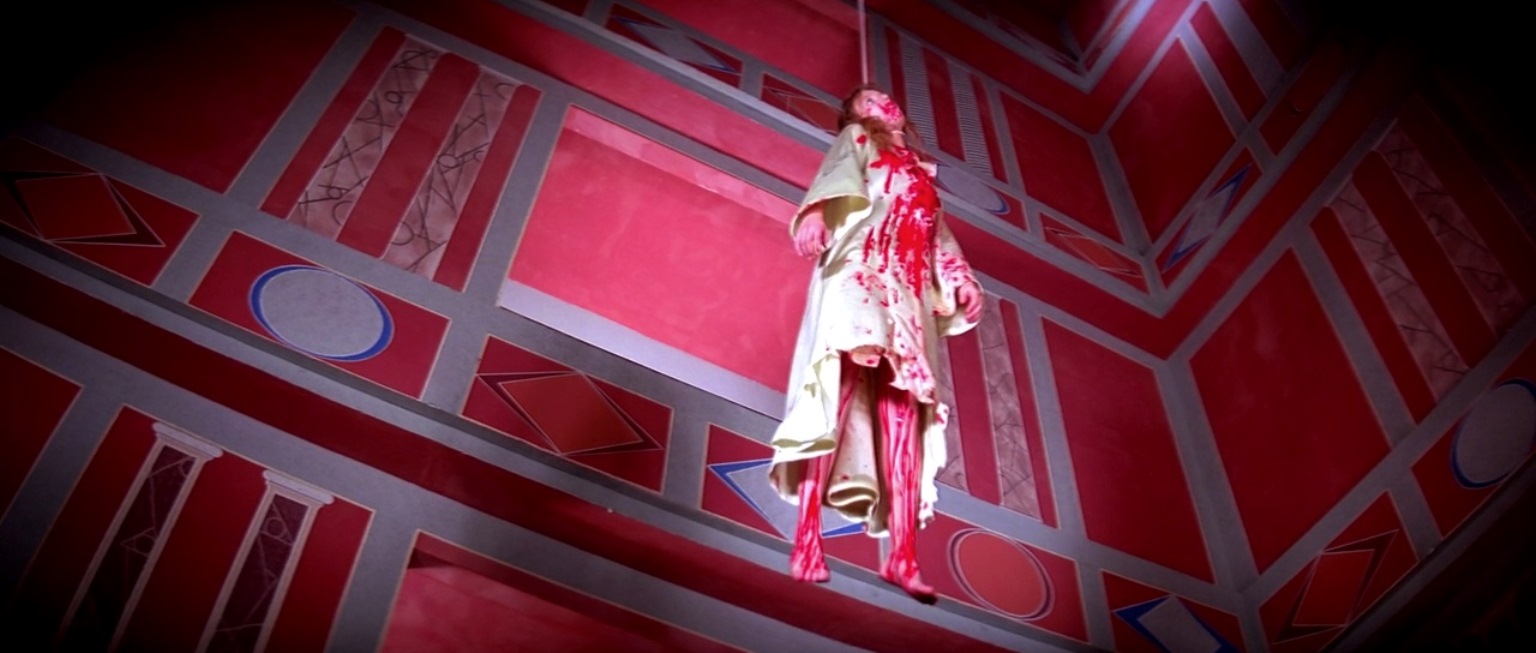 There is also no narrative to Suspiria. Argento has lifted much of the film's premise about a series of murders in a girl's boarding school from the excellent and underrated Spanish film The House That Screamed (1969) where the major addition here is an occult explanation for the killings. Not much makes sense in the film; in fact, that is an extreme understatement – plotting could be said to arrive with an arbitrary incoherence. The killings seem random and with little connection. A dormitory is plagued by a rain of worms, a room is filled with barbed wire, with no explanation offered other than what Argento derives from the immediacy of the effect.
The lack of unifying narrative makes Suspiria feel empty, a film that is carried by style alone. This is something that one always has to accept or reject as being part and parcel of the Dario Argento film. Many regard Suspiria as Dario Argento's finest film. Personally, one feels that the artistry is not as polished as it would become on some later Argento films such as this film's sequel Inferno (1980) or the glorious Opera/Terror at the Opera (1987), and these combined tend to make Suspiria seem one of the more overrated in Dario Argento's canon.
Much has existed in legend about supposedly uncut Italian versions of Suspiria that contain scenes that are too gory for English-language release, although this is more fan myth than anything else. The scene where the blind piano player's seeing eye dog turns and kills him was cut in many versions that came out at the time but this has been restored for most modern video/dvd releases.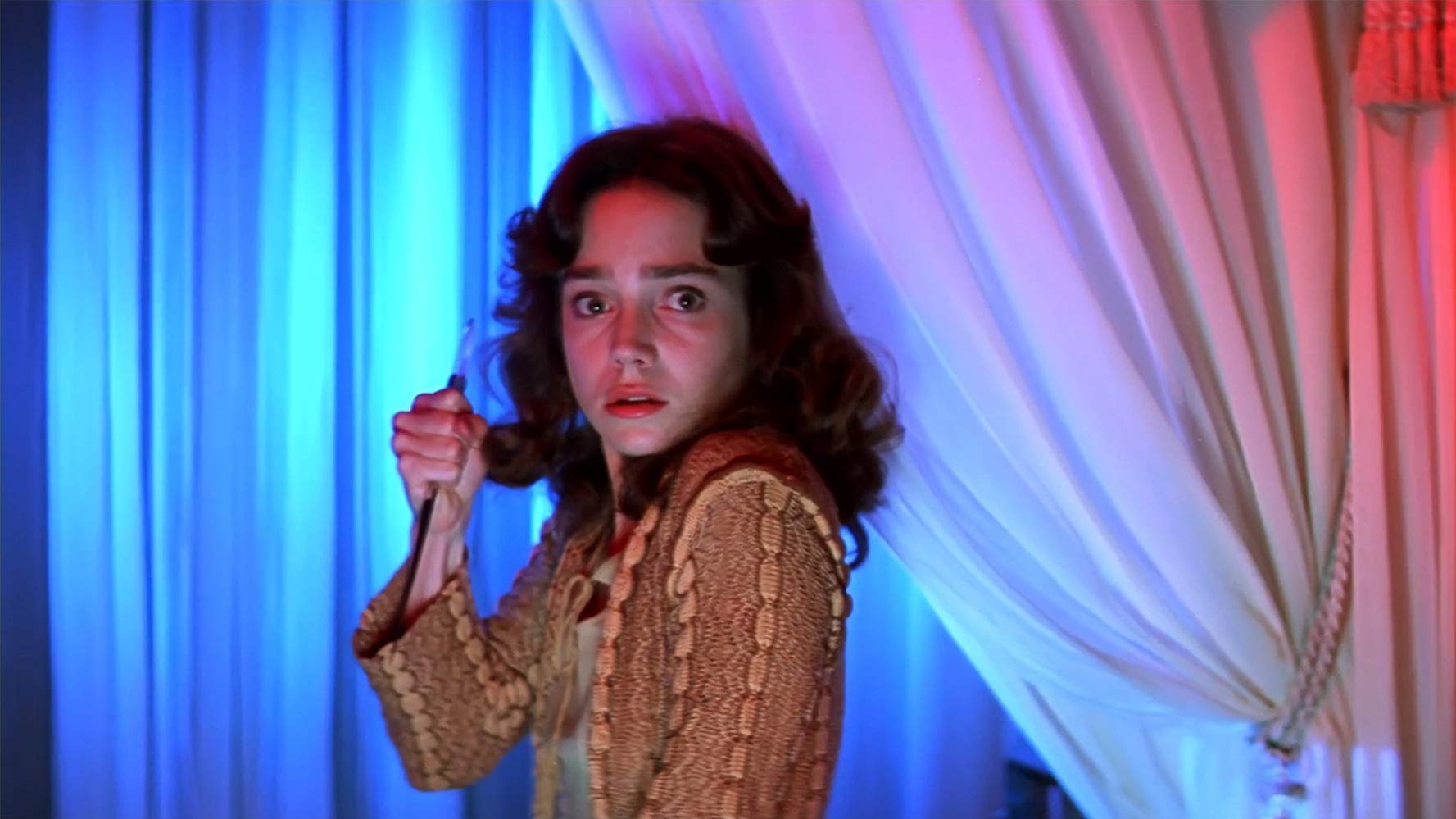 Inferno (1980) was Dario Argento's sequel where he announced that both films were part of a trilogy set around The Three Mothers – Mater Suspiriorum, Mater Tenebrarum and Mater Lachrymarum. It took Argento a further 27 years to complete the promised third film with Mother of Tears: The Third Mother (2007), although in the interim Luigi Cozzi's cheap The Black Cat (1990) purported to be an unofficial sequel. The original was planned as a US remake for many years but finally went ahead under Italian director Luca Guadagnino as Suspiria (2018) with Dakota Johnson in the Jessica Harper role. This is a very different but not uninteresting film.
Dario Argento's other genre films are:– The Bird with the Crystal Plumage (1970), The Cat O'Nine Tails (1971), Four Flies on Grey Velvet (1971), Deep Red (1976), Inferno (1980), Tenebrae/Unsane (1982), Phenomena/Creepers (1985), Opera/Terror at the Opera (1987), Two Evil Eyes (1990), Trauma (1993), The Stendhal Syndrome (1996), The Phantom of the Opera (1998), Sleepless (2001), The Card Player (2004), Mother of Tears: The Third Mother (2007), Giallo (2009) and Dracula (2012). Dario Argento has also written and produced Demons (1985), Demons 2 (1986), The Church (1989) and The Sect (1991).
---
---