(Il Gatto a Nove Code)
---
Crew
Director/Screenplay – Dario Argento, Story – Dario Argento, Luigi Collo & Dardano Sacchetti, Photography – Erico Menczer, Music – Ennio Morricone, Music Conductor – Bruno Nicolai, Art Direction – Carlo Leva. Production Company – Seda Spettacoli.
Cast
James Franciscus (Carlo Giordano), Karl Malden (Franco 'Cookie' Arno), Catherine Spaak (Anna Terzi), Cinzia De Carolis (Lori), Pier Paolo Capponi (Superintendent Spimi), Carlo Alighero (Dr Calabresi), Radu Rassimov (Bianca Marusi), Horst Frank (Dr Braun), Tino Carraro (Dr Fulvio Terzi), Aldo Reggiani (Dr Casoni)
---
Plot
A murder is conducted at the Instituto Terzi for the study of genetic disorders. Soon after one of the scientists who believes he knows who the killer is is pushed under a train and decapitated. Blind crossword-designer Franco Arno approaches journalist Carlo Giordano, believing he heard clues as he passed the Instituto as the murder happened and that a photo taken at the railway station hides the killer's identity. However, the killer kills the photographer and then other scientists at the Instituto. Arno and Giordano's investigation leads them to believe that the killer is someone who has a rare XYY chromosome that can produce heightened aggression and that they are killing the scientists at the Instituto who would be able to determine their identity.
---
The Cat O'Nine Tails was one of the early giallo psycho-thrillers of Dario Argento. For some reason, more than likely lack of availability on video/dvd, Dario Argento's early psycho-thrillers, The Bird with the Crystal Plumage (1970), this and Four Flies on Grey Velvet (1971), do not attain as much notice as his other later work does. More often than not, particularly in the case of The Cat O'Nine Tails and Four Flies, these films are dismissed as uninspired early Argento. Finally seen, The Cat O'Nine Tails more than delivers the goods expected of an Argento film.
As usual with Argento, the film is driven by a series of sadistic set-pieces. There is a particularly good sequence where the camera takes the killer's point-of-view as they shake hands with Carlo Alighero and then push him under a train to be beheaded. Although the scene that works far better than any of Argento's gore effects is one where James Franciscus goes to a barber and the barber starts remonstrating against reporters who have claimed that the killer was a barber while shaving him (we are never certain whether the barber knows that Franciscus is a reporter too) and Argento alarmingly cuts to closeups of the barber's razor trimming Franciscus's chin as he starts talking about slashing throats with razors.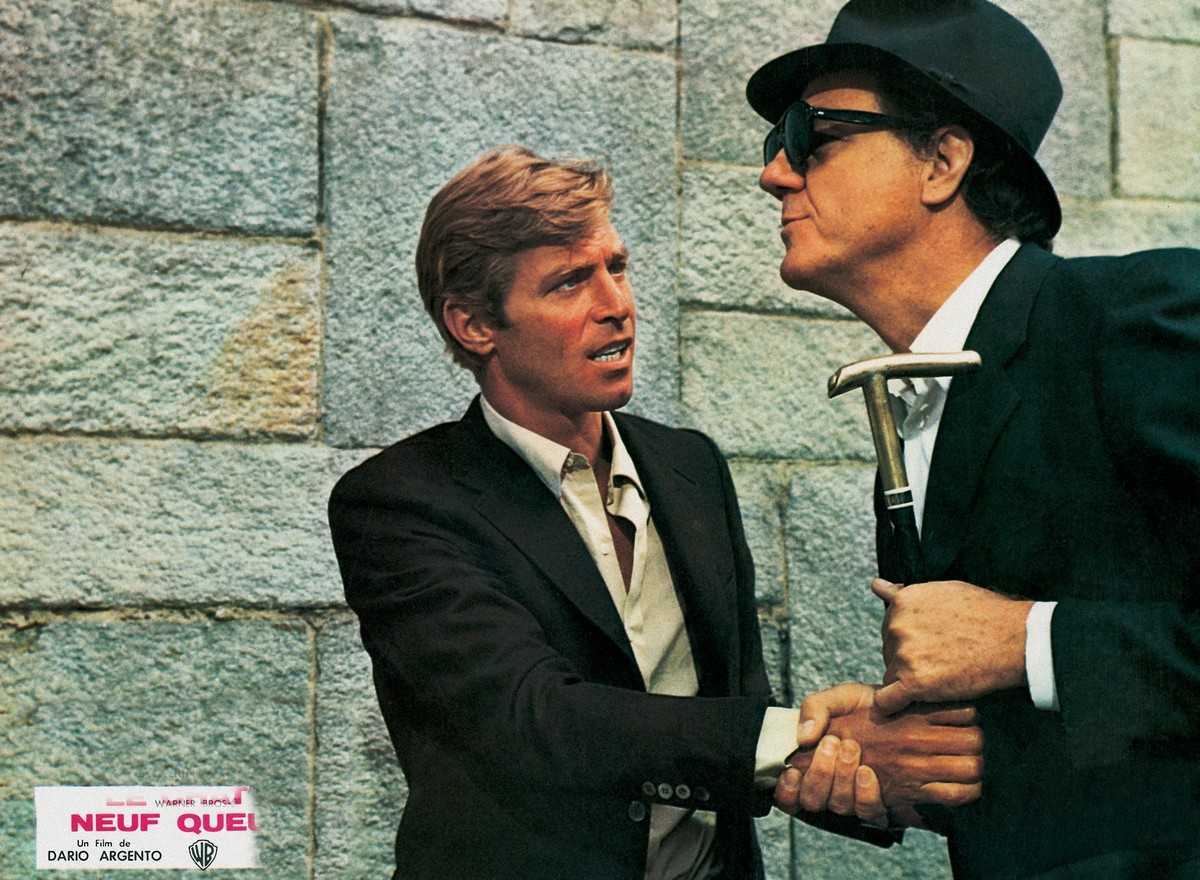 The Cat O'Nine Tails also has Dario Argento in a Hitchcock-esque mood – the scene where James Franciscus beds Catherine Spaak and then realises that she may have poisoned the milk he is about to drink is classic Hitchcock. There is an excellent scene with James Franciscus trapped inside a crypt then being saved by the blind Karl Malden who returns with a blood-covered cane, something that suddenly casts Malden into an uncertain light.
There are all the usual Dario Argento motifs and stylistic effects of half-heard clues and cameras taking the points of view of the killer and creeping up on people. Argento has a much stronger, better constructed puzzle plot here than he does in most of his other giallo films, although the final revelation of the killer's identity is an arbitrary affair. The fascination the killer having an XYY chromosome is thrown in after it gained a high-profile after being posited as a theory during the trial of mass-murderer Richard Speck.
Dario Argento's other films are:– The Bird with the Crystal Plumage (1970), Four Flies on Grey Velvet (1971), Deep Red (1976), Suspiria (1977), Inferno (1980), Tenebrae/Unsane (1982), Phenomena/Creepers (1985), Opera/Terror at the Opera (1987), Two Evil Eyes (1990), Trauma (1993), The Stendhal Syndrome (1996), The Phantom of the Opera (1998), Sleepless (2001), The Card Player (2004), Mother of Tears: The Third Mother (2007), Giallo (2009) and Dracula (2012).
---
---