---
USA. 1990.
Crew
Director – John Harrison, Lot 249 & Lover's Vow Written by Michael McDowell, Cat from Hell written by George A. Romero, Lot 249 Based on the Short Story by Sir Arthur Conan Doyle, Cat from Hell Based on the Short Story by Stephen King, Producers – Mitchell Galin & Richard P. Rubinstein, Photography – Ron Draper, Music – John Harrison (Lover's Vow), Chaz Jankel (Cat from Hell), Jim Manzie & Pat Regan (Lot 249) & Donald P. Rubinstein (Wraparound Story), Visual Effects – Ernest Farino, Special Effects Supervisor – Drew Jiritano, Makeup Effects – KNB EFX Inc (Supervisors – Howard Berger, Robert Kurtzman & Greg Nicotero), Makeup Consultant – Dick Smith, Production Design – Ruth Ammon. Production Company – Paramount/J&M Entertainment.
Cast
Wraparound Story:– Deborah Harry (Betty), Matthew Lawrence (Timmy). Lot 249:– Christian Slater (Andy Smith), Steve Buscemi (Edward Bellingham), Julianne Moore (Susan Smith), Robert Sedgwick (Lee Motkin). Cat from Hell:– David Johansen (Halston), William Hickey (Drogan). Lover's Vow:– James Remar (James Preston), Rae Dawn Chong (Carola), Robert Klein (Wyatt)
---
Plot
A suburban witch prepares to cook a young buy for an upcoming dinner party. In the hopes of staving off his fate, he reads her some stories from her favourite childhood book 'Tales from the Darkside'. Lot 249:– When a jock and his girlfriend cheat a bright nerd of a scholarship that is rightfully his, he takes revenge by reviving a mummy to kill them. Cat from Hell:– The reclusive pharmaceuticals billionaire Drogan hires the hitman Halston to kill a supernatural cat that is haunting him in revenge for all the cats he killed to test his products. Lover's Vow:– A failed artist encounters a demon and makes a pact with it to spare him so long as he tells no-one what it looks like. Soon afterwards, he and a beautiful woman fall in love. Eventually though, keeping his secret becomes too much.
---
George Romero, the director of Night of the Living Dead (1968), and his then production company Laurel Films have always had more than a passing interest in the horror anthology, beginning with Romero's Creepshow (1982). Romero and Laurel followed this with Creepshow II (1987) then ventured into television with the tv anthology series Tales from the Darkside (1983-6) and its follow up Monsters (1988-9). For a time, Laurel seemed on the verge of turning into a latter-day Amicus Pictures – indeed, their ability to tell the stories with a healthy dose of black humour made them far better at capturing the essence of the old EC stories than Amicus's EC adaptations ever were.
Tales from the Darkside: The Movie was a film spinoff of the Tales from the Darkside series. It was directed by John Harrison who had worked on various aspects of Laurel's production as an actor – he was the zombie that received a screwdriver in the ear in Dawn of the Dead (1978) – and assistant director, who wrote the score for Romero's Creepshow and Day of the Dead (1985) and directed a number of episodes of the tv Tales from the Darkside before making his cinematic debut here.
Since Tales from the Darkside: The Movie, John Harrison has maintained a livelihood as a director on various television series. His most notable work has been the screenplay for Disney's Dinosaur (2000) and directing-writing the tv mini-series adaptation of Frank Herbert's Dune (2000). Harrison also wrote the follow-up mini-series Children of Dune (2003), directed the disaster mini-series Supernova (2005), wrote the superheroine tv movie Painkiller Jane (2005) and wrote/directed Book of Blood (2009), based on stories by Clive Barker.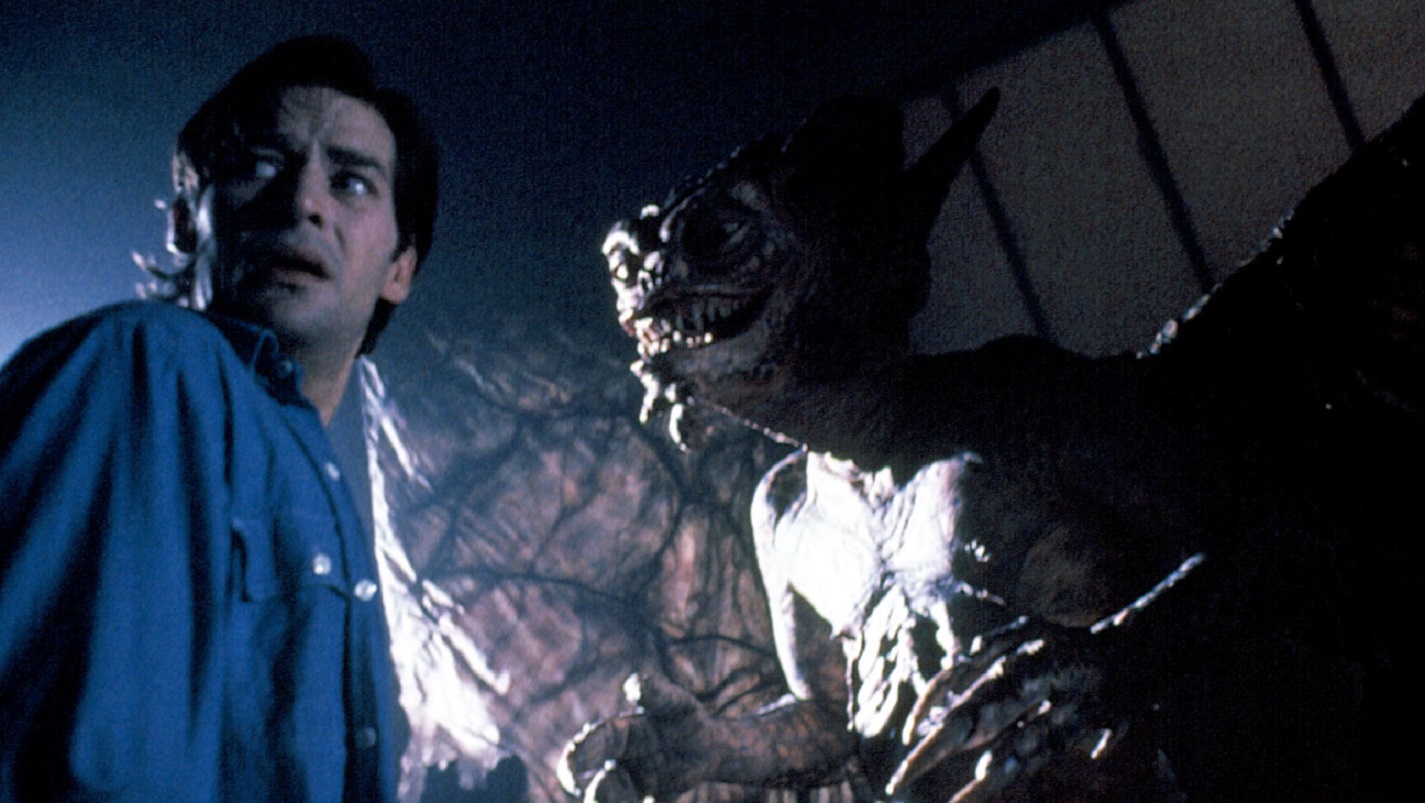 Tales from the Darkside: The Movie is a surprisingly well made film, certainly undeserving of the poor distribution it received when it came out. The stories are wittily told, especially the linking story, which comes with droll images of broomsticks placed in the background of the house and matter-of-fact discussions on the correct means of cooking a boy. The film has an extraordinarily beautiful lighting scheme (one of the features of John Harrison's directorial works) – there is an amazingly sensual love sequence all lit in blue in the third episode. During the second segment there are some breathtaking cuts between blue-toned flashback and normal lit present-day, with characters walking between the two all in the space of a single shot.
The film also features a fine cast – William Hickey has a good deal of fun as the reclusive millionaire in the second segment, and in the third Rae Dawn Chong comes across as a genuinely warm and sensitive character that helps annul a predictable ending that can be seen well in advance – not to mention being blatantly stolen from the Snow Woman segment in Kwaidan (1964).
There are also some exceptional makeup effects on display. The mummy is very well done, which makes for a highly entertaining climax to the first episode with shots of Christian Slater chopping it up with an electric carving knife – scenes that actually create sympathy for the poor pathetically crawling mummy. The demon transformation is good, as is the grotesque effect of the cat forcing its way down David Johansen's throat at the end of the second story.
---
---