---
Italy. 1990.
Crew
Producers – Dario Argento & Achille Manzotti, Music – Pino Donaggio, Makeup Effects – Tom Savini, Production Design – Cletus Anderson. Production Company – ADC/Gruppo Benna.
The Facts in the Case of Mr Valdemar
Crew
Director/Screenplay – George A. Romero, Based on the Short Story The Facts in the Case of M. Valdemar by Edgar Allan Poe, Photography – Peter Renniers.
Cast
Adrienne Barbeau (Jessica Valdemar), Ramy Zada (Dr Robert Hoffman), Bingo O'Malley (Ernest Valdemar), E.G. Marshall (Steven Pike), Tom Atkins (Detective)
The Black Cat
Crew
Director – Dario Argento, Screenplay – Dario Argento & Franco Ferrini, Based on the Short Story by Edgar Allan Poe, Photography – Beppe Maccari.
Cast
Harvey Keitel (Rod Usher), Madeleine Potter (Annabel), John Amos (Inspector Le Grande), Holter Ford Graham (Jason), Martin Balsam (Mr Pym), Kim Hunter (Gloria Pym), Sally Kirkland (Eleonora)
---
Plot
The Facts in the Case of Mr Valdemar:- Jessica Valdemar and her lover Dr Robert Hoffman have placed her aging husband Ernest in a hypnotic trance in order to get him to sign the papers for his estate over to her so that they can get his money. However, Valdemar dies while in the trance but because he has died while hypnotised, Valdemar's body remains alive. The Black Cat:- Photographer Rod Usher takes a dislike to the black cat his girlfriend Annabel adopts. He strangles it, photographs the corpse and publishes the photo in his book 'Metropolitan Horrors'. When she discovers this, Annabel reacts in horror and Usher is driven to kill her with a meat cleaver. Afterwards, he plasters her body up inside a wall. However, when neighbours force police to investigate, Usher is given away by the cat that he has plastered up inside the wall as well.
---
George Romero, the cult director of Night of the Living Dead (1968), and Dario Argento, the cult director of Suspiria (1977), are both horror legends and have substantial followings. Both have been long-time friends. Argento had previously acted as producer on Romero's zombie film hit Dawn of the Dead (1978) and the two again teamed up on Two Evil Eyes to fulfil a mutual appreciation of Edgar Allan Poe, wherein each contributed one Poe adaptation of about 45 minutes apiece. Disappointingly, both the entries fall far below either director's usual highs.
The problems that filmmakers always face when adapting Edgar Allan Poe is that most of Poe's stories are essentially a single horrific effect and nothing else. This is particularly so in the case of Poe's original short story The Facts in the Case of M. Valdemar (1845) – a man is kept alive beyond death by hypnotism and that is about it. Here at least, George Romero does a worthwhile job in expanding the single incident into a dramatic structure – the original experiment in hypnotism is now being conducted for the purposes of greed and the story's single shock is spun out into a potentially eerie idea about the dead using Valdemar's body as a channel back into the world of the living. As a full-length cinematic release, this could have been something unworldly. Unfortunately, George Romero's direction is cloddingly unatmospheric – the image of a frozen corpse staggering about, its mouth not even opening when it speaks, is decidedly non-frightening.
The other thing that derails the Valdemar episode is Romero's characteristic distasteful moralism – the same thing that permeated his scripts for Creepshow II (1987), Monkey Shines (1988) and Bruiser (2000) – where one-dimensional characters are set up and sympathies moralistically swung against them so as to make them seem to deserve their deaths. Adrienne Barbeau is set up as a cliched rich conniving adulteress (although Barbeau gives a performance that makes the role more complex than it is written) and the story is worked towards a silly twist ending with a putrefying Ramy Zada staggering about with a pyramid impaled in his chest unable to wake himself up. It feels like the whole thrust of Edgar Allan Poe's story has been used to merely underline a just desserts ending that would not have been out of place in an EC comic.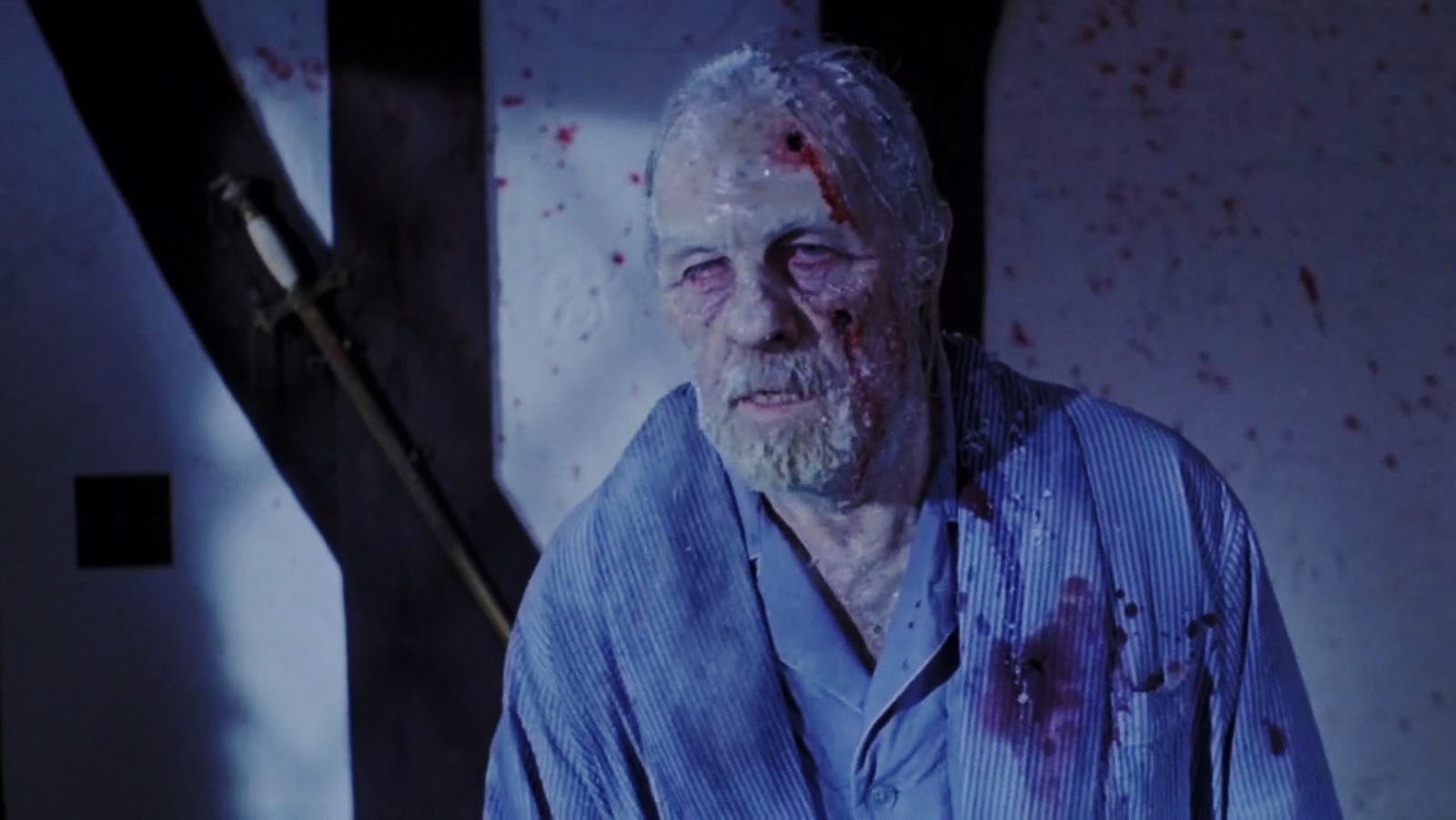 The Dario Argento segment comes littered with Edgar Allan Poe references – the central character is hiply named Rod Usher, has a girlfriend Annabel, meets a barmaid Elenora, has a neighbour Pym and takes photos of a serial killer who uses a pendulum as a motif. Clearly, Dario Argento has set out to make an Edgar Allan Poe film that is as wilfully unconventional as possible and, next to Federico Fellini's adaptation of Toby Damnit in Tale of Mystery and Imagination/Spirits of the Dead (1968), The Black Cat is one of the least Poe-esque Poe films ever made. Even if it is not the actual Usher character, the concept of quintessential New York street actor Harvey Keitel as Roderick Usher strikes as bizarre casting.
Directorially, Dario Argento leaps in with his characteristically wild flourishes of style – cat's eye points-of-view shots, camera shots following a pendulum as it swipes through a severed body – and gratuitous but artistic splatter – dreams where Harvey Keitel sees himself winched up between two poles and dropped onto a spike, Annabel's body being devoured by a litter of kittens and a wonderfully flashy shot of the cat being attacked in mid-air by a saw.
However, the slimness of the story belies Argento's flourishes of artistry – it seems more a segment of affect than it ever seems to hold any point. It does briefly work at the ending with a darkly ironic sequence where Harvey Keitel kills the two cops only to find he is handcuffed to one then has to climb out the window handcuffed to a dead body, whereupon he hangs himself.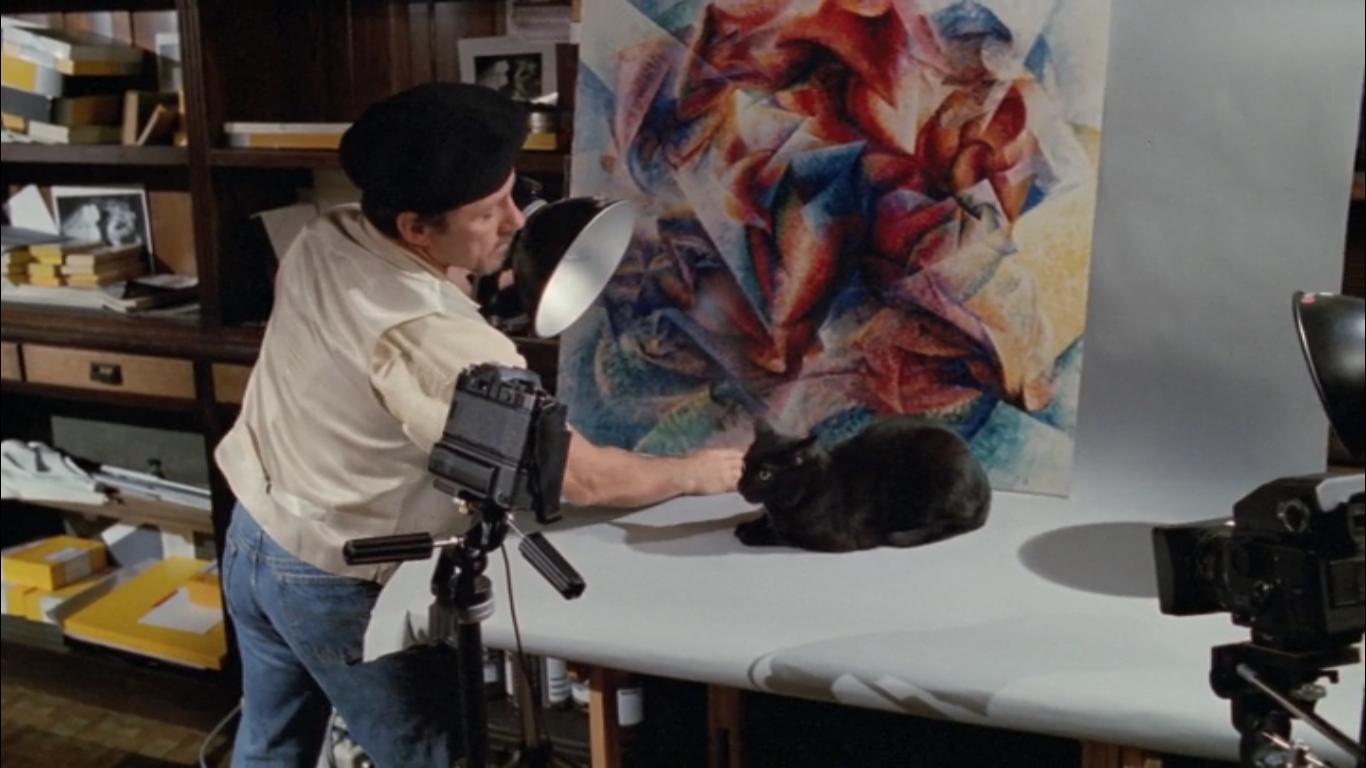 The shooting of Two Evil Eyes is shown in Document of the Dead (1989), a documentary about George Romero.
George A. Romero's other genre films as director are:– the classic zombie film Night of the Living Dead (1968); Jack's Wife/Season of the Witch/Hungry Wives (1972) about suburban witchcraft; The Crazies (1973), an underrated film about a madness-inducing biospill; The Amusement Park (1975), a surreal allegory about aging; Martin (1976), a superb deconstruction of the cinematic vampire myth; Dawn of the Dead/Zombies – Dawn of the Dead (1979); the Stephen King-scripted horror comic homage Creepshow (1982); Day of the Dead (1985); Monkey Shines (1988) about a psychic link between a paraplegic and a murderous monkey; The Dark Half (1993), from a Stephen King novel about a writer haunted by an evil doppelganger; Bruiser (2000) about a man whose face suddenly becomes a blank mask; Land of the Dead (2005), Diary of the Dead (2007) and Survival of the Dead (2009). Romero has also produced the Tales from the Darkside (1983-5) and Monsters (1988-9) horror anthology series, as well as the films Deadtime Stories (2009), Deadtime Stories 2 (2010) and the remake of The Crazies (2010). Romero's scripts include Creepshow II (1987), Tales from the Darkside: The Movie (1990) and the remake of Night of the Living Dead (1990).
Dario Argento's other films are:– The Bird with the Crystal Plumage (1970), The Cat O'Nine Tails (1971), Four Flies on Grey Velvet (1971), Deep Red (1976), Suspiria (1977), Inferno (1980), Tenebrae/Unsane (1982), Phenomena/Creepers (1985), Opera/Terror at the Opera (1987), Trauma (1993), The Stendhal Syndrome (1996), The Phantom of the Opera (1998), Sleepless (2001), The Card Player (2004), Mother of Tears: The Third Mother (2007), Giallo (2009), Dracula (2012) and Black Glasses (2022). Dario Argento has also written and produced Demons (1985), Demons 2 (1986), The Church (1989) and The Sect/The Devil's Daughter (1991).
---
---