---
Crew
Director – Avi Nesher, Screenplay – Rob Cohen & Avi Nesher, Based on the 1943 Film I Walked with a Zombie Written by Curt Siodmak and Ardel Wray, From a Story by Inez Wallace, Producer – Ted Hartley, Photography – Doug Milsome, Music – Shirley Walker, Visual Effects – Threshold Digital Research Labs in Association with IBM Corporation, Special Effects Supervisor – Drew Jiritano, Makeup Effects – Kurtzman, Nicotero & Berger EFX Group, Inc. (Supervisors – Howard Berger, Robert Kurtzman & Greg Nicotero), Production Design – Ginger Tougas. Production Company – RKO Radio Pictures/Dimension Films/Tales from the Crypt Holdings.
Cast
Jennifer Grey (Alice Dodgson), Daniel Lapaine (Wesley Claybourne), Craig Sheffer (Paul Claybourne), Kristen Wilson (Caro Lamb), Tim Curry (Matthew Hope), Ron Taylor (Superintendent Archibald), Gabriel Casseus (J.B.), Dorothy Cunningham (Violette), Trevor Rhone (Julian), Carl Bradshaw (Ramon), Jessica Collins (Jackie), Scott Getlin (Scott), Erick Avari (Dr Peter Winsvold), [uncedited] Stephen Tobolowsky (Dr Jeb Javitz)
---
Plot
Alice Dodgson, a junior doctor in New York City, has her license temporarily suspended after giving untested drugs to an ailing child without authorisation. She accepts a job in Jamaica on behalf of estate owner Paul Claybourne who needs someone to tend his brother Wesley. Wesley claims that he has been affected by a zombie curse. Alice sees native voodoo rituals all around her and observes someone taking Wesley away at night for clandestine purposes. At the same time, she finds that somebody is using voodoo to kill people on and around the estate.
---
There is some debate about whether Ritual was one of the Tales from the Crypt films. The anthology tv series Tales from the Crypt (1989-95), which was in turn based on the famous EC Comics title of the 1950s, enjoyed enormous popularity. Beginning with Tales from the Crypt Presents Demon Knight (1995), there was an attempt to spin a film series out from this only for the series to promptly bomb with the second film, the unfunny vampire comedy Tales from the Crypt Presents Bordello of Blood (1996).
Ritual was long announced as a Tales from the Crypt film. The names of Richard Donner, David Giler, Walter Hill and Robert Zemeckis, who produced the Tales from the Crypt series and films, appear on the credits and the film is prefaced as a 'Tales from the Crypt Presentation' but crucially there is no Cryptkeeper sequence nor inclusion of Tales from the Crypt in the actual title as is the case with the other films. There are reports that some Cryptkeeper sequences appear in other versions but not in the one I saw. Ritual was delayed in release for a number of years and then dumped to video/dvd.
Ritual announces on its credits that it is a remake of the Val Lewton film I Walked with a Zombie (1943). This was one of the celebrated films that Lewton produced during the 1940s in which the elements of horror would always ambiguously vie between supernatural or psychological explanations. In that film, Frances Dee signed on as a nurse to tend plantation owner Tom Conway's comatose wife and became certain that her condition could be cured by native voodoo. The standout scene of the film was an eerie journey through the fields accompanied by a zombie.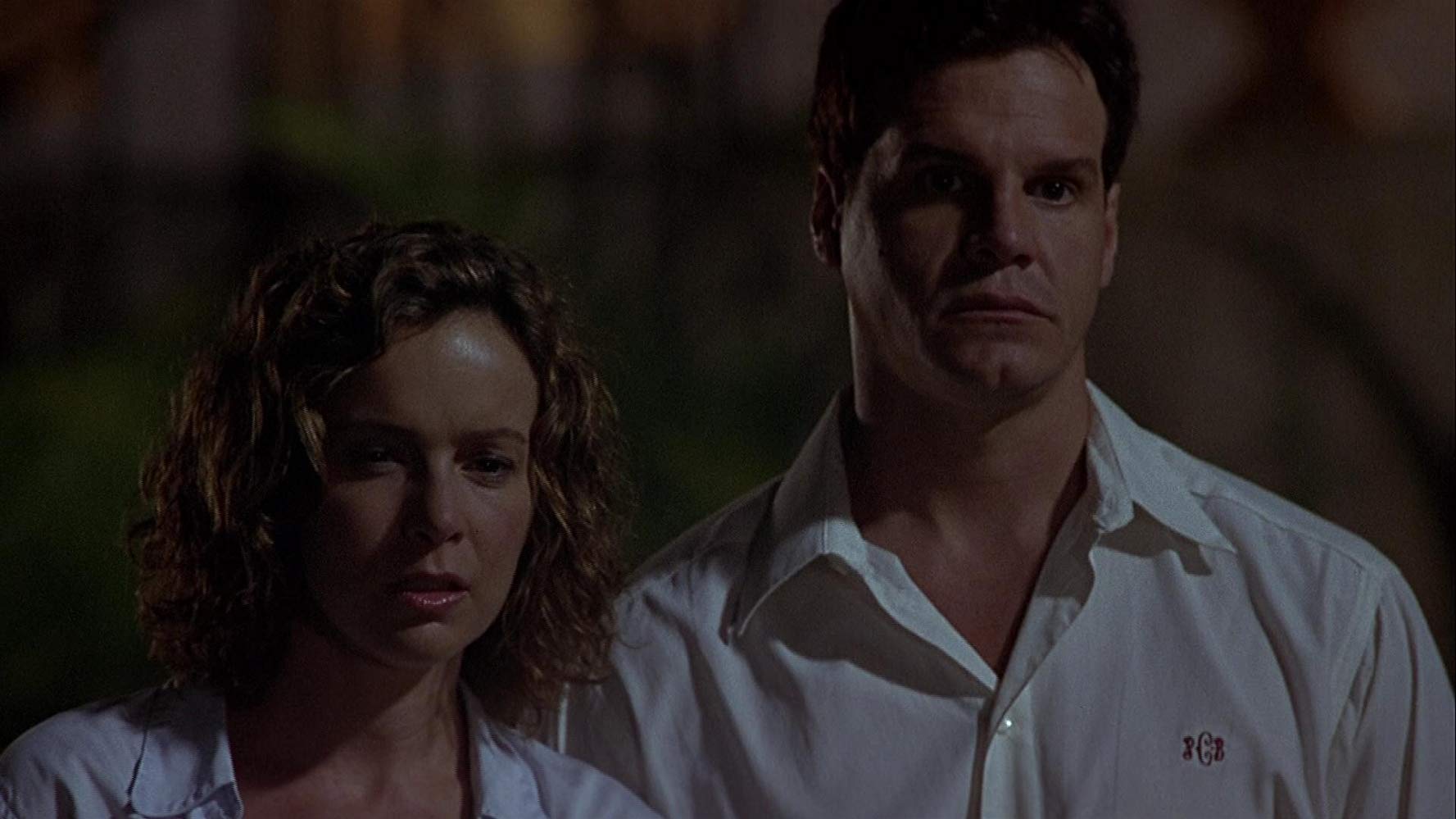 The remake has been placed in the hands of Abi Nesher, an Israeli-born director who has mostly made bad science-fiction/action films beginning with the mind-bogglingly bizarre She (1983). Nesher next went onto make the decent brainwashing action film Timebomb (1991) and followed this with the fascinatingly strange Drew Barrymore horror film Doppelganger (1993), the whacked-out Savage (1995) and then Ritual. Nesher and his Mahagonny Pictures production company have also produced genre films such as Automatic (1995), The Outsider (1996), Legion (1998), Mars (1998) and The Minion/Fallen Knight (1998). In the 2000s, Nesher relocated to Israel and subsequently made a string of non-genre Israeli dramas. Nesher also co-writes the script with Rob Cohen, later to become director of empty-headed fare like The Fast and the Furious (2001), xXx (2002) and The Mummy: Tomb of the Dragon Emperor (2008) among other works.
Val Lewton sits at almost opposite extremes of the genre to Avi Nesher (and Rob Cohen). Lewton created intelligent intellectual horror films that take place inside subtle suggested psychological spaces where we cannot be certain whether the supernatural is real or imagined. Nesher creates unintelligible films where nothing is subtle and understated. This is best demonstrated by the post-opening credits scenes here where any possibility of Lewtonian ambiguity and suggestion goes out the window as we see Erick Avari boiled alive and then splattered in his lab. Elsewhere Nesher seems to be reliant on a preponderance of dream jumps.
Much of I Walked with a Zombie has been thrown out. We still get a nurse (who becomes Jennifer Grey's disgraced doctor) who travels to the Caribbean to aid a plantation owner. Here the plantation owner's wife becomes his brother (Daniel Lapine) and rather than being comatose he is conscious and merely believes he has been turned into a zombie – oh and he also engages in a romance with Jennifer Grey and marries her in the final scene. Resemblances between the two films end there. The story is now pumped up with several supplemental deaths (there were none in I Walked apart from the wife at the end), a corrupt and murderous police chief and dirty dealings over a real estate deal. Ritual also places much more emphasis on the voodoo element and shows us various native rituals. What we have feels less like I Walked with a Zombie than it is a B-budget version of The Serpent and the Rainbow (1988).
Jennifer Grey is always an actress who leaves you wondering why she never became bigger than she did following the big mid-80s hit of Dirty Dancing (1987) – most of her subsequent work has been in tv. If she had, she probably wouldn't have needed to be appearing throwaway filler like this, at which she certainly plays adequately. The worst to come out of the deal is Tim Curry who can be a fantastic actor but here is reduced to pawing and slavering over all the available women while announcing what a bastard he is – a role where you can only hazard a guess that Curry needed the money.
---
---