---
USA. 1969.
Crew
Director – David Lowell Rich, Screenplay – Joseph Stefano, Producers – Philip Hazelton & Bernard Schwartz, Photography – Ellsworth Fredericks & Russell Metty, Music – Lalo Schifrin, Art Direction – William D. De Cinces & Alexander Golitzen. Production Company – Universal.
Cast
Michael Sarrazin (Wylie), Gayle Hunnicutt (Cassia Lancaster), Eleanor Parker (Aunt Danny), Tim Henry (Luke), Laurence Naismith (Dr Mills)
---
Plot
Hairdresser Cassia Lancaster searches out a derelict Wylie and takes him home and cleans him up. She is the hairdresser of his rich Aunt Danny, a wealthy widow. Cassia has learnt that unless Wylie, Danny's favourite nephew, returns to claim his inheritance, it will all go to a cat home. Together, they concoct a plan to kill Aunt Danny off and split the money. However, upon returning home, Wylie has not counted on Aunt Danny's dozens of cats, of which he has a pathological fear.
---
Eye of the Cat comes with a screenplay by Joseph Stefano (1922-2006), who was then best known as having written the screen adaptation of Psycho (1960). As with the rest of Josef Stefano's work, Eye of the Cat offers good evidence that the success of Psycho was due more to Alfred Hitchcock and original novelist Robert Bloch than Stefano's contributions. Stefano did go on to produce the great tv series The Outer Limits (1963-5), but more tellingly was his other work like the script for The Kindred (1986) and the dire tv series Swamp Thing (1991).
Eye of the Cat begins on a series of improbable contrivances and soon falls into familiar What Ever Happened to Baby Jane? (1962) Grand Dame Guignol plotting. It winds through some muddled character interplay before ending on an even more improbably contrived climax. Characterisation is poor with the actors given little in the way of psychological motivation – Luke and Danny simply hate each other and Danny simply likes Wylie, with no other reasons ever given.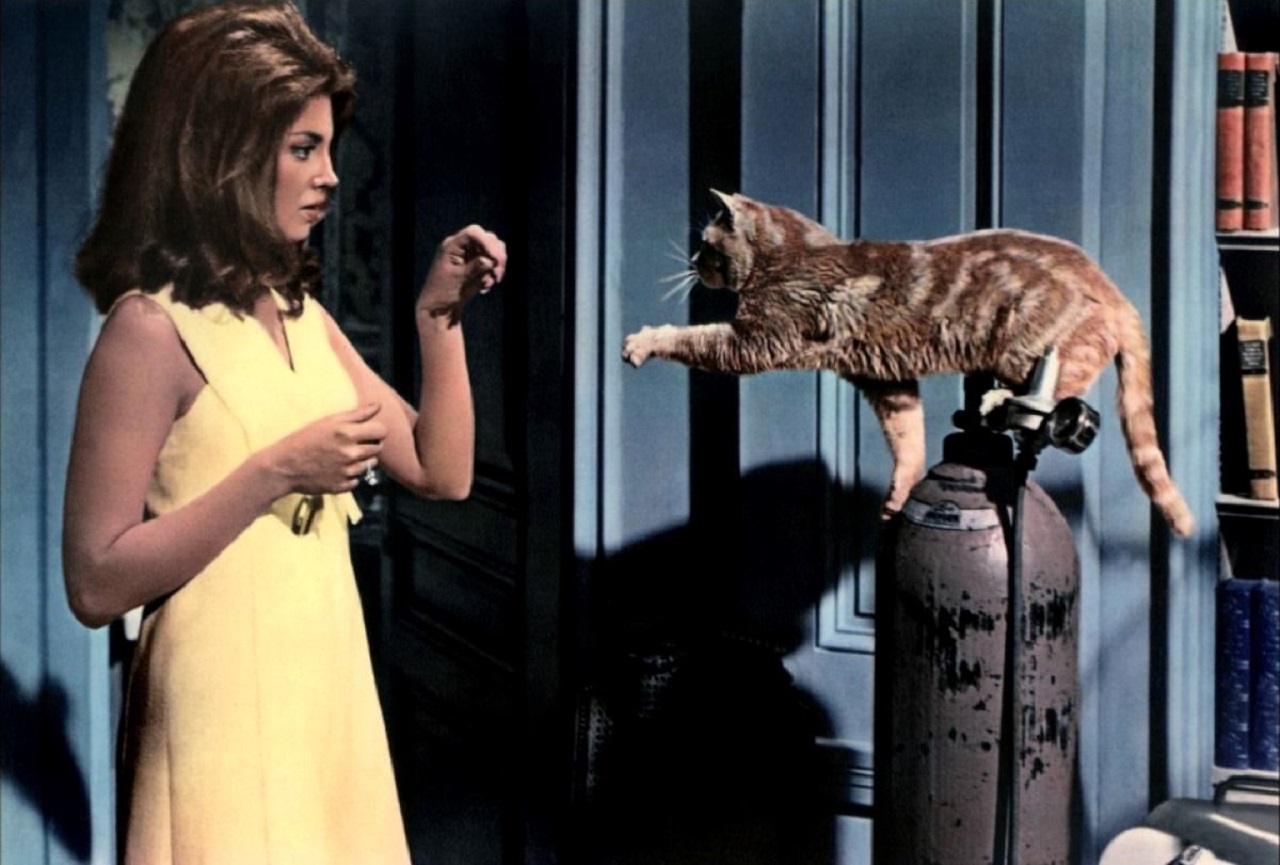 Eye of the Cat is considerably balanced out by David Lowell Rich's direction. Rich opens the film with some intriguingly effective split-screen work and builds throughout to a tense climax. The camerapeople have a strong eye for modern architecture and particularly the San Francisco locations.
David Lowell Rich had a long career as a director between the 1950s and 1980s, principally in tv. He directed genre tv movies like The Horror at 37,000 Feet (1973) and Satan's School for Girls (1976). His one other genre film was the Three Stooges space launch comedy Have Rocket — Will Travel (1959). Rich's only other major theatrical release was Airport '79 – The Concorde (1979).
---
Trailer here
---