---
Crew
Director – Adam Gierasch, Screenplay – Jace Anderson, Adam Gierasch & E.L. Katz, Producers – Jessica Horowitz, Steven C. Markoff, Bruce P. McNall & Warren Zide, Photography – Anthony B. Richmond, Music – Joseph Bishara, Visual Effects – Identity Studios, Inc., Special Effects Supervisor – David Nami, Makeup Effects – Gary J. Tunnicliffe's Two Hours in the Dark, Inc. (Supervisor – Gary J. Tunnicliffe), Production Design – Deborah Raymond & Dorian Vernacchio. Production Company – Parallel Zide Studios/Lion Share Productions/Seven Arts Pictures/Voodoo Pictures.
Cast
Jessica Lowndes (Emily), Robert Patrick (Dr David Benway), Jenette Goldstein (Nurse Marian), Robert LaSardo (Scott), Michael Bowen (Travis), Ross McCall (Jude), Ross Kohn (Bobby), Ashley Schneider (Clare), Arkady Golubovich (Dmitry Osipov), Greg Brazzel (Man Under Car), Janine Venable (Lisette Benway)
---
Plot
Four friends are partying in New Orleans, along with Dmitry, a Russian guy they pick up along the way. As they heading home, their car is hit by a driver that comes out of nowhere. An ambulance appears and two orderlies take the injured driver of the car away, while insisting that the group come with them to nearby Mercy Hospital to be checked out. At the hospital, which appears to have a skeleton staff, they are taken to be treated. However, as they discover, the orderlies are wanted criminals, while the head doctor Benway is cutting up bodies in a series of experiments to keep his ailing wife alive.
---
Autopsy was a directorial debut for Adam Gierasch who had previously written screenplays for films such as Spiders (2000), Rats (2003), several Tobe Hooper films, Crocodile (2000), Toolbox Murders (2003) and Mortuary (2005), and Dario Argento's Mother of Tears: The Third Mother (2007). All of Gierasch's work is co-written with Jace Anderson. Gierasch subsequently went onto direct the remake of Night of the Demons (2009), Fertile Ground (2011), Fractured (2013) and House By the Lake (2017), as well as the Trick episode of Tales of Halloween (2015).
With Autopsy, you get the impression that Gierasch obtained the use of an empty hospital and conceived the film around it. It frequently becomes a work where you get the impression the script has been dreamt up in terms of "How many sinister things can we set around a hospital?" even if all of them don't always seem logically tied to what is going on. Thus we have mentally disturbed patients ominously wandering around the hallways; sinisterly threatening medical procedures; an ominously controlling nurse – played by Jenette Goldstein alias Vasquez of Aliens (1986) fame no less; sinister orderlies; and a mad surgeon conducting illicit experiments. These seems to have been construed more in terms of the provision of horror effects than of any rationale.
Autopsy is extremely gory – scenes where Arkady Golubovich has organs removed without anaesthetic; a man falling on top of Ashley Schneider and spilling his intestines all over her; where we see Robert Patrick trying to drill a hole in Jessica Lowndes' skull with a hand-drill after which Michael Bowen dips his finger into the hole and licks the blood off it. There is one effectively creepy scene where Robert Patrick insists that Jessica Lowndes strip down so that he can perform a lumbar puncture and then, unnoticed by her, sits back and drinks the spinal fluid.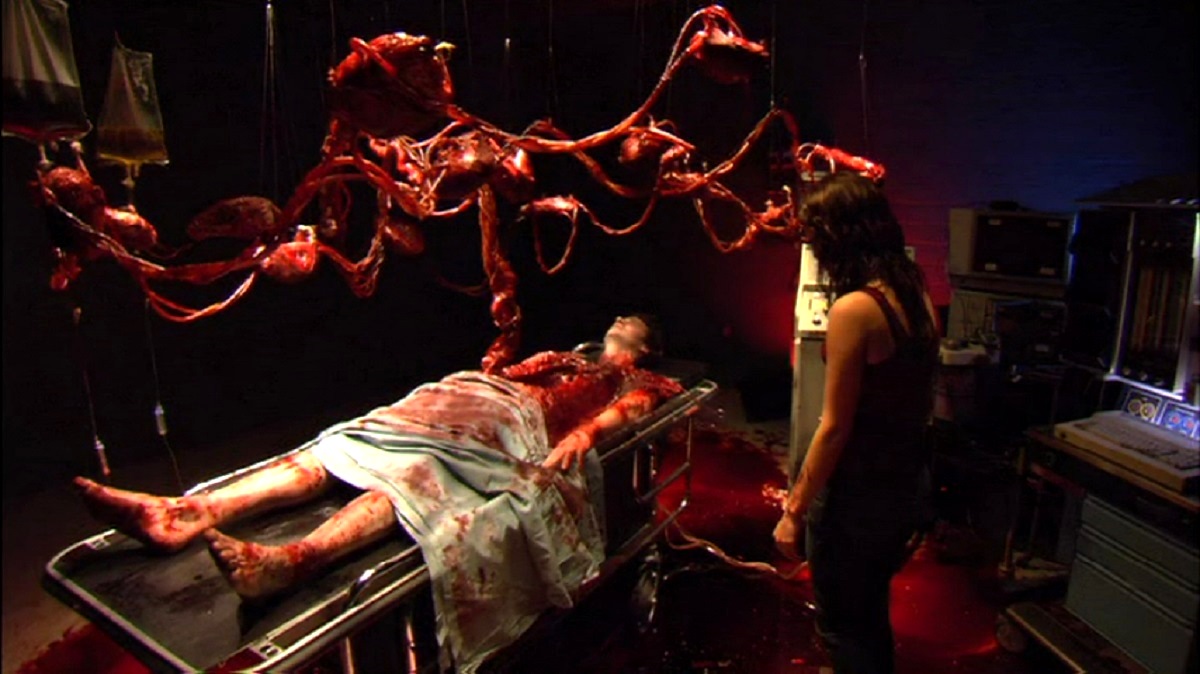 I must admit to having a few credibility issues with the film. A lumbar puncture is quite a painful procedure consisting of a needle pushed through bone into the spinal column, whereas here Robert Patrick not only performs it on Jessica Lowndes without any anaesthetic but she is up and running about the hallways a couple of minutes later without any after effects.
The other question I would have is who is running the hospital? It appears to be staffed by no more than one doctor, one nurse and two orderlies. This is a hospital several stories tall, all floors of which appear to have power running, be fully equipped and to have patients. So who is maintaining all of this? How do four people manage to run a multi-storey hospital with so many patients? Did those posing as the staff just come across the hospital abandoned and fully equipped (most hospitals sell/auction off their used equipment, let alone the absurdity of leaving behind a fully stocked pharmacy)?
The most absurdly improbable scene is where Jessica Lowndes finds her boyfriend Ross Kohn hooked up to an apparatus where his chest cavity has been gouged out and all of his internal organs have been pulled out and strung up around the room on wires in the midst of which he is still alive. While this has a certain outre shock value, you cannot help but think about the medical improbability of it. Organs in the chest are attached to other organs – in particular the heart to the brain – by hundreds of blood vessels and capillaries. The person attached to this set-up would not be alive for the simple fact that nothing is pumping blood to the brain. Not to mention that the exposed chest cavity would also be a major source of infection.
---
---