---
UK. 2015.
Crew
Director/Screenplay – Steve Oram, Producers – Steve Oram & Andy Starke, Photography – Matt Wicks, Music – King Crimson Projecks & Dave Westlake, Visual Effects – Mark Williams, Prosthetics – 13 Fingers FX, Production Design – Matt Clark. Production Company – Lincoln Films/Rook Films/Boum Productions.
Cast
Steve Oram (Smith), Lucy Honigman (Denise), Toyah Willcox (Barbara), Julian Rhind-Tutt (Ryan), Julian Barratt (Jupiter), Tom Meeten (Keith), Sean Raynard (Og), Holli Dempsey (Helen), Waen Shepherd (Manager), Noah Fielding (Shop Assistant)
---
Plot
Society now operates in terms of pre-civilised primate behaviour. Denise deplores living at home where the brutish plumber Ryan and his friend have moved in and banished her father Jupiter to living in the back garden. They regularly humiliate her and her mother Barbara. The balance of things is upset by the arrival of Smith and his offsider Keith who determines to drive Ryan and Og away and become the alpha male of the house.
---
Steve Oram is a British actor whose name has been bubbling away for a number of years with bit parts in various films and comedy tv series. Oram suddenly gained a good deal of international attention as the co-writer and the bushy-bearded ginger lead actor in Ben Wheatley's blackly biting murder comedy Sightseers (2012), which led to an increasingly wider range of film and tv roles for him. That has clearly granted Oram enough collateral to make his directorial debut with Aaaaaaaah!, which he also writes and co-produces.
Aaaaaaaah! is possibly the most bizarre film you will see this year. It is near-impossible to describe how off-the-wall it is. The basic premise that Steve Oram operates with is that society now operates in a pre-verbal manner where people communicate in grunts and dominance displays just like apes. Critics have been in a rush to compare it to other works like The Tribe (2014) and, I would add, Luc Besson's first film Le Dernier Combat (1983), although in actuality the only real resemblance between these is that they are films that are conducted without dialogue. Both of these other films operate in a far more realist vein, whereas Aaaaaaaah! operates far more as farce. If there is any point of comparison, it would be the French Themroc (1973) in which society is suddenly infected by a plague where people revert to pre-verbal behaviour.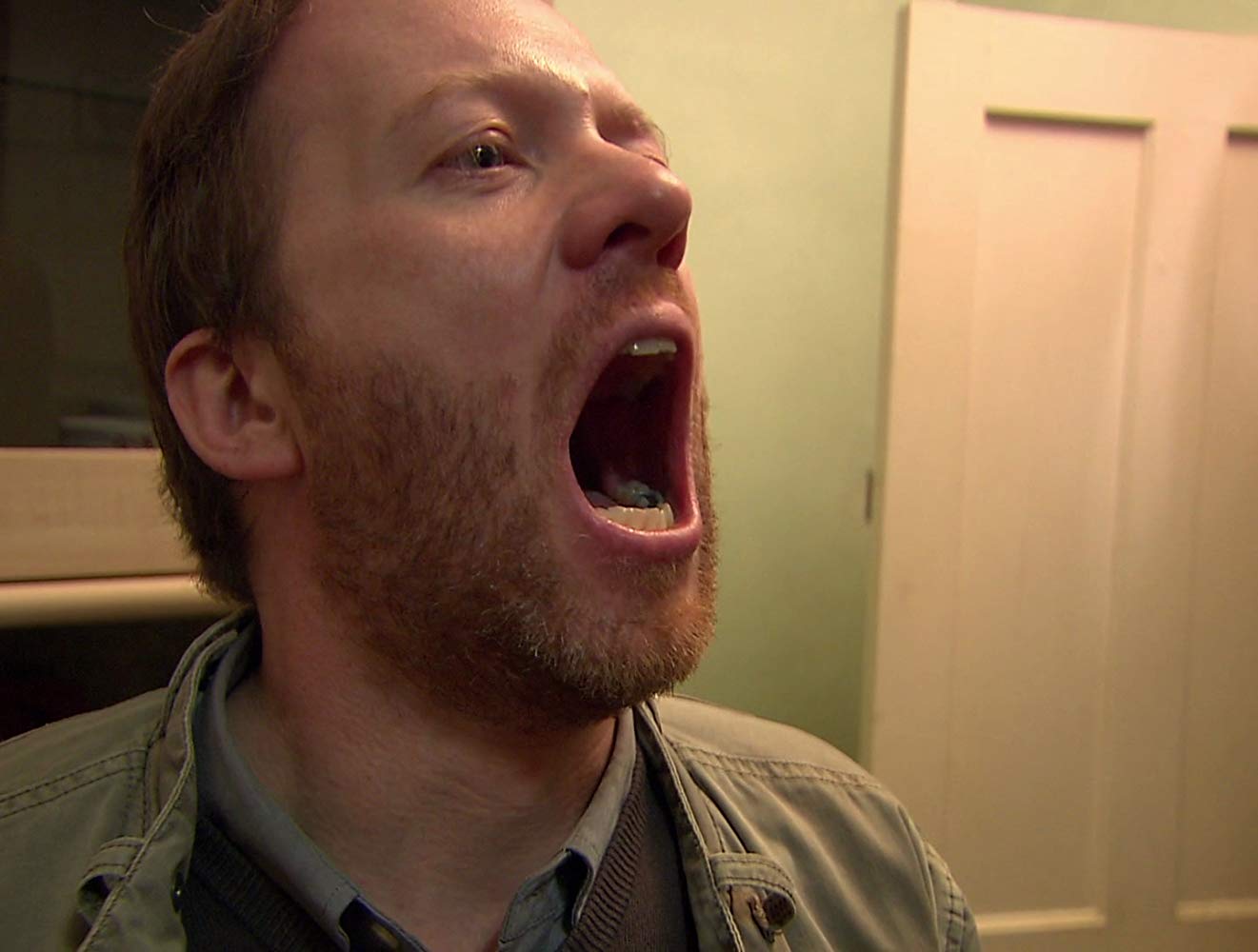 Aaaaaaaah! often feels like a glorified student film or a Saturday Night Live (1975– ) sketch drawn out to feature length. It is essentially a series of bizarre sketches in which we see modern social behaviour replaced by ape-like dominance displays. It takes some time to click as to what is happening from the baffling opening scene where we see Steve Oram and his friend taking a picture of his ex into the woods and pissing on it. We are then introduced to the household where the women watch cooking shows with bare-breasted hostesses and mother Toyah Willcox takes a dump in the corner in between preparing dinner (which in a parody of paleo diets is served up as vegetables, cooked meat and lots of salt), while the men drink beer and play videogames with giant motorbike styled consoles and then amuse themselves by pelting the women with the food.
Aaaaaaaah! is a crude and rude film. After watching it at the Vancouver International Film Festival, most audiences were evenly divided as to whether they liked it or hated it. Certainly, Steve Oram has shot the film in a raggedy, on-the-fly style that looks like he and a bunch of actor films got together over a holiday weekend and improvised everything in his home and the local park.
Sometimes it feels like crude humour just for its own sake – a side detour to a department store where Lucy Honigman and friend Holli Dempsey are caught shop-lifting, which comes replete with the manager masturbating onto a picture of Prince Harry and Dempsey biting off the store attendant's dick, could have been cut altogether, while a soccer game in the rain goes on too long. Nevertheless the off-the-wall bizarreness of the central idea has enough legs that Steve Oram manages to stretch it to nearly 80 minutes.
---
---