---
Crew
Director – Francis Lawrence, Screenplay – Peter Craig & Danny Stone, Adaptation – Suzanne Collins, Based on the Novel Mockingjay by Suzanne Collins, Producers – Nina Jacobsen & Jon Kilik, Photography – Jo Williams, Music – James Newton Howard, Visual Effects Supervisor – Charles Gibson, Visual Effects – Double Negative (Supervisor – Adrian de Wet), The Embassy Visual Effects, Exceptional Minds, Lola VFX (Supervisor – Edson Williams), MPC (Supervisor – David Seager), Weta Digital (Supervisor – Martin Hill), Special Effects Supervisor – Gerd Nefzer, Makeup Design – Ve Neill, Production Design – Philip Messina. Production Company – Colorforce/Lionsgate.
Cast
Jennifer Lawrence (Katniss Everdeen), Josh Hutcherson (Peta Mellark), Liam Hemsworth (Gale Hawthorne), Donald Sutherland (President Corolianus Snow), Julianne Moore (President Alma Coin), Woody Harrelson (Haymitch Abernathy), Philip Seymour Hoffman (Plutarch Heavensbee), Mahershala Ali (Boggs), Elizabeth Banks (Effie Trinket), Jena Malone (Johanna Mason), Michelle Forbes (Lieutenant Jackson), Sam Claflin (Finnick Odair), Jeffrey Wright (Beetee Latier), Eldon Hanson (Pollux), Willow Shields (Primrose Everdeen), Patina Miller (Commander Paylor), Stanley Tucci (Caesar Flickman), Eugenie Bondurant (Tigris), Sarita Choudhury (Egeria), Natalie Dormer (Cressida), Paula Malcolmson (Katniss's Mother), Evan Ross (Messalla), Wes Chatham (Castor), Gwendoline Christie (Commander Lyme)
---
Plot
Sick of the war and what has happened to Peta, Katniss Everdeen decides that the only option is for her to turn her back on the rebels and personally go to The Capitol to kill President Snow. Sneaking aboard a supply flight, she joins a rebel army unit in The Capitol. They must make their way through streets that have been heavily armed with deadly booby-traps. Claiming to be on a special mission, Katniss takes command of the unit and heads through the sewer tunnels as Snow marshals all effort to eliminate them.
---
Mockingjay Part 2 is the fourth and final of the Hunger Games films. This began with The Hunger Games (2012) and progressed through The Hunger Games: Catching Fire (2013) and The Hunger Games: Mockingjay Part 1 (2014), all based on Suzanne Collins popular series of Young Adult novels.
There was a rather funny video doing the rounds Watch as These People Struggle to Remember What Happened in The Hunger Games. Leaving aside whatever it might say about either how vapid popular culture is, this somewhat mirrors one's own confusion as Mockingjay Part 2 starts. Much of the early part of the film feels like a flurry of characters who were often little more than walks-ons in the previous films being rushed past one (part of this would seem a determination to feature an appearance from everybody still alive because Mockingjay Part 2 is the finale of the series).
More to the point, the series has gone from a fairly straightforward original – which was essentially an action piece about a teenager having to fight for her life – to a series of sequels that escalated the basics into densely plotted political scenarios and with a far more sombre focus on Katniss's internal journey. As now seems de digeur for any series aimed at Young Adult audience, the final book has been split into two parts (a convenient excuse that also allows the studio to rake in another half-billion or so dollars at the box-office). Like the Twilight series, you cannot help but feel that much of this is a story that in the normal course of events would take place in one to two films being extruded beyond its natural length.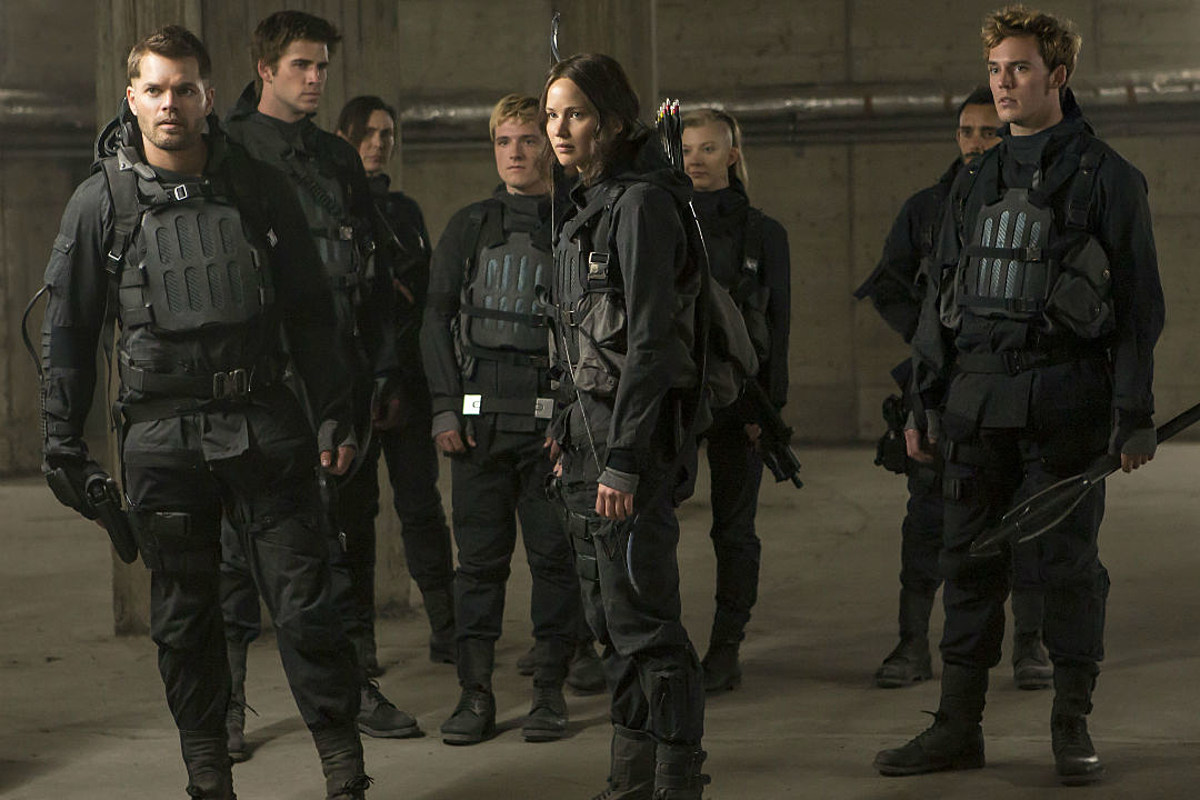 That said, once Mockingjay Part 2 gets to the core of its drama, it emerges rather well, certainly better than Mockingjay Part 1, which felt more like filler to get to the big climax than anything else. During the middle two-thirds of the film, the naive politics that have driven the rest of the sequels are set aside and everything stripped down to a tight and effective military sortie drama. The scenes racing through the streets and tunnels, fighting off death traps and mutant creatures have a gritty edge that one wishes had made its way into the original Hunger Games. (Looking back on the original now, It seems anodyne – it shied away from the idea of its heroine killing people, while the film here is brutal and unsentimental in killing off many of those around Katniss and moreover having her actively kill others). On the other hand, you do question the credibility of some of the action sequences – like the turning of just about every street corner of The Capitol into a series of giant death traps. You keep wondering how the populace manage to navigates around these to do its daily business?
That brings one to the other major problem with Mockingjay Part 2 – or at least the way it draws the entire saga to a close. We began with a not terribly well sketched out picture of a future, which started to become interesting in its political machinations throughout Catching Fire. For the most part here, the focus is less on the politics than warfare. That said, the film reaches a strangely irresolute ending. [PLOT SPOILERS]. The entire thrust of this film is about Katniss on a single-minded mission to kill President Snow. Only when it comes to the climactic finale, rather than fulfil her stated and then officially appointed task to shoot Snow, Katniss turns her arrow around and instead shoots down Julianne Moore's Coin. It is a finale that seems to go oddly sideways.
I get that Suzanne Moore is doing an equivalent of the ending of George Orwell's Animal Farm (1945) on us – see the film version Animal Farm (1954) – and saying that any revolution brings just as bad a regime with it. It also seems to be an ending that offers Snow a good old Hollywood redemption and seems to say because he is a nice friendly grandfather type who promised never to lie to Katniss then he should be forgiven and because Coin authorised a few ruthless acts (that certainly seem bad but not quite as severe as Snow bombing Katniss's home district to the ground and brainwashing Peta against her) then he gets a pass and she doesn't. It throws the series' thrust of sympathies off in a big way.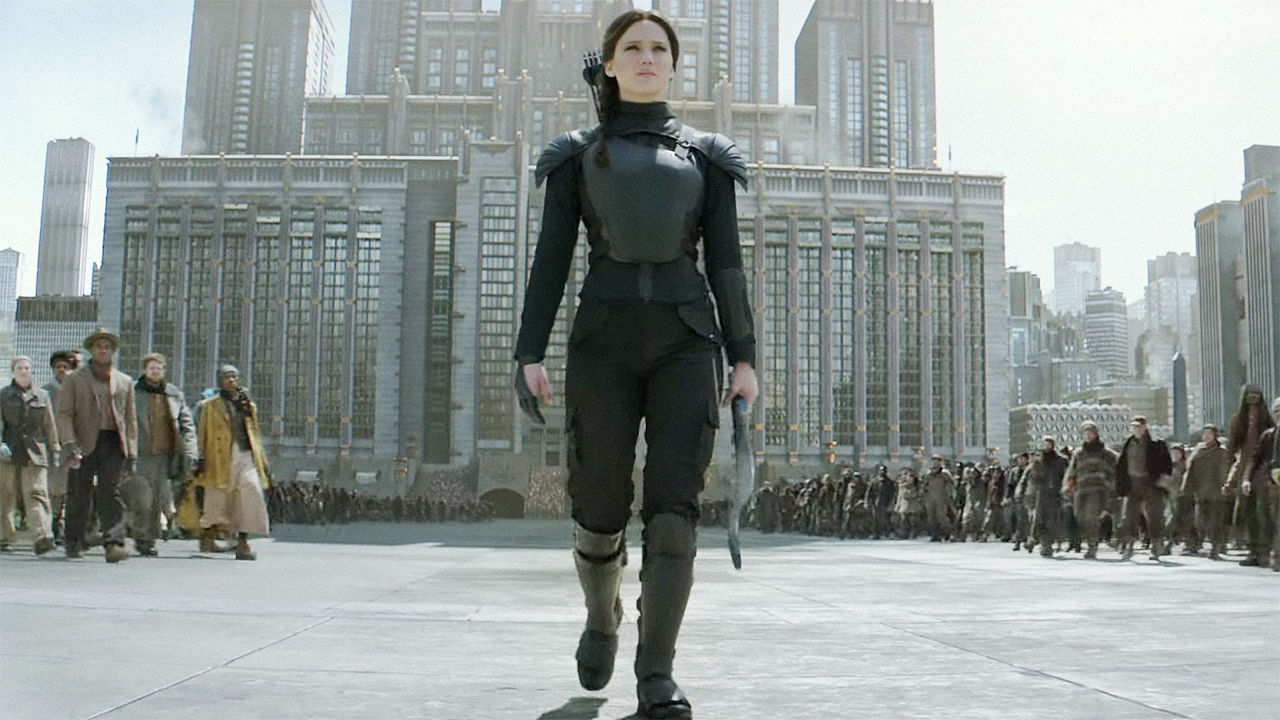 The other complaint is also that the film seems to fall into the common mistake that societies and revolutions are led by charismatic individuals. They certainly are but these are also backed by pyramids of power structure and hierarchies of appointment. That is to say, just killing the head of a state or movement is not something that automatically vanquishes the ideals that the rest of the people below them were fighting for – if it was the case then al-Qaeda would surely have ended with the killing of Osama bin Laden.
This is part of the essential Mary Sue fantasy that most of these Young Adult films play into – a term derived from fanfic where an ordinary seeming heroine (or hero) – ie. stand-in for the author – has an irresistible quality that makes them desired by people of great stature or else they come into possession of amazing powers. You can see this play out in the Twilight series and Fifty Shades of Gray (2015) at its worst, while not even Harry Potter is immune with its saga of the ordinary kid in possession of amazing destiny and incredible powers. Katniss Everdeen has become a slightly more complex character but there is very much the sense of the individual being able to singlehandedly topple corrupt regimes solely through her resolute moral purpose and honesty.
---
---