---
Crew
Director/Screenplay – Peter Strickland, Producers – Andy Starke, Photography – Ari Wegner, Music – Cavern of Anti-Matter, Visual Effects – Milk Visual Effects (Supervisor – Murray Baber), Special Effects – Machine Shop Special Effects Limited (Supervisor – Paul Mann), Prosthetics Design – Dan Martin, Production Design – Paki Smith. Production Company – BFI/BBC Films/Head Gear Films/Metrol Technology/Twickenham Studios/Rook Films/Blue Bear Film & TV
Cast
Marianne Jean-Baptiste (Sheila Woolchapel), Fatma Mohamed (Miss Luckmore), Leo Bill (Reg Speaks), Hayley Squires (Babs), Jaygann Ayah (Vince Woolchapel), Gwendoline Christie (Gwen), Julian Barratt (Stash), Steve Oram (Clive), Richard Bremmer (Mr Lundy), Barry Adamson (Zach), Terry Bird (Bananas Brian), Anthony Ardjekum (Adonis Jackson), Graham Martin (Cottrell), Sidse Babett Knudsen (Jill Woodmere)
---
Plot
Sheila Woolchapel is a bank clerk who has recently divorced and is living with her teenage son Vince. She thinks it is time to get back into the dating game and joins a lonely-hearts club. She decides she needs a new outfit for the occasion and buys a red dress at the Bentley & Soper department store. She soon believes the dress has a life of its own and is trying to kill her, while discovering that the model who wore it in the catalogue photo died. Her attempts to return the dress are unsuccessful. Washing machine repairman Reg Speaks inherits the dress after he is forced to put it on during his bachelor party. Later it is found and worn by his fiancee Babs and exerts its influence.
---
In Fabric was the fourth full-length film from British director Peter Strickland. Strickland first appeared with Katalina Varga (2009) and gained a name with his second film Berberian Sound Studio (2012). Subsequent to that, Strickland went onto the lesbian BDSM film The Duke of (2014) and the Cobbler's Lot episode of the anthology The Field Guide to Evil (2018). The film is executive produced by Ben Wheatley, the cult director of Kill List (2011) and High-Rise (2015), who also produced The Duke of Burgundy.
In Fabric came out eleven months after Paul Thomas Anderson's Phantom Thread (2017) and seemed to presage a mini-fad of films set around high-fashion and dressmaking. Phantom Thread had a title that made it sound like it was a genre film (but in actuality wasn't), whereas the more mundanely titled In Fabric actually is a horror film centred around, at its most boiled-down plot description, a killer dress. There have been other films about cursed dresses with I'm Dangerous Tonight (1990), The Wedding Dress (2001), while The Cloak episode of The House That Dripped Blood (1970) featured a cape that turned Jon Pertwee into a vampire and the subsequent Slaxx (2020) about a possessed pair of jeans. What this approaches some of the time is Alex van Warmerdam's surreal black comedy The Dress (1996) about a dress that passes through various hands.
Far more than almost any other horror film, Peter Strickland concentrates on the background. The period the film takes place is never specified but the ads in the newspaper and on tv, the fonts they use, the decor, the antiquated answering machines all look 1970s era. The design scheme becomes even more bizarre when it comes to the department store where the attendants are dressed in severe black uniforms overflowing with lace trimmings that make them look like Victorian nannies. They use archaic technology including depositing money and receiving change via compressed air tubes, while attendant Fatma Mohamed is at one point seen crawling inside a dumb waiter.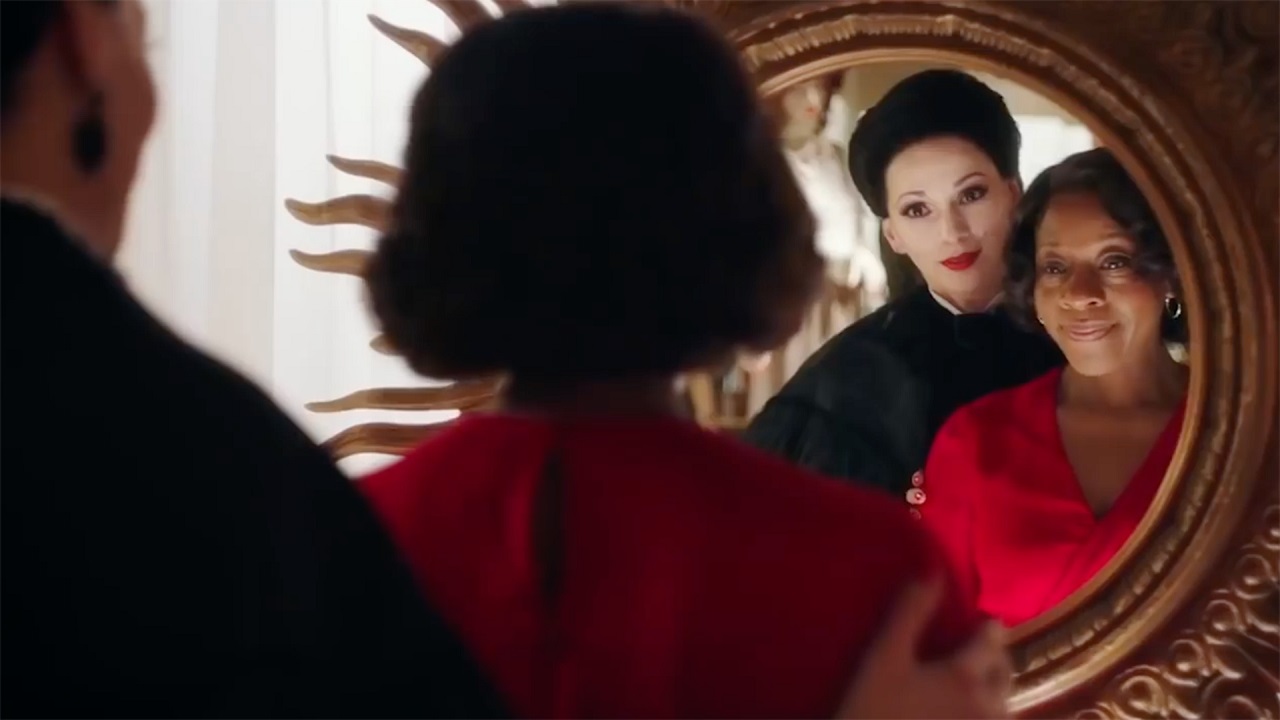 There is a strange alienness to the department store scenes. Fatma Mohamed speaks in formal, highly ornamented language with over-detailed descriptions that make her seem like she comes from another world, something that her foreign accent makes seem even more stilted. When Marianne Jean-Baptiste accidentally tears the picture of a model in the catalogue, Fatma anguishes about the pain caused to the model. Fatma climbs into the dumb waiter and then takes her ornate wig off to reveal a bald head beneath and later is seen pushing a rolled-up document up under her skirts for purposes unclear, The girls of the store and aging owner Richard Bremmer welcome the customers waiting outside the door with a strange ritual greeting.
In one of Strickland's strangest scenes, Fatma Mohamed and another attendant are dressing a mannequin and take its underwear off where it is revealed to have lifelike pubic hair. Fatma begins massaging the crotch and it appears to leak menstrual blood, which she licks from her fingertips as the onlooking Richard Bremmer gets excited and begins masturbating. The last shot of the scene is his jism flying through the air in slow motion.
Even aside from these scenes, In Fabric is a film where Strickland seems less interested in the horror element or the dress than the surrealistic decor and very peculiar sense of humour. There is the deadpan banality of Marianne Jean-Baptiste's dates – in particular the disinterested Anthony Ardjekum and his drooping rose and pudding vouchers – or of the tensions between Marianne and son's girlfriend Gwendoline Christie. There are also the bizarrely banal conversations with her managers Julian Barratt and Steve Oram who are concerned about the firmness of her handshake and the extra minute she once spent in the bathroom.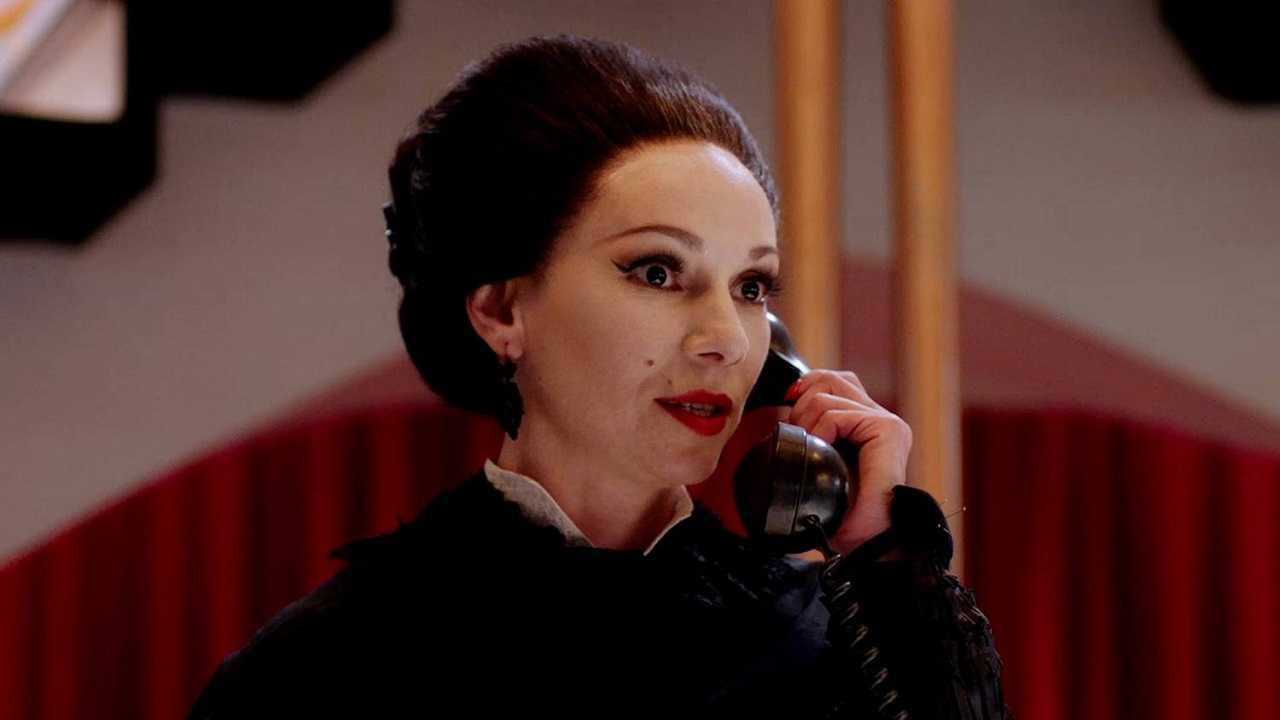 In the second story, the character played by Leo Bill seems to hypnotise people with his long and overly detailed descriptions of washing machine parts and dealings with a boss (played by Graham Martin who looks like a bouncer) who just sits and stares at him saying nothing. In one scene, he has sex with girlfriend Hayley Squires who lies there passively throughout and talks with more passion about wedding arrangements.
It is a very strange and undeniably appealing film. A horror film more of textures and lighting than necessarily of shocks and mood. And one with a very obscure sense of deadpan humour that leaves you scratching your head. It is a joke that comes more in the strangeness than the overall effect amid a film that is gorgeous to look at.
---
Trailer here
---