---
Crew
Director – Boaz Davidson, Screenplay – Bill Crounse, Brent Friedman & Doug Pequignot, Story – Boaz Davidson & Christopher Pearce, Producer – Mati Raz, Photography – Avi Karpick, Music – Blake Leyh, Special Effects Supervisor – Pini Klavir, Makeup Effects – Image Animation (Supervisor – Gary J. Tunnicliffe), Production Design – Kuly Sander. Production Company – Global Pictures.
Cast
Nicole Hansen (Mary), Joe Lara (Austin), John Ryan (Cyborg)
---
Plot
It is seventeen years after the holocaust and the machines have taken over. Humans are tolerated but are sterile, with the machines having decided to wait until they simply die out. In an underground lab in South Carolina, scientists have managed to impregnate a woman Mary. However, a cyborg breaks into the lab and slaughters everybody. Mary manages to make an escape with the foetus in a life-support container. Needing to cross the city to the port to meet a ship that is arriving from Europe with an artificial life support for the foetus, she begs the help of the warrior Austin in protecting her from the pursuing cyborg.
---
American Cyborg: Steel Warrior is another routine direct-to-video sf/action film. It is written not so much by formula but by a series of generic tropes that have become so overused in the direct-to-video action genre that they seem virtually interchangeable – killer androids, a kickboxing cyborg hero, a post-holocaust setting, the last fertile man/woman left. One can tick off the films it borrows from – The Terminator (1984), Hell Comes to Frogtown (1987), RoboCop (1987), Cyborg (1989).
As such American Cyborg: Steel Warrior is a routine entry – it contains neither any resoundingly bad qualities, nor on the other hand anything that makes it stand out from the strictly average. It seems streamlined for maximum action. There is no plot to it – it consists of one long pursuit through the post-holocaust ruins, an action sequence every few minutes and nothing superfluous to that. About halfway through, hero Joe Lara is revealed to be a rogue cyborg but the film never deigns to explain why – he just is.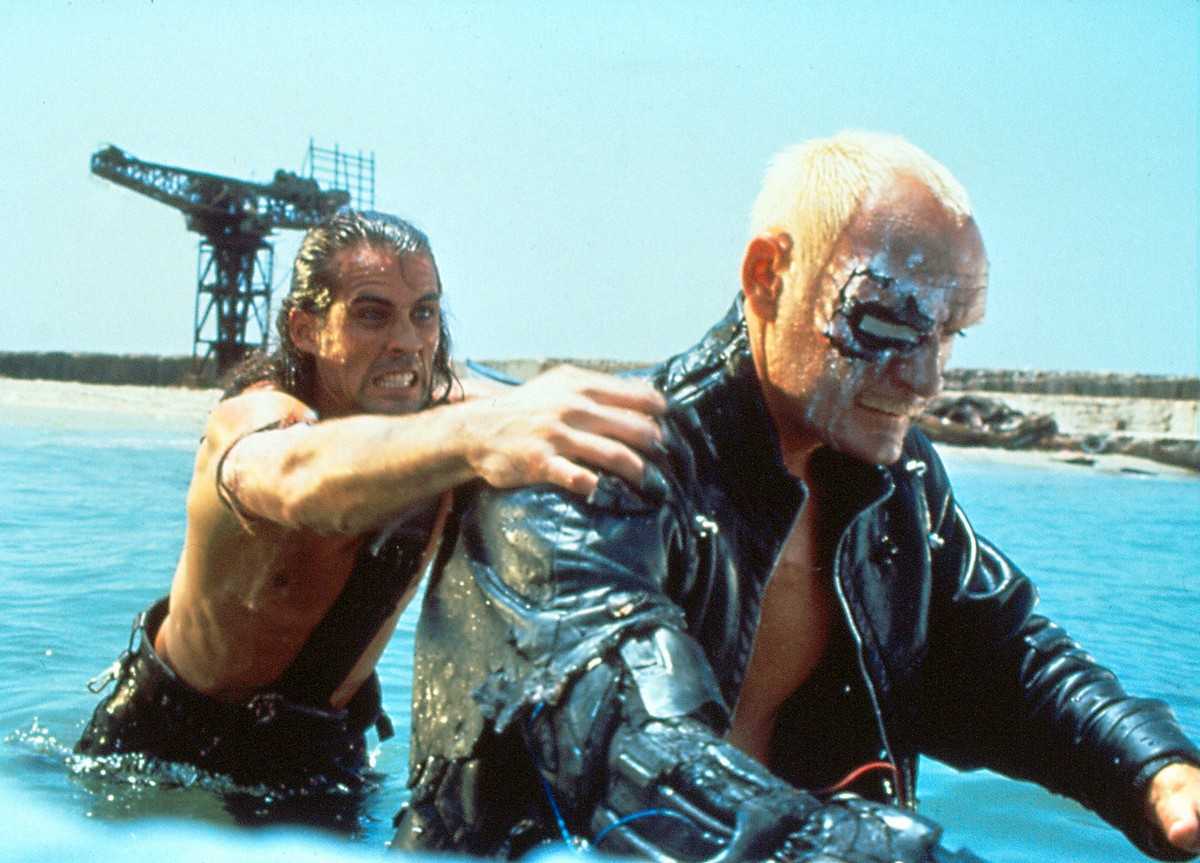 John Ryan, of It's Alive (1974) and Runaway Train (1985) fame, certainly looks menacing as the cyborg, with short-cropped blonde-hair and his large, hulking frame encased in black leather. He does not seem capable of much in the way of expression and as such is perfect for the part. Joe Lara moves well but lacks anything discernible in the way of acting talent, little to suggest he is anything other than another Fabio clone. Nicole Hansen is wholly forgettable in her part.
Director Boaz Davidson was a Golan-Globus associate who directed a handful of Cannon films with The Last American Virgin (1982), X-Ray/Hospital Massacre (1982), Dutch Treat (1987) and Going Bananas (1987). He has been more active in recent years as a producer with Nu Image, which are responsible for making a great many action and genre films. He has directed a handful of other low-budget films that include the genre likes of the psycho-sexual thriller Blood Run (1994) and the post-holocaust action film LunarCop (1995).
---
---