---
Crew
Director – John Stockwell, Screenplay – Matt Savelloni, Producers – Michael J. Luisi, Dene Simmons & Wesley Snipes, Photography – Matthew Irving, Music – Elia Cmiral, Visual Effects Supervisors – Dusty Emerson & Dottie Starling, Visual Effects – Grid VFX (Supervisors – Laurens Bekaert & Frantisek Stepanek), Special Effects Supervisor – Wayne Rowe, Production Design – Frank Zito. Production Company – Saban Films/WWE Studios/Erebus Pictures/Maandi Films/Voltage Pictures.
Cast
Dave Annable (Gabriel Orcona), Wesley Snipes (Isaac), Anne Heche (Riley), Morgan Roberts (Paul Annias), Mo Gallini (Pervez Ahmad), Seth Rollins (Brett), Kyle Russell Clements (Tyler), Eyas Younis (Saeed)
---
Plot
Computer systems designer Gabriel Orcona is called back to duty by his former Special Forces commander Isaac. Gabriel has designed the Temples – hi-tech Artificially Intelligent prisons that are so sophisticated that they can tell whether someone is telling the truth or secrets they are hiding just from their sweat and DNA. The only Temple built on US soil has abruptly gone offline. Isaac and his team enter the Temple to find video footage that shows the soldiers that were on duty being killed by an unknown force. They also find Pervez Ahmad, a wanted international terrorist, hiding inside an isolation tank and discover that he was lured to the facility. As the team begin searching the Temple for the agency behind the attacks, the mysterious force next begins to target them.
---
To those of us who grew up during the 1980s, John Stockwell was a popular face as an actor. He made appearance in various films of the era such as Christine (1983), Eddie and the Cruisers (1984), My Science Project (1985), Radioactive Dreams (1986) and Top Gun (1986), among others. Stockwell made his directorial debut with Under Cover (1987) and attained a name with his third film, the teen drama Crazy/Beautiful (2001) and went onto the likes of Blue Crush (2002), Into the Blue (2005), Middle of Nowhere (2008), Cat Run (2011), Dark Tide (2012), In the Blood (2014), Countdown (2016) and Kickboxer Vengeance (2016), as well as one previous genre entry with the Torture Porn film Turistas (2006). A number of these films are set around scuba diving or have an action emphasis.
Despite being slapped with an utterly generic sounding action movie title, Armed Response is an SF film. It came out around the same time as a cluster of films about automated prisons and A.I'.s. There was also Infinity Chamber (2016) about a man having to reason with his A.I. jailor to get free and the subsequent Tau (2018) with Maika Monroe imprisoned by a mad tech billionaire and having to reason with his A.I. in order to escape. It is possible that this mini-fad was inspired by the non-genre action film Escape Plan (2013) that pitted its heroes against a hi-tech prison.
To their credit, it does look as though John Stockwell and his crew have gone and shot in an actual prison. The main problem with the film is that it is not clear what is going on. For much of the film, Stockwell does not depict the agency at work in the prison. As a result, I was not sure whether what I was watching was a film about a haunted prison like Prison (1987) or, given that we have an A.I. at the centre of the prison, whether we were watching an amok A.I. film.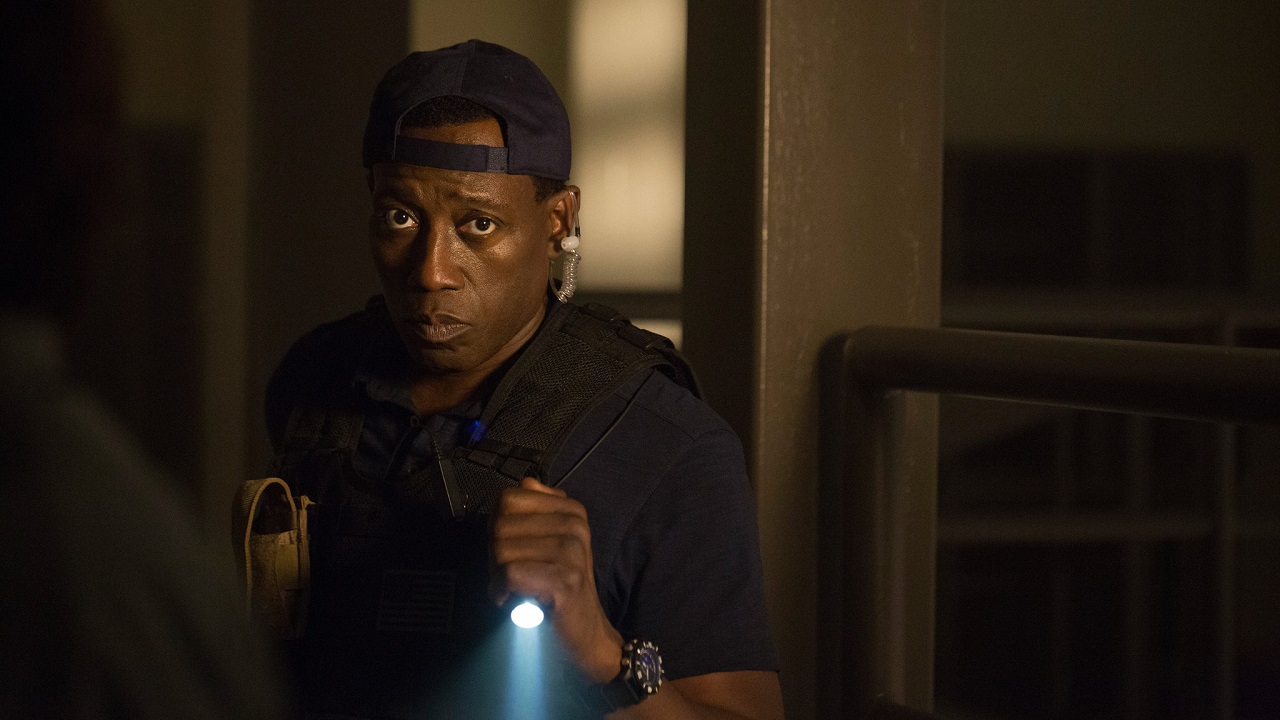 Even when you do find out what is going on [PLOT SPOILERS] – that people are being killed by the prison's A.I. – trying to work out why exactly things are happening ends in confusion. Why did the Temple attack the soldiers in the first place? How did it know of the war crimes they were guilty of without first having analysed their DNA? How did it know in advance that its actions in killing the team on duty would bring Wesley Snipes' unit into the facility? I also could not figure out why it saw the need to lure a wanted terrorist to the facility as well.
The film stars Wesley Snipes who seems a spent force as he makes tentative attempt to tread the comeback trail following his jail sentence over tax evasion between 2010 and 2013. He's no longer the leading name he was in the 1990s and has only sporadically appeared in hardly A-list films like The Recall (2017) and Cutthroat City (2020). Here he is the top-billed name – the second being Anne Heche for some reason – but the failing of the film is that it never gives Snipes much to do. He's the leader of the squad and there are a few scenes with him issuing orders and pushing subordinates up against the wall. However, the action crucially occurs without him at the centre of it – there's never a big showdown with him as the hero – where he is essentially in the role of the slasher or monster movie victim who gets killed early in the show.
---