USA. 2008.
Crew
Director – Brian Robbins, Screenplay – Bill Corbett & Rob Greenberg, Producers – Jon Berg & Todd Komarnicki, Photography – J. Clark Mathis, Music – John Debney, Visual Effects Supervisor – Mark Stetson, Visual Effects – CIS-Hollywood (Supervisor – Bryan Hirota) & Hy*drau*lx (Supervisor – Eric Liles), Special Effects Supervisor – Gary Elmendorf, Production Design – Clay A. Griffith. Production Company – Friendly Films/Guy Walks Into a Bar.
Cast
Eddie Murphy (Dave Ming Chang/Captain), Elizabeth Banks (Gina Morrison), Gabrielle Union (No 3), Austin Lynd Myers (Josh Morrison), Pat Kilbane (No 4), Scott Caan (Officer Dooley), Mike O'Malley (Officer Knox), Ed Helms (No 2), Kevin Hart (No 17)
---
Plot
An alien spaceship from the planet Nil lands in New York City. The spaceship has been carefully disguised as a human being and has a miniature crew inside to control the various legs, arms and body parts. They have come in search of a Nilian probe that was sent some months before on a mission to suck up the salt from the Earth's oceans. This fell through the apartment window of young Josh Morrison who has taken it as his special rock. As the human-shaped spaceship tries to track down the probe, its foot is driven over by Josh's mother Gina. She invites it back to her apartment out of concern, where the captain introduces 'himself' as Dave Ming Chang. As they set out to get the probe back off Josh, the crew of Dave find themselves at odds with Earth culture. As they learn more about Earth ways, the captain finds the crew starting to imitate human behaviour in different ways. This causes a mutiny amongst the crew as the more military-minded No 2 tries to bring the mission back on track.
---
Meet Dave did not receive particularly good notices and write-ups when it came out. However, as the usually creatively impoverished genre of the US mainstream comedy goes, you have to credit Meet Dave for a uniquely original and off-the-wall premise. Namely, that an alien comes to Earth in the form of Eddie Murphy. Although this is not your standard alien having taken a human form – here Eddie Murphy is actually a human-sized spaceship that is being controlled on the inside by a crew of miniature people. In terms of inspiration, you could point to early works of Japanese anime with various human crews manning giant robots or maybe the partly-animated Osmosis Jones (2001) where the body was seen as a giant city with anthropomorphised germs and cells. The most likely source of inspiration for Meet Dave is surely the What Happens During Ejaculation? segment in Woody Allen's Everything You Always Wanted to Know About Sex * But Were Afraid to Ask (1972), which portrayed the interior of the body as a Mission Control set with a nervous anthropomorphised sperm (Woody Allen) preparing to take the plunge into action during a make-out session.
In tone, the film that Meet Dave comes to resemble the closest is My Stepmother is an Alien (1988), which featured Kim Basinger as an alien envoy come to Earth without many clues about human behaviour and constantly misinterpreting the nature of colloquial expressions. Meet Dave plays into the same wacky fish out of water alien on Earth comedy and both films tread a very similar path in terms of story.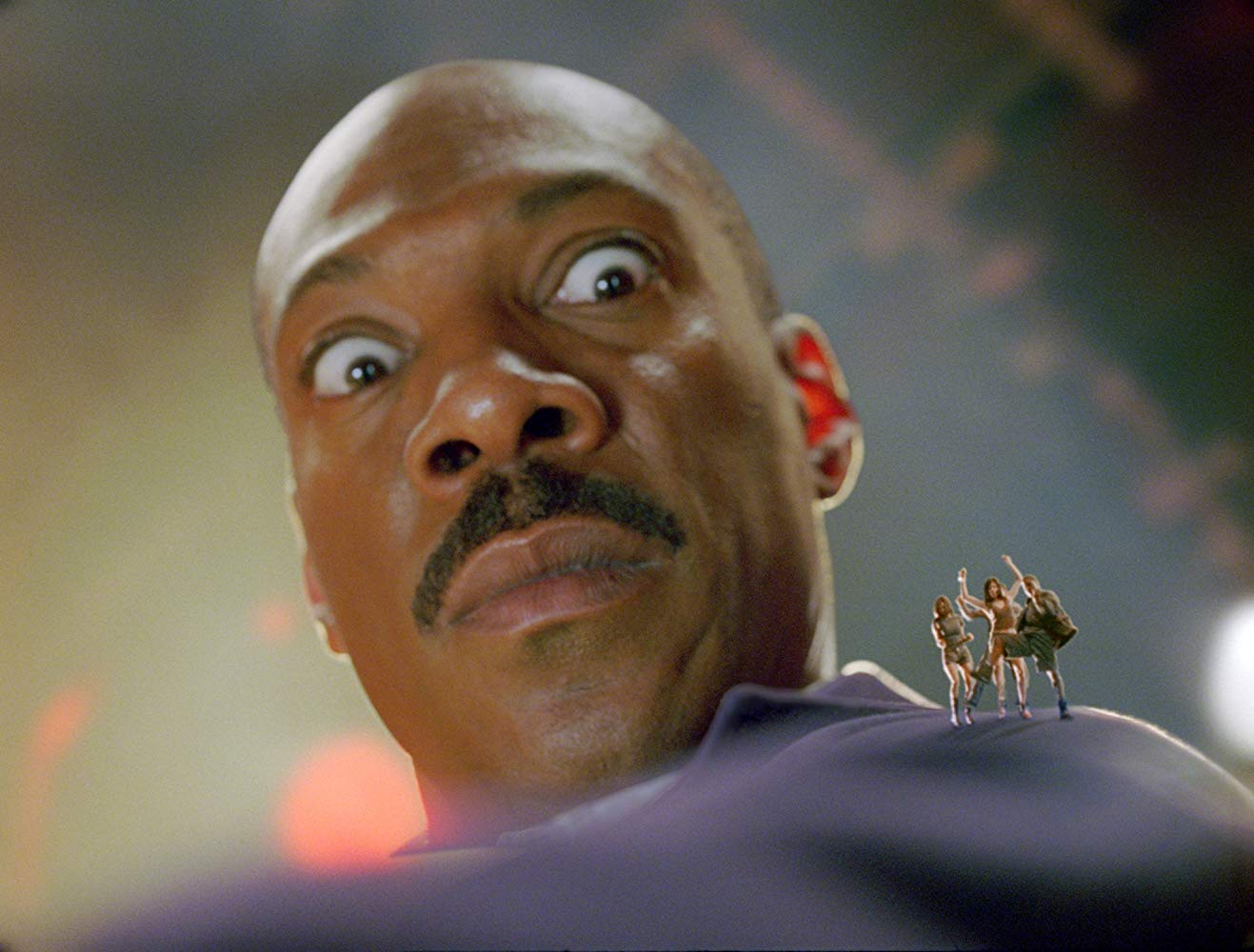 All the fun of Meet Dave is in watching the wacky antics of Eddie Murphy – be it heading into a men's room to excrete a handful of dollar bills and coins out of his ass; using his nostril as a pencil sharpener; attempting to give an inflectionless delivery of Bee Gees numbers; or that delightful moment where he is asked "Do you want some ketchup?" and promptly drinks the whole bottle. There is such a bubbly wackiness playing through these scenes that they end up buoying the film up through its weaker moments. Eddie Murphy is one of the great comedic talents in the US – no matter how lame some of his vehicles of the last couple of years have gotten – and he holds the film together even when he is sitting still entirely without expression.
Ultimately, Meet Dave ends up being a one-gag film. Beyond the central gag of Eddie Murphy's antics, the scenes with the miniature people fall into more standard patterns and there is a predictable arc about a group of dull and lifeless people becoming affected by Earth culture and loosen up. There is also some inconsistency to this – like What Planet Are You From? (2000), the aliens seem completely ignorant of Earth culture one moment and then when a particular gag suits it, can suddenly affect dazzling Latino dance rhythms or outfit their rooms with disco balls. Nevertheless, the bulk of the film remains amiably silly nonsense that it hard to dislike.
Meet Dave is directed by former actor Brian Robbins – he was previously a regular on tv's Head of the Class (1986-90) and appeared in genre efforts like Cellar Dweller (1988) and C.H.U.D. II: Bud the Chud (1989). Brian Robbins began directing with Varsity Blues (1999) and has made various mainstream comedies such as Ready to Rumble (2000), The Shaggy Dog (2006) and the previous Eddie Murphy hit Norbit (2007), as well as Murphy's subsequent fantasy A Thousand Words (2012). Robbins has also produced genre tv series such as The Nightmare Room (2001), Smallville (2001-11), Supah Ninjas (2011-3) and the Batman spinoff Birds of Prey (2002-3).
---
Trailer here
---