aka California Man
---
Crew
Director – Les Mayfield, Screenplay – Shawn Schepps, Story – Shawn Schepps & George Zaloom, Producer – George Zaloom, Photography – Robert Brinkman, Music – J. Peter Robinson, Production Design – James Allen. Production Company – Hollywood Pictures/Touchwood Pacific Partners I.
Cast
Sean Astin (David Morgan), Brendan Fraser (Link), Pauly Shore (Stanley 'Stoney' Brown), Megan Ward (Robin Sweeney), Michael De Luise (Matt Wilson), Richard Masur (Larry Morgan), Robin Tunney (Ella), Mariette Hartley (Mrs Morgan)
---
Plot
David Morgan, a student at Encino High School in California, considers himself a loser. Determined to do something to make his prom memorable, he starts digging a pool in the backyard, planning to invite everybody over afterwards. While digging, David accidentally uncovers a caveman frozen in a block of ice. He and his best friend Stanley 'Stoney' Brown see this as their ticket to school cool. Thawed out, Link, as David names him, becomes the hit of the high school social scene with his amazing abilities at mimicry. They convince David's parents that he is a Russian exchange student. However, Link's popularity soon becomes so great that David starts to become jealous.
---
In an attempt to tail-jump the teen niche created by the sleeper success of Bill and Ted's Excellent Adventure (1989), Encino Man/California Man updates the revived caveman story of films like Trog (1970) and Iceman (1984) into the same hip 1990s stoner idiom. However, Encino Man is a film where the non-stop barrage of surfer argot that was hip in Bill and Ted comes with an agonizingly desperate self-consciousness. [John Landis's Schlock (1973) is a far funnier parody of the revived caveman genre].
Encino Man is an excruciating film to watch – of particular note here is Pauly Shore's inanely babbling and wholly unintelligible performance as a teenager who appears to have fallen through a 1960s time warp. (For reasons wholly inexplicable to any rational human being with an IQ over 50, Pauly Shore subsequently went on to become a star). Scenes like the trip through a supermarket trying to group candy bars into the major food groups or drinking soda milkshake from the spigot; or in the Latino bar where several super-macho Hispanics force Pauly Shore to drink tequila straight, drag abominably and are utterly witless in their self-conscious attempts to create a teen party atmosphere.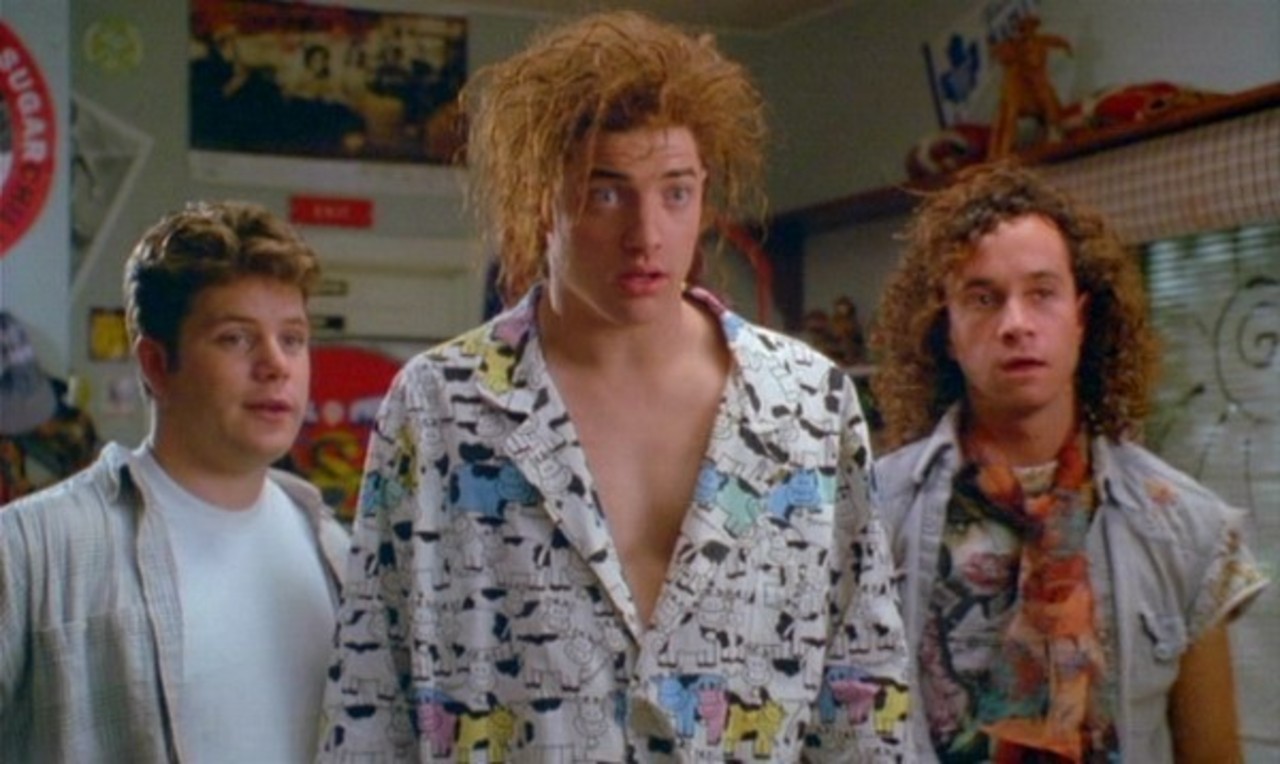 Films like this are loser comeuppance fantasies but Encino Man does the incredible job of actually making its losers become even more unlikable throughout – like Sean Astin's willingness to dump Link as soon as the girl prefers Link to him. Brendan Fraser also gained attention after his first starring screen role here and his ungainly impersonations have their moments of appeal, although the constant witlessness of the material is hopelessly weighed against him. The film is shameless enough to even plug its own sequel.
Director Les Mayfield subsequently went onto direct various remakes for John Hughes, including Miracle on 34th Street (1994) and Flubber (1997), and other forgettable films such as Blue Streak (1999), American Outlaws (2001) and Code Name: The Cleaner (2007). Mayfield also heads Zaloom-Mayfield or ZM Productions and has also produced a series of remakes of Disney live-action films for tv with The Shaggy Dog (1994), The Barefoot Executive (1995), The Computer Wore Tennis Shoes (1995), Escape to Witch Mountain (1995), Freaky Friday (1995) and The Love Bug (1997).
Co-writer Shawn Schepps (with Les Mayfield producing) later directed a made-for-tv sequel Encino Woman/California Woman (1996) starring Katherine Kousi in the title role.
---
---