---
Crew
Director – Christopher Guest, Screenplay – Joseph Dougherty, Based on the Film Written by Mark Hanna, Producer – Debra Hill, Photography – Russell Carpenter, Music – Nicholas Pike, Visual Effects – Fantasy II Film Effects (Supervisor – Gene Warren Jr), Mechanical Effects Supervisor – F. Lee Stone, Makeup Effects – Kurtzman, Nicotero & Berger EFX Group, Production Design – Joseph T. Garrity. Production Company – Bartleby Ltd/HBO/Warner Bros TV.
Cast
Daryl Hannah (Nancy Archer), Daniel Baldwin (Harry Archer), William Windom (Hamilton Cobb), Christi Conaway (Louise 'Honey' Parker), Frances Fisher (Dr Theodora Cushing), Paul Benedict (Dr Victor Loeb), O'Neal Compton (Sheriff Denby), Victoria Haas (Deputy Charlotte 'Charlie' Spooner)
---
Plot
Heiress Nancy Cobb Archer discovers that her no-good husband Harry is running around on her with the town's resident cheap slut, hairdresser Louise 'Honey' Parker. Harry wants to get Nancy's money but is unable to touch it because of their prenuptial agreement. Nancy drives out into the desert where she is buzzed by a UFO and returns in an unhinged state. Harry uses the talk of UFOs as an opportunity to have Nancy declared mentally unstable so that he can get his hands on her money. Nancy then suddenly expands to giant-size. As a giant, she discovers a newfound self-confidence and pursues Harry through the town to take revenge for the way he has treated her.
---
As the fad that began in the 1980s for remaking 1950s sf movies continued into the 1990s, filmmakers had to scour further and further for material to remake. This remake of Attack of the 50 Foot Woman (1958), which was made as a cable tv movie, is interesting in that it is the first time that a science-fiction film that is commonly recognised as being bad has been remade. This is either indicative of the obsessiveness of the 50s remakes fad and the increasing difficulty in finding untouched material or else of the prevalence of the bad film cult.
In almost every single aspect, the remake is better than the original – better actors (with the exception perhaps of Daniel Baldwin who is typecast again in a career where he seems to have specialised in playing sweaty, macho slobs), special effects that actually convince (apart from the weak UFO effects), a bigger budget and a better worked-out script. The remake does follow the original surprisingly closely – even down to retaining the narrator at the start of the film. The 35 years difference have however made some changes – Honey Parker can more openly be a slut, Nancy can visit a shrink to sort her problems out, and is now just a dependent personality without having to be a suicidal alcoholic as well.
The places that the remake makes changes to the original material are interesting. Two of the characters from the original – the doctor and the deputy – are now played by women. This is in fact the crux of the remake – it taps into the subconscious image the original relayed and brings it out as a metaphor for feminism where Nancy's gaining of giant-size becomes a sudden injection of empowerment.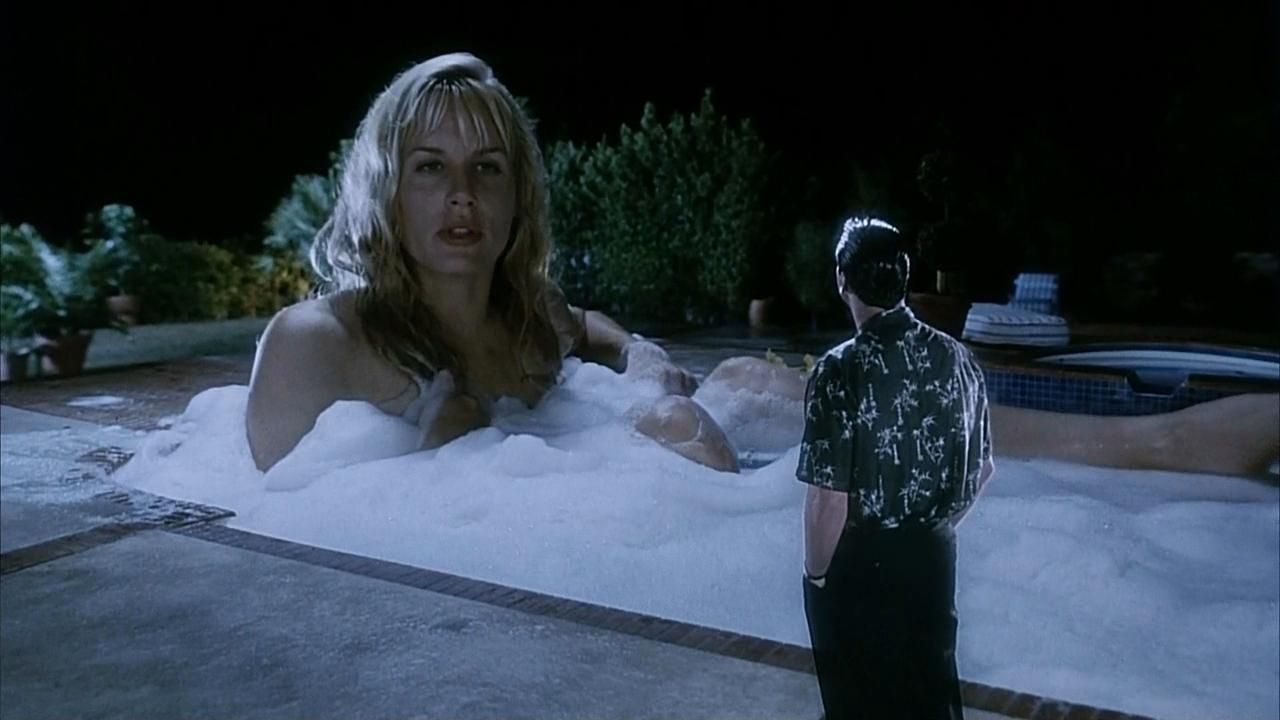 The film manages to successfully straddle both a feminism and a jokey self-consciousness with Nancy now stomping through the town muttering: "I'll stop when I find Harry – I'm just looking for a little closure, that's all … I've really tried to be modern and adult and post-feminist and look what it's got me. Well, now I'm taking matters into my own hands." In one memorable scene, she picks up Honey Parker and tells her: "Don't be stupid your whole damn life. You're better than they are, you're smarter than they are and you know more than you think. We all do." [At another point, the film even appropriates the wind in the wires speech from It Came from Outer Space (1953)].
The approach only falters at the ending that fades out on Daniel Baldwin and another man surrounded by giant women and forced to undergo consciousness-raising and a jokey epilogue that tells what the three supporting women characters got up to following the events depicted – a point that the campy line falls into limp humour.
Attack of the 50 Ft. Woman was the second directorial film from Christopher Guest, previously an actor and comic, probably best known as one of core members of the mock-heavy metal band Spinal Tap. Subsequent to Attack of the 50 Ft. Woman, Christopher Guest has become celebrated as a writer-director of a series of amusing mockumentaries that include Waiting for Guffman (1996), Best in Show (2000), A Mighty Wind (2003), For Your Consideration (2006) and Mascots (2016). Guest is also married to actress Jamie Lee Curtis.
---
---