---
USA. 2013.
Crew
Director/Screenplay – Scott Stewart, Producer – Jason Blum, Photography – David Boyd, Music – Joseph Bishara, Visual Effects – Fuel FX, Special Effects Supervisor – Mark Gullesserian, Production Design – Jeff Higinbotham. Production Company – Blumhouse/Robotfree.
Cast
Keri Russell (Lacy Barrett), Josh Hamilton (Daniel Barrett), Dakota Goyo (Jesse Barrett), Kadan Rockett (Sam Barrett), J.K. Simmons (Edwin Pollard), L.J. Benet (Kevin Ratner), Annie Thurman (Shelly Jessop), Rich Hutchman (Mike Jessop), Myndy Crist (Karen Jessop)
---
Plot
Husband and wife Daniel and Lacy Barrett and their two boys are struggling financially as Daniel tries to find a new job. Lacy is disturbed after finding there have been intruders in the house – they having stacked all the canned food in strange patterns – although she and the police are unable to find a cause. Things become increasingly more bizarre – there are mass bird attacks on the house and then Lacy sees a shadowy figure in Sam's room. Gradually, she comes to the belief that they are being visited by alien beings. In attempting to deal with the inexplicable purpose of the visitations, they discover that they are experiencing time lapses, memory blanks and have been given implants.
---
Dark Skies is a film that emerged with almost nothing in the way of advance notice. It is one of an increasing number of productions from Jason Blum, one of the producers on Paranormal Activity (2007) who has co-produced all of the Paranormal Activity sequels and Insidious (2010), The Bay (2012), The Lords of Salem (2012), The River (tv series, 2012) and Area 51 (2015) in conjunction with Oren Peli. Blum has formed the Blumhouse production company and on his own has made a number of popular efforts such as Sinister (2012), The Purge (2013), Ouija (2014), among others. (See below for a full list of Jason Blum's credits).
Dark Skies is a directorial effort from Scott Stewart, a former effects supervisor at The Orphanage. Stewart made his directorial debut with Legion (2010), a horror film about fallen angels that collapsed into the frequently laughable. Stewart subsequently went onto the high-profile adaptation of Priest (2011) and turned out a marginally less ridiculous Western set in a future where the Catholic Church was combating vampires, a film that seemed all action movie poses and zero substance. On the basis of these, one was prepared to consign Scott Stewart as another director in the same vein as Michael Bay, Stephen Sommers, Len Wiseman and Renny Harlin whose expertise at producing effects and big-budget action scenes far outweighed his ability to conceive of a story or deliver a film of substance.
All of that said, Dark Skies gives me cause to question my dismissal of Scott Stewart. It may take at least one more film before I am firmly swayed to start calling Stewart's praises, however Dark Skies, which Stewart both writes and directs, is a fair step in the right direction. Where both Legion and Priest were conceived in terms of large-scale visual and makeup effects scenes and had little substance beneath that, Dark Skies sits at almost 180 degrees remove and is a model of economy and restraint. There is no long line of effects houses on the end credits; and of those that are, very few scenes where their efforts are in evidence – at most, a handful of appearances from The Greys. Mostly – even remarkably given Scott Stewart's prior oeuvre – this is a film whose effect derives from the depiction of an ordinary suburban home and the psychological effects that the appearance of the paranormal has on an ordinary family rather than action/visual effects spectacle and pop-up makeup effects.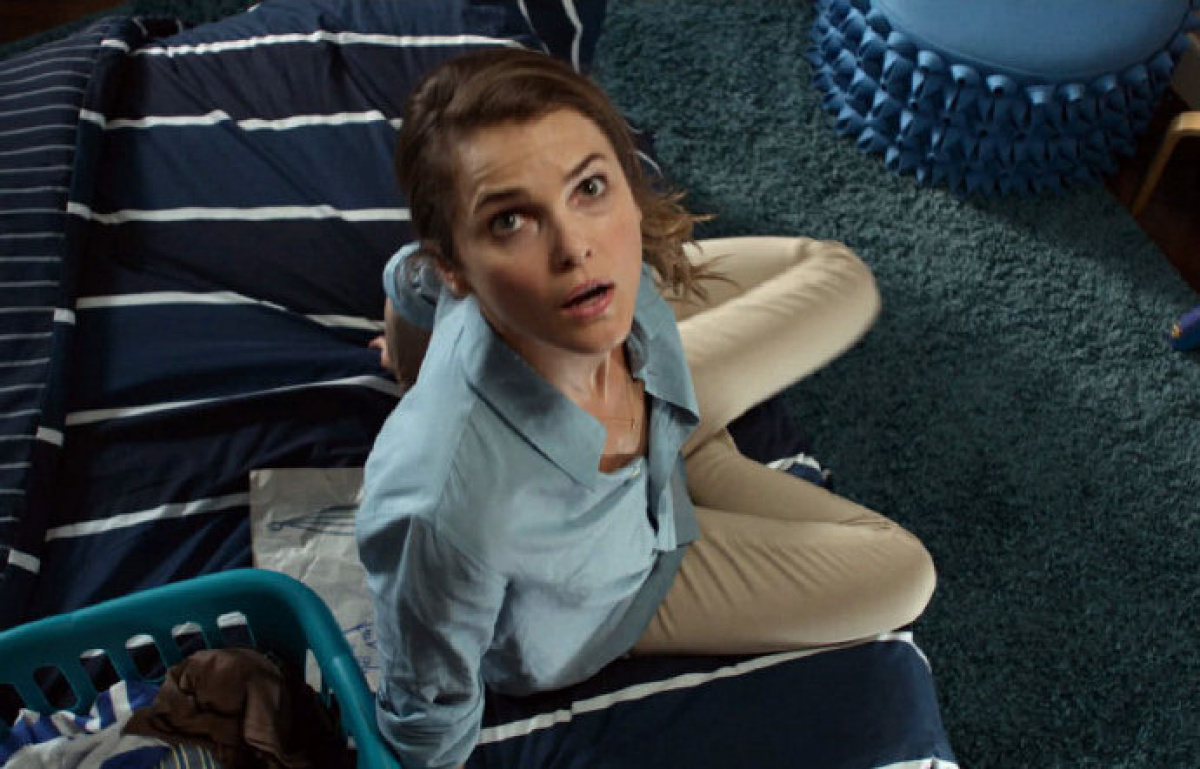 Dark Skies is a film about alien abductions, visitations and associated phenomena. There is a reasonable lineage of films dealing with alien abductions such as The UFO Incident (tv movie, 1975), Communion (1989), the tv mini-series Intruders (1992), Fire in the Sky (1993), Official Denial (1994), Taken (tv mini-series, 2002), The Fourth Kind (2009) and Darkening Sky (2010), as well the tv series The X Files (1993-2002, 2016-8). Not to mention another entire tv series by the same name Dark Skies (1996-7), a short-lived X Files copy that tried to reinterpret 20th Century US history as part of an alien invasion conspiracy. Dark Skies opts for the approach taken by some of the more thoughtful among these – Communion, Fire in the Sky, The Fourth Kind – about people trying to make sense and deal with the intrusion of the utterly inexplicable – see non-UFO films such as The Picnic at Hanging Rock (1975) and The Mothman Prophecies (2002) for some of the best treatments of this. In some ways, what we have feels almost as though it is one of Jason Blum's other films like Paranormal Activity (especially when Josh Hamilton installs security cameras in the house and starts observing) or Insidious reconceived as a science-fiction/alien abduction film.
Dark Skies begins with a banal ordinariness in its depiction of the domestic scenario of the family. There seems something utterly everyday in the suburban homes that the film is shot amongst, in the plainness of the lighting schemes, in Keri Russell and Josh Hamilton's marriage, even in the two boys – including a more growed-up version of Dakota Goyo, the scene-stealing kid from Real Steel (2011), and younger brother Kadan Rockett – and their mild troublemaking – watching porn, Goyo getting his first grope and kiss. It soon becomes apparent that this is merely a placid surface beneath which troubling things swim. At first, this seems to centre around Josh Hamilton's issues with unemployment and the financial pressures this is putting on the family – making for a time, Dark Skies seem like it is another Recession horror film along with Drag Me to Hell (2009) and Mama (2013) – before this segues into the increasingly strange.
Scott Stewart produces a number of unearthly jumps upon at least a couple of occasions – the moment that Keri Russell ventures into Kadan Rockett's bedroom and finds one of the Greys hunched over the bed; another sequence where she goes into a seeming epileptic fit during a home showing and starts banging her head against a plate glass window. I liked the genuine sense of the inexplicable and its effect on a regular suburban family that Stewart conjured during these scenes. Much of the film hovers with the sense of something really out there about to happen – even if this is something that Stewart never truly delivers on.
Alas, the film feels like it reaches a resolution that never goes far enough. Films like The Picnic at Hanging Rock, Communion, Fire in the Sky and The Mothman Prophecies reach a disturbing sense of irresolution, of the feeling that the true answers are something that lies beyond our capacity to understand; the lesser treatments of alien abduction tend to opt for cliche treatments with attempts to fight back against or understand the alien, or else divert off into exposing the big US government conspiracy to supposedly cover this up (a cliche that welcomely never intrudes here). Dark Skies works well in this regard up until it introduces J.K. Simmons in the later third and starts to head in more cliche directions as he offers them a handy last-minute solution to fight back against the incursions. The film reaches a very downbeat ending and a twist revelation that felt like it needed more fleshing out to fully work.
Scott Stewart subsequently went on to produce the tv series Dominion (2014-5) and directed the Christmas episode of the horror anthology Holidays (2016).
Jason Blum and his Blumhouse production company have produced a number of other genre films including:- Hamlet (2000), Paranormal Activity (2007) and sequels, Tooth Fairy (2010), Insidious (2010) and sequels, The Bay (2012), The Lords of Salem (2012), The River (tv series, 2012), Sinister (2012) and sequel, Oculus (2013), The Purge (2013) and sequels, the tv mini-series Ascension (2014), Creep (2014), Jessabelle (2014), Mercy (2014), Mockingbird (2014), Not Safe for Work (2014), Ouija (2014) and sequel, 13 Sins (2014), The Town That Dreaded Sundown (2014), Unfriended/Cybernatural (2014), Area 51 (2015), The Boy Next Door (2015), Curve (2015), The Gallows (2015), The Gift (2015), Jem and the Holograms (2015), The Lazarus Effect (2015), Martyrs (2015), Visions (2015), The Visit (2015), The Darkness (2016), Hush (2016), Incarnate (2016), The Veil (2016), Viral (2016), Amityville: The Awakening (2017), Get Out (2017), Happy Death Day (2017), The Keeping Hours (2017), Split (2017), Stephanie (2017), Bloodline (2018), Cam (2018), Delirium (2018), Halloween (2018), Seven in Heaven (2018), Truth or Dare (2018), Upgrade (2018), Black Christmas (2019), Ma (2019), Prey (2019), Don't Let Go (2019), Sweetheart (2019), Black Box (2020), The Craft: Legacy (2020), Evil Eye (2020), Fantasy Island (2020), Freaky (2020), The Hunt (2020), The Invisible Man (2020), Nocturne (2020), You Should Have Left (2020), Black As Night (2021), The Black Phone (2021), Dashcam (2021), Firestarter (2022), M3gan (2022), Mr Harrigan's Phone (2022), Nanny (2022), Soft & Quiet (2022), Run Sweetheart Run (2022), Sick (2022), They/Them (2022), Torn Hearts (2022), Unhuman (2022), The Visitor (2022), The Exorcist: Believer (2023), Five Nights at Freddy's (2023), There's Something Wrong With the Children (2023) and Totally Killer (2023).
---
Trailer here
---