---
Crew
Director/Producer – Roger Corman, Screenplay – Charles Griffith & Mark Hanna, Photography (b&w) – John Mescall, Music – Ronald Stein, Special Effects – Paul Blaisdell, Makeup – Curly Batson. Production Company – Allied Artists.
Cast
Paul Birch (Paul Johnson), Beverly Garland (Nadine Storey), Jonathan Haze (Jeremy Perrin), Morgan Jones (Harry Sherbourne), William Roerick (Dr F.W. Rochelle), Anne Carroll (Davanna Woman), Richard [Dick] Miller (Joe Piper)
---
Plot
Paul Johnson, a mystery man who always wears sunglasses, goes to the surgery of Dr Rochelle and asks for a blood transfusion. However, when a blood test is requested of him, he refuses. Realising this is the only way he will get a transfusion, Mr Johnson hypnotises Rochelle and commands him never to speak to anybody about the results. He also commands Rochelle to assign his nurse Nadine Storey to move into his house to administer the transfusions. Mr Johnson is in fact an alien from the planet Davanna who has come to Earth seeking a new supply of blood because his people are dying out. Following the orders he has been given, Mr Johnson sends various human specimens through a portal to Davanna. Nadine and Mr Johnson's chauffeur Jeremy become suspicious about what Mr Johnson is up to and team up to investigate.
---
Not Of This Earth was one of the early films from cult director/producer Roger Corman. Corman made a number of other quirky classic B movie during this era including It Conquered the World (1956), Attack of the Crab Monsters (1957), Teenage Doll (1957), Teenage Caveman (1958) and The Little Shop of Horrors (1960), before gaining a critical respectability with his lavish colour production of The House of Usher (1960), which led to a series of Edgar Allan Poe adaptations throughout the 1960s. (See below for Roger Corman's other films). In the decades since, Corman has become a prolific producer of B movies, founding studios such as New World Pictures, Concorde and New Horizons with his name having appeared as producer on over 400 films.
Not Of This Earth was also Corman's second collaboration with writer Charles [B.] Griffith who went on to write some of Corman's most amusing genre comedies – Attack of the Crab Monsters, A Bucket of Blood (1959), The Little Shop of Horrors and Creature from the Haunted Sea (1961) (see below). Griffith co-writes with Mark Hanna who penned several other classic B-movies around this period, including The Amazing Colossal Man (1957) and Attack of the 50 Foot Woman (1958).
As far as I am aware, Not Of This Earth was the first film to conduct a science-fiction variant of the vampire film wherein the vampire is now a blood-deprived alien come to Earth to drain humanity. (The script even manages to wind in the good old 1950s standby of atomic radiation – "This woman has obviously lived in an area of continuous nuclear detonation," the doctors opine after examining Anne Carroll's blood).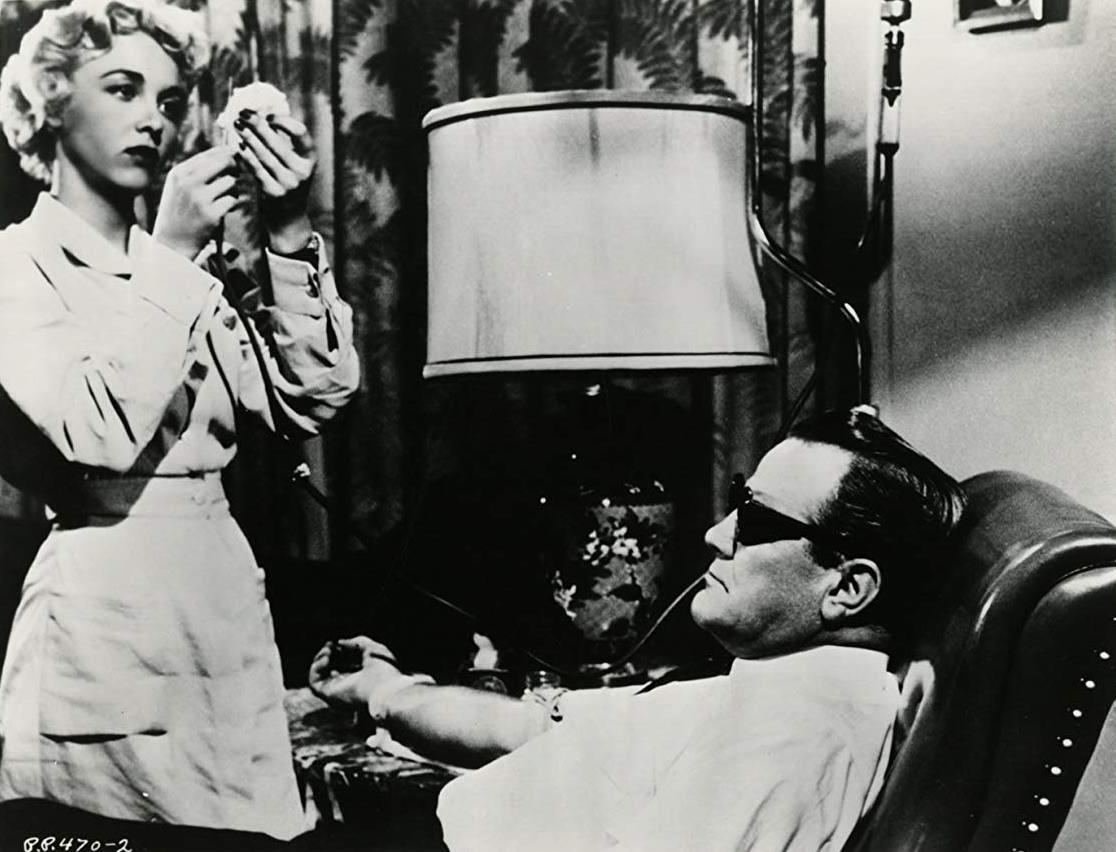 The film has something undeniably creepy to it, despite Roger Corman's typical low-budget. It does achieve a certain sinister threat and the story works in its modest way. As Mr Johnson, Paul Birch gives an oddly stilted and alienated performance that holds some effect. There is the novelty shock of when we see in closeup as Birch abruptly removes his dark glasses to reveal blank white pupiless eyes. There is even a strange creature, which looks like a combination of a bat and a flying lampshade. The film arrives at a chase climax where the black-and-white graininess of the print makes the scene seem almost impressionistic.
Unlike Charles B. Griffith's later scripts for Roger Corman, Not Of This Earth is played straight. There is the odd scene that tilts towards a lighter playing – like Dick Miller appearance as a door-to-door vacuum cleaner salesman or where Paul Birch insists that three winos be invited to dinner. The film is relatively free of low-budget gaffes. There is the odd line that proves amusing sixty years later – like when Beverly Garland states: "No nurse would dream of earning more than $200 a week. It's ridiculous."
The film has been twice remade with Roger Corman producing – the first as Not Of This Earth (1988) from B-budget director Jim Wynorski with Arthur Roberts as Mr Johnson, where the emphasis is placed more on an undressed Traci Lords as the nurse and an overtly comedic playing; and the cable film Not Of This Earth (1995) with Michael York as Mr Johnson.
Roger Corman's genre films as director are:– Day the World Ended (1955), It Conquered the World (1956), Attack of the Crab Monsters (1957), The Saga of the Viking Women and Their Journey to the Waters of the Great Sea Serpent (1957), The Undead (1957), Teenage Caveman (1958), War of the Satellites (1958), A Bucket of Blood (1959), The Wasp Woman (1959), The House of Usher/The Fall of the House of Usher (1960), Last Woman on Earth (1960), The Little Shop of Horrors (1960), Creature from the Haunted Sea (1961), Pit and the Pendulum (1961), Premature Burial (1962), Tales of Terror (1962), Tower of London (1962), The Haunted Palace (1963), The Raven (1963), The Terror (1963), X – The Man with X-Ray Eyes (1963), The Masque of the Red Death (1964), The Tomb of Ligeia (1964), The Trip (1967), Gas; or It Became Necessary to Destroy the World in Order to Save It (1970) and Frankenstein Unbound (1990). Corman's World: Exploits of a Hollywood Rebel (2011) is a documentary about Corman's career.
Charles B. Griffith turned out genre scripts for other Roger Corman cheapies such as It Conquered the World (1956), Attack of the Crab Monsters (1957), The Undead (1957), A Bucket of Blood (1959), Creature from the Haunted Sea (1961) and the classic The Little Shop of Horrors (1960), as well as Corman's non-genre biker movie classic The Wild Angels (1966). Griffith also wrote other Corman-produced films such as Atlas (1961) and Death Race 2000 (1975). Griffith made his directorial debut with the B-budget scuba-diving film Forbidden Island (1958). In later years, Corman produced several films that Griffith wrote and directed with the hit car chase film Eat My Dust (1976), the killer fish film Up from the Depths (1979), the parody Dr Heckyl and Mr Hype (1980) and Wizards of the Lost Kingdom II (1989).
---
Trailer here
Full film available online here:-
---