---
Crew
Director – Andrew Patterson, Screenplay – James Montague [Andrew Patterson] & Craig W. Sanger, Producers – Adam Dietrich, Melissa Kirkendall & James Montague, Photography – Miguel I. Littin-Menz, Music – Erick Alexander & Jared Bulmer, Visual Effects Supervisor – Rodrigo Tomasso, Visual Effects – Oner VFX, Special Effects Supervisor – Chris Wilks, Production Design – Adam Dietrich. Production Company – GED Media.
Cast
Sierra McCormick (Fay Crocker), Jake Horowitz (Everett Sloan), Gail Cronauer (Mabel Blanche), Bruce Davis (Voice of Billy), Cheyenne Barton (Bertsie), Mark Banik (Gerald)
---
Plot
Cayuga, New Mexico, the late 1950s. Radio dj Everett Sloan is working the late shift with the assistance of telephone switchboard operator Fay Crocker when they pick up a strange audio signal. A caller Billy says he recognises the noise and tells an incredible story from when he was a contractor on secret government projects. As proof, he urges them to find recordings that were sent to a late friend. At the same time, lights appear in the sky outside. Other callers lead Everett and Fay on a trail to find the truth behind the lights.
---
The Vast of Night was a debut film for Andrew Patterson who also co-writes and produces under the name James Montague. Patterson had worked as a commercials director prior to this and funded the film himself. He amusingly (seemingly proudly) recounts that the film accrued eighteen film festival rejections before premiering at the Slamdance Film Festival. It did subsequently play at a number of other festivals including the prestigious Toronto International Film Festival, before being released on Amazon Prime.
I am not sure if such a number of film festival rejections is par for the course for any unknown filmmaker submitting a work or is unusual. That said, if I were making festival programming choices, I would have had no issues whatsoever selecting The Vast of Night. It is an impressive and well made film, one that surely shows Andrew Patterson as a director with some promise ahead of him.
Andrew Patterson has a unique directorial style. He is fond of long wide tracking shots, following Jake Horowitz and Sierra McCormick through the streets of the town. The dialogue in these scenes comes at a much faster pace than we are used to in films. Patterson also takes a leaf from Howard Hawks in having multiple characters talking at once or over the top of each other. It requires concentration to follow what is going on. There are times amid this where you lose track of points – I was, for instance, never sure towards the end why Sierra McCormick had to take a baby with them as they went to track the UFO.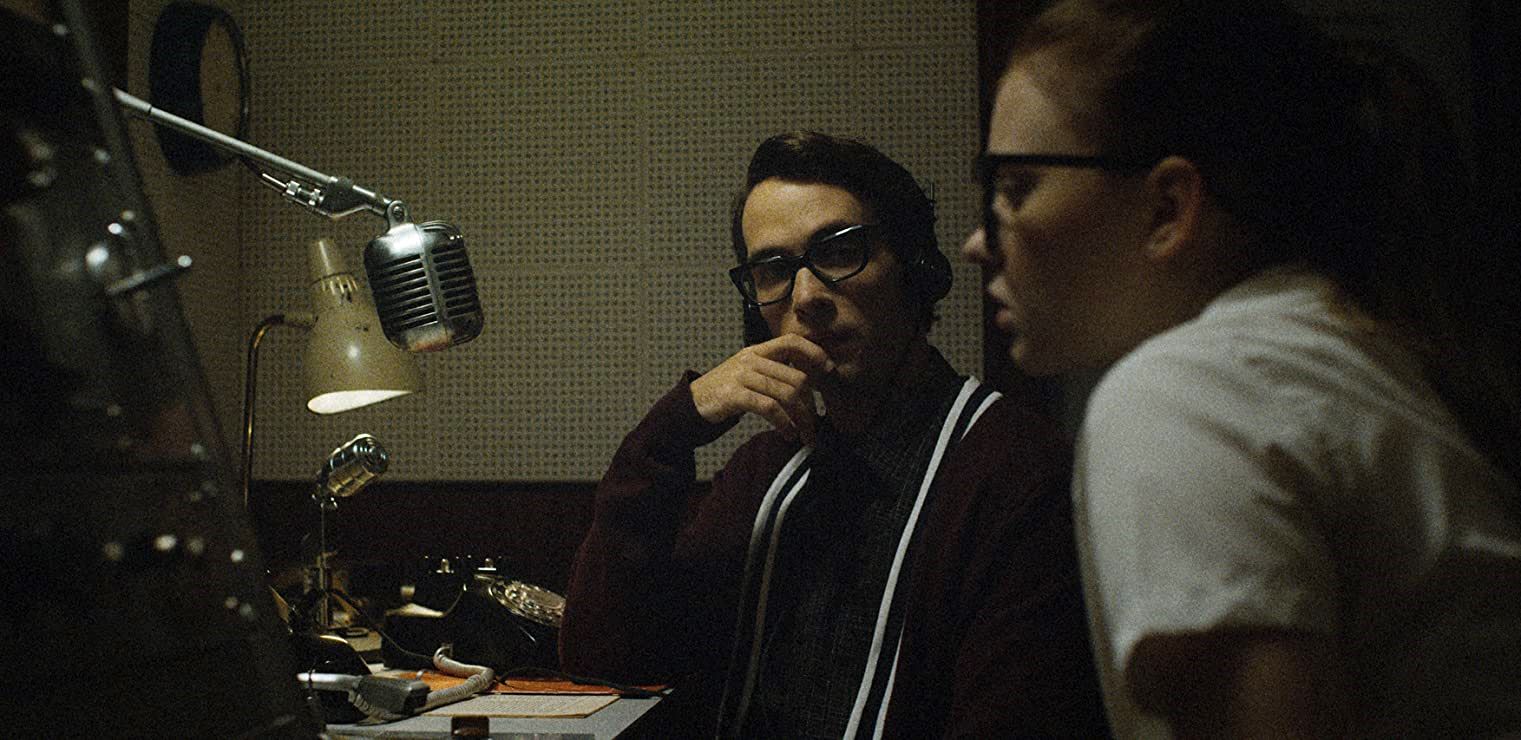 It becomes evident that there is a purpose to this. The Vast of Night is a film that is driven far more by its audio than its images. A good deal of the show could have worked as a radio play with little change to what is going on, for instance. There comes a point – when we arrive at the radio station – when Patterson suddenly stops the 33pm dialogue and focuses on the voice of the caller Billy. The switch from wide tracking shots to tight focus on the faces of Jake Horowitz and Sierra McCormick as they listen gives what is being said a hypnotic power. To emphasise the point, Patterson has the screen fade to black several times so we can hear what is being said without any distraction. There is an even more spellbinding scene later in the film where the two of them interview Gail Cronauer and Patterson's camera closes in on her speaking (with occasional crosscuts as the others ask questions) as she tells a story about alien abduction and speculates about alien mind control on human behaviour.
The film creates a fascination – and all by focusing on people telling stories. It should be noted that Patterson creates reasonable mystery about what is happening without the provision of any actual UFOs until right up to the end – we don't even get to see the lights in the sky that everybody talks about. At the end, there are some eerie scenes where Horowitz and McCormick replay the words that Gail Cronauer spoke while driving with another couple, while the journey into the woods and the appearance of a UFO have an otherworldly beauty.
I particularly liked the film's sense of 1950s period. The opening and closing of the film even come with a series of credits that appear on a black-and-white tv set mocked up to make the film resemble an episode of the era's classic show The Twilight Zone (1959-63). There's a wonderful scene where Jake Horowitz and Sierra McCormick are walking through the town and she enthuses about inventions of the future – cross-continental vacuum tube transportation, automatic cars and how "every baby will be assigned a telephone number at birth and it'll be his for life. And we'll all have palm-sized dials like a clamshell with no receiver" – that perfectly captures the sense of gee-whiz enthusiasm that was promulgated by science and engineering magazines of the era.
---
---