---
Crew
Director/Story – Mauro Borrelli, Screenplay – Reggie Keyohara & Sam Action King, Additional Writing – Teddy Wynne, Producers – Kevin DeWalt, Danielle Masters & Wesley Snipes, Photography – Mark Dobrescu, Music – Todd Bryanton, Visual Effects – Allegiance Studios (Supervisor – Milton Muller) & Cybercake Entertainment, Special Effects Supervisor – Jon Funk, Makeup Effects – Emersen Ziffle, Production Design – Kathy McCoy. Production Company – Minds Eye Entertainment/Bridgegate Pictures Corp/VMI Worldwide/Creativity Capital/Invico Capital.
Cast
Jedidiah Goodacre (Charlie), Laura Bilgeri (Annie), Wesley Snipes (The Hunter, Nash), R.J. Mitte (Brendan), Niko Pepaj (Rob), Hannah Rose May (Kara), Graham Shiels (Romanovich)
---
Plot
A group of friends get away for the weekend up to a cabin at Trinity Lake. Charlie is still grieving over the death of his girlfriend Rachel in a crash and the others set him up with Annie in an effort to help him get past it. On the news, there are reports of strange objects in the sky. That night, the cabin is invaded by alien probes and various of the group are snatched up. Fleeing, the group take refuge with a reclusive hunter who lives nearby and proves to be a former NASA astronaut with prior experience of abduction by the aliens.
---
The Recall was the fourth film from Mauro Borrelli, who usually works as a production illustrator and has a host of impressive high-profile credits that include everything from The Adventures of Baron Munchausen (1989), Bram Stoker's Dracula (1992), What Dreams May Come (1998), to assorted Tim Burton films, Pirates of the Caribbean sequels and Star Wars Episode VII: The Last Jedi (2017) to his credit, among a good many others. Borelli began to direct with the non-genre Goodbye Casanova (2000) and has remained in the horror genre since then with the likes of Branches (2004), Haunted Forest (2007) and The Ghostmaker (2012).
The Recall could be called a B+-budget film – it feels better made than most low-budget fare but its horizons remain as a B film. Borrelli has brought on board Wesley Snipes who remains a weakened name these days following his three-year jail sentence for tax evasion in 2010. Perhaps mindful of some kind of career revival, Snipes has also taken a co-producer role. The only other name with any recognition factor is that of R.J. Mitte best known as Bryan Cranston's teenage son in tv's Breaking Bad (2008-13) who appears as one of the abducted friends.
Mauro Borrelli sets up a standard into the woods scenario. Everything here is by the book and it feels as though The Recall is going to play out like a number of recent films such as Extraterrestrial (2014), The Encounter (2015) and The Gracefield Incident (2017) – even the painful experience that was Alien Implant (2017) – all set around alien visitations occurring in backwoods locales.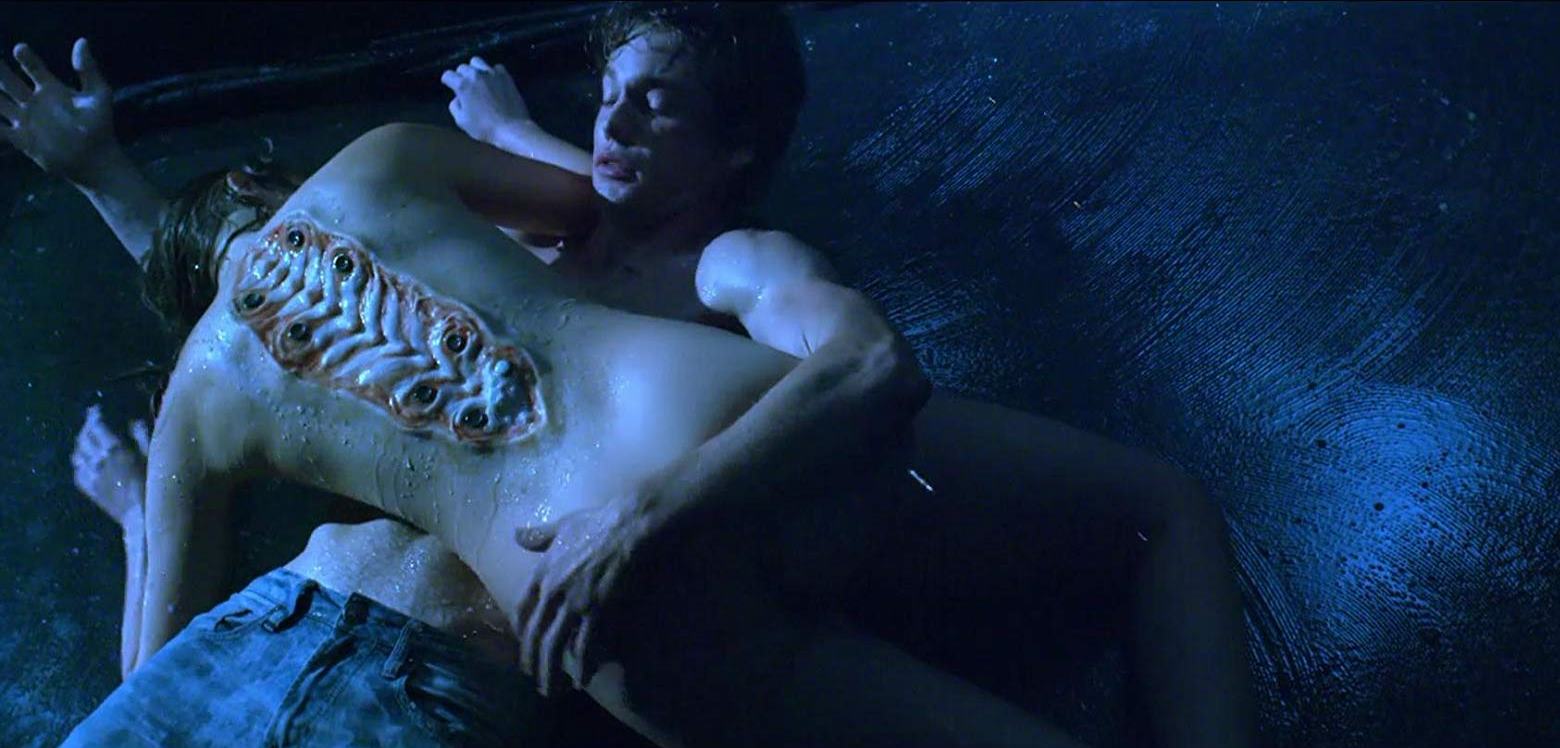 The film does perk up with the arrival of the alien probes, which look quite unique – red glowing lozenge shaped things that pursue the characters through the house, or the appearance of a spider-like UFO in the sky that snatches people up in its claws. The group are also forced to seek shelter with Wesley Snipes' crazed backwoods hunter who it would appear (in a plot strand that is not explored enough) is a former astronaut who was abducted while on a mission and has been biding his time to obtain revenge.
During its first two acts, the film seems to be building into the promising idea of a standard siege in a backwoods cabin but against alien abductors rather than maniacs or Bigfoots. Here it seems to be running along the lines of Extraterrestrial or more so Alien Implant. Only the film then jump tracks altogether to scenes that take place aboard the alien vessel where [PLOT SPOILERS] Jedidiah Goodacre comes around to find that his friends have undergone bio-organic transformation – their torsos attached to machinery or piping running down their spine and the like in some creepy effects.
[FURTHER PLOT SPOILERS] The even stranger and hokier coda has the friends all returned to the cabin as though nothing had happened but for the fact they have alien brandings on their skin. As they return home, they are pulled over by the sheriff's department and abruptly demonstrate powers with which they eliminate the law enforcement personnel before walking off into the woods together. This almost feels like it should be the beginning of some kind of Young Adult superpower fantasy – a recent film like Maximum Ride (2016) comes to mind. However, these abrupt doglegs of plot that build momentum and then veer off in other directions make the film feel like a series of test reels with no connecting plot.
---
---