---
Crew
Director – Gabe Ibañez, Screenplay – Javier S. Donate, Gabe Ibañez & Igor Legarreta, Producers – Antonio Banderas, Sandra Hermida, Danny Lerner & Les Weldon, Photography – Alejandro Martinez, Music – Zacarias M. De La Riva, Visual Effects Supervisor – David Ramos, Visual Effects – Worldwide Effects (Supervisor – Alexander Valev), Special Effects Supervisor – Ivo Jivkov, Production Design – Patrick Salvador. Production Company – Green House Producciones/Nu Boyana/Millennium Films.
Cast
Antonio Banderas (Jacq Vaucan), Dylan McDermott (Sean Wallace), Robert Forster (Robert Bold), Birgitte Hjort Sørenson (Rachel Vaucan), Melanie Griffith (Dr Susan Dupré), Tim McInnerny (Vernon Conway), David Ryall (Dominic Hawk), Danny Kirrane (Muniesa), Christina Tam (Morgue Technician), Andy Tiernan (Manager)
---
Plot
It is the year 2044. The Earth has been turned into a radioactive wasteland by solar flares and the surviving population reduced to 21 million. The Roc Corporation has constructed the Pilgrim 7000 robots to help people in many of their daily tasks. Jacq Vaucan is an insurance assessor for the Roc Corporation. His wife is pregnant and Vaucan dreams of being able to leave and go to where the ocean is. He is puzzled in examining a robot that was shot by a police officer to discover that it is capable of self-repair. He traces the modified parts to another robot only for it to set itself on fire, which is strictly against its protocols. Puzzling over these things, Vaucan heads out into the lawless shantytowns beyond the city walls in search of a clockmaker, someone who modifies the robots. Meeting the clockmaker, Susan Dupré, they are shocked to discover that the protocols have been disabled on the robots, allowing them to make rapid strides in artificial intelligence. Stranded in the radioactive desert wasteland, Vaucan is rescued by robots that have reprogrammed themselves. As Vaucan journeys with them, all the while seeking to get back to his wife, he comes to understand they have gained intelligence and evolved into something new. At the same time, the corporation despatches killers to destroy the rogue robots.
---
Automata was the second film for Spanish director Gabe Ibañez who had previously made the thriller Hierro (2009). Prior to that, Ibañez had founded two Spanish visual effects companies and worked as a commercials director. Automata comes with some interesting names – it is produced by its star Antonio Banderas, which suggests that the unknown Ibañez had sufficiently impressed him to carry it. It is also co-produced by the US production company Millennium Films, which is more used to putting out action-oriented films including the likes of Rambo (2008), The Expendables (2010) and sequels, Conan the Barbarian (2011), The Mechanic (2011), Olympus Has Fallen (2013) and Hellboy (2019).
Automata came out around the time of a cluster of films all addressing the issues of machine intelligence and robotics. This was kicked off by Spike Jonze's amazing Her (2013) and followed by the fine and underrated The Machine (2013) and Alex Garland's sensational Ex Machina (2015). There were also high-profile works on the topic with Transcendence (2014), Chappie (2015), Morgan (2016) and Zoe (2018) that turned out to be flops. We even had A.I. comedies with Superintelligence (2020) and BigBug (2022), as well as Automation (2019), Life Like (2019) and Outside the Wire (2021), which felt like they should have been comedies. (For a more detailed overview of the genre see Films About Artificial Intelligence).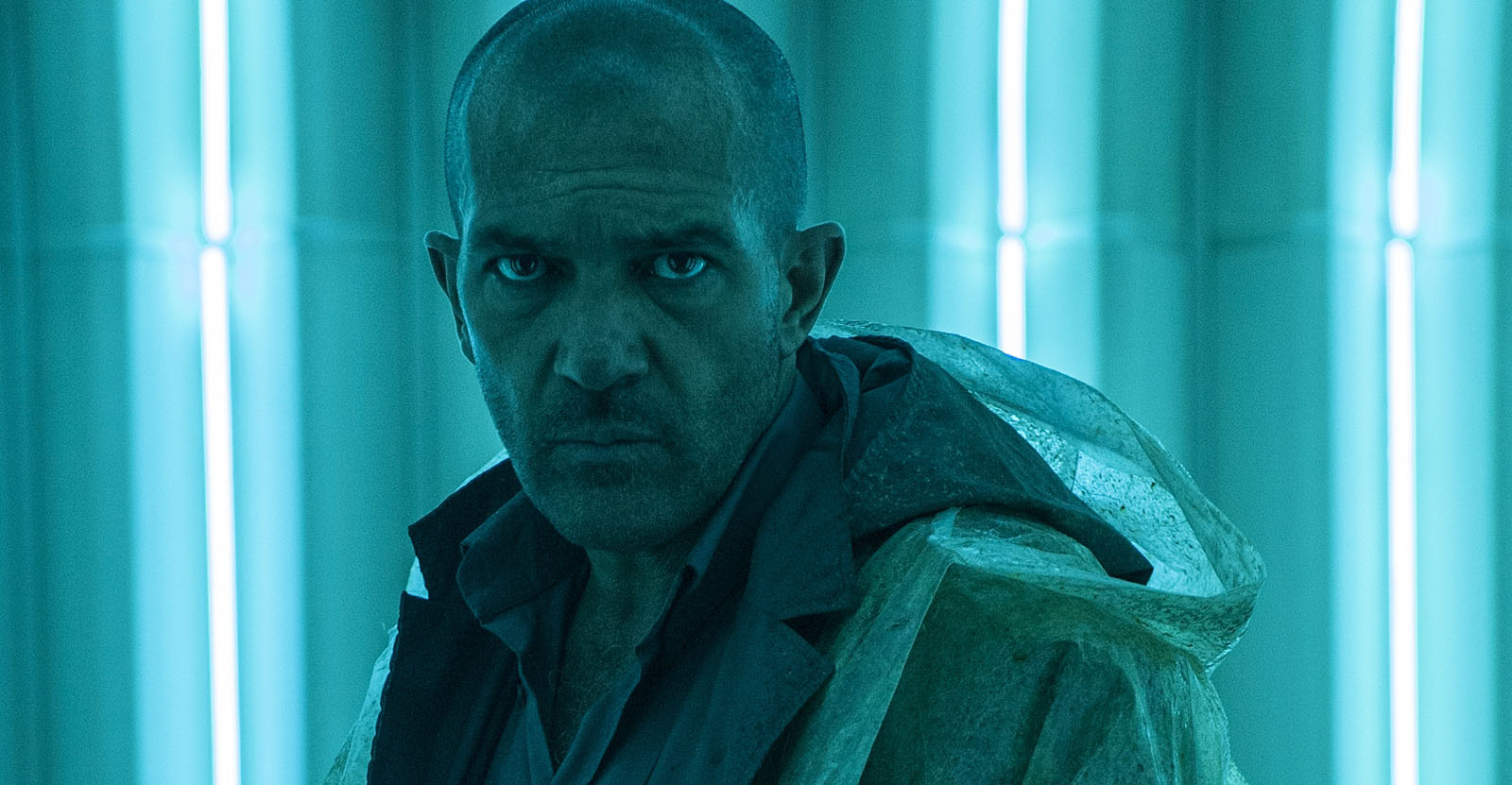 Automata did not gain the same profiles that these others did. Looking around the web, it seems to have been greeted by various reviews calling it beautifully designed but tired and cliched – all of which show that most mainstream reviewers are a bunch of braindead kneejerks that wouldn't even recognise an original thought if it jumped up and bit them.
Ibañez creates a fascinating future world. It is certainly one where he is drawing more than a little on the imagery of Blade Runner (1982) – unavoidable if it is a story about an official trying to track down rogue robots – but twists it in ways that are sufficiently original. The background of the film is littered with fascinating details – city streets piled with overflowing refuse, the construction site that has a worker hired to shoot the scavengers in the wasteland below, the shantytown where we see brokedown robots on walking frames or propelling themselves along on skateboards, even images of robot that act as panhandlers for their owners. (Although I did find the replacement of Blade Runner's wall-sized video ads with giant-sized holograms of tv shows playing out between skyscrapers to be slightly improbable). This is a world that looks sufficiently fascinating that you wished the film had taken more time to explore it.
The opening credits in their mention of the two Protocols borrows a very large leaf from Isaac Asimov's Three Laws of Robotics – that said, what we have is a far more authentic Asimov Robot story than I, Robot (2004) ended up being. There is a particularly captivating scene not long into the film where Antonio Banderas goes to a client's apartment to check out the robot the man claims brushed his dog to death and picks up a kitchen knife to test that the robot's protection protocols are working.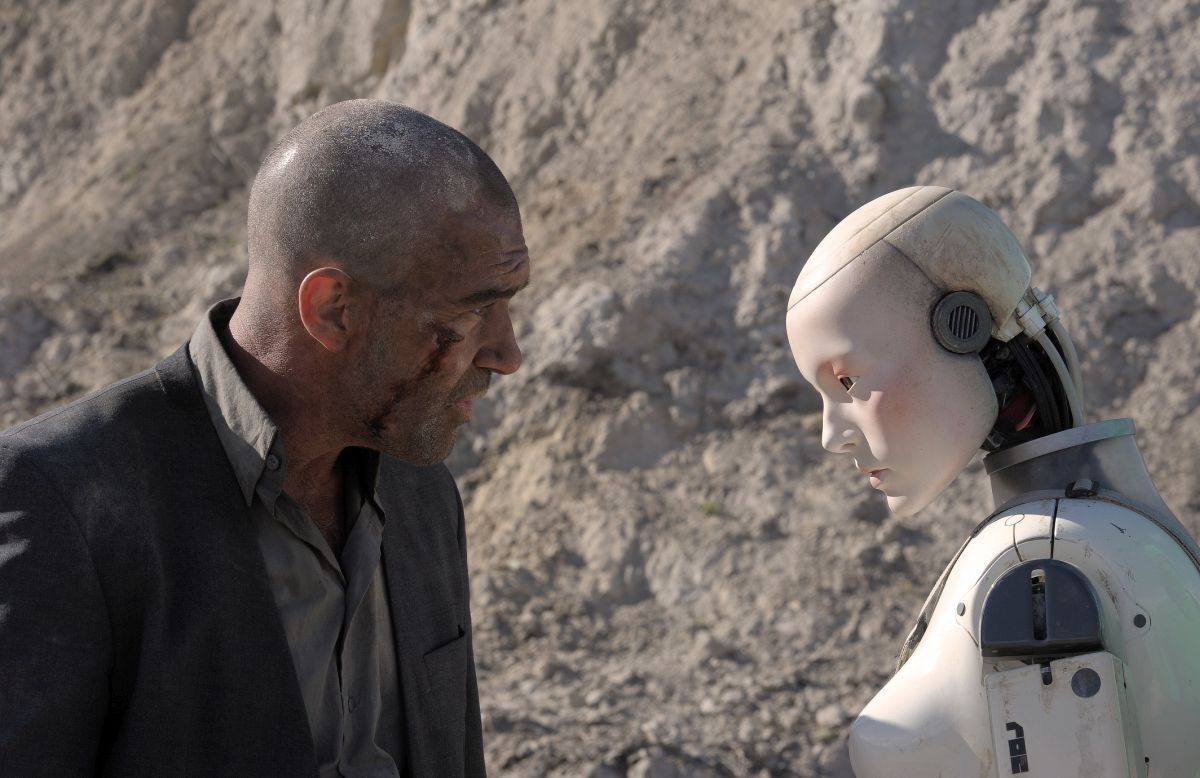 The best sections of the film come from the point when Melanie Griffith messages Antonio Banderas to announce "they've just come down from the trees" and the startling scene where Antonio finds himself in the midst of a high-speed car chase in a car being driven by the Cleo robot.
The section with the robots dragging Antonio across the desert wasteland, dutifully tending to his needs, as all the while they remain insistent about heading to their destination become absolutely fascinating. The relationship and trust that grows between the ailing Antonio and the blank but curiously sympathetic robots is hauntingly well developed (not to mention has some superb effects). It is maybe in the scenes when the human pursuers arrive to eliminate them that we get to the cliche elements that others seemed to find but I didn't think it to be the case. What I actually found was a strong and intelligent work of science-fiction.
---
---