---
Crew
Director – Simon Wells, Screenplay – Simon Wells & Wendy Wells, Based on the Book by Berkeley Breathed, Producers – Stephen J. Boyd, Jack Rapke, Steve Starkey & Robert Zemeckis, Photography – Robert Presley, Music – John Powell, Visual Effects Supervisor – Kevin Baillie, Special Effects Supervisor – Michael Lantieri, Production Design – Doug Chiang. Production Company – Disney/ImageMovers Digital.
Cast
Seth Green (Milo), Seth Robert Duskey (Voice of Milo), Dan Fogler (Gribble/George Ribble), Elisabeth Harnois (Ki), Joan Cusack (Mom), Mindy Sterling (Supervisor), Kevin Cahoon (Wingnut), Tom Everett Scott (Dad)
---
Plot
Young Milo is sent to bed after having an argument with his mother. He gets up in the night to apologise for what he said only to see that she has been abducted by aliens and taken aboard a spaceship. Milo runs after and manages to jump aboard as the spaceship lifts off and heads to Mars. He sneaks into the Martian complex where is pursued by the Martians. He escapes down to the junkpile under the city where he is befriended by Gribble, another now grown-up kid who also snuck aboard a Martian spaceship when his mom was abducted in the 1980s. Gribble tells Milo how the Martian matriarchy abducts human moms, who are selected for their strictness, in order to program the nannybots that raise their children. Milo learns that in order for the nannybots to be programmed, his mom will be sacrificed in a giant lens contraption on the surface at dawn in six-and-a-half hours time. He sets out to rescue her, joined by a reluctant Gribble and Ki, a Martian girl who has become a rebel against the totalitarian Martian matriarchy after watching banned videos from Earth.
---
Mars Needs Moms is a collaboration between Disney and ImageMovers, the company set up by director Robert Zemeckis that Zemeckis has principally used to further his interest in motion-capture animation. Zemeckis had groundbreaking results when he made The Polar Express (2004) using the motion-capture animation process whereby suits with sensors were attached to the actors' body that registered their movements inside a computer, which was then translated into animation. Zemeckis became so enthused by this that he has made his next two subsequent films in the motion-capture animation process – Beowulf (2007) and A Christmas Carol (2009). He announced remake of Yellow Submarine (1968) that was aborted as soon as Mars Needs Moms flopped dismally at the box-office) and return to the process to bring a village of dolls to life in the true-life based Welcome to Marwen (2018) and creating the live-action Pinocchio (2022). Zemeckis also produced Monster House (2006), Mars Needs Moms here and its use in other like Real Steel (2011) and Finch (2021). (For those interested in how motion-capture works, keep watching after the film ends where you can see live-action footage from the motion-capture shoot run alongside the credits).
Mars Needs Moms is made by director Simon Wells. Wells emerged as a director in the 1990s with the animation division of Steven Spielberg's Amblin Pictures where he co-directed An American Tail: Fievel Goes West (1991) and We're Back: A Dinosaur's Story (1993), before becoming a solo director with Balto (1995). Wells then moved to Spielberg's DreamWorks SKG, working in various capacities on almost all of their films and co-directing The Prince of Egypt (1998). The most interesting credit in Simon Wells' resume is as director of the live-action remake of The Time Machine (2002) from the classic book by no less than his great-grandfather H.G. Wells.
Mars Needs Moms is based on a children's book by the peculiarly named Berkeley Breathed (which is in fact his actual birth name not a pseudonym). Berkeley Breathed is most famous as a cartoonist with the strips Bloom County (1980-9) and Opus (2003-8), which gained some controversy for Breathed's political frankness and satirical caricatures. Since the 1990s, Berkeley Breathed has moved into writing and illustrating children's books. Mars Needs Moms is based on Breathed's 2007 children's book. The book is only 40 pages long and the screen adaptation has been expanded out by Simon Wells and his wife Wendy.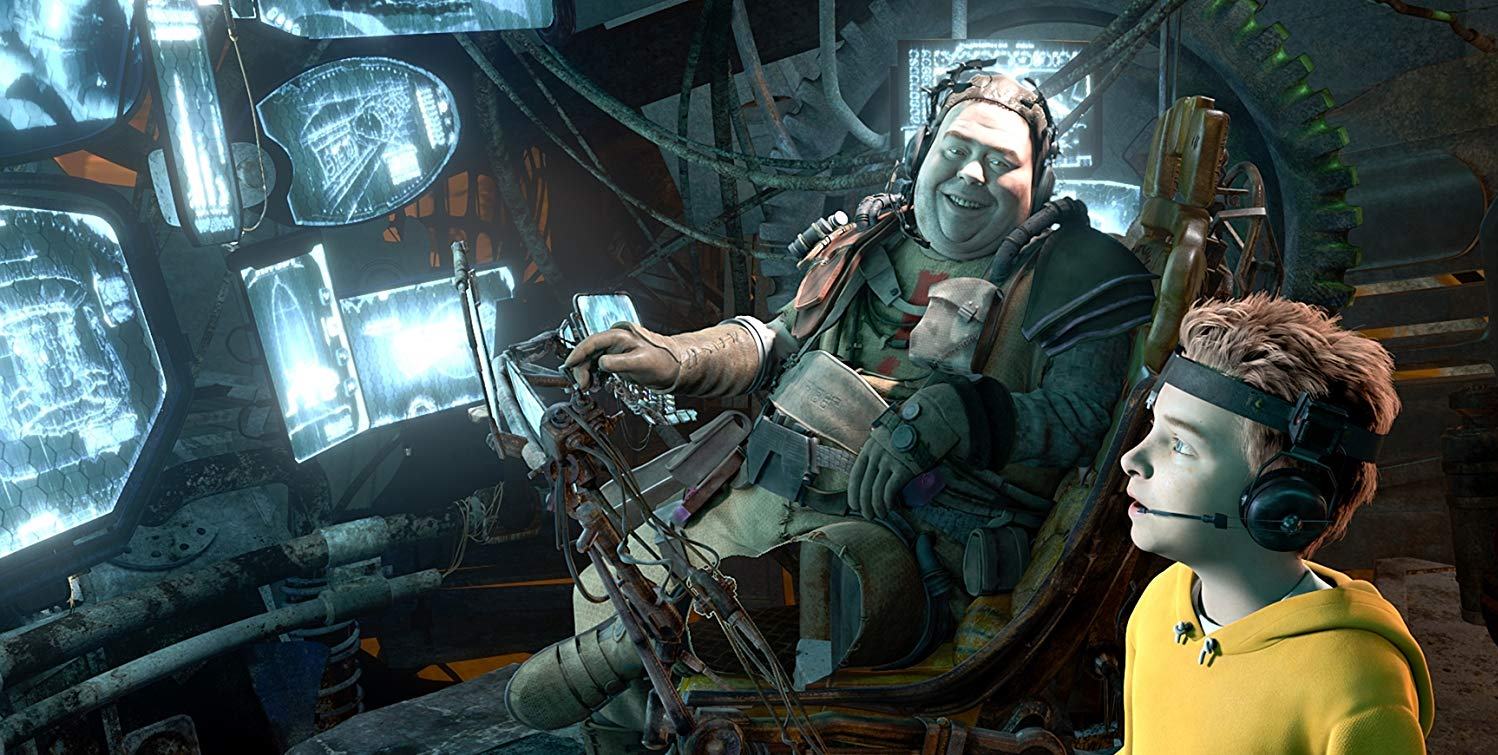 The title Mars Needs Moms suggests the film could almost be a sequel to the old Larry Buchanan Z-budget movie Mars Needs Women (1966), albeit taken on into mid-life. If anything though, Mars Needs Moms transpires as a modern variation on 1950s films like Abbott and Costello Go to Mars (1953), Cat-Women of the Moon (1953), Fire Maidens of Outer Space (1956) and Queen of Outer Space (1958), outer space fantasies in which male explorers encounter an all-female world and set things a-right, restoring the balance of the sexes by showing the women some good old-fashioned loving, usually by vanquishing the tyrannical queen who was evil because she had ideas that women could run the show without men.
The idea is a little more muted here but essentially unchanged, bar to play things down at a pre-adolescent level. What exactly such an old-fashioned political subtext is doing in the supposedly progressive 2010s is a good question that may well spell something ominous about how conservative values are creeping back up on us. Equally, the portrait of a dystopian society where the populace have become conditioned to accept robotic rule and have given up on notions like family, love and spontaneity is an achingly old one that goes back to the same era. You half expect that Mars Needs Moms would have played all of this with tongue in cheek or as a homage to 1950s science-fiction – maybe akin to Monsters vs Aliens (2009) – but the surprise is that it plays everything straight.
None of this should be allowed to detract from enjoying Mars Needs Moms, which proves far more enjoyable than its cheesy title premise might lead one to think. Expectedly, ImageMovers have gotten the motion-capture animation process to a point of near-perfection. The virtual sets are beautifully detailed, not to mention subtly coloured so that the eruptions of Ki's psychedelics or the arrival at the underground cave prove bold and striking. Much of Mars Needs Moms is a chase film with the young hero racing around the Martian complex trying to avoid being captured by Martians and rescue his mom. The action often has a vertiginous joy to it, notably the scene where Milo is forced to escape out on a narrow ledge along the side of a tall building and is then rescued by Ki swinging in on a rope, where the 3D animation almost makes you feel like you are there.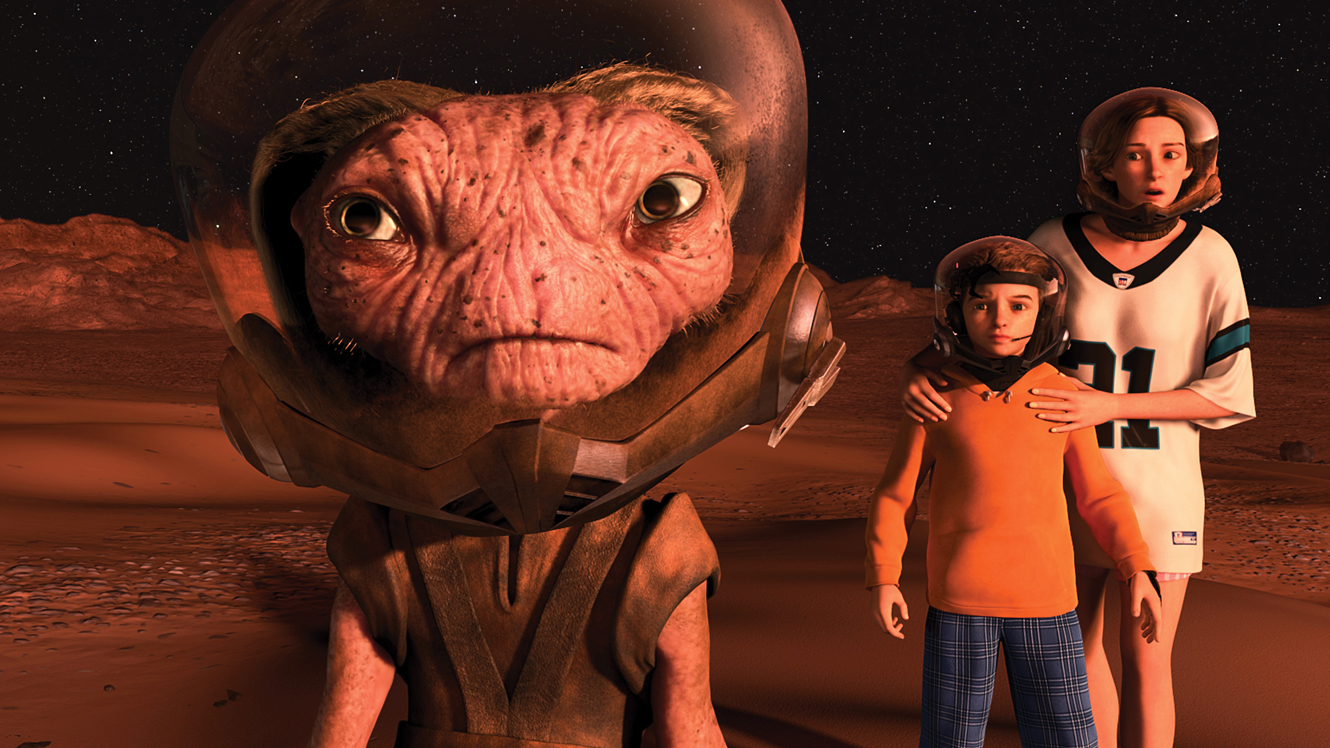 The film even gets full marks for depicting the Martian environment at its correct lower gravity state, unlike almost all Mars-set films that seem to conveniently forget about such. (Although the scientific pedant in one kept thinking Milo would be frozen and suffer exposure running around on the Martian surface in a T-shirt where the ambient temperature of Mars on a summer's day would be equivalent to the Antarctic on Earth).
While the early sections of the film seem to consist of little more than chase scenes, Mars Needs Moms gains its feet enormously in the second half. Particularly endearing become the characters of Gribble and Ki, both of whom seem construed as homages to bygone eras of 20th Century culture. Gribble is all grown-up 1980s fanboy, spouting enthusiasm for Top Gun (1986) and 80s videogames, while Ki could almost have stepped out of Joe Dante's Explorers (1985), fashioning her enthusiasm for Earth culture on a dated hippie sitcom. Both of these characters, especially Gribble, emerge with their own winning distinctiveness during the second half.
Some of the plot elements are contrived – the six-and-a-half hour countdown, the need to have to place Milo's Mom in the path of a giant lens as the sun rises – but Simon Wells brings all of the elements very nicely together in an exciting climax. There is an almost breathlessly tragic moment towards the end where one of the characters seems about to sacrifice their life.
---
---