---
Crew
Director – Shawn Levy, Screenplay – Matt Lieberman & Zak Penn, Story – Matt Lieberman, Producers – Greg Berlanti, Adam Kolbrenner, Shawn Levy, Ryan Reynolds & Sarah Schechter, Photography – George Richmond, Music – Christophe Beck, Visual Effects Supervisor – Swen Gillberg, Visual Effects – Cantina Creative, Digital Domain (Supervisor – Nikos Kalaitzidis), Halon Entertainment, Industrial Light and Magic (Supervisor – Paolo Acri), lola | VFX (Supervisor – Cliff Welsh), Raynault VFX (Supervisor – Sylvain Theroux) & Scanline VFX (Supervisor – Bryan Grill), Special Effects Supervisor – Daniel Sudick, Production Design – Ethan Tobman. Production Company – Berlanti Productions/Twenty-One Laps Entertainment/Maximum Effort/Lit Entertainment/TSG Entertainment.
Cast
Ryan Reynolds (Guy), Jodie Comer (Millie Rusk/Molotovgirl), Joe Kerry (Walter 'Keys' McKeys), Taika Waititi (Antwan), Lil Rey Howery (Buddy), Utkarsh Ambudkar (Mouser), Channing Tatum (Revenjamin Buttons), Aaron Reed (Dude), Britne Oldford (Barista), Camille Kostek (Bombshell), Matty Cardarople (Keith the 22 Year-Old Gamer), Anabel Gaetz (Cat Lady Phyllis)
---
Plot
In Free City, Guy gets up every day and goes off to his job as a bank teller amid massive amounts of gunfire, explosions and a robbery of the bank. The action and mayhem is conducted by what everyone refers to as the Sunglasses People. Guy longs to find the perfect girl. One day, he sees Molotovgirl, one of the Sunglasses People, in the street and realises this is the girl of his dreams. On the next day at the bank, Guy stands up and snatches the robber's glasses. Putting them on, he is startled to find a completely different world laid over the one he lives in where he can regain health points and change his bank balance by touching icons. In actuality, Free City is an online videogame from Soonami. Molotovgirl is an avatar of Millie Rusk, a co-developer of the game's A.I. engine. She is searching the game for evidence that pieces of code that she created that were stolen by Soonami CEO Antwan. After Guy encounters her again, she advises him to power up but he refuses to do so with violent methods and so does so by taking people's guns away and being a nice guy. Nicknamed Blue Shirt Guy, he soon gets a following everywhere. Millie's co-developer Keys makes the discovery that Guy is an NPC and that maybe their A.I. engine has created the world's first artificially intelligent being. At the same time as Guy romances Millie, Antwan decides he wants to eliminate Guy from the system.
---
Videogaming is a huge industry, one that is predicted to even overtake films. There have been plentiful films adapted from videogames – see Videogame Adaptations. There is also another whole body of films where videogames play fictional roles – see Films About Videogames – a genre that began way back with Tron (1982) and WarGames (1983). The 1990s brought a number of films about malevolent videogames with the likes of Arcade (1994) and Brainscan (1994) or ones with people trapped in videogames as in eXistenZ (1999), Spy Kids 3-D: Game Over (2003), Stay Alive (2006) and the tv series Harsh Realm (1999), even several films about videogame characters come to life with Carver's Gate (1995), Virtual Combat (1995), the tv series Deadly Games (1995-6) and Ra. One (2011).
There is also a growing number of films centred around the trope of people making a Conceptual Breakthrough Stories to realise they are characters inside videogames. This was first used in the Cyberpunk film Nirvana (1997). It was used as a major plot twist with Mamoru Oshii's visually stunning Avalon (2001), was deployed with ridiculous effect in Serenity (2019) and in quite a different way in Disney's charming Wreck-It Ralph (2012).
Free Guy creates a bizarrely over-the-top world with Ryan Reynolds and others walking nonplussed through massive vehicles chases, shootouts, explosions, tanks and giant robots all around. It reminds of the over-the-top parody of an action film world that was created in Last Action Hero (1993) – which was also written by Zak Penn. Ryan Reynolds' Guy has a similar kind of Conceptual Breakthrough and awakening to the true nature of his reality that Arnold Schwarzenegger did and both films have the heroes arrive at a similar deploring of the violence they are required to participate in.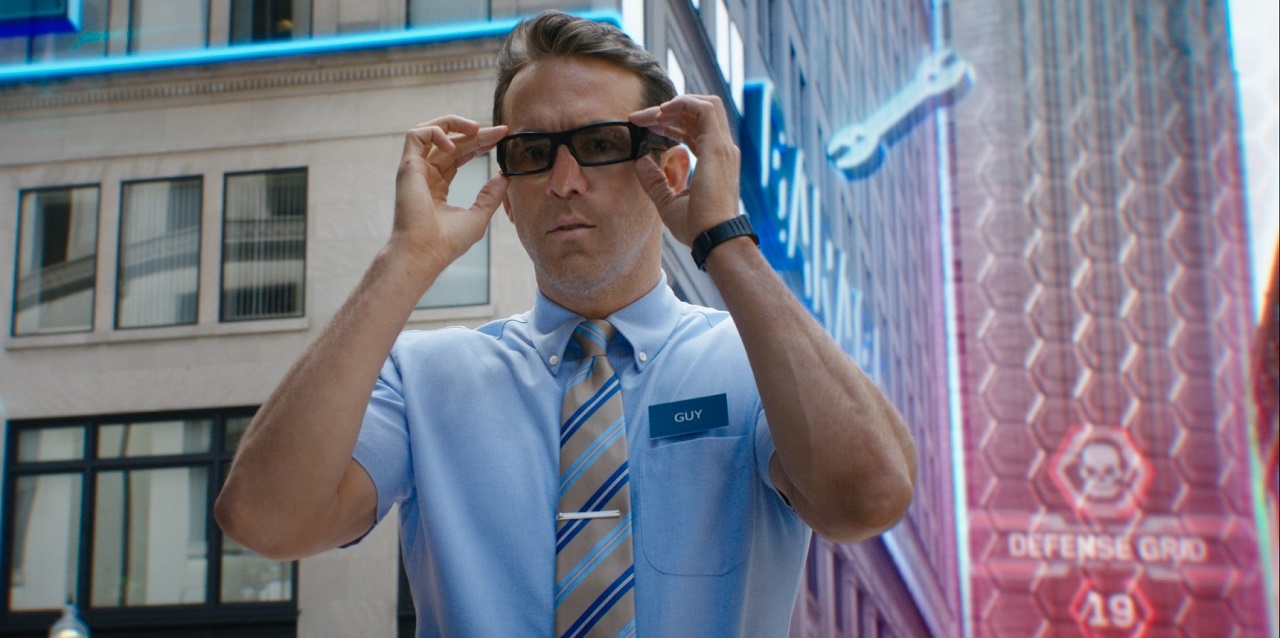 The film has an enormous amount of fun simply interpreting how NPCs would perceive regular aspects of gaming. There is a good deal of fun with Ryan Reynolds dealing with healing points, powering up or others using God Mode. (Although one part of you cannot help but wonder what happens to the players in the outside world when Ryan Reynolds snatches their glasses). Especially entertaining are Ryan Reynolds' showdown battle with Dude at the end, or else of Channing Tatum as the handsomely heroic Revanjamin Buttons as we cut back and forth between him and his player (Matty Cardarople) having to deal with his mother intruding and insisting on doing the vacuuming.
Aside from that, the script has a snappy adeptness in dealing with the various escalations of the situation and in creating ongoing problems for its protagonist. Visually it is a film with an enormous degree of energy – the parody of action movie moves that Shawn Ley conducts during Ryan Reynolds and Jodie Comer's escape from the stash house is enormously entertaining in its wilfully absurd over-the-top absurdity. It is the one mainstream film in probably the last twelve months or more that delivers in a consistently clever and witty way and I can unapologetically say I have had the most outright fun watching.
Ryan Reynolds (who also produces the film) is in his element even if you feel at the outset that his characteristic mode of delivering smartass seemingly improvisational one-liners seems unsuited to the role of a character who is defined by his anonymity. Taika Waititi, director of What We Do in the Shadows (2014), Hunt for the Wilderpeople (2016) and Jojo Rabbit (2019), is entertainingly over-the-top in a parody of corporate assholishness.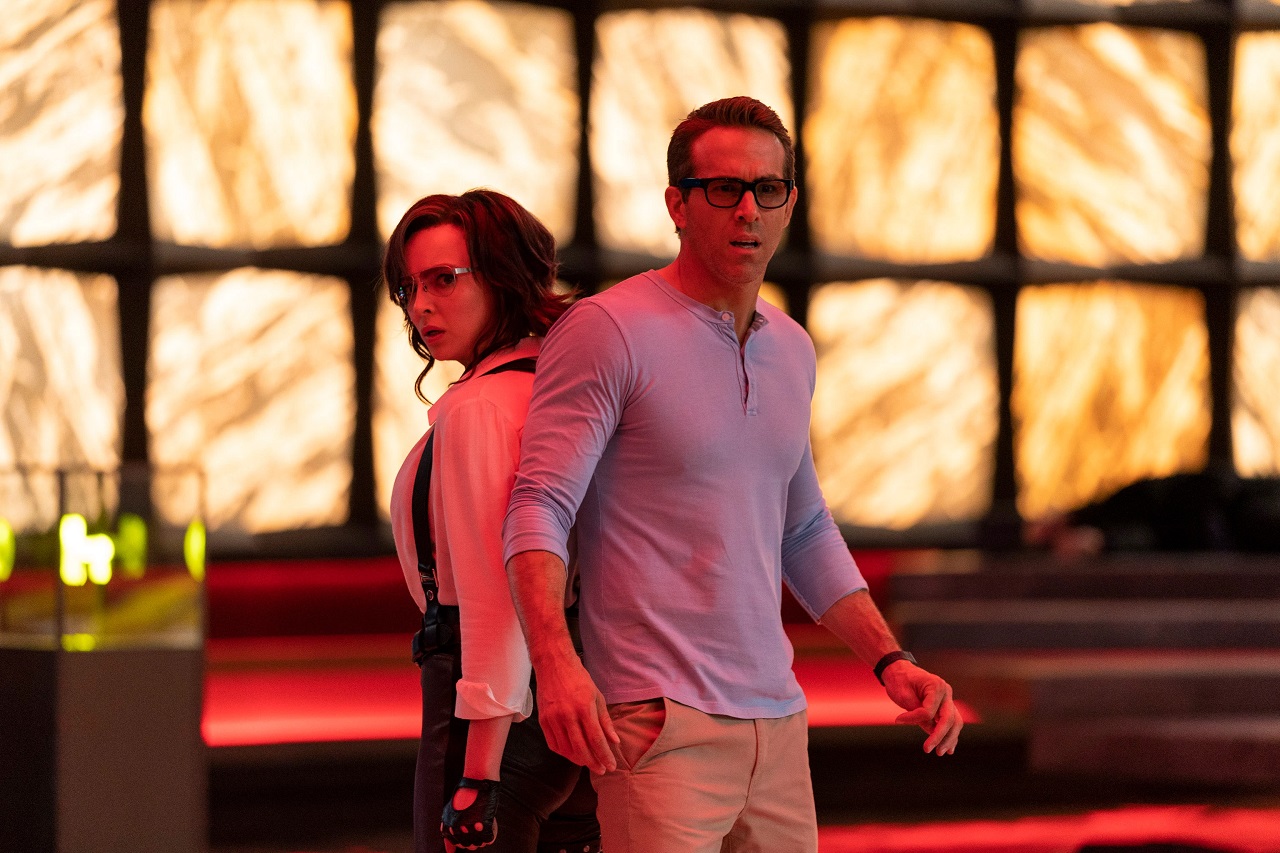 Shawn Levy is a director who emerged through a good many easy, middle-of-the-road comedies with the likes of Big Fat Liar (2002), Cheaper By the Dozen (2003), Just Married (2003), The Pink Panther (2006), Date Night (2010), The Internship (2013) and This is Where I Leave You (2014). He has ventured into genre material with the popular family-friendly hit of Night at the Museum (2006) and made both its sequels Night at the Museum 2 (2009) and Night at the Museum: Secret of the Tomb (2014). In between these, Levy also made the likeable robot boxing film Real Steel (2011). Levy and Ryan Reynolds later teamed for the time travel film The Adam Project (2022). Levy has also worked as a producer with genre efforts like The Watch (2012), the Young Adult The Darkest Minds (2018) and Denis Villeneuve's Arrival (2016) and the tv series' Stranger Things (2016– ) and Shadow and Bone (2021– ).
The story idea and script originates with Matt Lieberman who has written a good deal of uninspiring family friendly fare with the likes of Dr Doolittle: Tail to the Chief (2008), The Christmas Chronicles (2018), The Addams Family (2019), Playing with Fire (2019) and Scoob! (2020). Lieberman co-writes with Zak Penn who has turned out scripts for the likes of Last Action Hero (1993), Inspector Gadget (1999), Behind Enemy Lines (2001), Suspect Zero (2004), Ready Player One (2018) and various Marvel Comics adaptations such as X2 (2003), Elektra (2005), X-Men: The Last Stand (2006), The Incredible Hulk (2008) and The Avengers (2012), as well as directed the hilarious mockumentary Incident at Loch Ness (2004) and created the original superhero tv series Alphas (2011-2). The film is produced by Greg Berlanti, the creative force behind the various DC Comics tv series Arrow (2012-20), The Flash (2014- ), Supergirl (2015-21), Legends of Tomorrow (2016- ), Titans (2018- ) and Superman and Lois (2021- ).
(Nominee for Best Original Screenplay and Best Production Design at this site's Best of 2021 Awards).
---
Trailer here
---