---
USA. 1975.
Crew
Director/Screenplay – L.Q. Jones, Based on the Short Story by Harlan Ellison, Producer – Alvy Moore, Photography – John Arthur Morrill, Music – Tim McIntire, Special Effects – Frank Rowe, Makeup – Wes Dawn, Production Design – Ray Boyle. Production Company – Third LQJ Inc.
Cast
Don Johnson (Vic), Tim McIntire (Voice of Blood), Susanne Benton (Quilla June Holmes), Jason Robards (Lew Craddock)
---
Plot
The year 2024 after civilisation has been destroyed by World War IV. Across the ruins of the landscape, Solos and Rovers, human hunters and their telepathic canine companions, roam looking for food and women. One Solo, Vic, and his Rover, Blood, discover and track down Quilla June Holmes. Vic takes her by force only to discover that she has been sent to lure him. She now takes him down to Topeka, a subterranean survival centre where the last remnants of Middle-America exist. Vic now finds that there they expect him to act as stud service and restock their depleted gene pool.
---
This quirky adaptation of the Award-winning 1969 Harlan Ellison short story is a fine example of the creativity that can exist at the low-budget end of the genre. Director/scriptwriter L.Q. Jones is better known as a supporting actor, usually in Westerns – Warlock (1959), Cimarron (1960), Ride the High Country (1962), Apache Rifles (1964), The Wild Bunch (1969), as well as being a regular on tv's The Virginian (1962-71). During the early 1970s, Jones teamed with Alvy Moore to produce a handful of films, including the occult films The Witchmaker (1969) and Brotherhood of Satan (1971). Out of these emerged L.Q. Jones' sole directorial outing here with A Boy and His Dog.
L.Q. Jones writes dialogue with such an irrepressibly likeable cynicism – Don Johnson's first reaction to being told of his purpose in Topeka is to strip off his overalls and to announce to committee member Helen Winston: "You want me to knock off your broads? Line 'em up. You first honey" – that it seems a genuine shame he subsequently returned to acting bit parts in B-pictures and never directed or wrote again.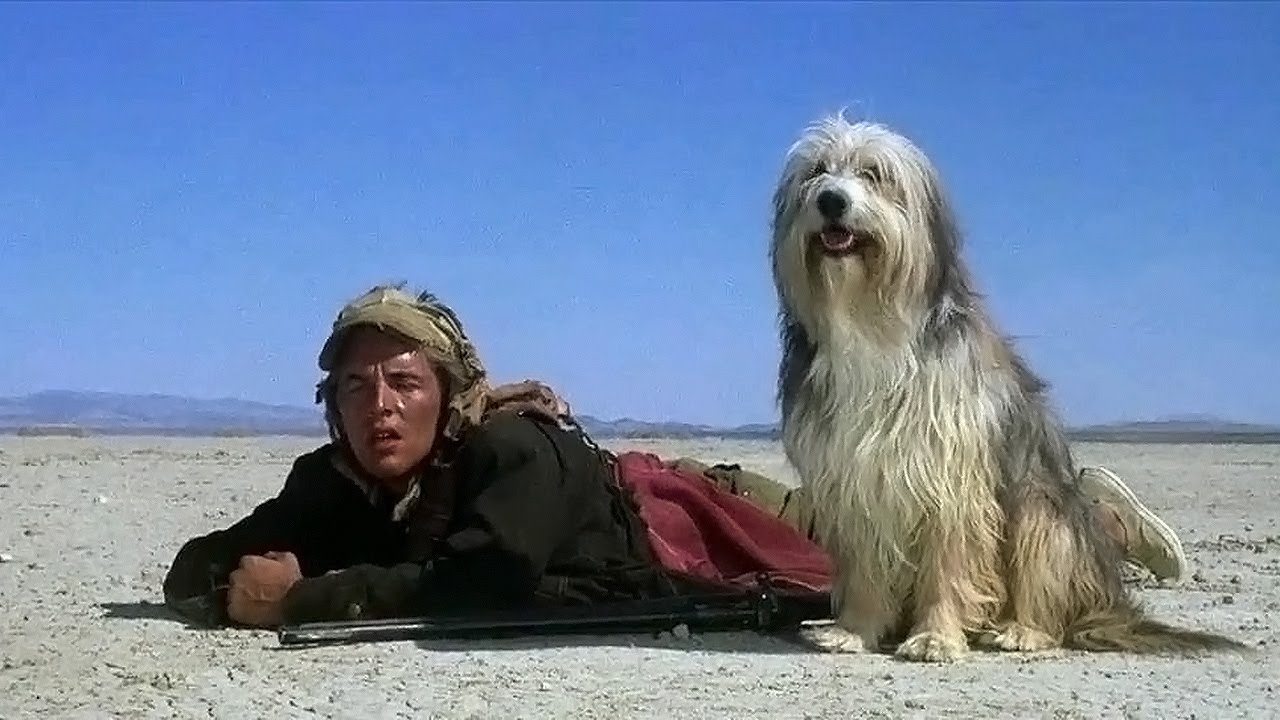 A very young Don Johnson, over a decade before tv's Miami Vice (1984-9) and considerably larger ego, delivers a witty performance. The Vic/Blood relationship is played with a banter of sarcastic putdowns – "Bottom line – you're a brain with an educated nose and there's no other canine in your class" (a grudging bow to superiority).
There is an equally charming performance from Susanne Benton as Quilla June. (This is an actress one wishes had done other films). The scene where they get together is conducted with a surprisingly droll sense of humour – for all his ruttish raving about needing a woman, it is amusing to see Johnson with the tables turned and being seduced; and she is equally as amusing – no sooner has she seduced him than she is planning to set up house in Topeka – "and there can be a room for Blood too."
L.Q. Jones writes the two characters so damn good they almost seem real – Vic and Blood are two examples of characters that are unique and original creations to science-fiction, characters that are not merely transplanted from the real world. Jones succeeds in engendering genuine twinges of feeling as Blood argues with Don Johnson not to go down into Topeka and then their subsequent goodbye with the last lingering image of Blood sitting outside the bunker entrance.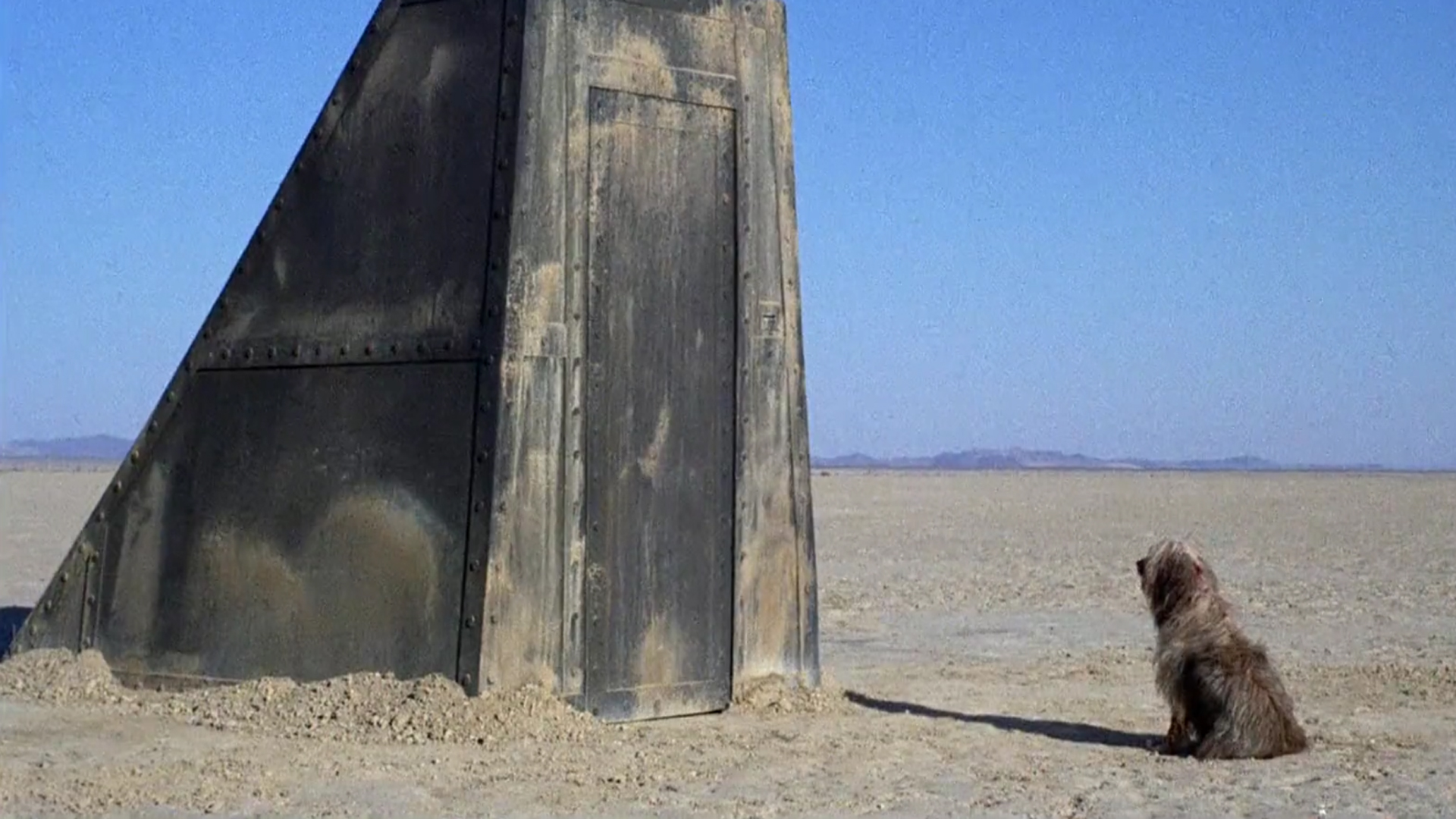 The depiction of the nuclear holocaust is managed with remarkable economy – the film opens on solarised Bomb footage and the cheekily droll narration: "World War IV lasted five days/Politicians had finally solved the problems of urban blight." Regrettably, the Topeka scenes come somewhat unglued – there is a nice idea in parodying Norman Rockwell Americana, in having Middle America be the only culture to survive the holocaust but with its populace in white-out clown faces and Hayseed Yokel killer robots, the idea is a little too farcical to work. There is a surprising degree of fidelity to Harlan Ellison's novella, something which Ellison, who has been so vocal about his abuse by other media people, has only cause to be proud of.
Harlan Ellison (1934-2018) was a legendary name in science-fiction, having won numerous of the community's prizes for his books and short stories. He is also equally known for his abrasive personality, hurling of abuse and firing off lawsuits against people. He has written numerous episodes of various televisions series. The most famous of these is The City on the Edge of Forever (1967), which is almost universally regarded as the finest episode of the original Star Trek. He has also written two classic episodes of the original The Outer Limits, Demon with a Glass Hand (1964) and Soldier (1964), which Ellison later successfully sued and claimed James Cameron had stolen as the basis of The Terminator (1984). He has also written episodes of other genre tv series such as The Man from U.N.C.L.E., Voyage to the Bottom of the Sea, The Flying Nun and Logan's Run, as well as created the short-lived generation ship series The Starlost (1973-4), written, had several of his short stories adapted and acted as creative consultant on The Twilight Zone (1985-7), and acted as creative consultant on . Aside from the screenplay for the non-genre The Oscar (1966), A Boy and His Dog is the only film he was associated with. The most well-known film he was associated with that never ended up being made was the original planned version of I Robot (2004) circa 1980. Ellison also appears as himself in an episode of The Simpsons (1989– ).
---
---