---
Crew
Directors – Bob Perschietti, Peter Ramsey & Rodney Rothman, Screenplay – Phil Lord & Rodney Rothman, Story – Phil Lord, Producers – Avi Arad, Phil Lord, Christopher Miller, Amy Pascal & Christina Steinberg, Music – Daniel Pemberton, Animation – Sony Pictures Imageworks, Visual Effects Supervisor – Danny Dimian, Production Design – Justin K. Thompson. Production Company – Marvel/Sony Pictures Animation/Lord-Miller/Pascal Pictures.
Voices
Shameik Moore (Miles Morales/Spider-Man), Jake Johnson (Peter B. Parker/Spider-Man), Hailee Steinfeld (Gwen Stacy/Spider-Woman), Maherashala Ali (Uncle Aaron), Brian Tyree Henry (Jefferson Davis), Chris Pine (Spider-Man/Peter Parker), Liev Schreiber (Wilson Fisk/Kingpin), Nicolas Cage (Spider-Man Noir/Peter Parker), Lily Tomlin (Aunt May), Kathryn Hahn (Dr Olivia Octavius), Kimiko Glenn (Peni Parker), John Mulaney (Spider-Ham), Luna Lauren Velez (Rio Morales), Zoe Kravitz (Mary Jane Watson)
---
Plot
Miles Morales is a teenager of mixed race heritage, having an African-American father and Latino mother. He is signed into a prestigious school in a new neighbourhood where he is attracted to fellow pupil Gwen Stacy. Miles's uncle Aaron takes him down into an abandoned subway tunnel where he is free to spray graffiti only for Miles to be bitten by a radioactive spider. Afterwards, Miles finds that he now has the abilities to climb walls, spray webbing and turn invisible. Returning to the tunnel, he discovers that this is the area where super-villain Wilson Fisk has built a quantum accelerator with which he intends to open up parallel universes in order find one where his wife and son are still alive. Spider-Man appears and engages in a furious fight to stop Fisk. Seeing that Miles has the same abilities as he does, Spider-Man appeals to him for help. He leaves Miles with a USB drive to switch the accelerator off only to then be killed by Fisk. The whole city mourns Spider-Man's death. As Miles tries to master his abilities in the aftermath, he discovers that the accelerator has brought Peter B. Parker, a middle-aged version of Spider-Man, through from another universe. The two team up to reactivate the accelerator so that Peter B. can return home. However, the battle against Fisk and his minions reveals that other alternate versions of Spider-Man have also been brought through, including Spider-Woman, who comes from a universe where Peter was killed and Gwen Stacy became Spider-Woman; a talking pig named Spider-Ham; Spider-Man Noir from a 1930s detective era; and Peni Parker who comes from a future where she has built a spider robot.
---
Marvel Comics have had massive success with their superhero films in the last decade bringing them together on screen and weaving them into a massive ongoing continuity (the MCU or Marvel Cinematic Universe). There have also been several Marvel films outside of the regular canon – most notedly, 20th Century Fox holding the copyright to both the Fantastic Four and X-Men. The rights to Spider-Man are held over at Sony who first put him through the hugely successful Sam Raimi directed and Tobey Maguire starring trilogy Spider-Man (2002), Spider-Man 2 (2004) and Spider-Man 3 (2007). After Raimi and Maguire bowed out, Sony attempted a reboot starring Andrew Garfield with The Amazing Spider-Man (2012) and The Amazing Spider-Man 2 (2014).
When the second of the Garfield films in particular proved unpopular, Sony attempted their second reboot in under a decade with Spider-Man: Homecoming (2017), Spider-Man: Far from Home (2019) and Spider-Man: No Way Home (2021) featuring Tom Holland. This time they conducted the smart move of making a deal that allowed Holland's Spider-Man to cross over into the MCU in Captain America: Civil War (2016), Avengers: Infinity War (2018) and Avengers: Endgame (2019). Sony give the impression they want to squeeze everything they can out of their hold on Spider-Man while Marvel Comics are a hot property. They had reasonable success with the film based on Venom (2018), released only two months before Into the Spider-Verse, which led to sequel Venom: Let There Be Carnage (2021), along with Morbius (2022) and Kraven the Hunter (2024) based on the Spider-Man villains. This animated offering was another attempt to squeeze more from the Spider-Man copyright.
Spider-Man: Into the Spider-Verse has been placed into the directorial hands of unknowns – Bob Persichetti had previously worked as a storyboard artist for Disney and DreamWorks and makes his directorial debut here; Rodney Rothman was previously a screenwriter with the likes of Grudge Match (2013) and 22 Jump Street (2014), as well as a producer, and also makes his directorial debut here. The only one with prior directorial experience was Peter Ramsey, a former storyboard artist who directed DreamWorks' Rise of the Guardians (2012). That said, the real driving creative force behind the film is Phil Lord and Christopher Miller, the directing duo that had a huge success with the animated Cloudy with a Chance of Meatballs (2009) and then the live-action 21 Jump Street (2012) and its sequel 22 Jump Street (2014), and the hit of The Lego Movie (2014), as well as producing the tv series The Last Man on Earth (2015-8), the animated Storks (2016), The Mitchells vs the Machines (2021) and the live-action Cocaine Bear (2023).. More recently, they gained a certain notoriety as being the directors fired from Solo: A Star Wars Story (2018).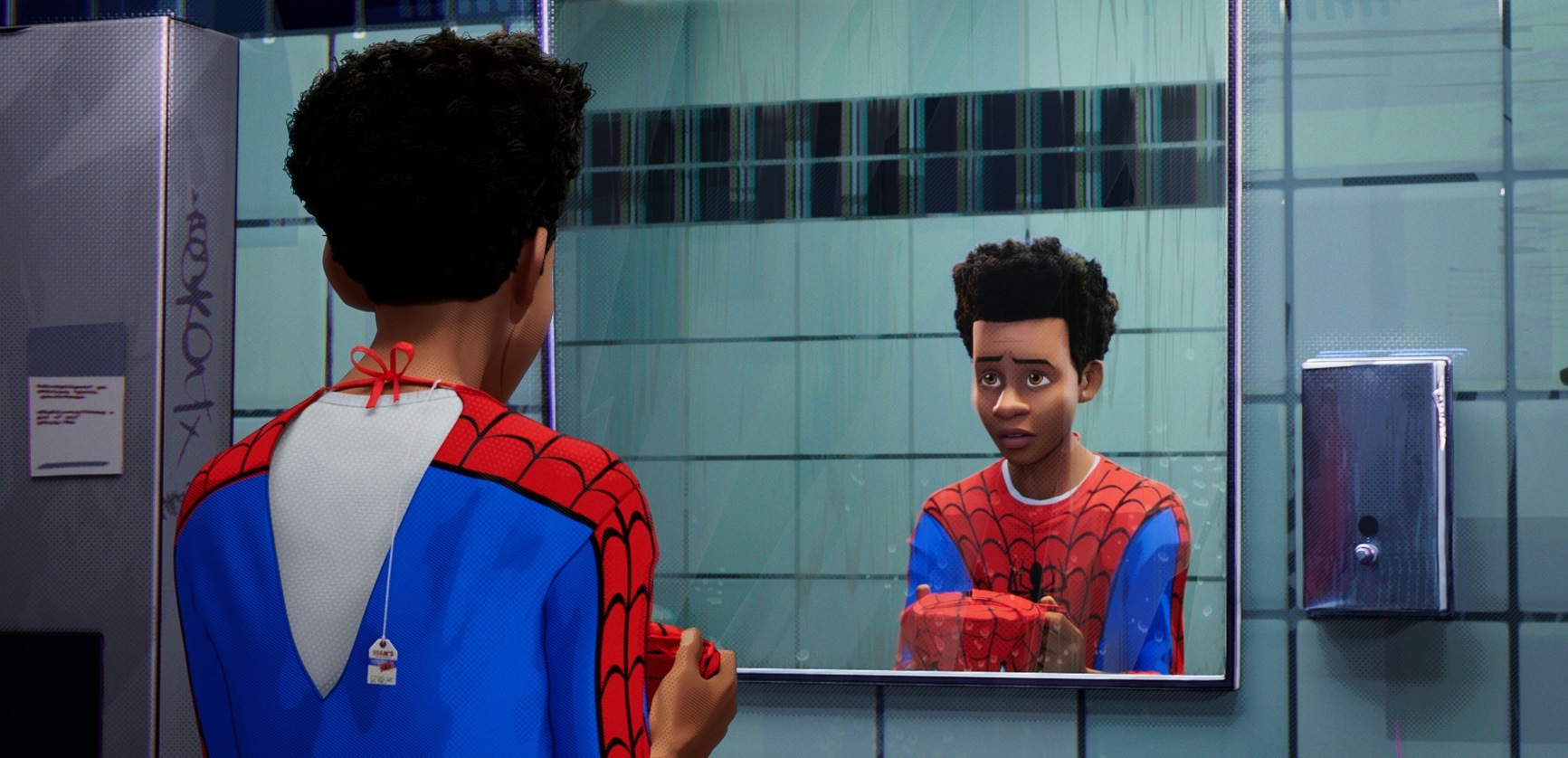 The MCU has a smooth line of internal continuity but trying to follow Sony's Spider-Man series is a nightmare. Both the Sami Raimi/Tobey Maguire and Mark Webb/Andrew Garfield maintain separate and conflicting origin stories and character continuities. Spider-Man Homecoming avoided that by not retelling Spider-Man's origin again but created a continuity spaghetti when they tried to connect up with the MCU. In its opening credits, Into the Spider-Verse gamely tries to run all of the Sony Spider-Man films into a single continuity, giving us flashes of action scenes from each of the Sony incarnations in the clear suggestion that they are all the adventures of the same characters. (It also throws in the theme tune from the animated Spider-Man (1967-70) tv series, while a clip from the show plays after the end credits).
Although, as if to say that the Chris Pine-voiced Spider-Man we have here is the real one, Into the Spider-Verse then kills him off and leaves Miles Morales as the only Spider-Man operating in what we are led to believe is the prime cinematic storyline. It also has versions of Doc Ock and Green Goblin that are wildly different from any of their previous cinematic counterparts – Green Goblin, for instance, appears as something non-human whereas all other versions have simply been a man in a suit, while we also get a female Dr Octopus.
Perhaps mindful of the enormous success had by Black Panther (2018) earlier in the year in opening up superheroic slates by playing to diversity audiences, Spider-Man: Into the Spider-Verse casts its story with Miles Morales, an Afro-Latino character. Created by Brian Michael Bendis and Sara Pichelli, Miles Morales was first introduced by Marvel in 2011 in an effort to widen diversity among comic-book readers. This caused worldwide headlines when it was announced that Marvel was going to kill Peter Parker off and Miles Morales would be his replacement, a decision that was both celebrated for embracing diversity and had a backlash for being seen to be pandering to Political Correctness. The point that should be noted in all of this controversy is that Peter Parker was only killed off in the Ultimate Marvel storyline, an alternate universe take on Marvel continuity, and that Peter Parker remains alive and well in Marvel's mainstream storyline. The Ultimate universe was destroyed in 2015 whereupon Miles Morales was incorporated into regular Marvel continuity and fights alongside Peter Parker.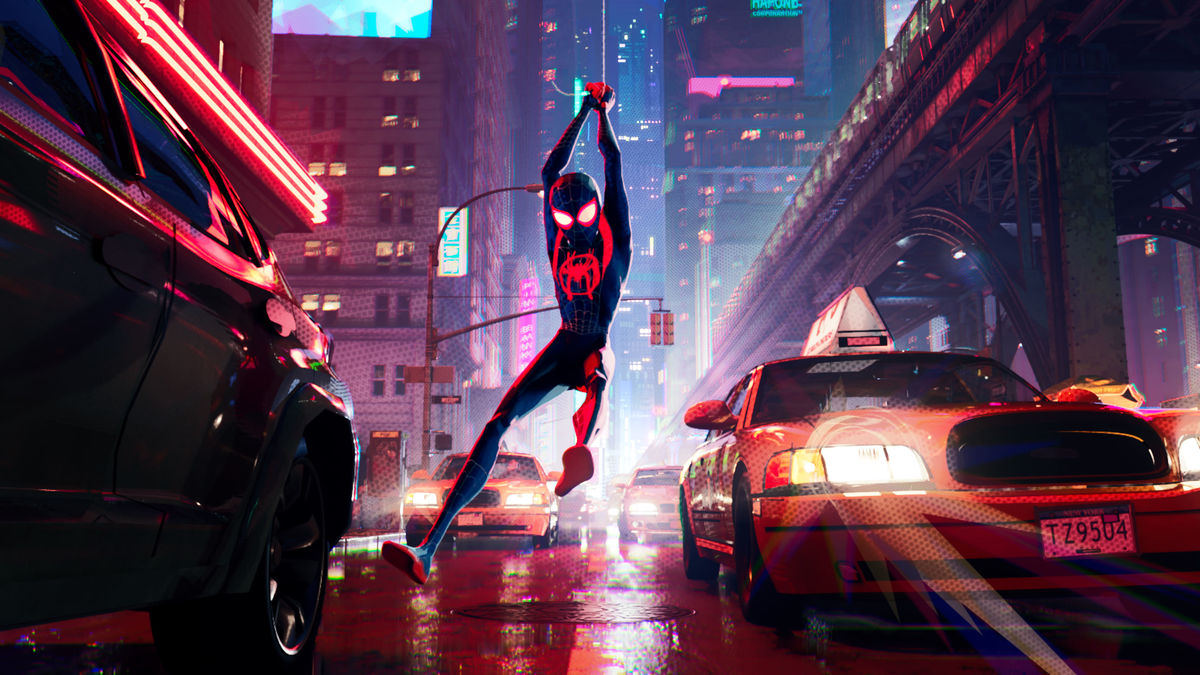 Phil Lord, who appears to be the prime creative force on the script, gives the impression of looking at the garbled continuity of the Sony Spider-Man franchise and deciding to deal with it by throwing everything up into the air and combining all conceivable alternate takes on Spider-Man that Marvel has ever devised. To this extent, the film turns to the Spider-Verse (2014-5) storyline from The Amazing Spider-Man. This set out to incorporate every alternate version of Spider-Man created by Marvel, including Spider-Ham, who appeared in Marvel Tails (1983), a talking animals parody of Marvel characters, and later gained his own comic-book; Sp//dr, Peni Parker, a Japanese adopted child of Aunt May and Uncle Ben, introduced in the Spider-Verse series; and Spider-Man Noir, an alternate universe take on characters that appeared in Marvel Noir (2009-10) where various characters were reimagined in a 1940s film noir setting. The character of Spider-Woman, played by Gwen Stacy, was introduced in Spider-Verse and went on to her own comic-book Spider-Gwen beginning in 2015. The end credits also feature an appearance of Miguel O'Hara who became the Spider-Man of the Marvel 2099 alternate continuity in 1992 where various characters were reimagined in a future setting. (It should also be pointed out that the comic-book Spider-Verse storyline features another five versions of Spider-Man who do not appear in the film). Miles Morales and the Spider-Verse had previously appeared on screen before in episodes of the animated Ultimate Spider-Man (2012-7), while the Spider-Verse storyline proved popular enough that Marvel followed it up with Spider-Geddon (2018).
The stew of alternate Spider-Men is not dissimilar to the wittily irreverent, frequently fourth-wall breaking way in which Lord and Miller mixed up and crossed over media franchises in The Lego Movie or hilariously deflated the source material in the 21 Jump Street films. Another feature of Lord and Miller's films is their enormous visual energy and considerable humour. Most noticeable is the vibrance of their colour palettes – the Cloudy With a Chance of Meatballs films seem to be trying to use every colour at once.
With Into the Spider-Verse that goes into overdrive. The film is like a mad pop art collage that seems to be trying to hit you with every visual trick in the cinematic book from the opening credits that come in a kaleidoscopic blur of colours, effects and fonts to the use of split screen, colour explosions, 3D gauzing effects, the use of speech and thought balloons or bridging captions, and onomatopoeia appearing on screen during fight scenes a la tv's Batman (1966-8). It is one of the most visually energetic films one has seen in some time.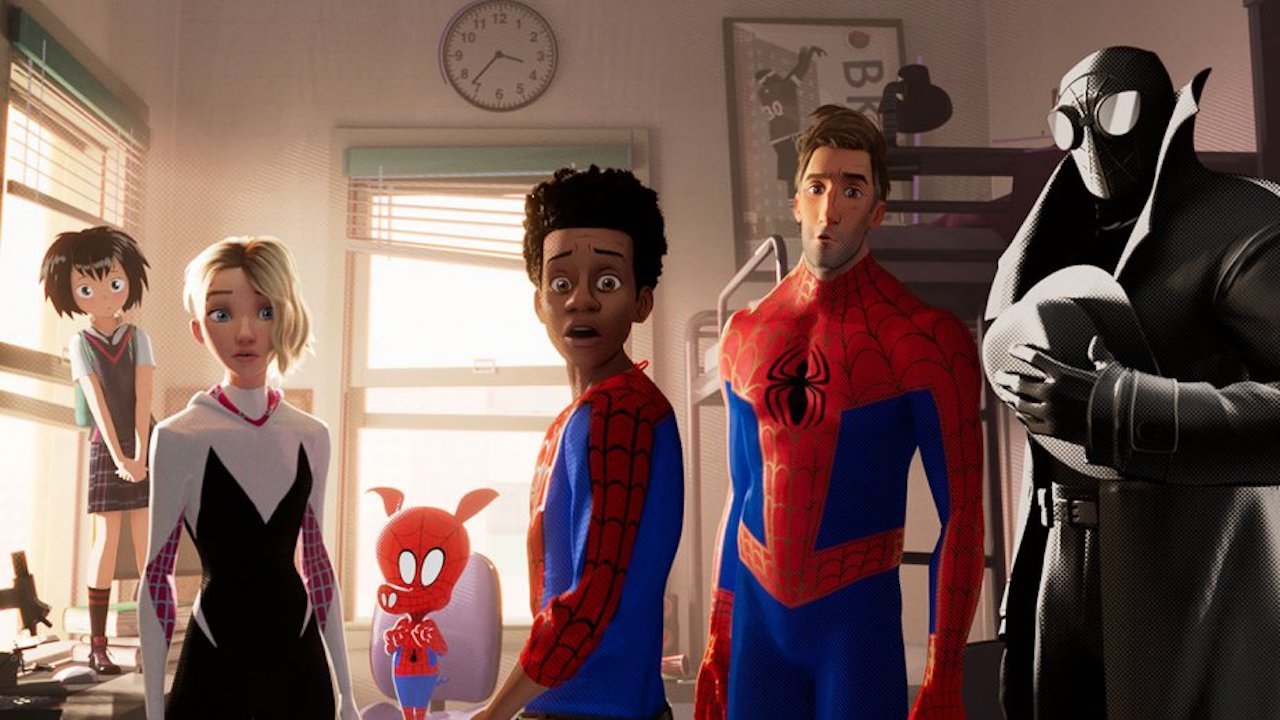 All of this works well on screen. The film has a great natural energy, especially during the sequence where Miles and Peter B. Parker are dragged away behind an overhead monorail or the immensely entertaining sequence where the two escape from Fisk's laboratory swinging through the trees. There is a great deal of witty character interplay, especially between Miles and his grudging mentor Peter B. that adds far more of a humour focus than any other live-action superhero film you can care to name.
In the end, Spider-Man: Into the Spider-Verse feels less like an addition to Sony's ongoing Spider-Man franchise than like one of DC's Elseworlds experiments where DC allow artists to conduct experiments in alternate continuity or style (recreating the characters in terms of anime, toon or film noir as we see here) – the DC animated Batman Ninja (2018) and Batman: Gotham by Gaslight (2018) where the Batman mythos is reconceived in respectively feudal Japan and the 19th Century are two recent film examples. When you look at it beyond the madcap visuals and sense of humour, the actual story Into the Spider-Verse offers as a superhero film pares down to something ordinary. Its most novel hook is its crossing over of the various alternate Spider-Men. Quite whether it represents a new direction for Sony to take the Spider-Man franchise is another story altogether but the huge box-office success and critical acclaim (it winning the Academy Award for Best Animated Film) will almost certainly presage further visits.
Spider-Man: Into the Spider-Verse received great acclaim, including winning the Academy Award for Best Animated Film. In retrospect, it also premiered the Multiverse concept on film – the idea that in the superhero universe there exist a myriad of different versions of each superhero and/or their canon. The idea of different versions of Spider-Man teaming up was quickly taken on in live-action with Spider-Man: No Way Home and incorporated by the rest of the MCU in Doctor Strange in the Multiverse of Madness (2022) and Ant-Man and the Wasp: Quantumania (2023) and by the DCEU in The Flash (2023).
Lord and Miller followed this up with Spider-Man: Across the Spider-Verse (2023) and the upcoming Spider-Man: Beyond the Spider-Verse (2024) featuring most of the same voice cast but a different line-up of directors.
---
---