---
Crew
Director – Gil Kenan, Screenplay – Caroline Thompson, Based on the Novel The City of Ember by Jeanne DuPrau, Producers – Gary Goeztman, Tom Hanks & Steven Shareshian, Photography – Xavier Perez Grobet, Music – Andrew Lockington, Music Supervisor – Lindsay Fellows, Visual Effects Supervisor – Eric Durst, Visual Effects – Buf Inc (Supervisor – Olivier Cauwet), Luma Pictures (Supervisor – Vincent Cirelli), Senior Special Effects Supervisor – Kit West, Special Effects Supervisor – Terry Glass, Production Design – Martin Laing. Production Company – Walden Media/Play Tone.
Cast
Saoirse Ronan (Lina Mayfleet), Harry Treadaway (Doon Harrow), Bill Murray (Mayor Cole), Tim Robbins (Loris Harrow), Toby Jones (Barton Snode), Martin Landau (Sol), Amy Quinn & Catherine Quinn (Poppy Mayfleet), Liz Smith (Granny), Mary Kay Place (Mrs Murdo), Marianne Jean-Baptiste (Clary), Lucinda Dryzek (Lizzie Bisco), Mackenzie Crook (Looper)
---
Plot
Two centuries ago, people decided that to survive the devastation of the surface world, humanity was to be evacuated underground to the city of Ember. A locked box of instructions was placed in the hands of the mayor of Ember, which would automatically open in 200 years time. However, as the box passed through the hands of successive mayors of Ember, it was forgotten and opened unnoticed. In the present, Ember is being plagued by severe shortages and increasingly disrupted by power cuts as the generators are on the verge of collapsing for good. It is Assignment Day where new school graduates choose at random from a hat the jobs that they will do for the rest of their lives. Lina Mayfleet is dismayed when her choice turns out to be a pipe worker, however classmate Doon Harrow offers to swap with his choice of messenger. Lina is the descendant of one of the mayors. In the junk in her grandmother's house, Lina finds the now-opened box and pieces together the tattered page of instructions that was inside. She and Doon realise that these lead to the hiding place of the exit to the outside world. Despite it being forbidden to search for the exit, they set out on a quest to find the way to the outside world.
---
Walden Media was a company set up to make family entertainment. The company had a huge success with their fourth film The Chronicles of Narnia: The Lion, The Witch and the Wardrobe (2005). They have since been at the popular forefront of mainstream entertainment with efforts like Charlotte's Web (2006), Bridge to Terabithia (2007), Mr Magorium's Wonder Emporium (2007), The Seeker: The Dark is Rising (2007), The Water Horse (2007), Journey to the Center of the Earth 3D (2008), Nim's Island (2008), Tooth Fairy (2010), The Giver (2014), A Dog's Purpose (2017), The Star (2017), Dora and the Lost City of Gold (2019) and A Babysitter's Guide to Monster Hunting (2020). The majority of these disappear into an earnestness blandness, not to mention often show an underlying evangelical Christian agenda. City of Ember was the least financially successful of Walden Media's films and was considered a box-office disaster, earning only $3.5 million on its opening weekend (despite a $55 million budget).
The film is adapted from The City of Ember (2003), the first in a series of young adult books by US author Jeanne DuPrau. DuPrau followed this with two book sequels that follow the people of Ember as they try to adjust to life on the surface, as well as a prequel concerning the events that led up to the establishment of Ember.
The film adaptation is conducted by Caroline Thompson, a specialist in eccentrically offbeat scripts, having written the likes of Edward Scissorhands (1990), The Addams Family (1991), The Nightmare Before Christmas (1993) and Corpse Bride (2005), mostly for Tim Burton, as well other works like The Addams Family (1991), Homeward Bound: The Incredible Journey (1993), The Secret Garden (1993) and Welcome to Marwen (2018) and has directed Black Beauty (1994), Buddy (1997) in which Rene Russo adopts a gorilla and her own fascinating version of Snow White (2001). City of Ember was the second film and the live-action debut of Gil Kenan, who had previously directed the delightful motion-capture animated Monster House (2006) and subsequently went onto the remake of Poltergeist (2015) and A Boy Called Christmas (2021)), as well as to co-write Ghostbusters: Afterlife (2021). City of Ember even comes produced by Tom Hanks.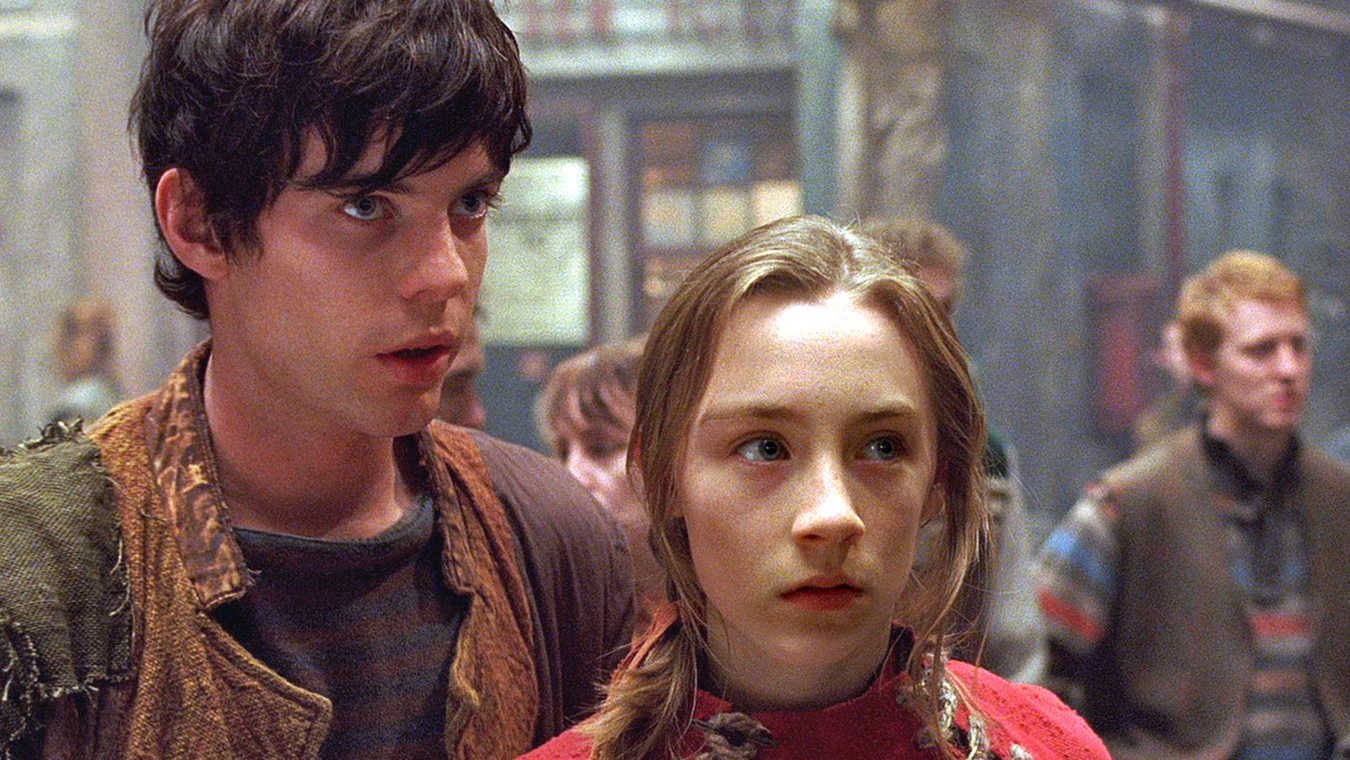 Walden Media's other films have been passably bland but rarely standout. Going by Walden Media's track record and the film's disappointing box-office and critical reception, one expected only middling things of City of Ember, although the names of Caroline Thompson and Gil Kenan did give some hope. So it is with some surprise that one finally sees what an amazing film they have turned out. It is easily the best work that Walden Media have made to date and a work that is eminently worthy of re-evaluation.
The magic of City of Ember is its creation of beautiful alternate world that lives and breathes with its own texture. Gil Kenan creates a fine sense of mythopoeia in the opening scenes – like the appealing image of the various mayors standing in a row handing the box to each other with the digital display jumping in years each time. The camera then pulls back to show the city filling an entire soundstage and then down to street level as we follow Saoirse Ronan as she hurries through the streets to the graduation ceremony.
The world that opens up before us as we follow her is the essence of good science-fiction – the sense of placing us into a living breathing world that the characters who live there take for granted but where what we take as familiar and everyday has been turned on its head and made alien. There are captivating throwaway images that speak of a completely different world, like where Saoirse Ronan plays old voicemail recordings as bedtime stories for her sister, first having to sit down and crank the foot pedals of an old treadle sewing machine to power the device up. Or images of people going to a communal area to hand-wash their laundry, carrying portable power plugs with them to power up their helmet lamps, or even the notion of canned pineapple being something that has passed into legend because of scarcity.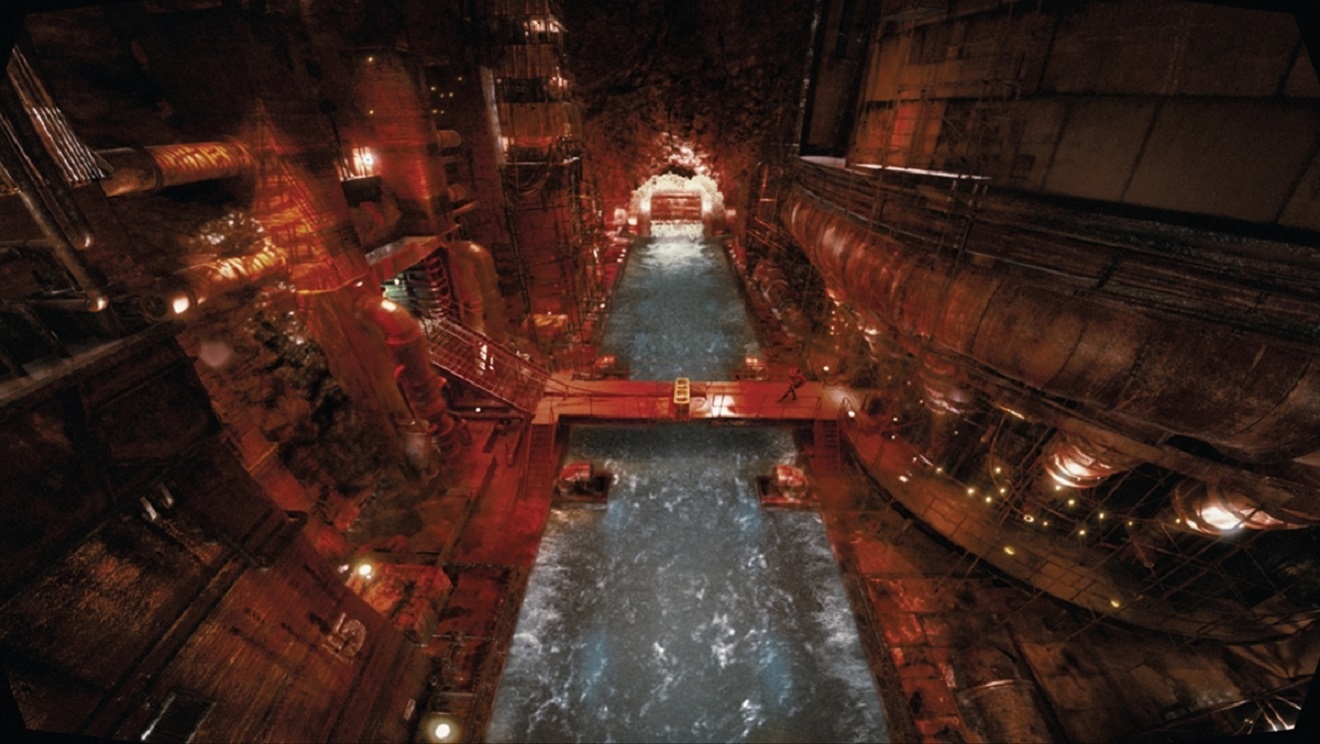 The world is a production designer's marvel. It has a ramshackle handcrafted sense where everything has been endlessly recycled from the junkpile and is covered under a layer of artfully applied grime. The climactic scenes where the contraptions that lead to the exit move into motion, including a room full of lockers that slide out on mechanical tracks and become boats, before the children head down into the depths of the generating plant and activate a series of switches that cause one of the gigantic turbines to sink and flood the plant as they head out through a network of tunnels on one of the boats to come to a cave with a massive set of stairs that lead up to the tiny speck of light, are quite wondrous.
The story is a standard conceptual awakening one – where a protagonist(s) gradually explores the limits of their hermetic world and comes to the realisation that there is something bigger beyond, which then blossoms into a breakthrough in understanding about the true nature of their world. This is a story that is familiar through literary science-fiction but is a relative rarity on cinema screens. The quest to find the limits of the underground world and the mythical exit is wonderfully handled.
There is the odd bit that is not well explained – like where the giant moles and butterflies come from. The implication left is that they have mutated from the surface world (even though 200+ years is not adequate time for such mutations to develop).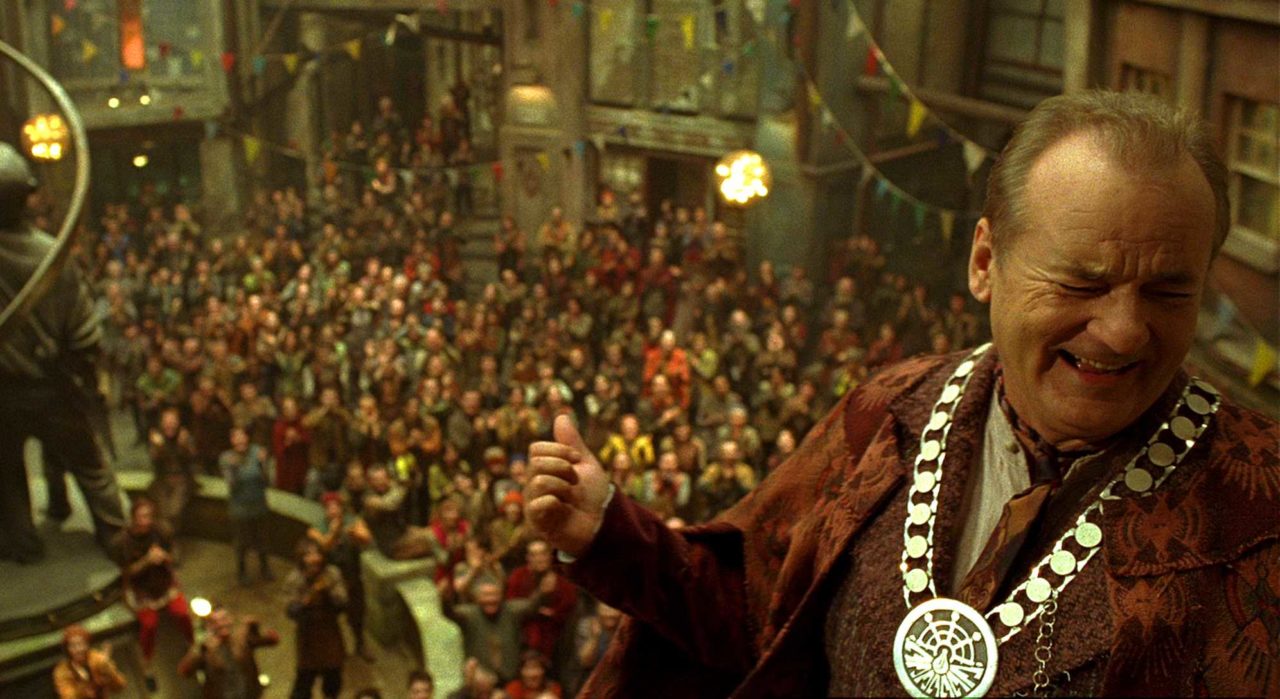 Harry Treadaway is somewhat blank as a performer, but Saoirse Ronan plays with an intelligence. The supporting cast is filled out with some notable names, notably Bill Murray as the pompously hypocritical mayor and Martin Landau as an aging pipe worker.
It is wonderful to watch a family film that is made with intelligence, rather than one that gets easy laughs out of animated sidekicks, a constant array of pop culture references and poop jokes. There is not the need (except perhaps arguably at the end) to fill the film with big flashy effects sequences or throw in constant creature effects, rather this is an example of a film that works based on a simple well-conceived story. No wonder then that City of Ember ended up being a box-office flop. Although you cannot help but sneakingly think if the film had been made only 2-3 years later among the rising fad for Young Adult works like the Twilight and The Hunger Games films, it would have been a much bigger success.
(Winner for Best Production Design, Nominee for Best Actress (Saoirse Ronan) at this site's Best of 2008 Awards).
---
---